Sweet Singapore, what's there not to love about this vibrant city? From the diverse cultural heritage to the buzzing nightlife, permanent sunshine and don't even get me started on the must eat food!
Prior to visiting Singapore I never thought that this incredible city would one day hit the top of my must-visit cities. With both of my parents originally hailing from Hong Kong, I have spent the majority of my summers growing up in our family home in the Far East. I constantly heard people comparing the two places; which one had the more magnificent skyscrapers or more choices for delicious food? And of course I was biased, but following a recent visit to Singapore, I'm not too sure which city comes out top anymore…
Hong Kong and Singapore still continue to be very different places, but they're like sisters, Hong Kong is the wilder, more unruly one, while Singapore seems to be a little more reserved, organised and clean.
Here are my top things to do and see in Singapore, with some handy hints and tips! Whatever you do in your lifetime, try to find some time to tick this splendid place off your bucket list, I promise you won't regret it.
---
Culture And Food In China Town
 
Singapore's China Town is an absolute must visit, and make sure you go just before lunch or dinner, as you will absolutely find yourself drooling at all of the scrumptious plates on show.
Perhaps try Singapore's infamous chilli crab or order yourself a plate of Singapore vermicelli noodles and satay chicken. There are plenty of worthy eateries in Chinatown and with most of the restaurant staff speaking great English, you shouldn't find it a hard task to order (or you can always point at the pictures on show in the majority of menus!)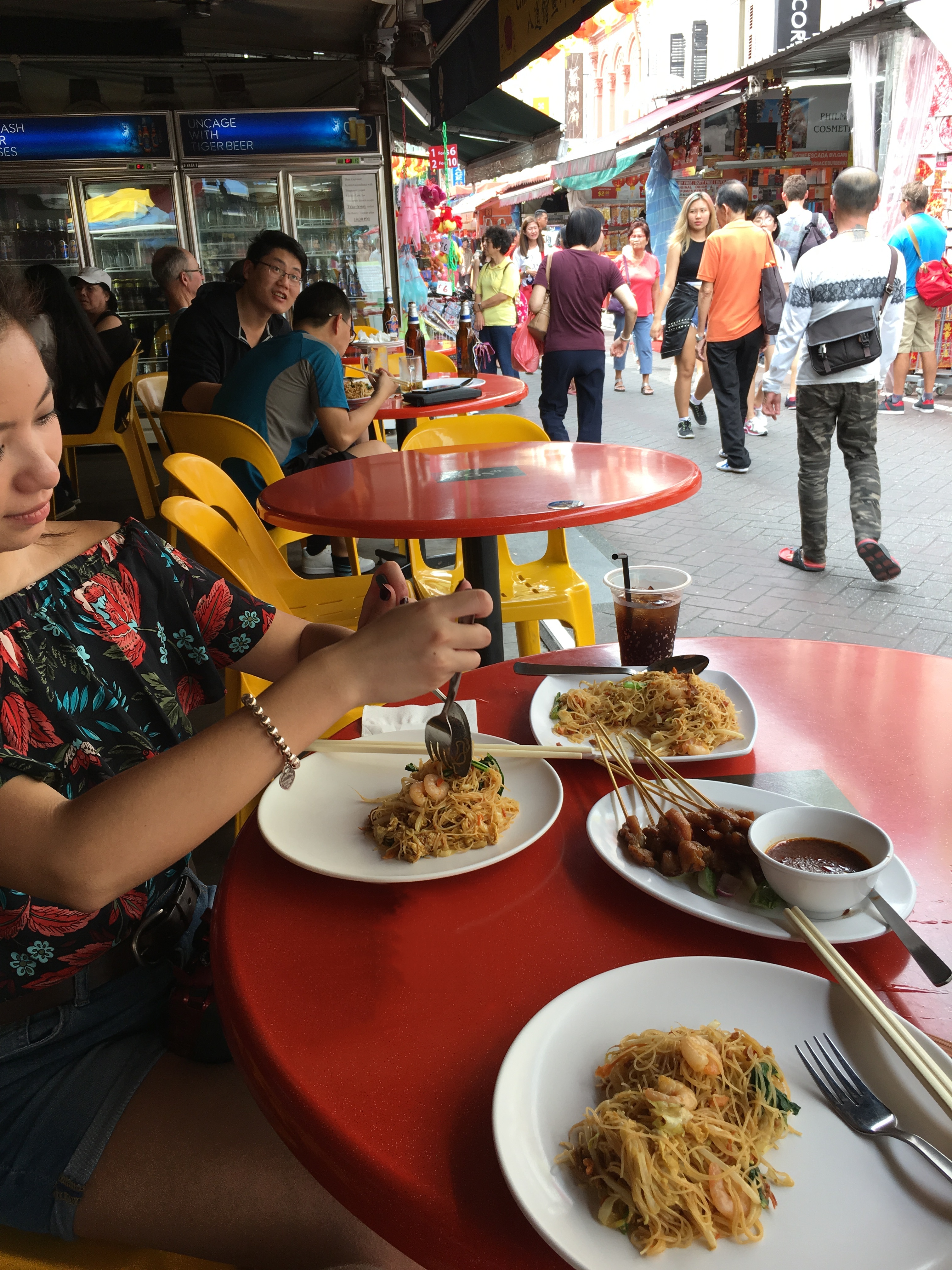 Personally, we chose to eat at the large restaurant on the corner across from the Chinatown Heritage Centre; it has a great atmosphere, outdoor seating with air conditioning (so you can people watch as you eat) and a large affordable menu filled with something for everyone. I would highly recommend it! We spent around £15 for two people at lunch.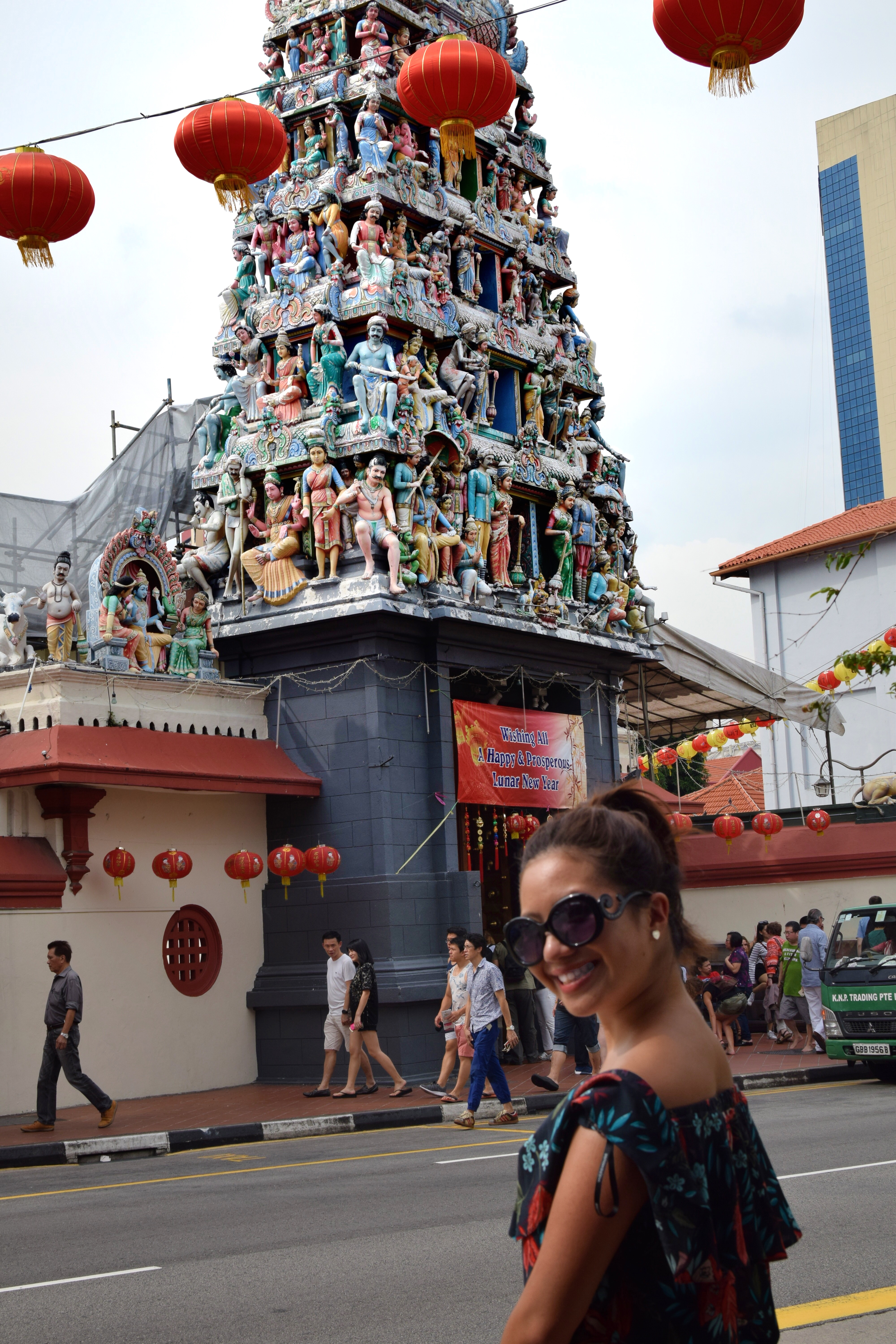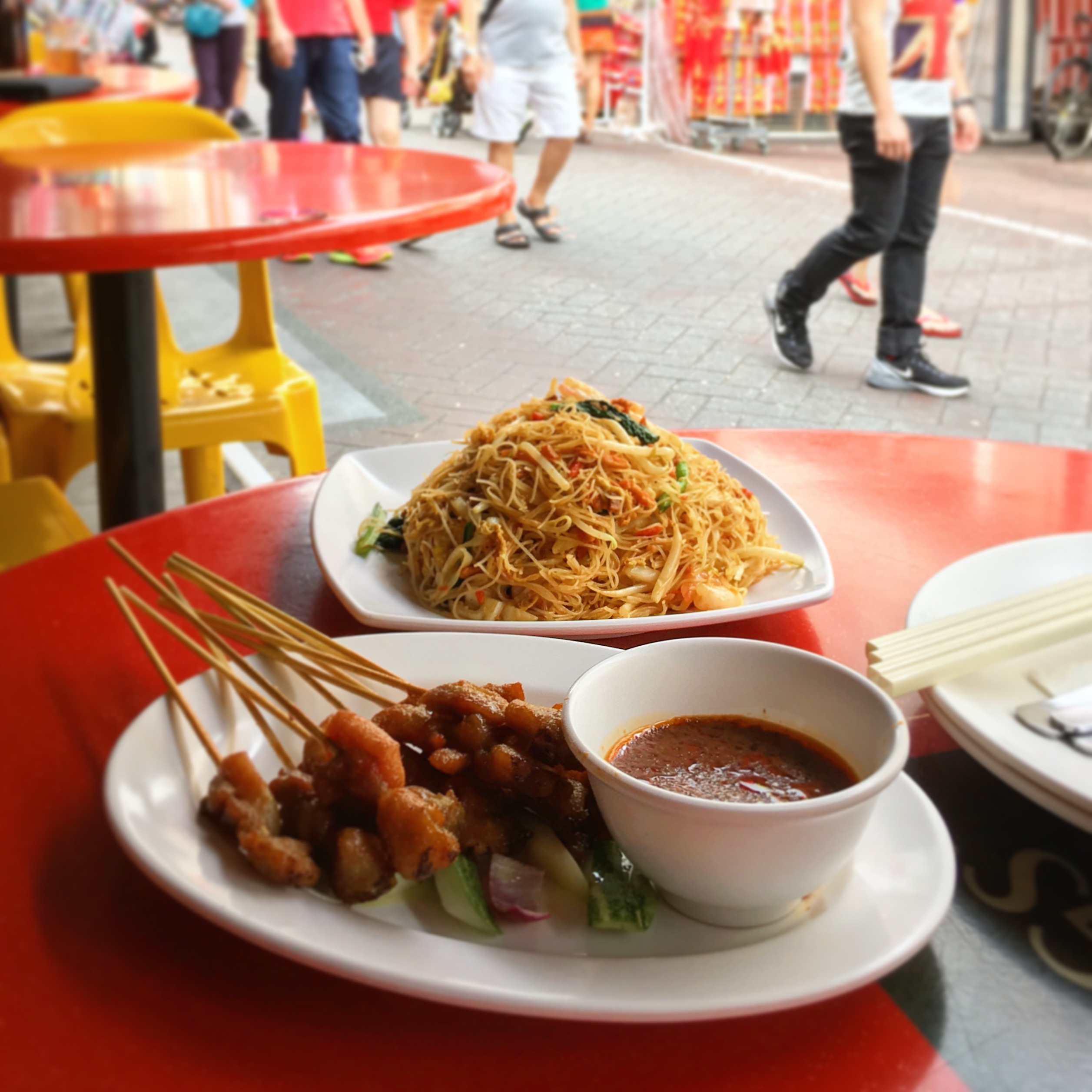 But Chinatown isn't all about food, amazingly, that's just one of the many wonderful things about it. If you fancy learning a bit more about the Singaporean history and culture, then head into Chinatown Heritage Centre, or you can just wander through the many busy streets, purchase a Chinese trinket souvenir from one of the many stalls and make sure you don't forget to look up to gawk at the amazing architecture all around.
How to get there: Exit A (Pagoda Street) of North-East MRT line's Chinatown station will deposit you right in the heart of the action. Outram Park, Tanjong Pagar and Raffles Place are also all within walking distance, as is Clarke Quay and the Singapore River to the north.
---
Find Peace At Tooth Relic Temple
Located in the South of Chinatown, be sure to find the time to visit the jaw-dropping Buddha Tooth Relic Temple. This peaceful and thought-provoking temple is such a remarkable piece of architecture, culture and religion and in my opinion, a must see if you're in the Chinatown area – I mean, look at those colours!
Towering above southern Chinatown, this four-story temple was completed only in 2007. The very grand main hall hosts a 27-foot statue of Maitreya Buddha, and the sacred relic itself, reputedly one of Buddha Shakyamuni's teeth, can be found on the fourth floor.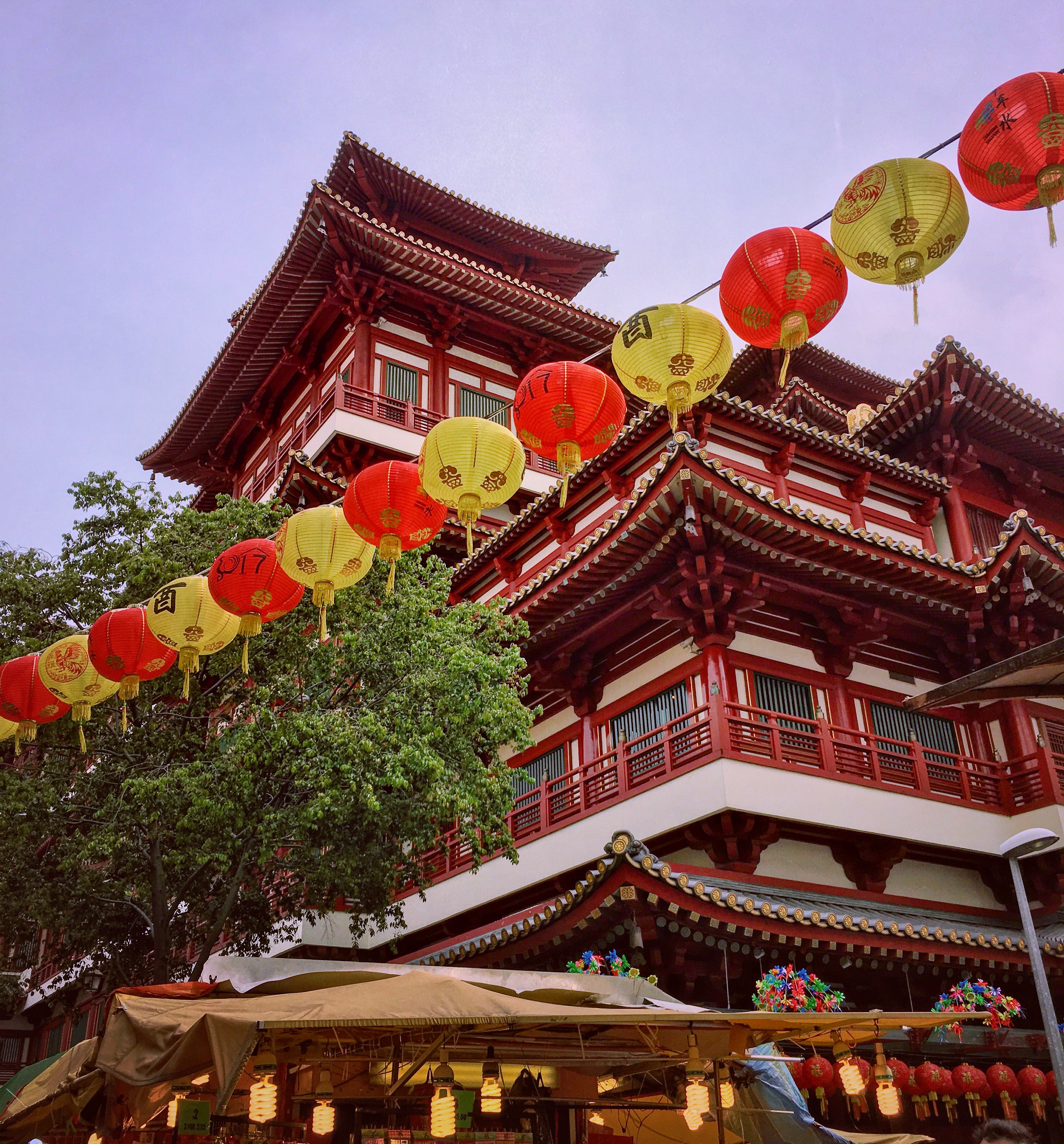 ---
Get A Taste Of Famous Asian Dishes
Food – this was probably the element of Singapore that I struggled most with, not due to lack of or a distaste for Singaporean food, but rather the complete opposite. I didn't have enough time to eat everything I wanted to in Singapore!
Where to start? Oh, the chilli crab, the satay chicken, the noodle and rice dishes, the desserts! It's truly endless, and also truly difficult to choose what to eat for breakfast, lunch and dinner when you only have a limited amount of time.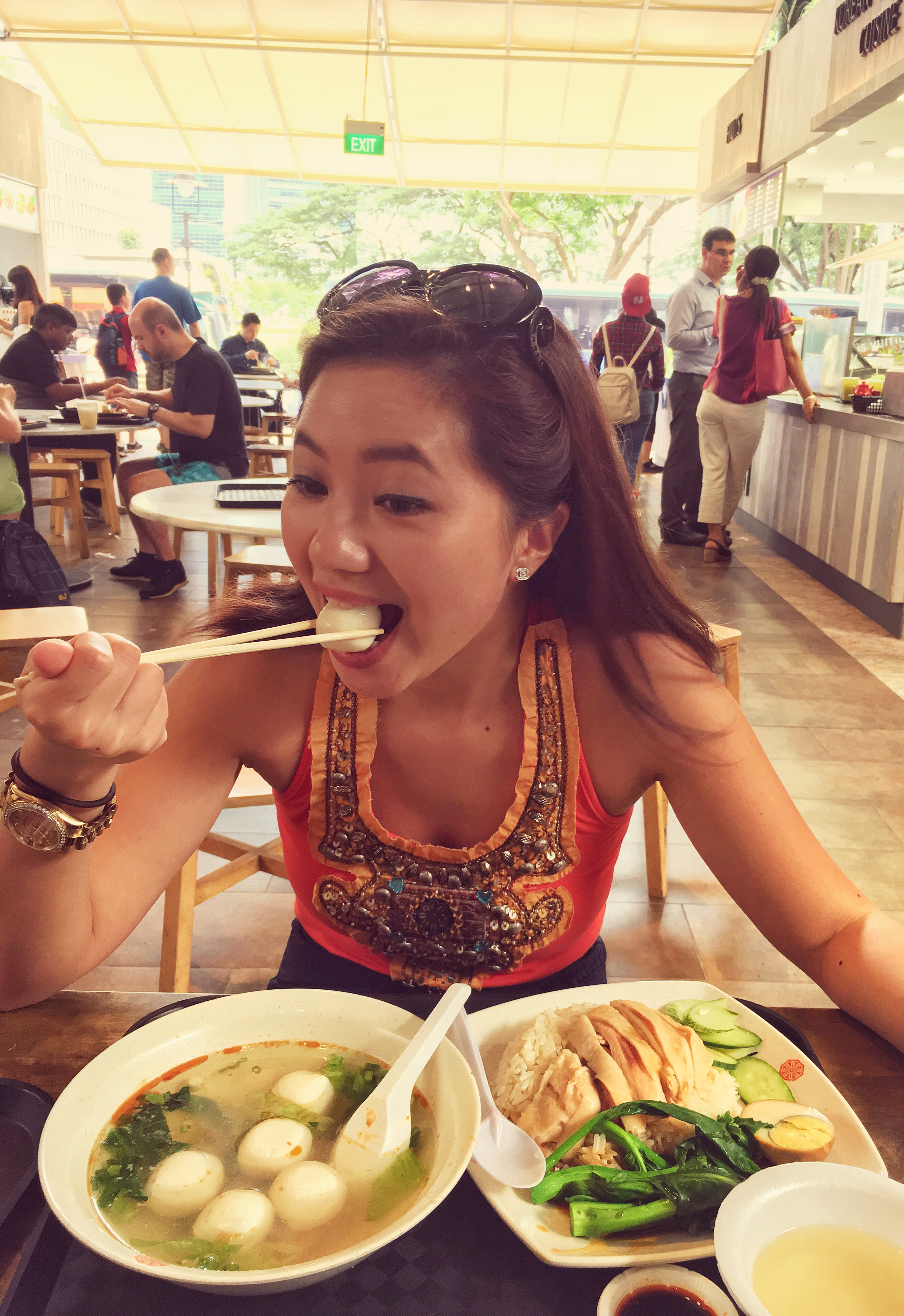 If you're like me and you find difficulty in choosing what you're going to eat from a menu, then head to one of Singapore's many Hawker Centers – a large food market packed with individual vendors – selling all sorts of dishes from small booths for extremely affordable prices – we paid around £5 for a large dish each.
The Hawker Centre that we ate at (Lau Pa Sat) is particularly popular with families, busy office workers and tourists.
You will find hundreds of little food booths selling all sorts of delicious dishes, from typical Singaporean cuisines to Chinese, Indian, Japanese and much much more! I was in the mood for Hainanese chicken rice and many locals pointed me in the direction of Lau Pa Sat to get my fix. And of course, the chicken was flavoursome and juicy whilst the rice was perfectly oiled and fragrant (we went to Fragrance Garden Chicken Rice, stall #6).
I also got a side of fish ball soup, because I've always been a bit greedy when it comes to food…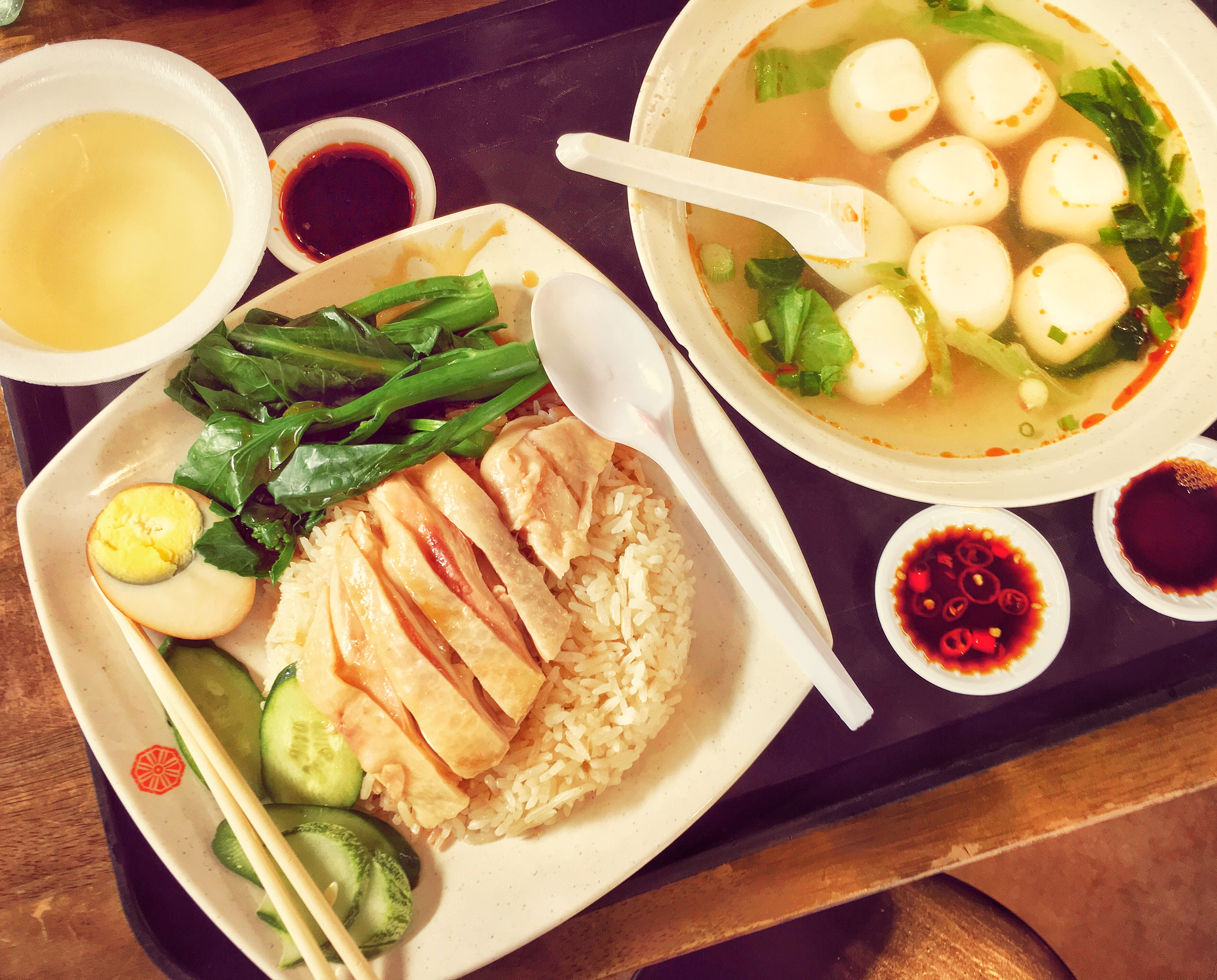 Don't expect to get impeccable service, keep in mind that you're not eating in a Michelin star restaurant, the food market is very much a eat and go place!
Tips! 
– Try to avoid visiting between 12pm-1pm, this tends to be peak office lunch hour and you'll find it hard to get a seat! You'll enjoy your lunch much more if you head there for sometime after 1.30pm! Then you can stroll around, decide what you want to eat without someone breathing down your neck and find the perfect seat to people watch!
– Take a look at the table before you sit down if there's a business card or a packet of tissues on the table, this means this space has already been taken, so move along!
---
Be One With Nature At Gardens By The Bay
I know, I know, as I have been listing each thing to do and see, I have called it a 'must see', but this is a must-see. Gardens by the Bay is a huge, colourful, futuristic park in the bay area of Singapore. You'll feel like you've been transported to the set of Futurama or Avatar.
Firstly you will come to the Flower Dome, it replicates a mild, dry climates and features plants found in the Mediterranean. Spectacular in size, the Flower Dome is the largest glass greenhouse in the world and often features various special events yearly. You will need roughly between 45 minutes – 1 hour to walk around the whole thing (if you're like me and you enjoy stopping for a photo here and there and reading the odd plaque).
Onto the (in my opinion) even more spectacular Cloud Forest! Right next to the Flower Dome, the Cloud Forest is the higher but slightly smaller of the two domes. It replicates the cool conditions found in tropical mountain regions and also features a humongous waterfall. Be sure to bring a cardigan or thin jacket with you, as it can get quite chilly inside this dome.
If you don't have a lot of time during your visit then I would say put more time aside for the Cloud Forest over the Flower Dome. In my opinion, I was definitely more wowed over by the Cloud Forest, and it's 42-metre 'Cloud Mountain'.
The main park area is open from 9:00 to 21:00.
Check out part 2 of my Singapore must-see blog, where I cover Marina Bay Sands, Sentosa Island and its beaches, Little India and the famous Merlion!
Love, KeiKei x