For some, Marrakech can be a little overwhelming (as we found it), along with being culturally spectacular, colourful and buzzing at all time, it's nice to have a little sanctuary to get away from the madness!
For us, that gem was the Riad Rafaele in the heart of Marrakech. Thank you so much for having us to stay during our visit and for showing us such gracious and warm hospitality. It is with fond memories that I write this review!
I had always dreamt of visiting this incredible city, weaving my way through its never-ending market stalls and tasting its delicious traditional dishes, but accommodation is an important factor for me when planning a trip – location, atmosphere, service – these things all come to mind when booking somewhere to stay, and they can easily make or break a holiday.
Upon arrival, we were greeted with mint tea and traditional Moroccan biscuits… things were already looking up!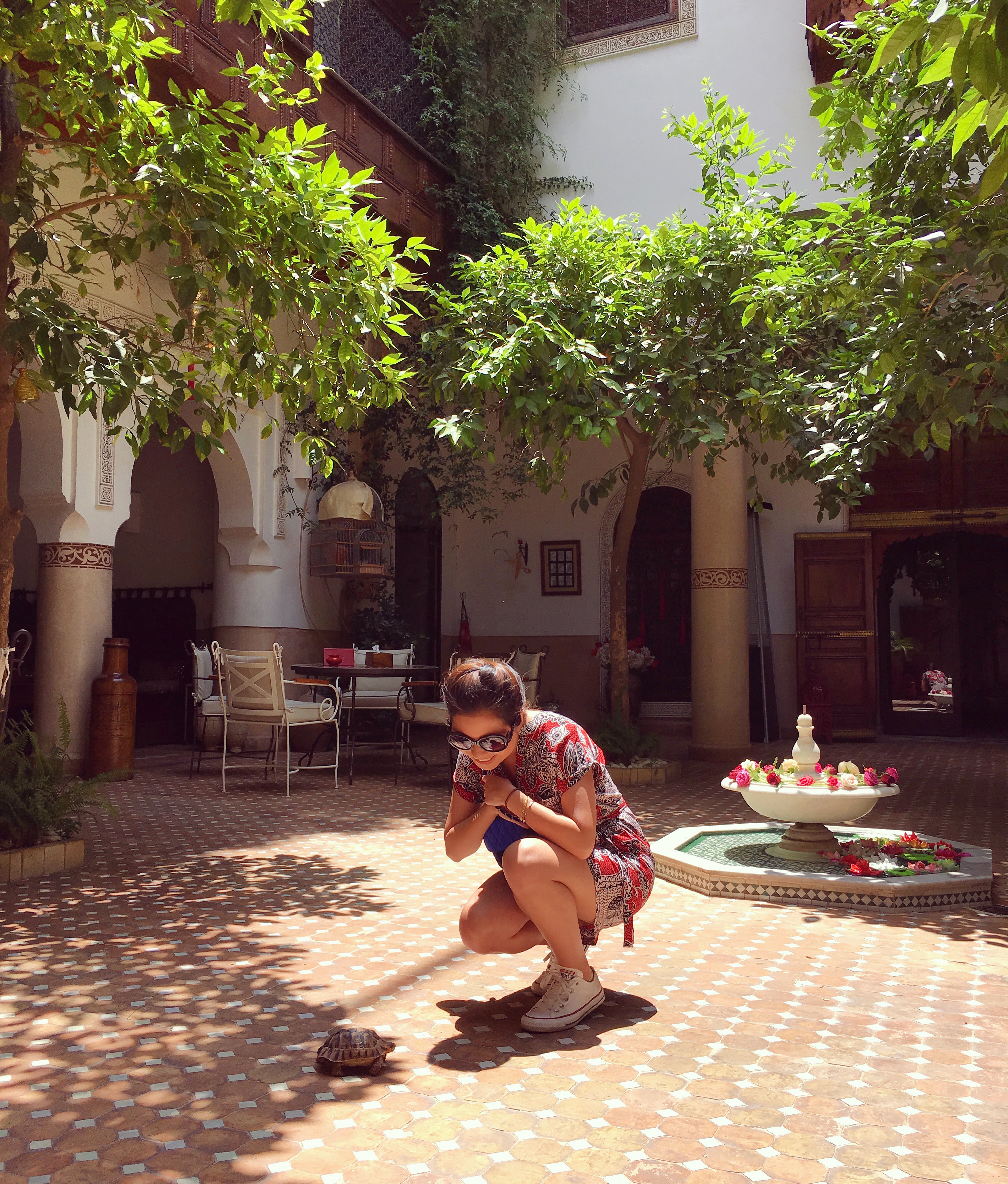 ---
Location
Let's start with the location, because my goodness does Riad Rafaele have that covered! Located in the Medina, this riad is within a 5-minute walk of Ben Youssef Mosque and the ever popular Marrakesh Museum. Souk Zrabi and Jamaa el Fna are also within a 15 minute walk. This means day in and out you're amongst the hustle and bustle and a short walk from the main sights! And if you're worried about the noise that might come with such a central location, you won't hear a thing as the riad is located down a small alleyway and as tranquil and quiet as can be.
---
Rooms / Atmosphere
Riads tend to be pretty small, therefore they also tend to book out quickly, especially the good ones! Being typical courtyard houses, it's general that a riad will have no more than around 15 rooms. At Riad Rafaele there are only 7 rooms and we were put in a room on the top floor adjacent from the outdoor garden terrace.
The room itself was beautifully decorated with typical Morrocan colours and traditional decor and in the centre of the room was the most luxurious and comfortable four-poster bed. Another favourite of mine was the incredible tiled shower room. The room was also immacuately clean (I'm a bit of a neat freak and germaphobe) and I couldn't fault it. Bottled water is also provided on a constant flow in the room and there is air conditioning (not all riads have air con!), this massively helped in the Morrocan heat.
---
Service
Aside from the beautifully decorated rooms and the superb location, what sets this riad apart from the rest is its incredible facilities and customer service. No request was ever too big or small for the lovely management team!
The riad also helped to organise our transfers to and from the airport with no hassle.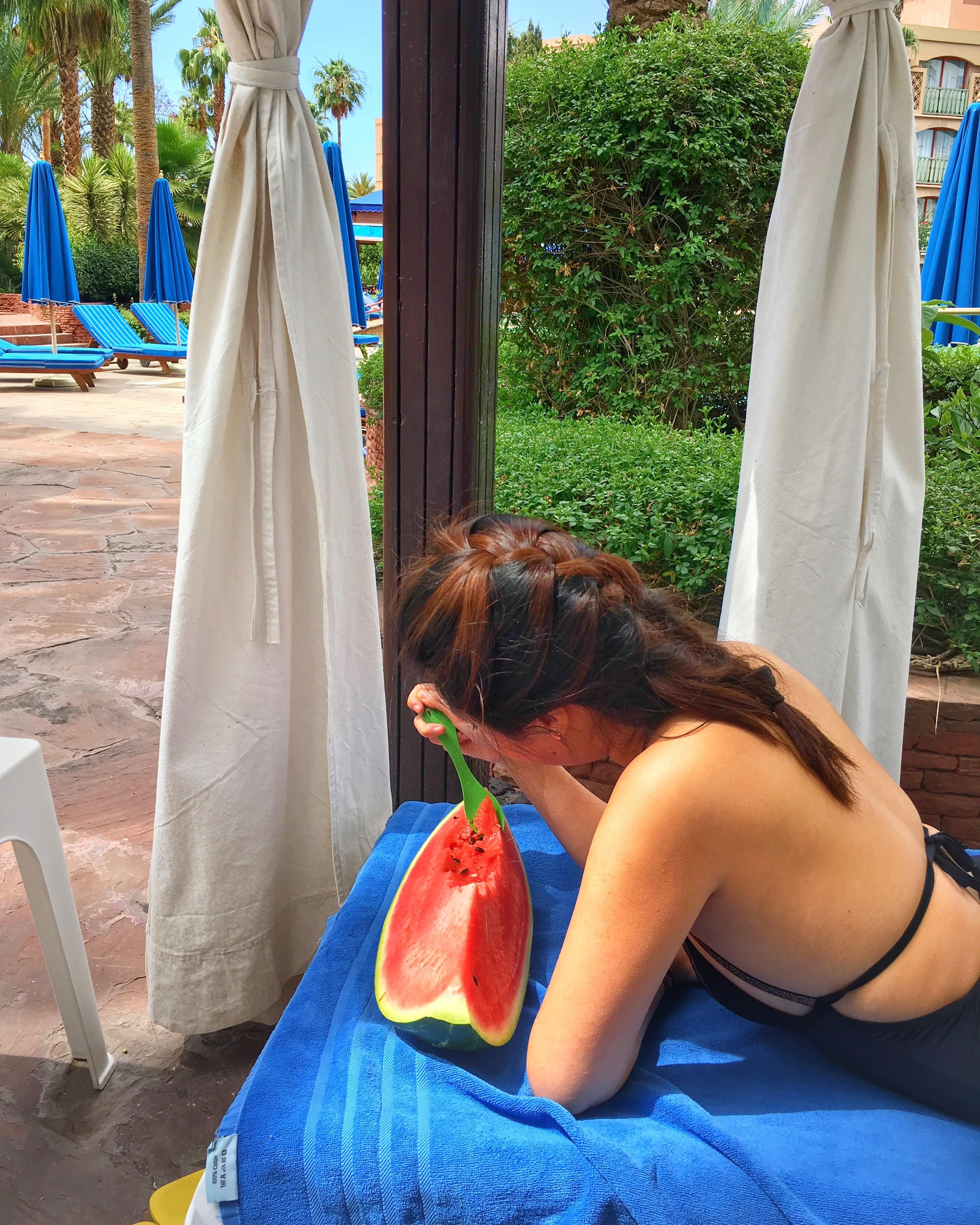 This riad also features a full-service spa (where you can enjoy a traditional Morrocan massage as well as plenty of other relaxing treatments), a restaurant, an indoor pool and a glorious garden terrace with stunning views of Morroco are other top features.
The team were also always on hand to help with directions and best of all, recommendations. There's nothing that I love more than food recommendations from a local!
Breakfast, which was served each morning in the downstairs courtyard was a perfect display of colours and slightly different every day (we stayed for 4 nights), fresh juice, fruit and Moroccan pancakes with jam made for the perfect start to every day.
---
So if you're looking for the perfect place to rest your head after a long day of exploring Marrakech, or somewhere to relax on your holiday, I couldn't recommend this beautiful riad enough! I hope to return one day soon.
KeiKei xo