Take a step into the past with the exquisite Fullerton Bay Hotel, Singapore – in a few short hours we indulged in traditional Asian dishes in a historical setting and learnt about the city's remarkable heritage, history and rapid change as we embarked on a private heritage tour.
Lewis and I were looking for somewhere to enjoy lunch on our very first day back in Singapore and several of our friends had recommended a visit to the Fullerton Bay Hotel, highly recommending dining at the Clifford Pier restaurant, afternoon tea or evening drinks at the hotel's outdoor bar with a paramount view of the city's skyline.
Upon arrival, we were greeted by the hotel's welcoming staff and also quickly struck in awe of the Fullerton Bay's striking and spectacularly decorated lobby, complete with the most magnificent chandelier.
Taking our seat in the main dining room of The Clifford Pier, we chose to have the three-course Chinese New Year lunch, as I am Chinese and I knew we would be travelling around the coast of Australia during CNY, I decided to make the most of the restaurant's special menu.
However, we were also incredibly tempted to order off the main menu as it features some crazy delicious sounding mains such as the spicy jumbo lump crab meat spaghetti, The Pier's prawn laksa and traditional dishes that never fail to please, such as the Hainanese chicken rice and the HK wonton soup, and in general an array of other mouth-watering Asian and Western dishes.
Nonetheless, we stayed true to our menu choice and both decided to have the gyoza's to start, the Chinese prosperity rice bowl main for me and wagyu beef for Lewis. For dessert, we opted not to go for any of the choices on the CNY menu and instead asked if we could choose our third course from the main menu – the staff were more than happy to allow this – and we both went for our favourite, and a rather nostalgic dish, the Hong Kong French toast.
The setting in which the Clifford Pier Restaurant is based in is luxurious, airy and so spacious – perfect for any occasion, be it breakfast, lunch or dinner with friends and family or for a romantic meal for two.
In my opinion, I do imagine that it would be the perfect place for a celebratory meal (during our long lunch we were sat amongst 3 tables celebrating birthdays and anniversaries, and it's not hard to see why you would choose to celebrate in such a dazzling setting).
The restaurant itself occupies the space of the original Clifford Pier, so you truly get to dine in one of Singapore's most historical settings, a location that used to serve as a landing point for immigrants and other sea passengers between 1933 to 2006.
When the food arrived, it was every bit as delicious as its presentation was beautiful, the gyoza's were perfectly cooked and the pork filling was light yet packed with an array of flavours. I also thoroughly enjoyed my Chinese prosperity rice bowl, which was filled with traditional Chinese favourites – Chinese mushroom, bak choi, Chinese sausage, steamed chicken wings and sliced sea slug. I never even got a bit of Lewis' wagyu beef, that's how much he enjoyed it!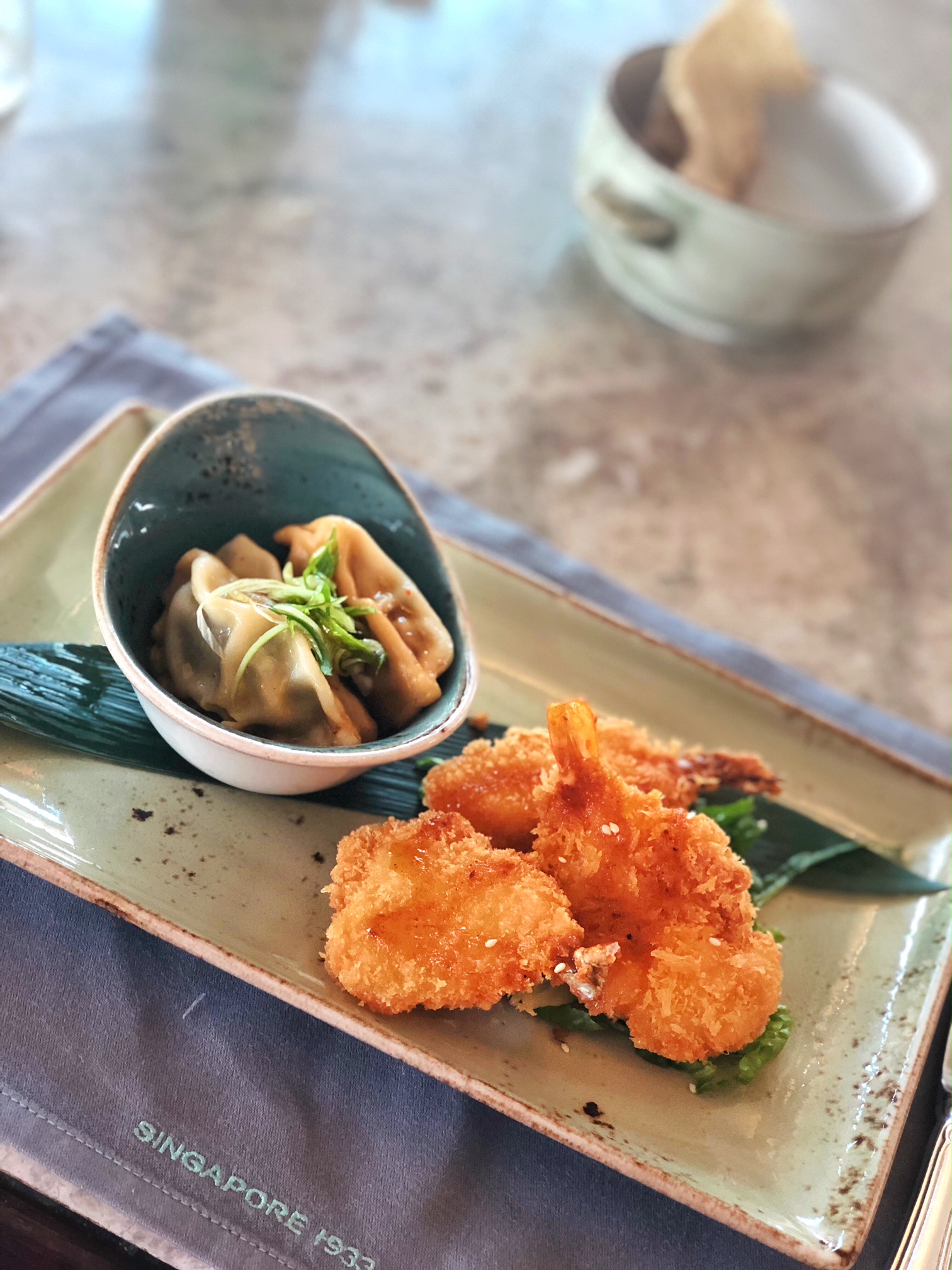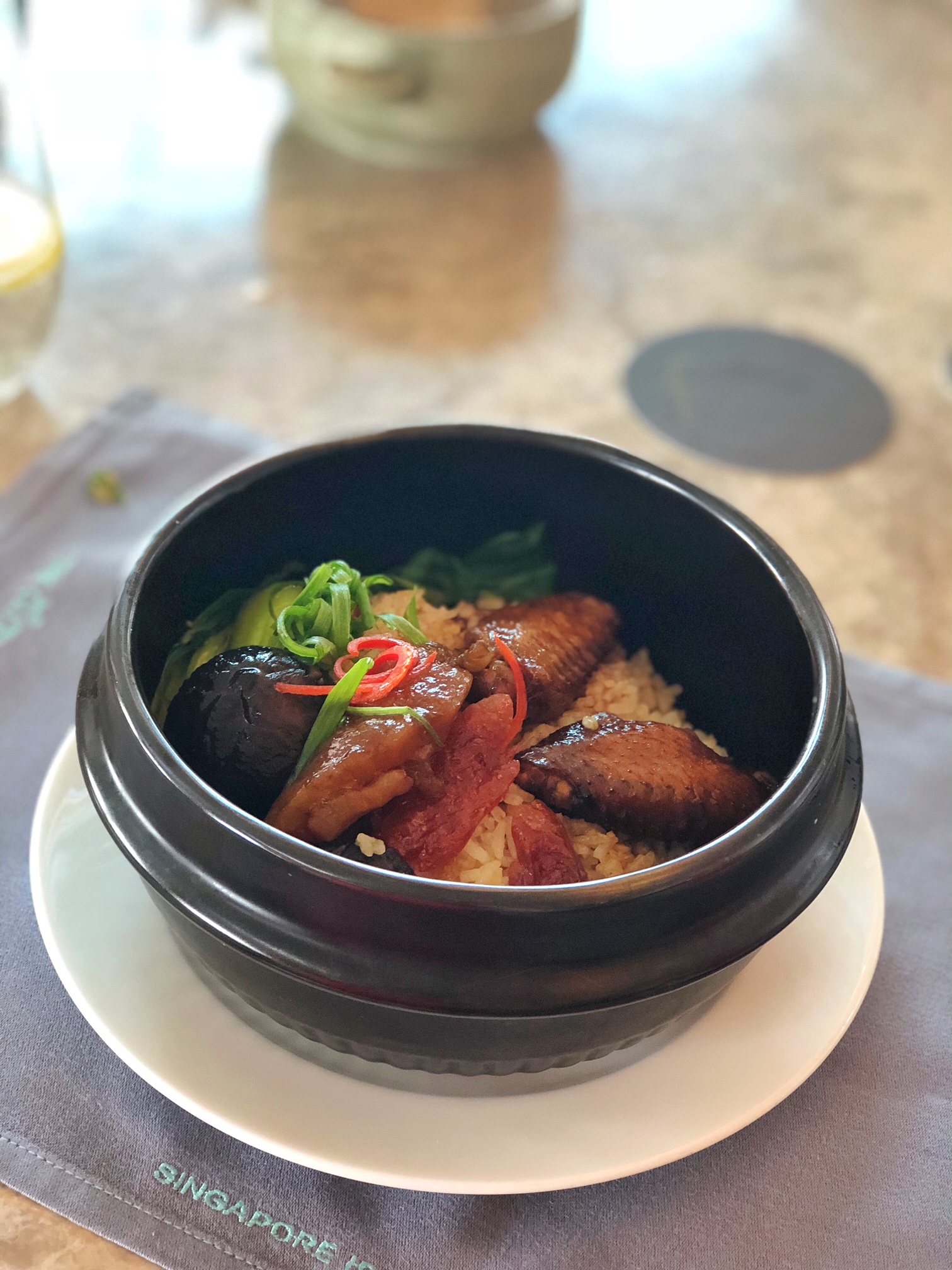 The highlight of our lunch had to be the Hong Kong French Toast, oh my, we really should've gotten one dessert to share…
Clifford Pier's French toast has to be the most scrumptious I have ever eaten, and although I was stuffed from our first two courses, I still managed to find the room to devour this sweet and sticky pudding. If you're staying in the hotel, dining in the restaurant or just in the area, I really do highly recommend that you give this dessert a go.
To book a reservation at the Clifford Pier or one of Fullerton Bay Hotel's other restaurants, visit their website: https://www.fullertonhotels.com/the-fullerton-bay-hotel/dining.html
With so much history in one restaurant and hotel setting, it is only fitting that the Fullerton Bay has its own daily tours for hotel guests and tourists, and what a perfect way to walk of that humongous lunch!
We met with Bill, the hotel's resident heritage guide for our "journey into Singapore's past" through the Maritime Journey Tour – a walking tour of Singapore's historic waterfront.
Bill was an incredibly warm and engaging guide and always more than happy to answer any burning questions we had. With Bill being a local to the city, we learnt so much from him in the short one-hour tour – his passion and adoration for the city absolutely shone through as he guided us through the waterfront and the hotel.
The tours, which are both limited to 20 participants, also allows exclusive access to various preserved areas within the hotel, allowing guests to learn and see more of the historical and architectural side of The Fullerton building.
I can honestly say that by the end of our Maritime Journey Tour we were left in absolute awe by Singapore's massive change, all in the last 80 years or so – we truly were taken on a journey through time and the tour really did bring the buildings of Singapore to life, allowing us to see the city in a completely different light.
If you're looking for an informative, fun and free tour of Singapore which is sure to take you way back when check out one of Fullerton Bay's Heritage tours here – https://thefullertonheritage.com/tours
KeiKei xo