Finally, there's a ray of hope at the end of the tunnel for all travel lovers out there. While overseas travel is still limited this summer, by the end of July, we should be completely free of the shackles of lockdown. However, with reports of UK rental homes in picturesque areas already being booked up, you don't want to wait too long to plan your Summer vacation.
Here is our top selection of lovely UK getaways to consider right now.
---
Wellhayes -The Barn, Lyme Regis
This award-winning designed rustic residence is spectacular both inside and out. The house, which has its own swimming lake, is ideal for individuals seeking privacy and peace. The barn's proximity to the Jurassic Coast, West Dorset, East Devon, and South Somerset, also make it an ideal spot for an active family fun holiday.
When you've had your fill of the day's activities, head to the local farm shop and stock up on locally sourced ingredients to cook at home in the aga or on the terrace bbq. Return to the master suite, which includes a wood burner and a double-ended bathtub, for some relaxation in your own suite.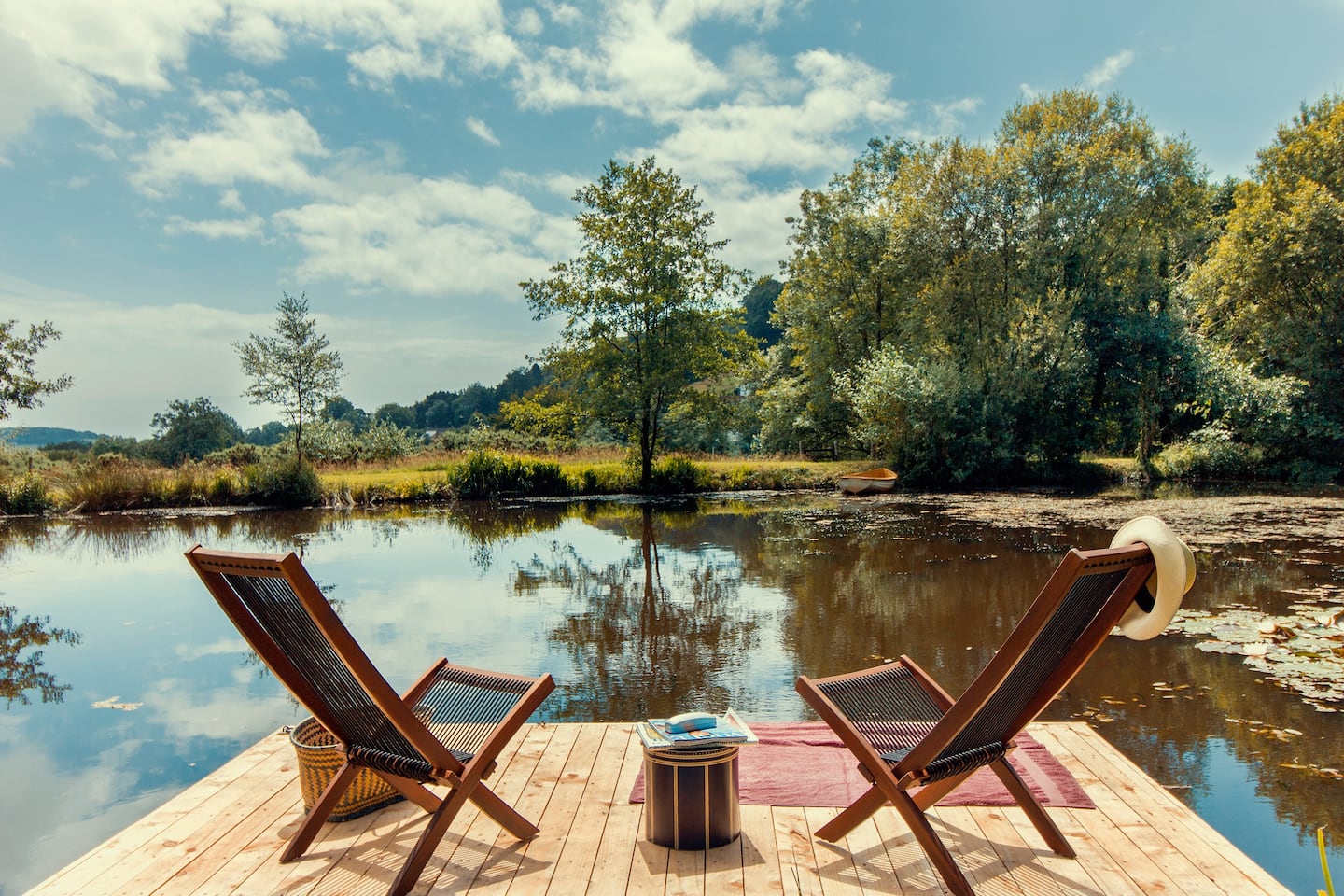 Stays from: £250 a night
Sleeps: Six (3 bedrooms, 2 bathrooms)
---
The Bronze Knight, Cheltenham
The Bronze Knight in Cheltenham is a real taste of luxury — the kind that comes with its own private pool – blended with English country-garden elegance. This quaint, character-filled Cotswold barn conversion is part of a bigger estate with an on-site larder and views of sweeping Cotswolds hills complete with thatched roofs.
After you've finished admiring the antiques and artwork adorning the walls, take a stroll through the surrounding countryside or pay a visit to nearby sites including the Neolithic historic site Belas Knap (dating back to 3000 BC) or the Cotswold Farm Park if you're traveling with children.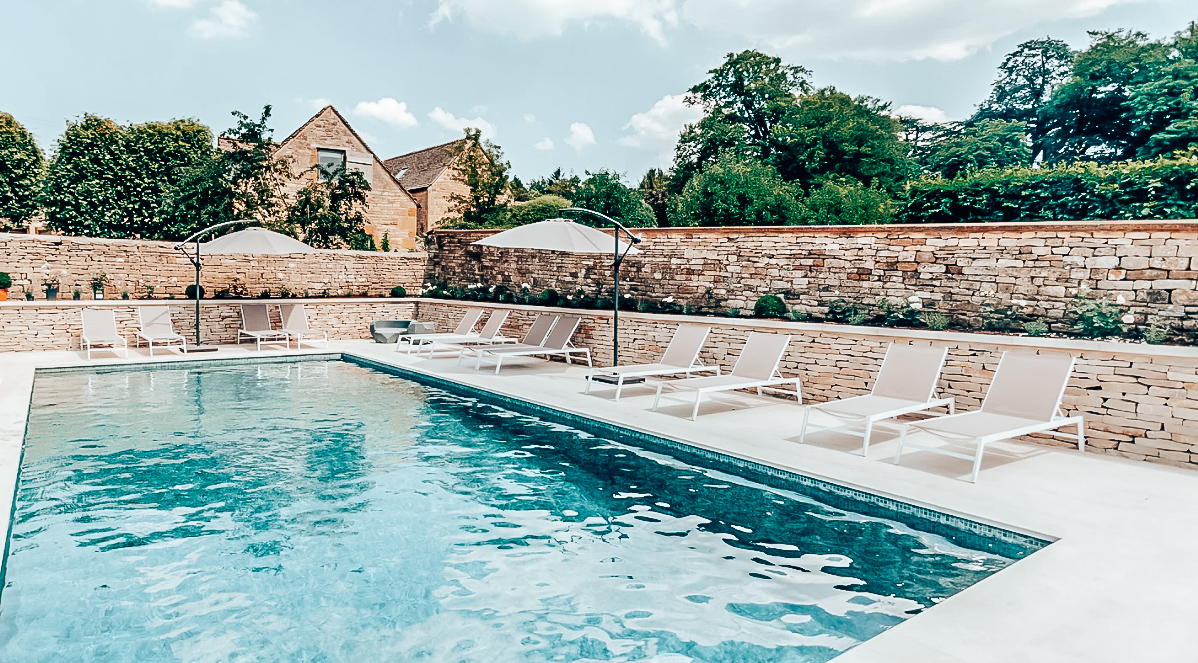 Stays from: £1,665
Sleeps: 12 (five bedrooms, six bathrooms)
---
Camber Sands, East Sussex
This stunning seaside home is sat on the edge of Camber Sands and features white-washed terraces, elegant bedrooms, and creatively upcycled furnishings. But it's the little touches such as the free-standing bath tubs, aga, and a sprinkling of antiques that make a stay here feel extra special.
The property features large tables and sitting areas both inside and out on the porch, making it ideal for groups. You also have charming Rye on your doorstep, which offers a history-filled day visit as well as the opportunity to load up on all the things you'll need for a self-catered stay.
The craggy white beaches immediately beyond the house will be busier in the summer, but vacationing here gives you access to a private sandy path that will take you to and from the beach in a matter of minutes.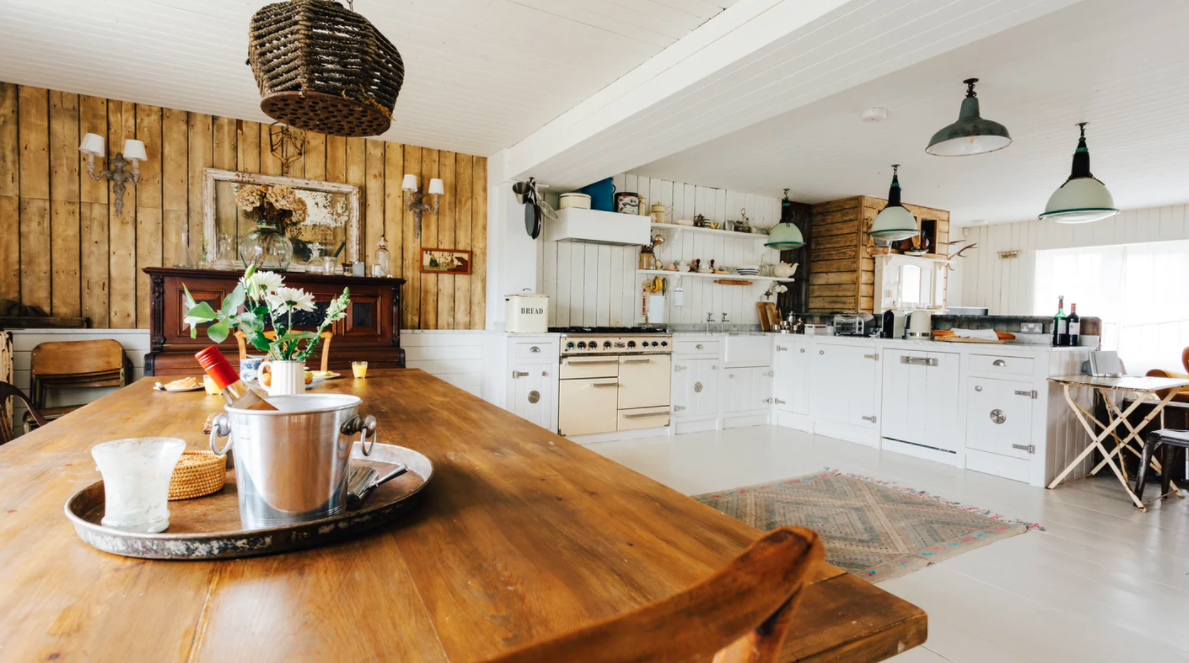 Stays from: £769 (but three night minimum stay)
Sleeps: 10 (5 bedrooms, 4 bathrooms)
---
Cumbria Cottage, Yorkshire Dales
With its wooden beams, flagstone floors, and wood-burning fire, this 16th-century cottage in the Yorkshire Dales is the definition of a picturesque countryside home. The home also boasts a cutting-edge plumbing system, complete with a woodchip biomass boiler and the infrastructure to fill and heat the magnificent outdoor bathtub, guaranteeing that a stay here meets 21st-century comfort standards.
On arrival, expect a welcome hamper full of local products, and while there's something to be said for curling up with a hot drink and a good book, you'll appreciate it even more after a brisk stroll in the national park or the surrounding Lake District. Those after something more challenging can take a hike up Wild Boar Fell, accessible from the doorstep of the cottage, or go wild swimming in nearby Uldale Force.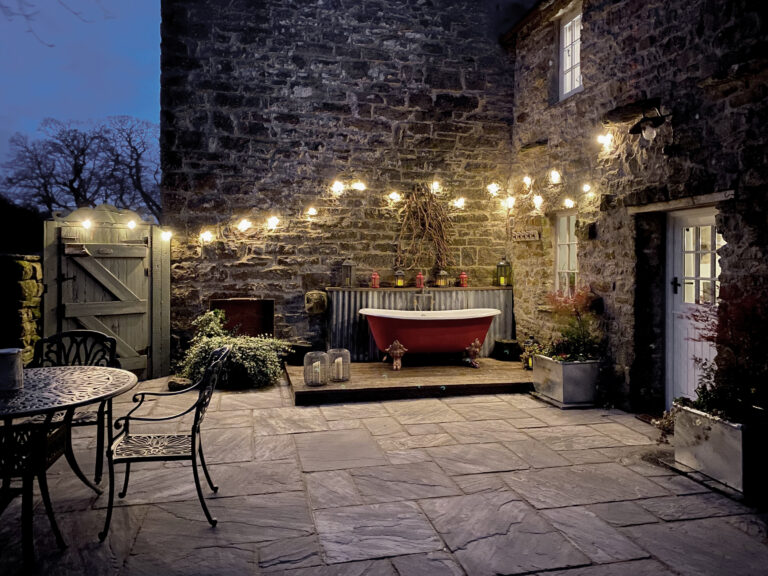 Stays from: £128 – £232
Sleeps: Two adults and a child (one bedroom, two bathrooms)
---
Sunrise Cabin, Skye
You'll want to spend most of your time in Sunrise Cabin's king-size bed to get the most out of your vacation, but rather than sleeping you will be appreciating the unspoilt panoramas of Loch Bracadale and the Cuillin mountains beyond your room's glass wall. A stroll from your accommodation to Harlosh Point's surrounding caverns and ruins will leave you beaming, while the more adventurous can drive to Ullinish's Oronsay Path for a trek along the sea cliffs and to a surrounding tidal island.
A sunset trip to Neist Point Lighthouse is a must, as is purchasing fresh lobster from a local fisherman. Those looking for even more gourmet dining might make a reservation for dinner at Loch Bay, a local Michelin-starred restaurant that serves the best of the island's natural underwater treasures.
Stays from: £250
Sleeps: Two adults and a child (one bedroom, one bathroom)
---
The Wax Seal, Bath
Bath provides tourists a chance to travel back in time and immerse themselves in a glimpse of a completely different Britain, whether through Roman spas or Georgian, green suburbs, thanks to its honey-coloured, higgledy-piggledy alleyways and olde-worlde attractions. The Wax Seal, a Georgian mansion with as much historical charm as the cobblestone street it's located on, is an example of the latter. Read up on the house's fascinating history in the hallway's displayed documents, then stroll up to the roof garden to feel as if the world is your oyster.
If you can tear yourself away from the house's own round bathtub, cool off in the outdoor pool at the neighbouring Thermae Bath Spa, and explore the boutiques, booksellers, and cafés tucked down surrounding side streets.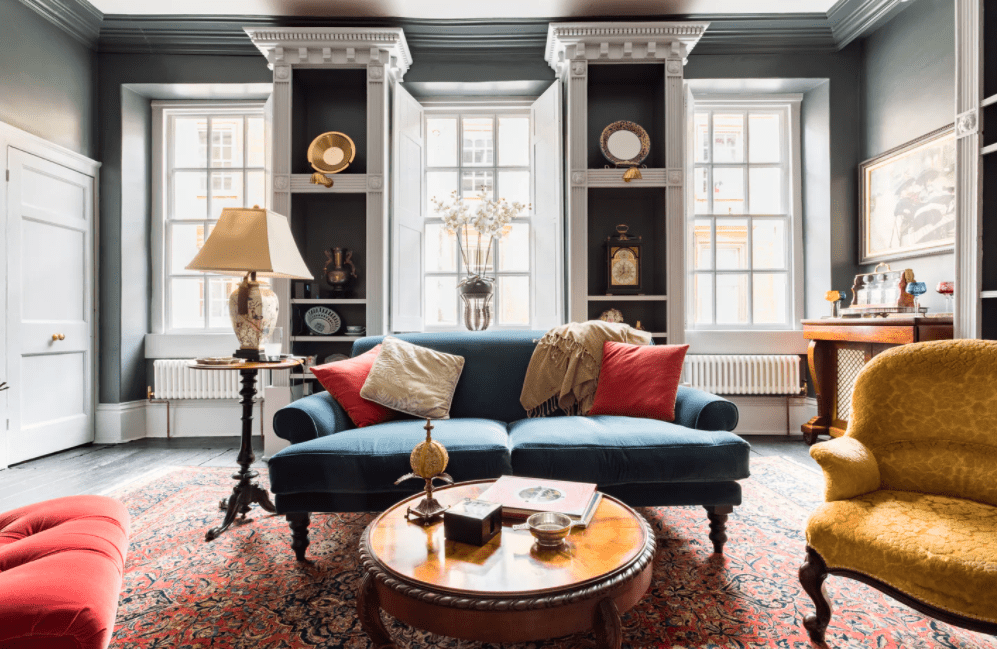 Stays from: £662
Sleeps: six (three bedrooms, four bathrooms)