There are so many States around the USA that can provide the perfect camping backdrops for those wanting to be at one with the wilderness. For those that don't want to be that at one with nature but are still looking for the serene surrounding then luxury camping, also known as glamping, is the best option for you.
Here's a selection of luxury glamping resorts that up the ante on style and comfort around the United States.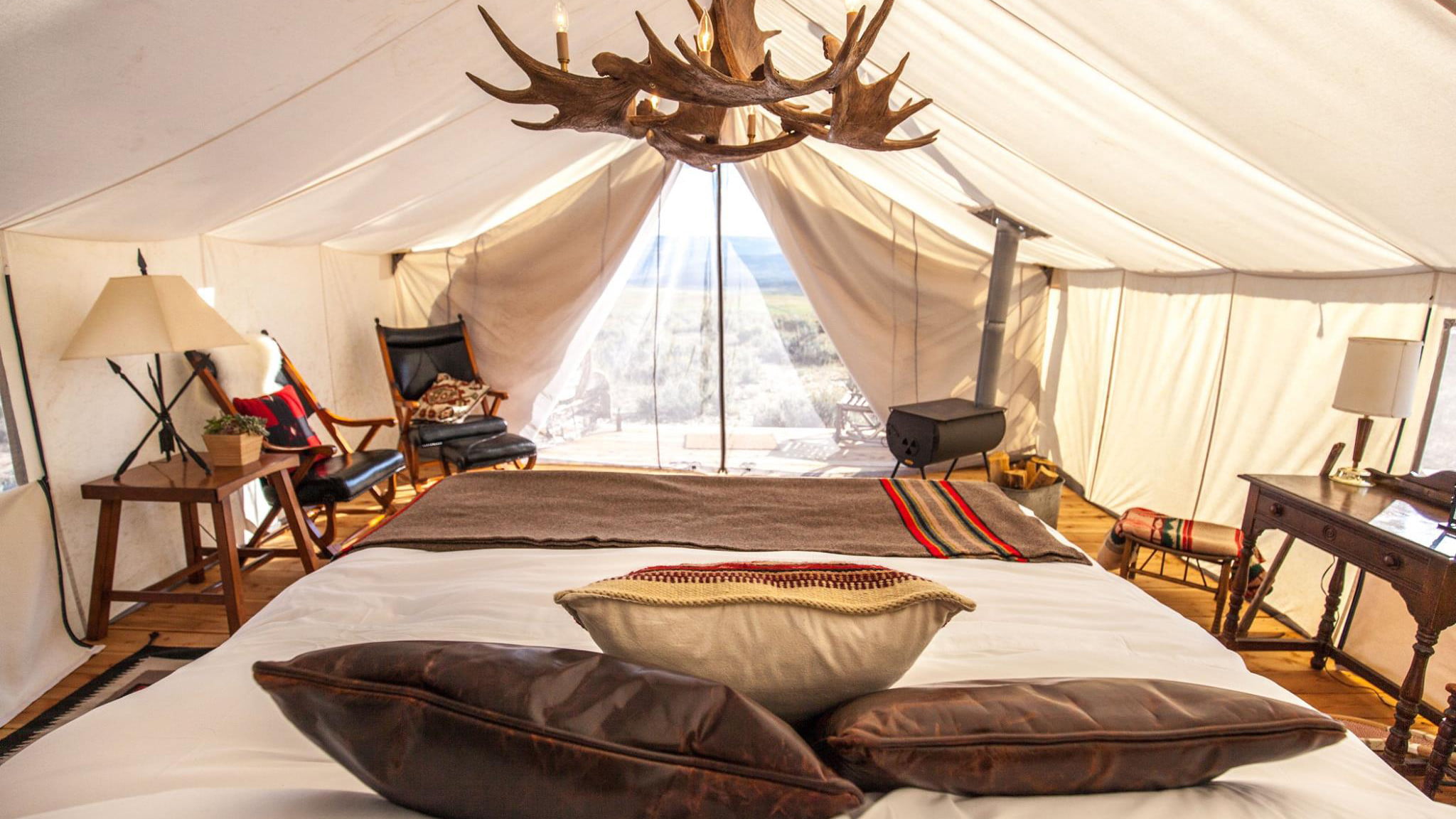 ---
Collective Retreats
The Collective Retreats has set up luxury safari-style tents across the USA, from Montana to New York City, usually located in destinations where you're not likely to find a hotel, for example, on an organic farm in Hudson Valley, with easy access to stylish boutiques and quaint local shops.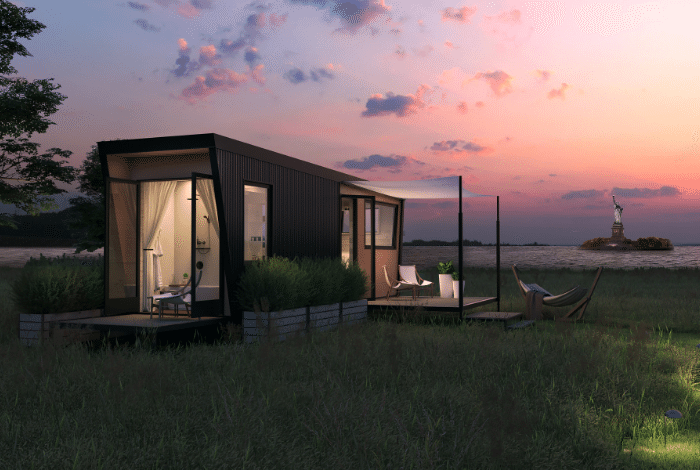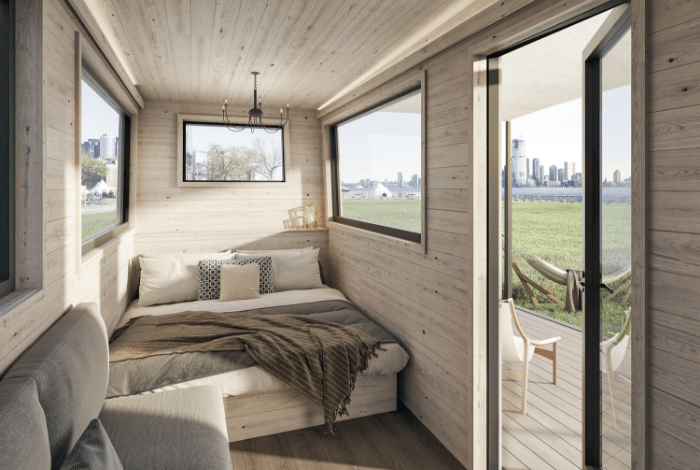 Accommodation is anything but rustic as "tents" are complete with antler chandeliers and sheepskin throws. The company is known for creating "campsites" with all of the luxury hotel amenities that we love; hot showers, electricity, coffee makers, a concierge.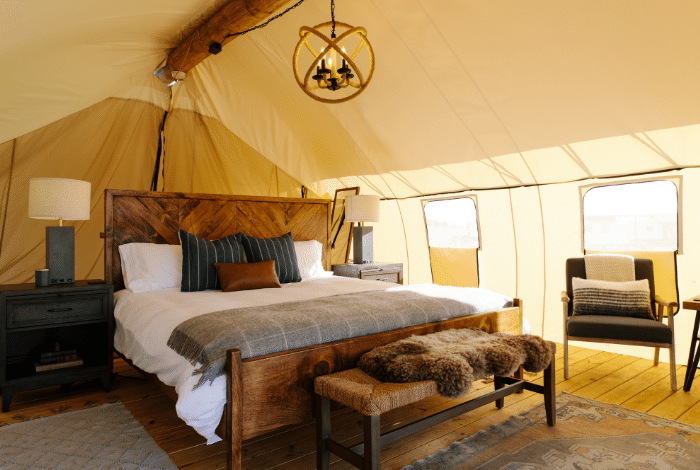 ---
Dunton River Camp
Set in a lush meadow in the wilderness of Colorado's San Juan Mountains, is Dunton River Camp, although there's absolutely nothing that screams traditional camping when it comes to this base.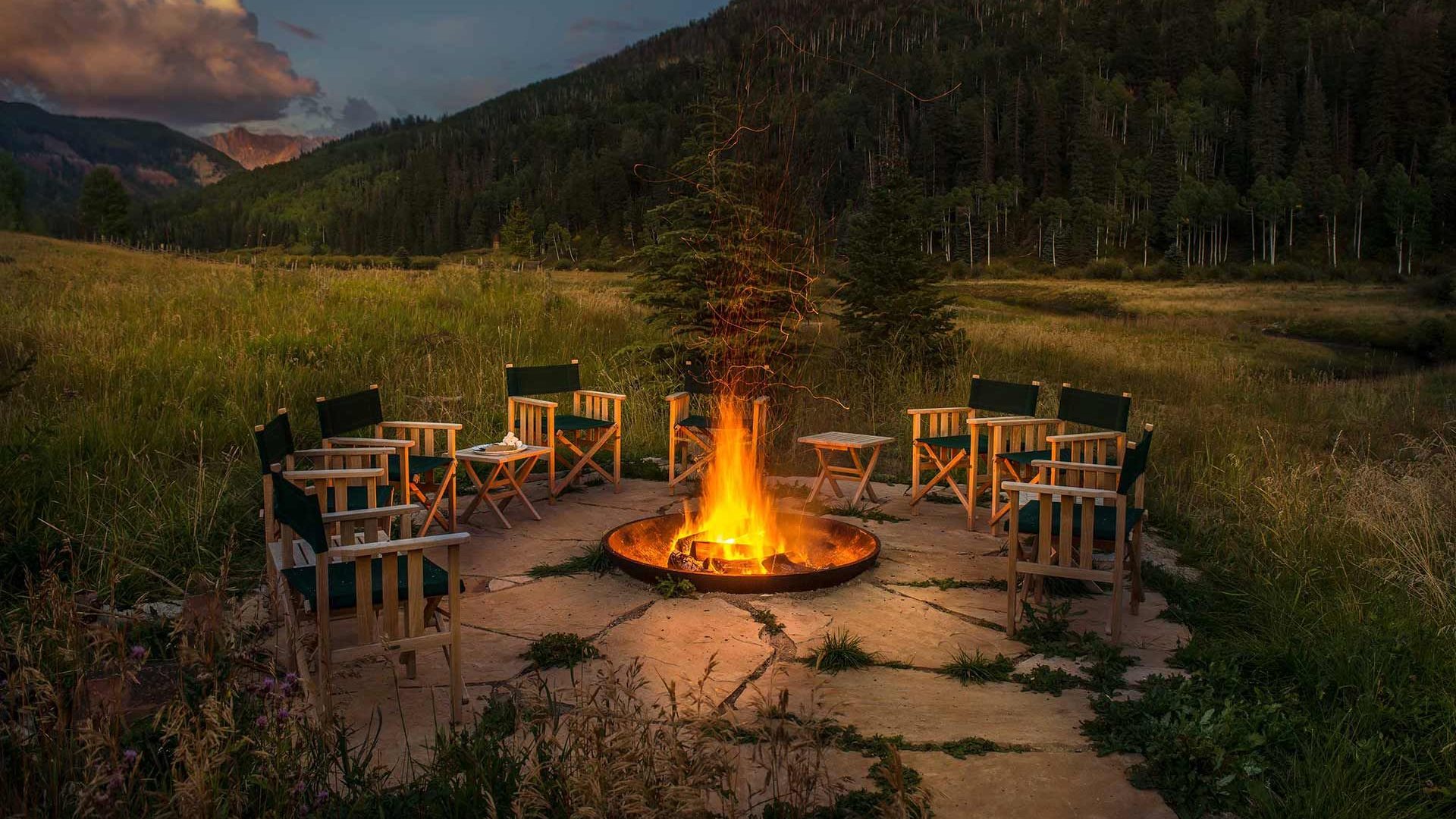 With eight luxurious tents around the site, each tent is kitted out with its own stove, king-size beds, marble sinks and full-size bath tubs. Each tent also has its own expansive porch overlooking Aspen groves or rushing waters.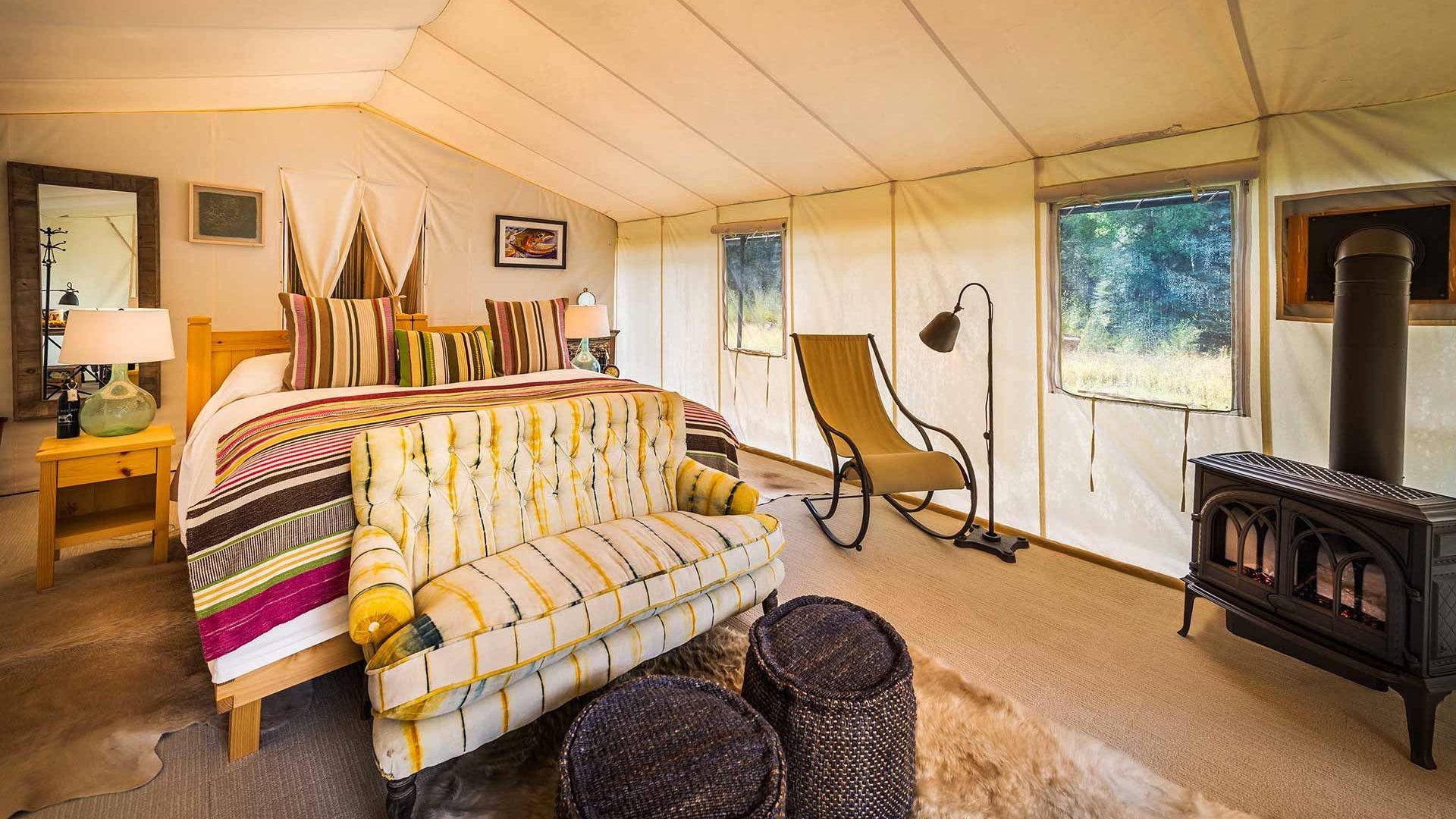 The camp also boasts a spa tent specialising in botanical treatments, riverside sauna and farmhouse; a warm, cosy, cabin-like building with sofas and antique rocking chairs where guests can enjoy seasonal dishes made with foraged ingredients and wine from the on-site vineyard. For those wanting to explore, mountain bikes are provided to take you from your room to the resort's other sites.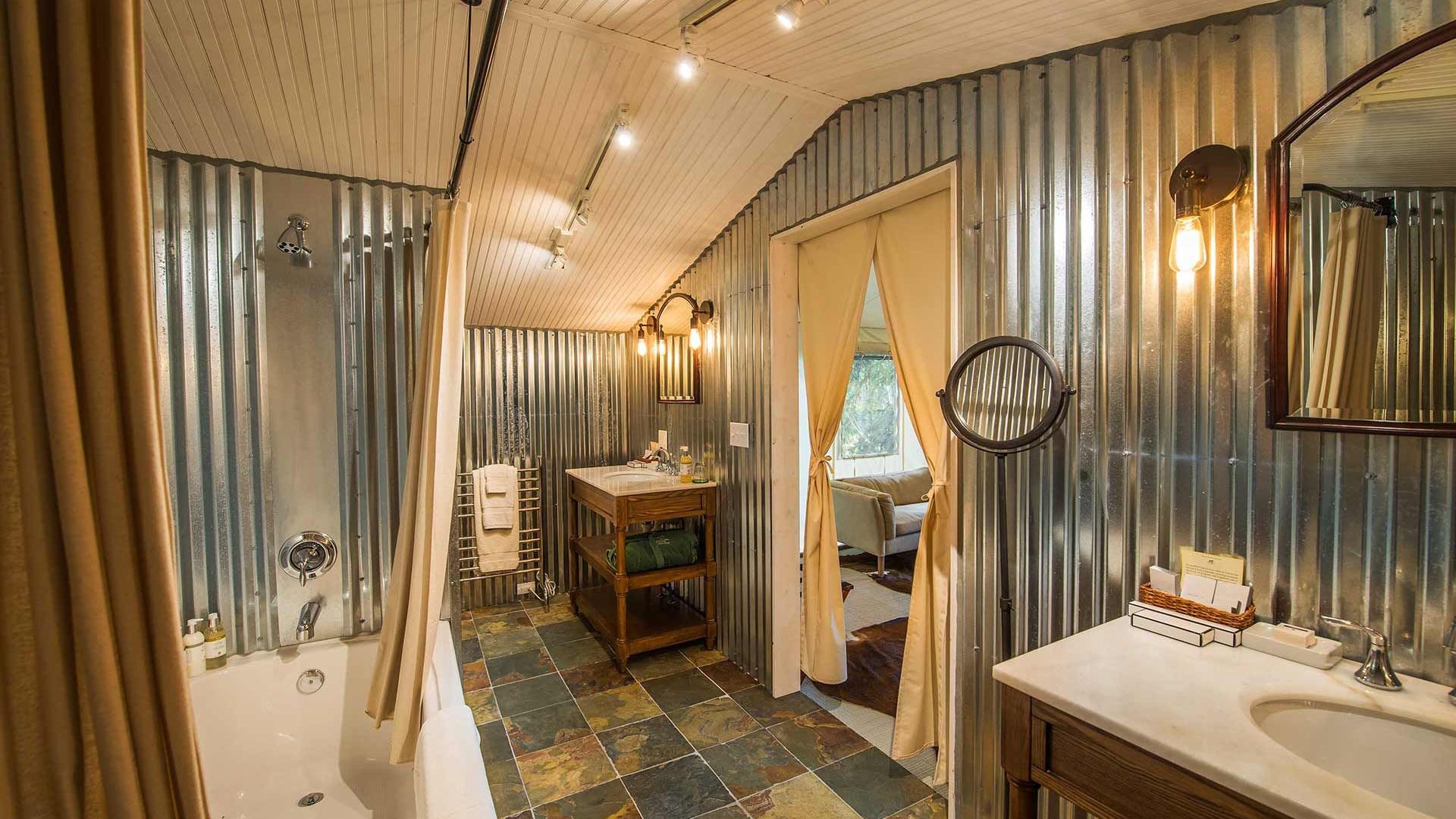 ---
The Resort at Paws Up
Set in 37,000 acres of Montana wilderness, this family-owned resort at Paws Up is the perfect family vacation spot to allow guests to get reconnected and revitalized.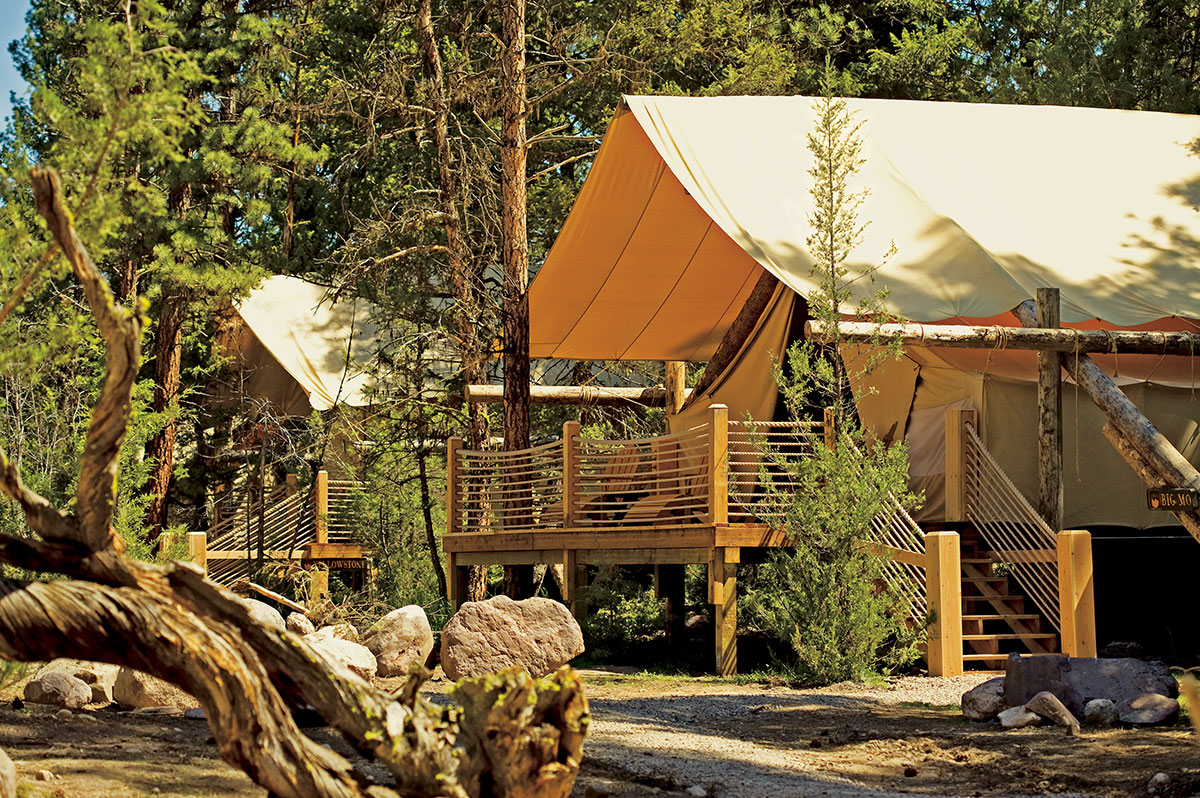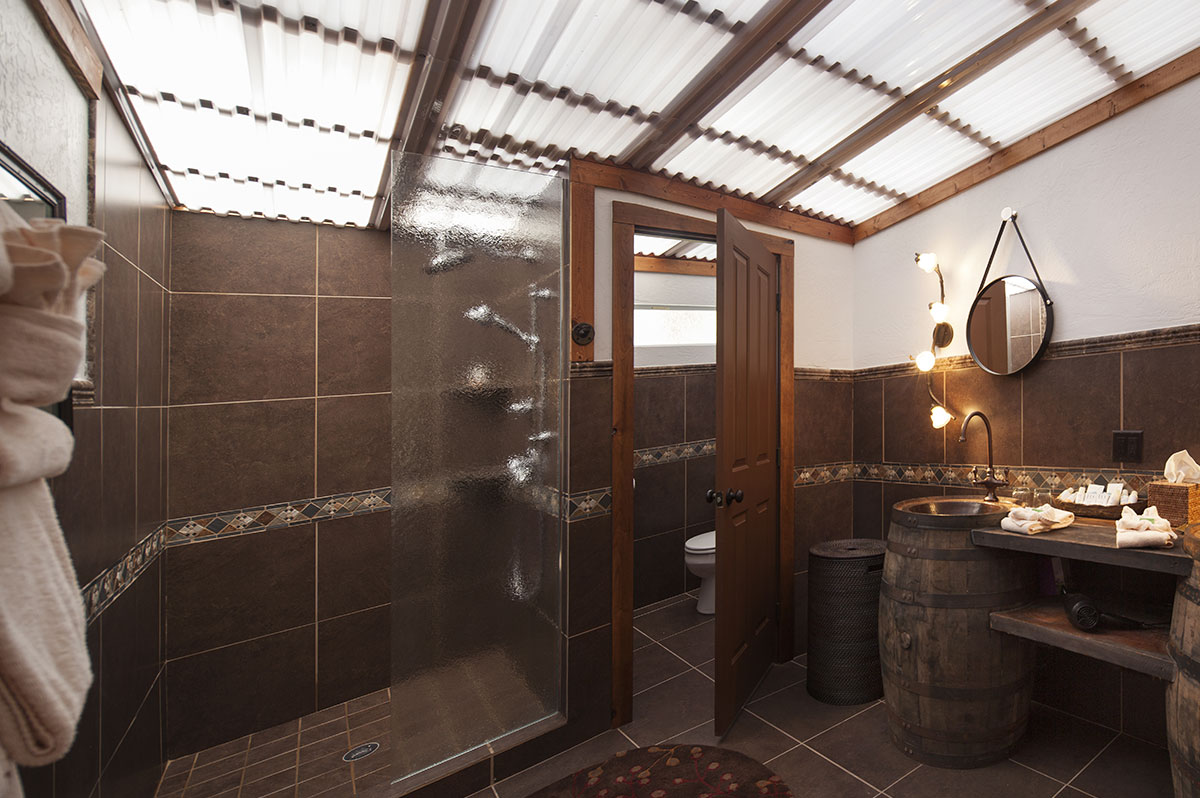 The resort accommodates families of all sizes and offers up a whole range of activities for all ages, from Montana horseback riding, fly-fishing, river rafting and paintballing. Featuring the most luxurious of homes and camping along with fine dining.
The camp has six luxury tented camps, each of which are decked out in a safari-style, featuring fine linens, chic rustic furnishings, art adorned walls, electricity, air conditioning and even a camping butler at your beck and call.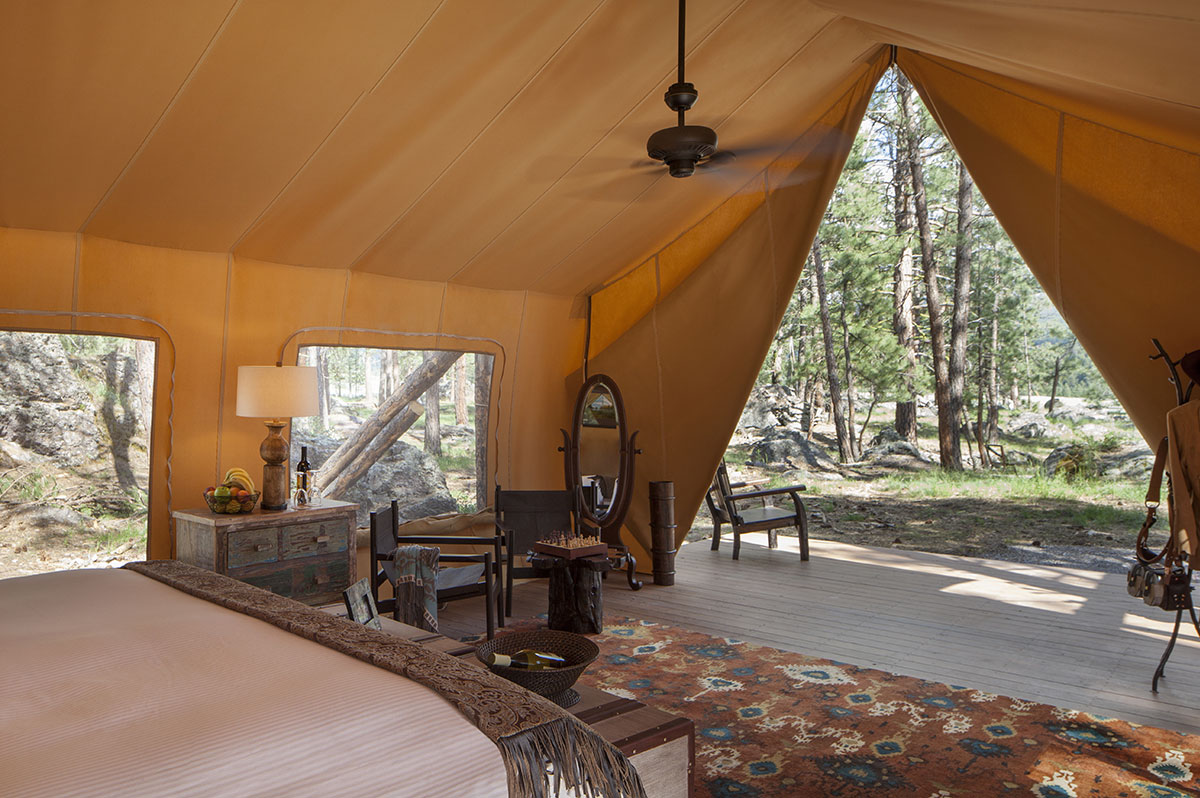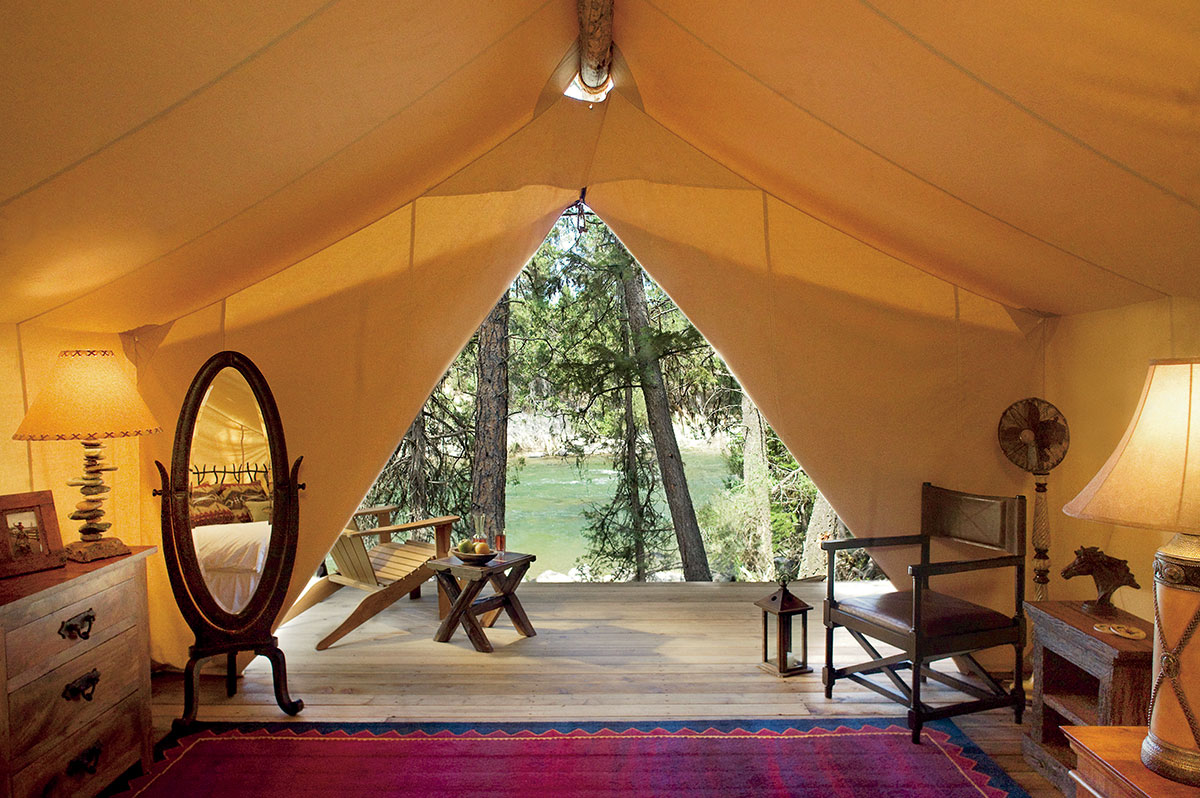 ---
Under Canvas
Under Canvas' luxurious private tents allow guests to have all the perks of staying in a national park without having to rough it in a sleeping bag. Located in areas such as the Grand Canyon, Yellowstone, Glacier and the Great Smoky Mountains.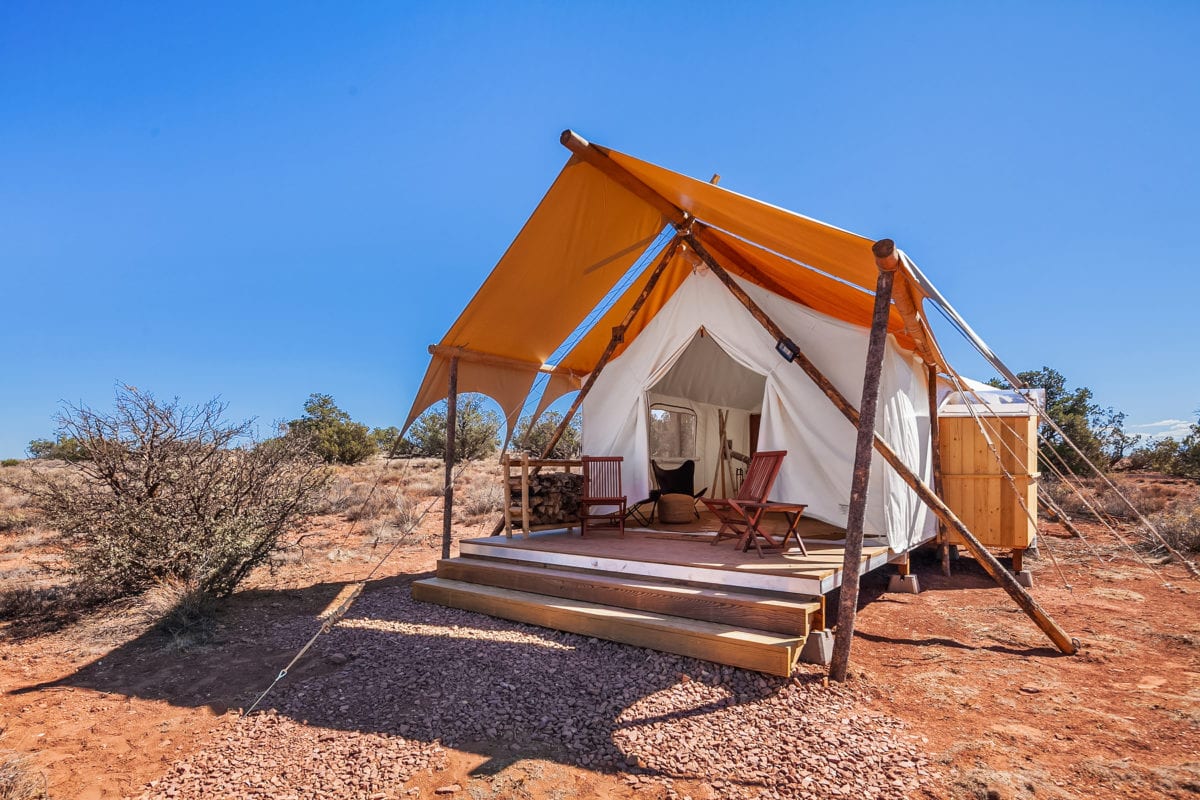 Tents boast en suite bathrooms, king-size beds, daily housekeeping and wood-burning stoves. The company also aims to protect the environment with its areas of sustainability such as water conservation in the form of pull chain showers and low flow toilets, solar-powered energy and a wifi-free glamp ground.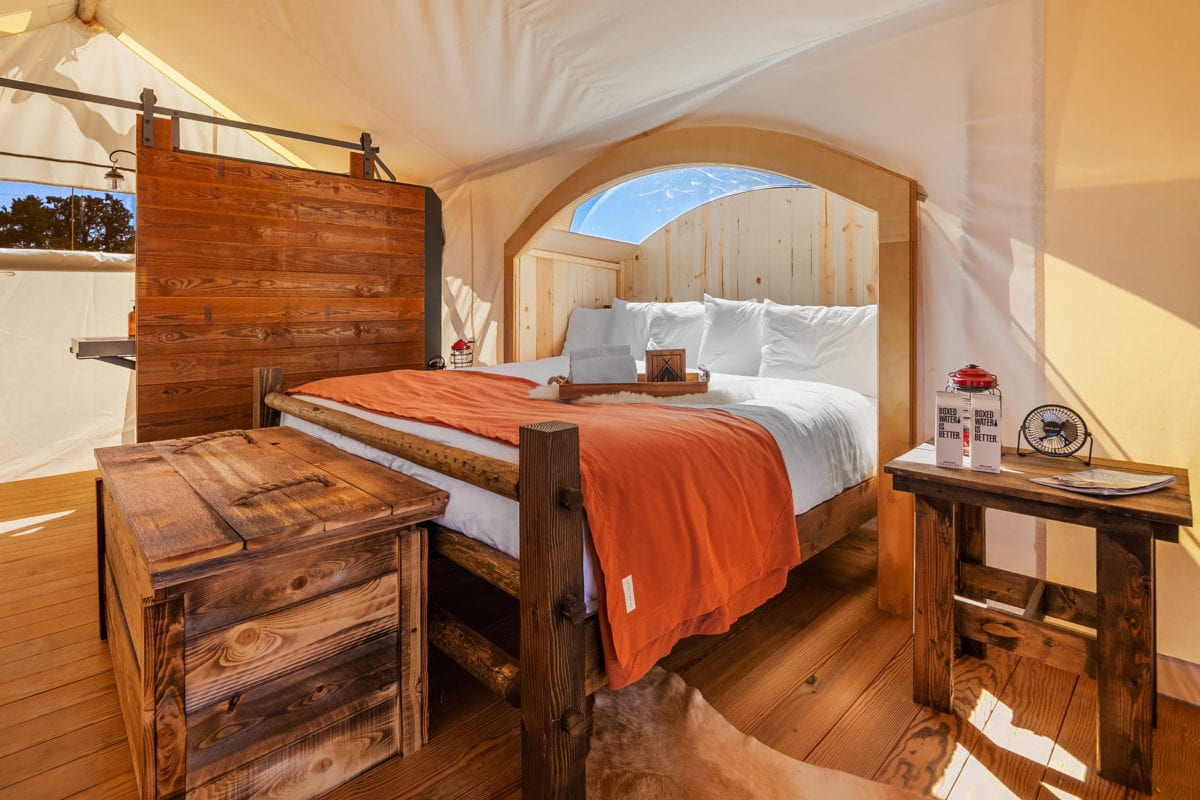 Activities such as cowboy cookouts, massages, helicopter tours, horseback riding, fly fishing, and kayaking are sure to keep you and the whole family busy.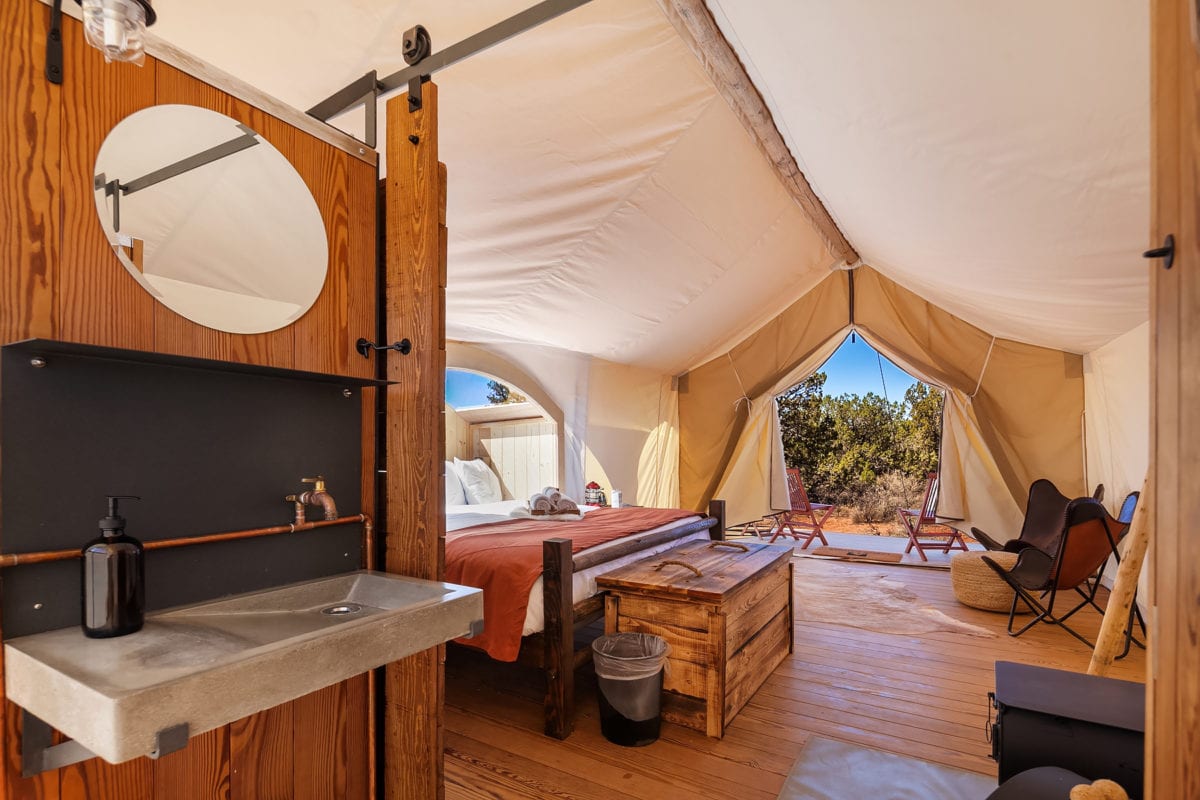 ---