In the peak of sale season, there is no better time to revamp your wardrobe to step into the new year in style. We've rounded up some of the best staple pieces that you can add to any outfit, as well as the newest designs that will make women of any shape, size and height look and feel their best!
Warm nudes and browns are necessities in your collection this season, along with leather pieces to draw your outfits together flawlessly before topping it off with a stylish coat and knee-high boots.
---
Loungewear Jumpsuit
With loungewear becoming the main focus of our wardrobes this year, a comfortable ribbed jumpsuit will become one of your favourite pieces. Find many different styles and colours of jumpsuits and explore the new ASOS LUXE range, which is filled with chic stay-at-home attire!
The jumpsuit is a one-step outfit that brings an elegant flare to comfortable attire which can be worn anywhere. Whether you're enjoying a cosy movie night or going out for a meal, dress it up with a nice coat, simple jewellery, a belt and shoes and you're good to go!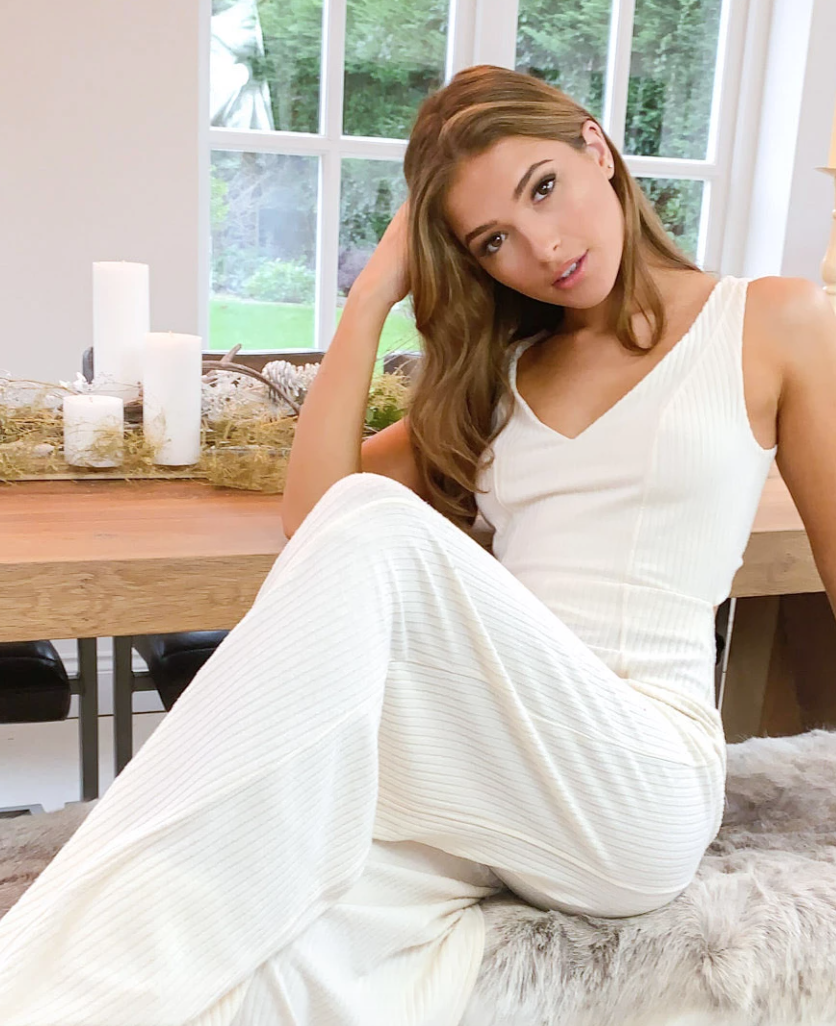 ---
Roll Neck Jumper
You simply cannot go wrong with a wool roll neck jumper in the winter months; wear it around the house or for a casual outing. This style is effortlessly fashionable while keeping you warm and comfortable, available in a variety of styles and colours. Wear this with jeans or leggings and a leather jacket for a sharp look, or a puffer jacket for extra warmth. Top it off with dainty diamond hair accessories and jewellery if you want to add in a touch of glam.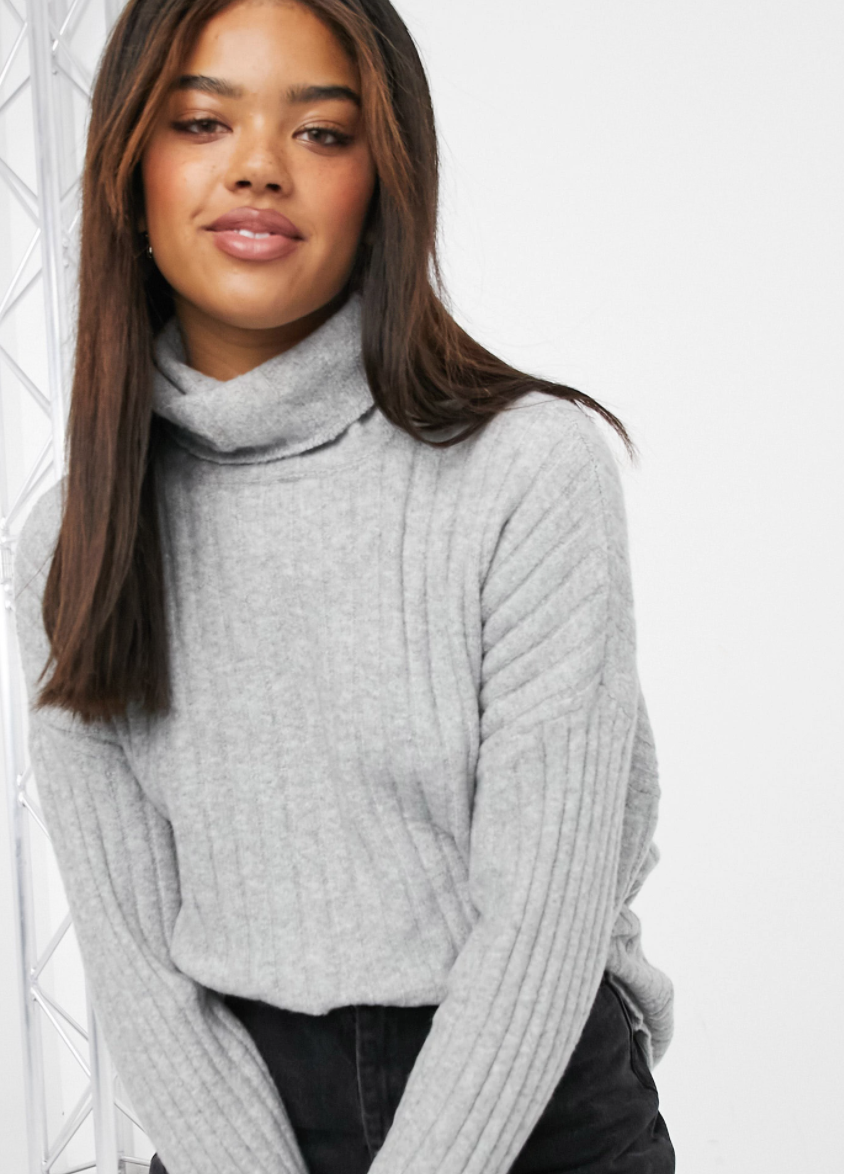 ---
Bardot Top
A stunning staple piece for a date or girls' night is a simple off-the-shoulder top, which can be glammed up or toned down to suit you! With this style of top taking a whole variety of different variations in colour and patterns, strip it back to the basics and stick with a simple block colour like white, which can be worn several times with different outfits.
Pair with jewellery and elegant suit trousers (as shown), or slim-fitted leather trousers, with a classy coat or blazer and heeled boots.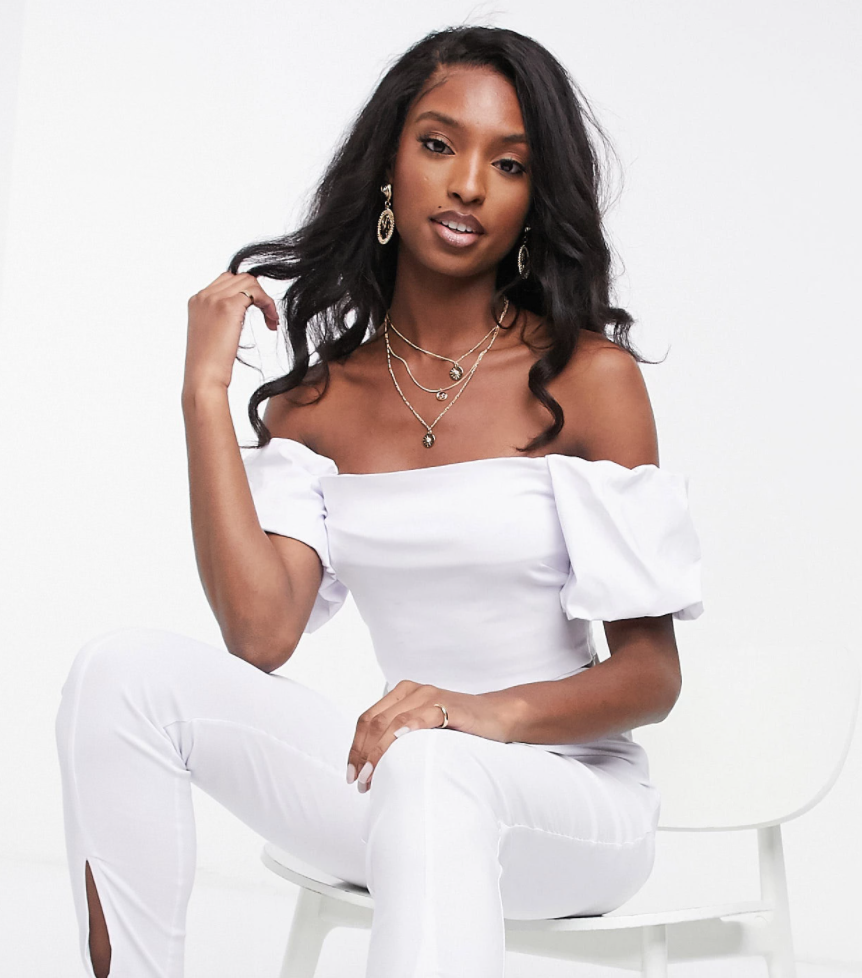 ---
Satin Cami Top
Satin can smoothly bring any style to life such as this simple, ruched camisole top. This is a prime example of 'jeans and a nice top' which all women struggle to source through the thousands of tops on every clothes website. Now you can head straight for the satin cami top as it is effortless, comfortable and gives a fresh, polished finish to your look. Not to mention the variations of colours and styles are endless!
Wear this top to any event and pair it with an elegant coat, jeans and your choice of heels or flats.
---
Black Mom Jeans
If you're looking for something a little more freeing than your usual skinny jeans, then Mom jeans are the way to go. This is an essential piece for your wardrobe as black denim brings focus to the rest of your outfit where you can add a pop of colour, while achieving a flattering hour-glass shape for your figure.
Wear day-to-day with trainers, any top and a coat or spice it up for the weekend with strappy heels, a fancy bodysuit and a sharp blazer.
---
Leather Trousers
Steer away from cotton leggings and bring your outfit to life by incorporating a high-quality pair of leather trousers.
Perfect for those who love the biker-girl look, you can go all-out and combine these with a leather jacket and boots or transform it into a refined look with a simple top and blazer or smart coat. This is a versatile staple piece that can also be worn in a casual style with an oversized jumper or shirt!
---
Bodycon Jumper dress
Like the loungewear jumpsuit, this bodycon jumper dress could fall into the category of loungewear as it is one of the most comfortable dresses you could own, while remaining sophisticated and flattering. As an excellent variation of the classic jumper dress, the bodycon style makes it crucial to your collection as it comes in alternative lengths and can be worn at home, work, casual outings or a date night.
Wear this style in a range of colours with ankle boots, trainers or simple flat shoes during the day and heels at night. Lastly, accessorise and top it off with a smart coat or leather jacket.
---
LBD (Little Black Dress)
One of the most essential items in every girl's wardrobe is a reliable little black dress (LBD) which can be worn anywhere. This satin material sets a new standard for all LBDs, while the synched waist, cowl neck and side-slit make it an extremely flattering piece for any body type.
This showstopper doesn't require many additions and would look just as spectacular without jewellery; just add a nice pair of heels and a small bag to match and you're all set! Alternatively, dress it down for daytime with a belt, ankle boots and your choice of coat with a cross-body bag.
---
Oversized Coat
Snatch up an oversized coat in the sales as this gives you freedom to wear whatever you like underneath without ruining your look – just button it up! There are many different colours available of oversized coats, meaning you can choose your favourite one to match most of the items in your wardrobe.
Add a cross-body bag and ankle boots to this outfit for a classic, cosy winter look or wear with a dress and heels for fancier occasions!
---
Leather Blazer
With black leather blazers remaining an excellent staple piece, this new variation of neutral tones adds a modern approach to this popular trend.
This blazer can be a classic finishing touch to many outfits and can be worn day or night. Dress it down for daytime with a cream crop top and leggings set or dress it up for the evenings with the matching leather playsuit!
---
Ankle Boots
Black ankle boots complete any look, from dresses to jeans or skirts, it is a simple way to dress down a fancy outfit or add a pop of sophistication to a casual outfit. With unlimited styles of ankle boots in every store, investing in a high-quality pair that will last a long time through any weather is worthwhile, such as these Ted Baker biker boots.
In summer, pair these with a simple summer dress or denim shorts and a checked shirt, and in winter style them with a comfortable loungewear jumpsuit and oversized coat.
---
Cross Body Bag
Ditch carrying around your overflowing handbag and treat yourself to a new cross body bag containing only your daily essentials. A simple black bag is a one of the main items you need in your closet as it will match the majority of your outfits. With Ted Baker being famed for their stunning collection of bags, this new arrival stands out with its pristine quality and petite size.
---
Knee High Boots
Black knee-high boots are a timeless addition to your collection, with different colours of this style becoming a popular trend this year. The black version is essential as, like the black cross-body bag, it will go with the majority of your outfits.
Wear these boots for a day out, paired with a jumper dress and coat or jeans and a nice top, and in the evening's style with a mini dress and leather blazer!
---
By Layla Maguire