Fes-el Bali's is Morocco's most ancient and possibly most enchanting imperial city. A maze of souks, workshops and mosques, this mesmerizing city has no shortage of things to do, see and eat with more than 9,500 narrow alleyways, filled with charming life, to get lost in.
Although it might have fallen behind Marrakech in the past when it comes to trendy riads and stylish restaurants, there's a makeover well underway in Fes. Historical buildings are being redesigned and stylish restaurants are cooking up a storm with market produce being turned into gourmet fare.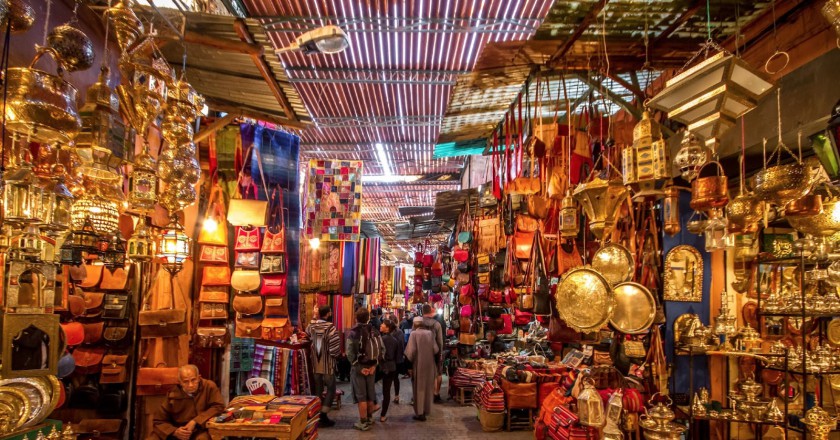 ---
Where to Sleep
Located in Ville Nouvelle, the Hotel Sahrai is a vibrantly designed, super-trendy boutique hotel. All of the rooms and suites are decorated with modern minimalism in mind, giving the hotel a real relaxing feel about it. It also features a stunning infinity pool and rooftop terrace bar that overlooks the medina, as well as a luxurious and up-market Givenchy spa with a hammam, and a French brasserie for those wanting to eat something other than Moroccan cuisine.
The Karawan Riad is one of Fes's latest luxury openings – a contemporary hotel set in a palatial 17th-century riad. The French owners spent ten years creating a tranquil courtyard, complete with the most incredible columns, a rooftop bar and seven luxurious suites filled with colourful antique fabrics and one of a kind art.
With only 15 sumptuous rooms and suites built around a courtyard garden filled with lemon and orange trees, the Andalucian-style, Palais Amani, is a tranquil oasis away from the medina's mayhem. The hotel features a fantastic terrace for guests to enjoy the sunset before indulging in modern Moroccan dining around the hotel's fountain.
A spectacularly restored former residence, Dar Roumana houses five stunning suites that feature the work of Fez's well-known artists in their mosaic tile floors and elaborate plasterwork. Guests can also relax and enjoy the large open roof terrace during the warmer months complete with breath-taking views across the medina, for colder seasons there's a snug salon featuring an open fire.
---
Must See and Do
For those wanting to immerse themselves into the city's vast culture and history, a must-see is Fez' UNESCO-protected 9th-century medina, the Medersa Bou Inania. Known to be the finest of Fez' colleges you'll be left in awe at the medina's magnificent zellij tiles, carved stucco and cedar wood interior.
Take a wander around the markets and shops and you'll come across some of the supplest leather coats – you can even get one made to order. There's no shortage of bags, traditional slippers, stunning crockery and silver Berber jewellery too.
If you're an absolute foodie, like me, then you'll want to embark on one of Fez' most unique tours with Plan-it Fez. The perfect way to explore local life, you'll get to discover Fassi specialities and traditional street eats as well as the art of the communal oven and the age-old tea making.
Following a full day exploring the city's best attractions, there's no place else I'd rather put my feet up and unwind than a traditional Moroccan hammam. My personal favourite has to be Laaroussa's charmingly renovated bathhouse, where you can relax by being steamed, covered in soap and massaged into a complete state of zen.
---
Where and what to eat
If it's fine dining that you're after, then the Hotel Dar Roumana's restaurant is for you. One of the city's most amazing restaurants it is set in the stunning courtyard of one of the city's most luxurious hotels. Inside the restaurant, you'll be delighted by a Mediterranean menu with a Moroccan twist that makes the most of fresh seasonal produce.
If you're looking to dine in a traditional setting, then you'll want to pay Restaurant 7 a visit. This minimalist riad-turned-restaurant has quickly become a popular base for pop-ups featuring chefs from around the globe. The restaurant has one rule and that is for the chef's cook whatever's inspired them at the market that day. Chefs then create a four-course nightly changing modern menu.
The incredibly romantic British-run Ruined Garden is set in the remains of a traditional riad and comes complete with crumbling mosaic floors and plenty of lush greenery. The restaurant's menu showcases seasonal produce and a gastronome take on classic street food, such as marinated sardines and potato cakes.
Café Clock makes for the perfect place to rest your feet for a moment with traditional mint tea or a mocktail. They also have a comprehensive cultural programme, where you can learn to make your own traditional tagine or even try your hand at the art of calligraphy.
---