In 2021, Carnival Cruise Line will operate its most extensive European season with a diverse schedule of trips aboard Carnival Legend that includes visits to 58 stunning ports across 21 countries, including the line's first cruises to the Greek Isles and a return to Iceland, Norway and the Baltic.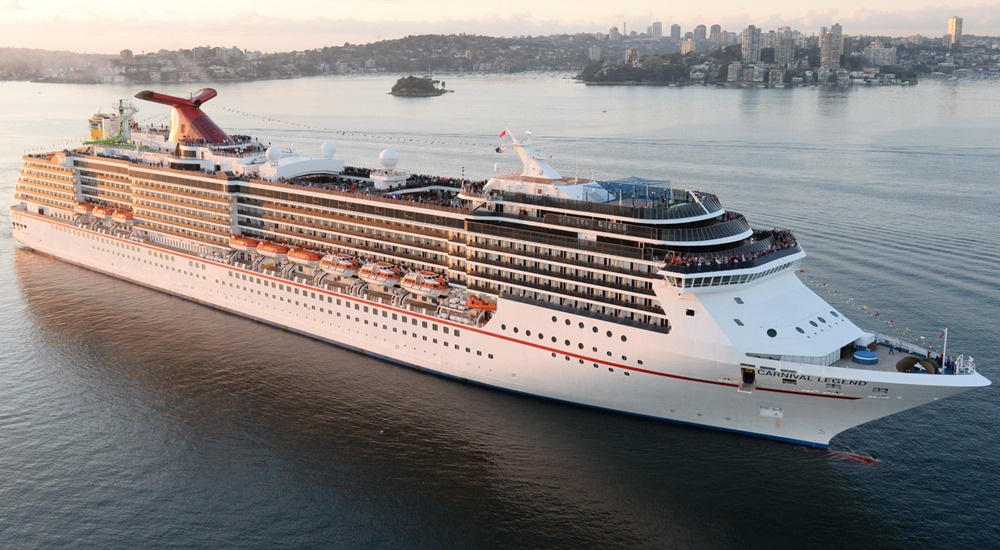 During these "bucket list" voyages, guests can explore ancient ruins, sample regional cuisines, experience unique cultural opportunities, and visit centuries-old UNESCO sites, including Geirangerfjord in Norway, the Acropolis in Greece, Cinque Terre in Italy and Mont Saint-Michel in France.
Following its European season, Carnival Legend will shift to year-round deployment from Baltimore beginning in November 2021.
---
Diverse European Season aboard Carnival Legend
Carnival Legend will reposition for its European season with a 15-day transatlantic crossing from Tampa to Barcelona on 26th March 2021, with stops in Nassau, The Bahamas; Bermuda; Ponta Delgada (Azores), Portugal; and Malaga and Valencia, Spain.
From there, the ship will operate a wide range of exciting voyages from Barcelona, Dover and Rome (Civitavecchia), including:
Norwegian Fjords, Scandinavia, Russia and the Baltic
4th June and 16th July from Dover:  Nine-day Norwegian Fjords with stops at popular scenic towns like Stavanger, Flaam, Alesund, Andalsnes, Olden, Molde, Geiranger, Hellsylt and Bergen, and opportunities to cruise majestic fjords such as Geirangerfjord, Sognefjord and Nordfjord.
25th July and 15th August from Dover: 12-day Scandinavia & Russia cruise with ports including Gothenburg, Berlin (Warnemunde), Helsinki, St. Petersburg (overnight call), Tallinn and Copenhagen.
Iceland & British Isles
25th June and 6th August from Dover: Nine-day British Isles voyages calling at Edinburgh, Invergordon, Isle of Skye, Belfast, Liverpool and Cork (Cobh.
13th June and 4th July from Dover: 12-day Iceland & British Isles cruises with calls at Reykjavik, Grundafjordur, Akureyri, Seydisfjordur, Belfast, Isle of Skye and Kirkwall or Lerwick.
Greek Isles and Italy
5th and 24th September from Civitavecchia:  10-day Greek Isles and Italy voyages calling at Mykonos, Santorini, Athens, Katakolon, Messina or Catania, Naples and Izmir.  An 11-day cruise departing 4th October adds a stop in Corfu.
Western Europe and the Mediterranean
17th May and 23rd October from Barcelona:  Eight-day Mediterranean voyage visiting Valletta, Messina, Naples, Rome, Livorno and Marseilles or Palma de Mallorca.
25th May from Barcelona: 10-day western Europe cruise featuring Malaga, Gibraltar, Lisbon, Leixoes, La Coruna, Le Havre and Zeebrugge.
27th August from Dover:  Nine-day western Europe cruise featuring Le Havre, La Coruna, Leixoes. Lisbon, Cadiz and  Cartagena.
15th September and 15th October from Rome:  Eight- and nine-day Mediterranean voyages calling at ports such as Naples, Kotor, Corfu, Messina or Catania, Livorno, Dubrovnik and Marseilles.
The trip concludes with a 14-day transatlantic crossing from Barcelona to Baltimore on 31st October with stops at Cartagena, Cadiz, Funchal, Ponta Delgada and Praia da Vitoria.
Carnival Legend: Exciting New Choice from Baltimore
Carnival Legend will kick off its year-round schedule from Baltimore on 14th November 2021, operating seven-day cruises departing every Sunday.  A wide variety of week-long adventures are offered visiting destinations including Nassau, Freeport and the private Bahamian destinations of Half Moon Cay or Princess Cays as well as Grand Turk.
The ship's Baltimore-based programme also includes a special 14-day Carnival Journeys – Panama Canal voyage departing 9th January 2022 calling at Half Moon Cay, The Bahamas; Ocho Rios, Jamaica; Limon, Costa Rica; partial Panama Canal transit; and Grand Turk.  Carnival Journeys cruises offer special onboard enrichment programming and fun activities such as the 1980s-style Throw Back Sea Day.
 Carnival Pride to Operate Diverse Schedule from Tampa
Carnival Pride will assume Carnival Legend's schedule of six-, seven-and eight-day cruises beginning 14th November 2021.  The sailings feature popular western Caribbean destinations, including Cozumel, Costa Maya, Belize, Mahogany Bay, Costa Rica, the Panama Canal and Grand Cayman.
The ship will also offer a 14-day Carnival Journeys cruise from Baltimore to Tampa on 31st October 2021, featuring a partial transit of the Panama Canal, along with visits to Grand Turk; Amber Cove, Dominican Republic; Santa Marta and Cartagena, Colombia;  Limon (Costa Rica); Mahogany Bay, Honduras; and Cozumel, Mexico.
To learn more about Carnival Cruise Line, visit www.carnival.com. For reservations, call 0808 234 0680.
---