Phuket is the largest island in Thailand, kissed by the beautiful Andaman Sea. A buoyant paradise characterised by its pearly-white beaches, turquoise waters, and vibrant nightlife, Phuket is an ideal spot for holidaymakers looking for a wide variety of attractions, from a hike up to the Big Buddha to discovering Phang Nga by canoe, or adventuring through Phuket Old Town sampling all of the delicious Thai street food.
But whilst you discover this cultural haven you'll need a place to call home during your stay. Check out our bucket list of the best luxury hotels in Phuket, from properties featuring private white-sand beaches to outstanding five-star resorts.
---
Keemala, Phuket
The Keemala boasts some of the most stunning bambooed treehouses suspended in the Kamala rainforest, creating an enchanting boutique resort with a magical atmosphere, surrounded by a beautiful forest, breath-taking views, and the golden coast of Kamala Beach.
The positioning of the pods and their coconut-shaped rooms and private balconies allow guests to take in the natural beauty with some of the best views of Phuket. Some of the hotel's top features include a lagoon swimming pool with a waterfall, The Mala Spa with flower and water garden treatments, and a variety of fitness courses including yoga, Tai Chi, and Muay Thai boxing.
---
Six Senses Yao Noi, Ko yao Noi, Phuket
Perfect for a romantic getaway, this resort will captivate you as it cascades over the edge of Koh Yao Noi on the western side of the island. A breath-taking view of Phang Nga Bay's crystal-clear waters and mountains on the horizon create the perfect dreamlike landscape.
Enjoy a delicious meal with fresh and seasonal products from the hotel's organic vegetable gardens in the elegant dining room or the beachside restaurant. Explore the area by kayaking, cycling, or swimming and finish your day on a high at the peaceful Zen Garden Spa with sea views.
---
Trisara Villas, Phuket
Trisara Villas, otherwise known as "The Garden of The Third Heaven", is a 39-villa resort located in the northwest side of the island, offering an endless view of the ocean. The villas are tastefully decorated with including your private kitchen, an inside and outside shower and a private terrace to enjoy dazzling sunsets from your room. Away from the tourist's bustle, Trisara invites you on cruises and excursions to explore the island's regional side and taste fresh Thai meals made with ingredients from the local markets and Trisara's gardens.
Immerse yourself in this luxury destination while connecting with Thailand's nature around surrounding the villas. The combination of golden beaches, the melody of the waves, and tropical weather are sure to create your dream holiday.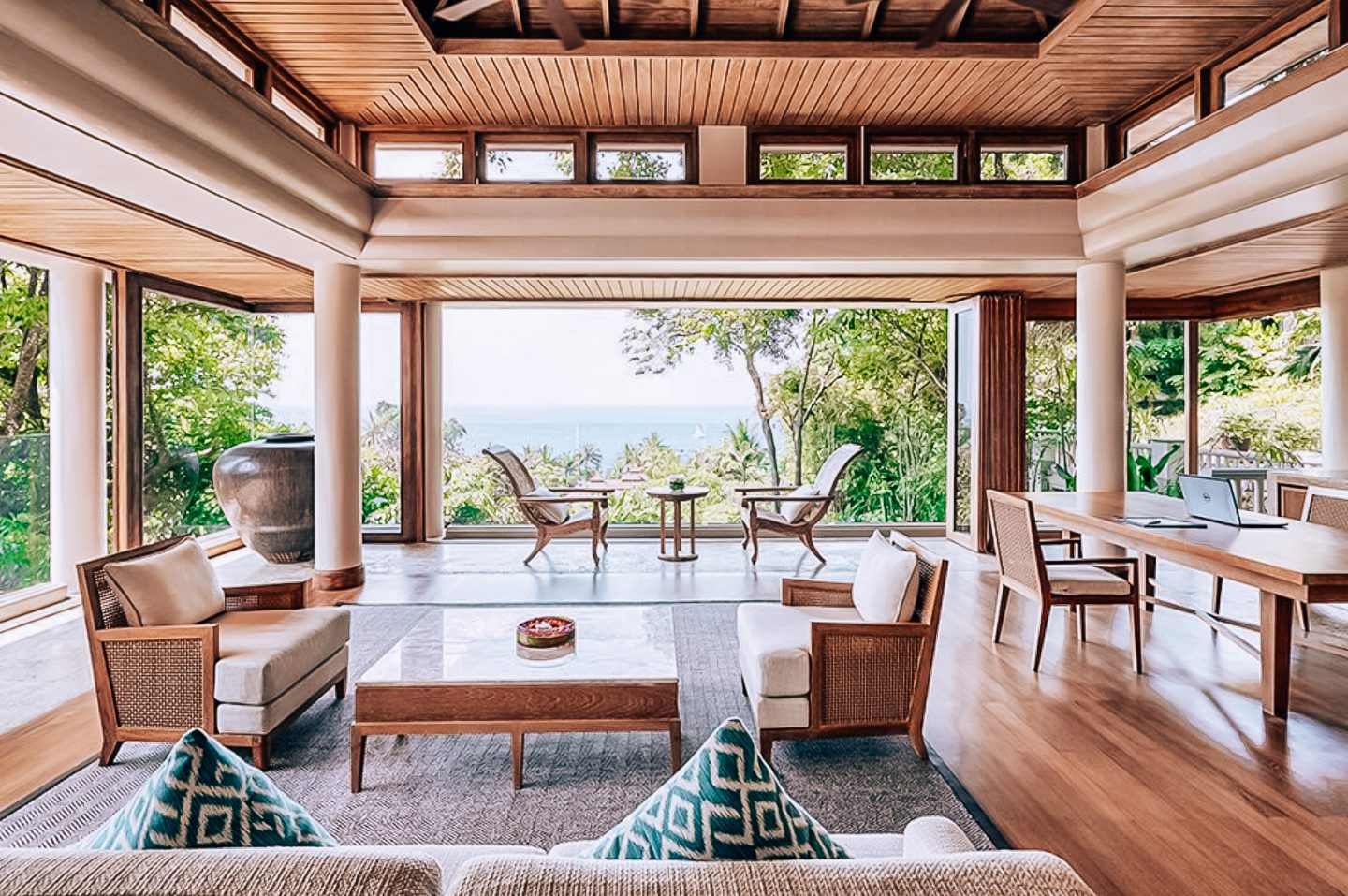 ---
Sri Panwa Phuket, Panwa Beach
One of the finest stays located on the island's southern area, where the relaxed atmosphere and contemporary décor are blended, bringing to life the beauteous Sri Panwa Phuket Resort.
Guests will find themselves in paradise as they enjoy the charming guest rooms complete with floor-to-ceiling windows capturing the first rays of sunshine and private pools with endless views to the Panwa Sea. Top-quality leisure attractions include a modern spa, charming gardens, large tennis courts, and Baba Nest's rooftop, one of the most popular rooftop bars in Asia.
---
COMO Point Yamu, Ban Pa Khlok
The brightest gem located on the eastern seaboard, Como Point Yamu, is a gorgeous resort with Phang Nga Bay's panoramic views. Some of this hotel's most remarkable features include a 100-metre infinity pool to cool off from the Phuket heat, a private beach club with lush cocktails accompanied by some of the very best sunset views and to top it off, a fine-dining restaurant with a stunning menu. Indulge yourself in the charm of this 27-room resort, with refined decor and traditional furniture created from local artisans bringing a unique personality to COMO Point Yamu.
---
Amanpuri, Phuket
Immersed in the rainforest and surrounded by the Pansea and Bangtao beaches, this resort is a paradise brought to earth. Amanpuri is ideal for those looking to relax surrounded by natural landscape but also want to spend some time wandering around the boutiques and restaurants within walking distance from the hotel. Encompassed by a stunning jungle and withing an eyeshot to the Andaman Sea, this luxurious stay has been the favourite spot for many A-list celebrities such as Beyonce and Jay-Z for decades.
---
Paresa Resort Phuket, Phuket
With panoramic views of the Andaman Sea, the luxurious resort of Paresa is located on the seaside cliffs of Kamala, on the west coast of Phuket. Paresa welcomes its guests with a traditional Burmese gong and refreshing lemongrass tea, the ideal combination to start your vacation on this first-class stay. Seaweed wraps, coconut oil massages, and green tea foot baths are some of the resort's natural treatments on offer. Spoil yourself at this sanctuary with unbeatable views of the sea from your suite, Thai cooking lessons and delicious poolside meals.
---
Anantara Phuket Layan Resort & Spa, Layan Beach
A sumptuous resort with luxury suites and poolside villas on the western coast of Phuket. Anantara Layan rejoices in tropical nature with golden shores bathed by the Andaman Sea as well as enchanted gardens with a subtle scent of jasmine and frangipani beautifully blended with sophisticated furniture.
The excellent services offered by this resort include a wellness retreat with rejuvenating spa treatments and nutritious cuisine or for those looking to keep busy at the resort, there's plenty of aquatic sports on offer as well as cooking classes.
---
By Nora Garcia