When it comes to finding a trusted hair care brand to give you professional, salon-quality hair that will tend to dry and brittle hair you can stop your search at Monpure. This environmentally friendly, luxury haircare brand is primarily made from natural, hi-tech holistic formulas that work to effectively tackle the root of the problem when it comes to thinning locks and problematic hair loss.
Each Monpure product has been carefully formulated to improve scalp health, which is known to be the common denominator with the majority of hair issues. With holy grail skincare ingredients such as retinol and lactic acid featuring throughout the range, the results are unparalleled and feature relaxing, spa-like scents, that will make your hair smell like a dream for days.
Monpure's approved range of serums, masks, scrubs have all been developed with the best dermatologists, scientists, and beauty leaders resulting in hair care that is truly advanced and delivers your best hair yet. Whether you are looking to gain thicker, glossier, healthy hair, or are tackling a hair or scalp concern, Monpure is the answer.
Whichever products you choose, you can really rely on Monpure to add a real touch of elegance to your daily routine. Take a look at our favourite must-try products from the line!
---
Follicle Boost Hair Density Serum £96
This miracle product is one that every hair-conscious-being should have in their bathroom cabinet. The easy drop bottle allows you to add the perfect amount to your roots, giving your locks the most incredible volume and voltage. Packed with the most essential skincare ingredients such as exfoliating retinol and lactic acid, these powerful ingredients work to supercharge cellular turnover removing the dead skin and debris that provides an obstacle for new hair growth.
Hero ingredients – Pumpkin Seed extract and Castor oil.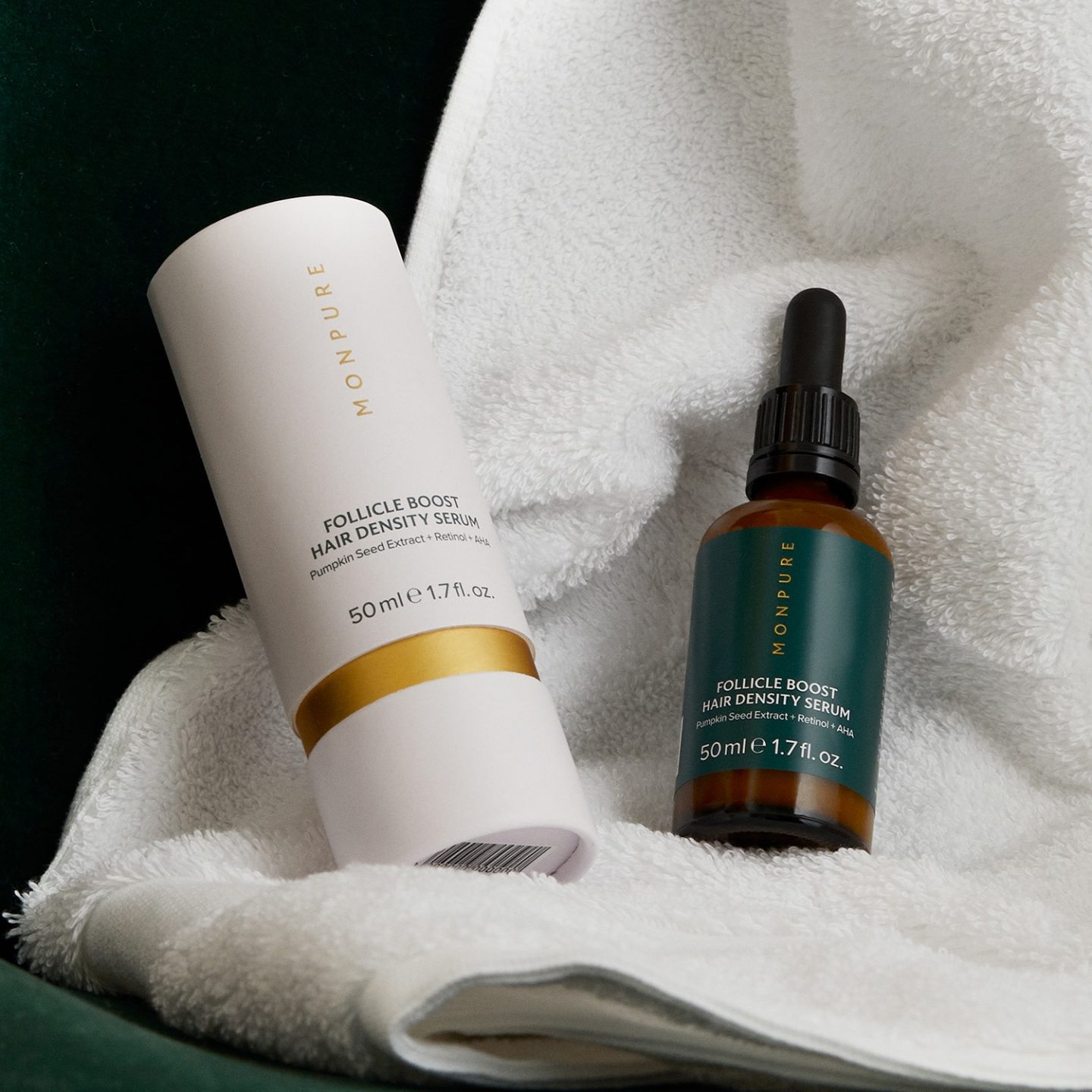 ---
Hydrate and Soothe Scalp Serum £96
If you have an itchy scalp and often find your scalp being irritated and flaky, Monpure's Hydrate and Soothe Scalp Serum is the product for you. Designed to combat dry irritated scalps, in the same way, a luxe super serum would do for our skin. This calming concoction features redness-reducing witch hazel, protective Pro-Vitamin B5, and allantoin – a renowned humectant, which draws and retains moisture like a sponge.
Hero ingredients – Witch Hazel, Pro Vitamin B5 and Allantoin.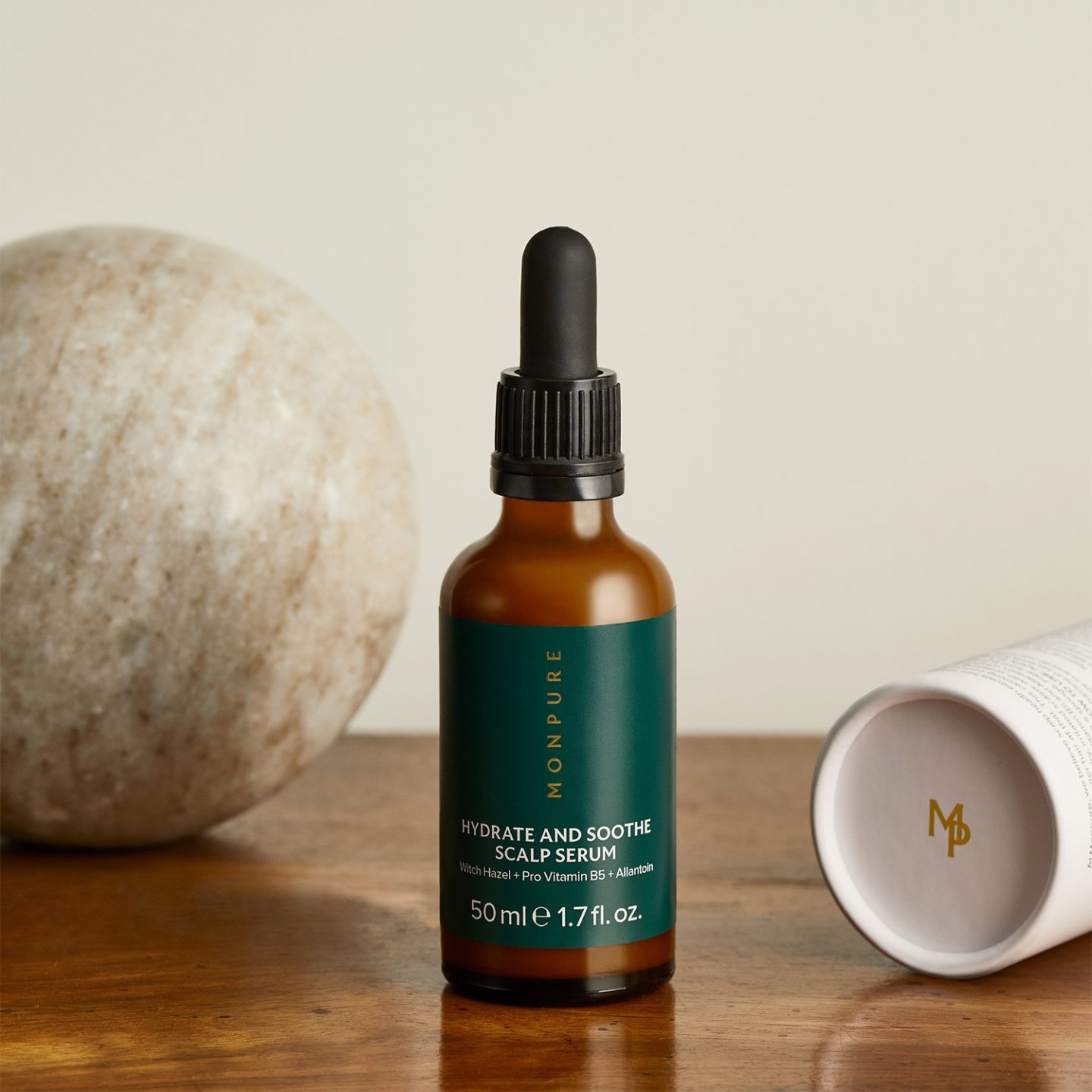 ---
Clarifying Scalp Scrub £63
This Clarifying scrub helps by pushing the reset button on your scalp, as the creamy formula exfoliates away dead skin without causing micro-tears physical exfoliates can often cause. Imbued with the relaxing scent of sweet orange and rosemary, the Clarifying Scalp Scrub exfoliates away dead skin and debris that cause irritation with biodegradable jojoba beads – it smells like an absolute dream and has won several awards, making it an absolute must-have item.
Hero Ingredients – Argan oil, Shea butter and Biodegradable jojoba beads.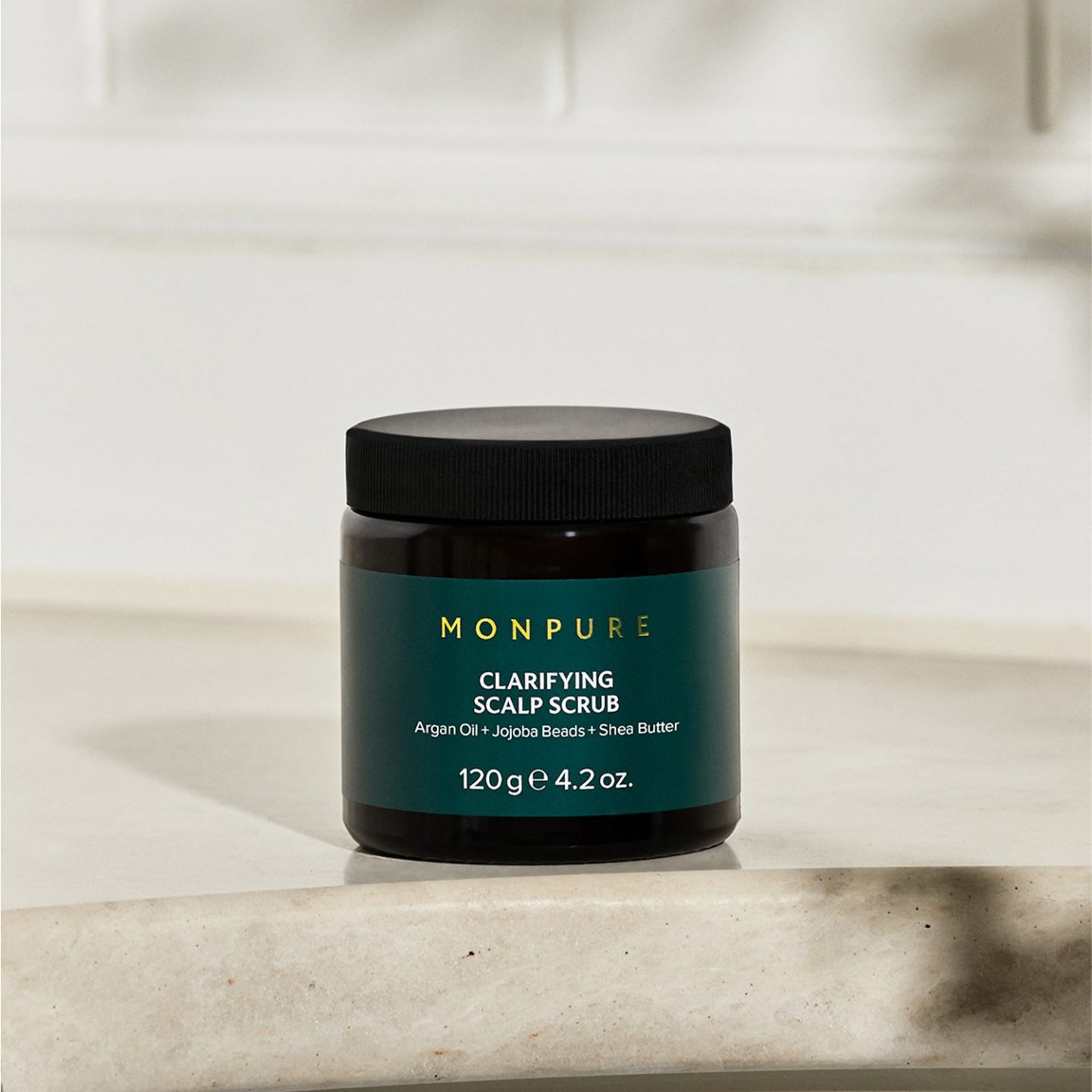 ---
Nourishing and Stimulate scalp mask £63
Forget about any other hair mask you might have tried, as it won't even closely rival Monpure's Nourish and Stimulate Scalp Mask. This winning product works to 'feed' the hair follicles and skin cells with essential vitamins and nutrients to create an optimum environment to stimulate hair growth. It also works to invigorates an itchy scalp and relieves redness, discomfort and sun damage – you won't go another holiday again without this in your toiletry bag.
Not only does it work to improve scalp health so hair can grow stronger, better, and healthier with regular use, but it also soothes, hydrates, and relieves itchiness with aloe vera and vitamin-rich camellia tea oil. Lastly, your scalp and hair will be left with extra 'oomph' thanks to strengthening vegan silk peptides.
Hero ingredients – Vegan Silk Peptides, Aloe Vera + Camellia tea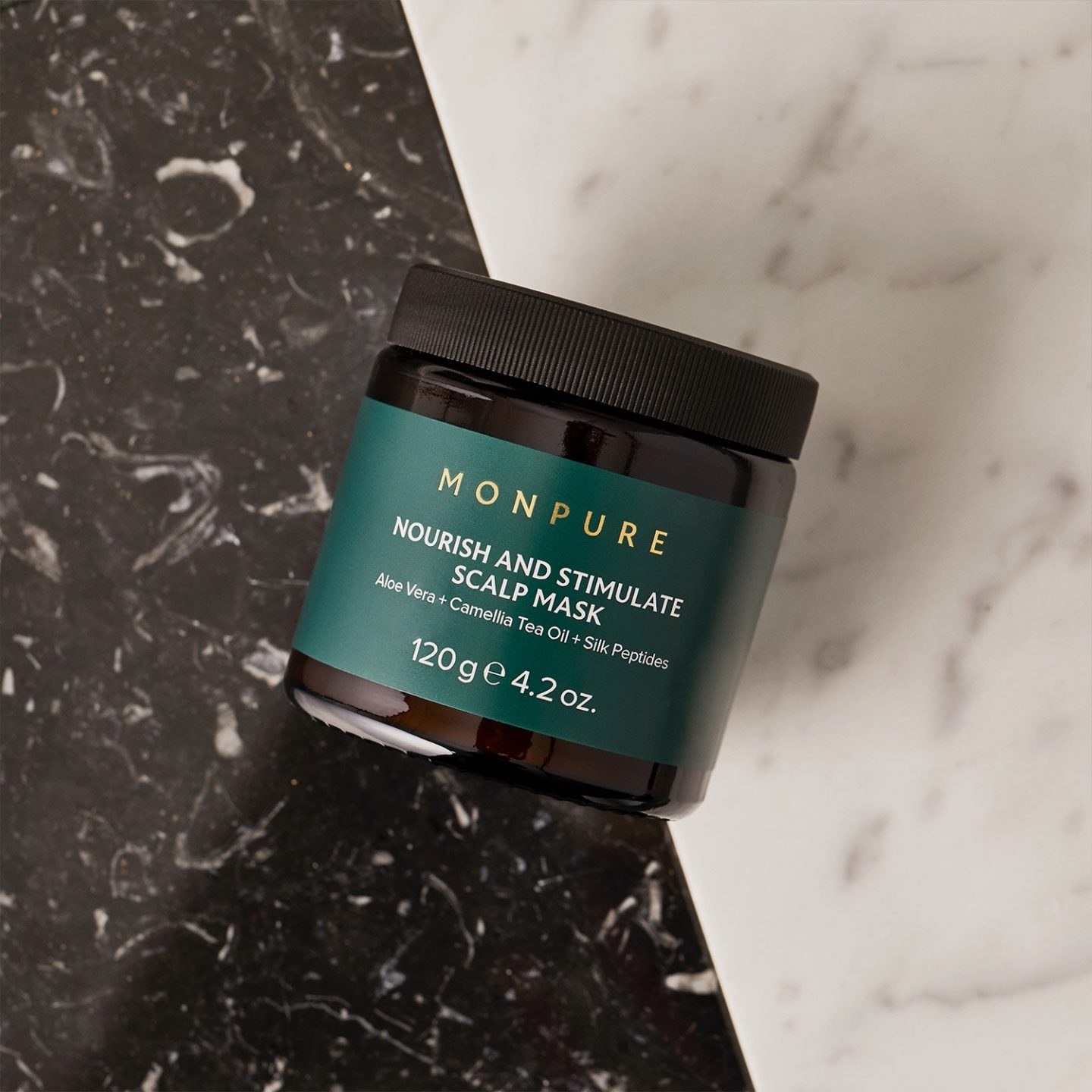 ---
Strengthening Silk Protein Shampoo £36
Without a doubt, the best shampoo we have ever used. This Strengthening Silk Protein shampoo cleanses the hair and scalp without stripping it of its natural oils and moisture as it works to lift away dirt and debris, the product's vegan silk peptides create a breathable 'second skin' on both the scalp and hair to protect from the effect of pollution, irritants and bacteria.
The shampoo's star ingredients include coconut-derived cleansing agents that are of 100% natural origin, together with hydrating aloe vera, which helps to fortify frail strands. Not only will this fill your bathroom with a delicious and expensive scented herbal fragrance, but it also gives hair body and bounce, without feeling weighed down. We recommend using the Strengthening Essence-Conditioner straight afterward for an extra moisture boost.
Hero Ingredients – Vegan Silk Peptides, Aloe Vera and Keratin.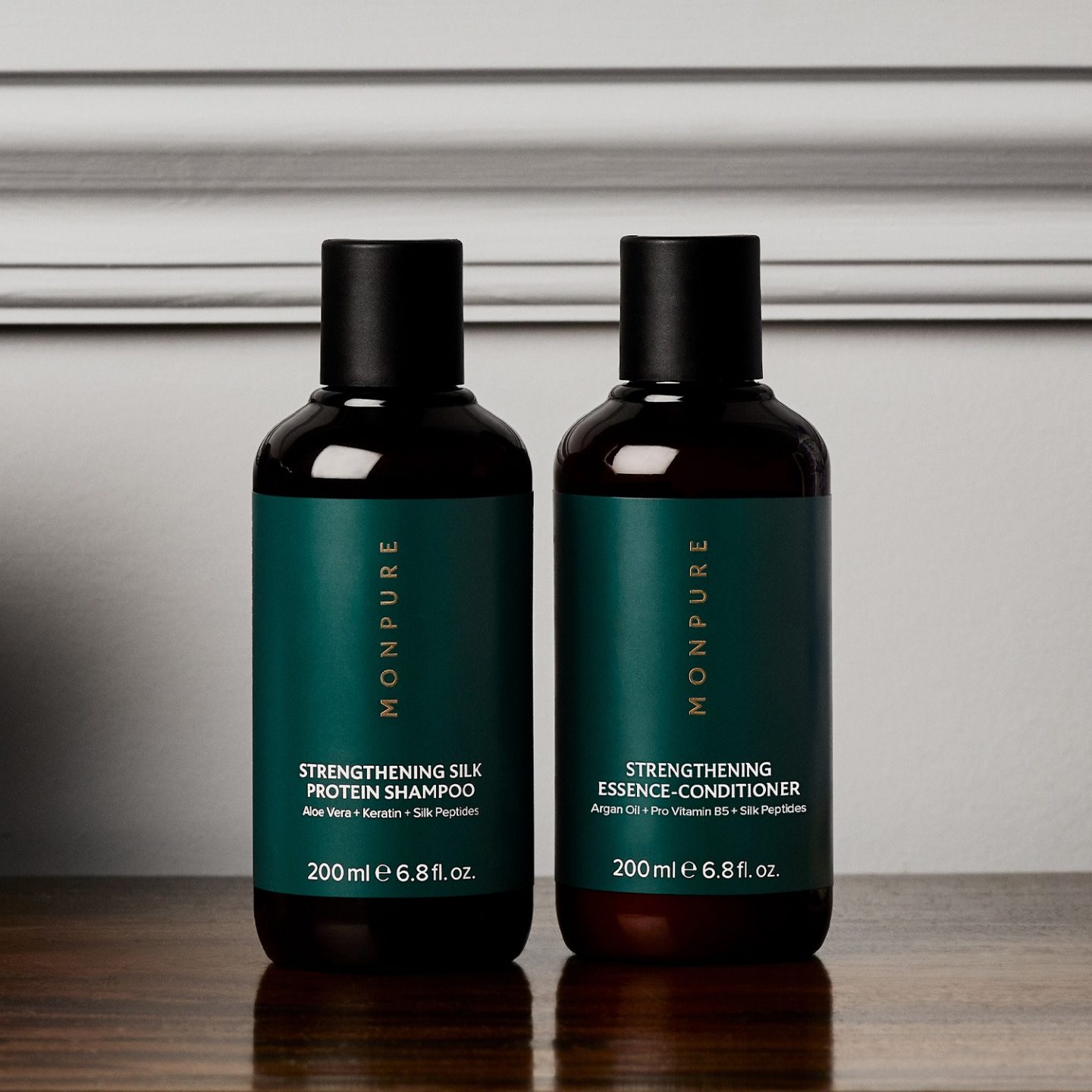 ---
Strengthening Essence Conditioner £36
The ultimate Strengthening Conditioner designed to hydrate not just the hair but the scalp too and all without making your hair feel greasy or weighed down. This lightweight formula deeply hydrates and nourishes all aspects of the hair using a blend of strengthening vegan silk peptides, Argan oil and pro vitamin B5 to give a porcelain shine and unparalleled health.
Hero ingredients – Silk Peptides, Argan Oil, Vitamin B5.