Hong Kong, a city so bold, bright, and beautiful that it leaves an imprint on your heart forever – it's one of those vacations that sticks in your mind and will leave you with stories and memories to tell for years to come.
That's the case for me anyway, and I like to think it's because over the years I've had the great pleasure of seeing and experiencing some of the best that this city has to offer – which I want to share with the hopes that you will enjoy and love the city as much as I do or it'll inspire you to consider putting Hong Kong on your bucket list.
Here are my all-time favourite things to do, see, and eat in Hong Kong…
https://www.discoverhongkong.com
---
Dinner With A View & A Show At Hu Tong
One of my most frequently asked questions always seems to be "what is your favourite restaurant in Hong Kong?" – there are almost too many to choose from but without a doubt, my top restaurant with a view and for that wow-factor has to be the Hu Tong.
A regular on the world's best restaurant lists, Hutong is famed for its Northern Chinese cuisine, atmospheric décor, and sensational harbour view. Perched on the 28th floor of One Peking and located at 1 Peking Road in Tsim Tsa Tsui, the restaurant is dark, dramatic, and utterly captivating.
The venue takes inspiration from the ancient Chinese alleyways (hutongs) after which it was named and almost feels like you've stepped foot into an old Chinese film set.
It's highly recommended to book a table at around 7.30pm so you can enjoy the Symphony of Lights Show at 8pm. A visual spectacle synchronised to music and narration that celebrates the energy, spirit, and diversity of Hong Kong.
Named the 'World's Largest Permanent Light and Sound Show' by Guinness World Records, this 10-minute light show is accompanied by orchestral music performed by the Hong Kong Philharmonic Orchestra and plays throughout the restaurant. With a view from 28 floors-high, you'll be treated to a stunning visual show without having to elbow other tourists for a good view from ground-level.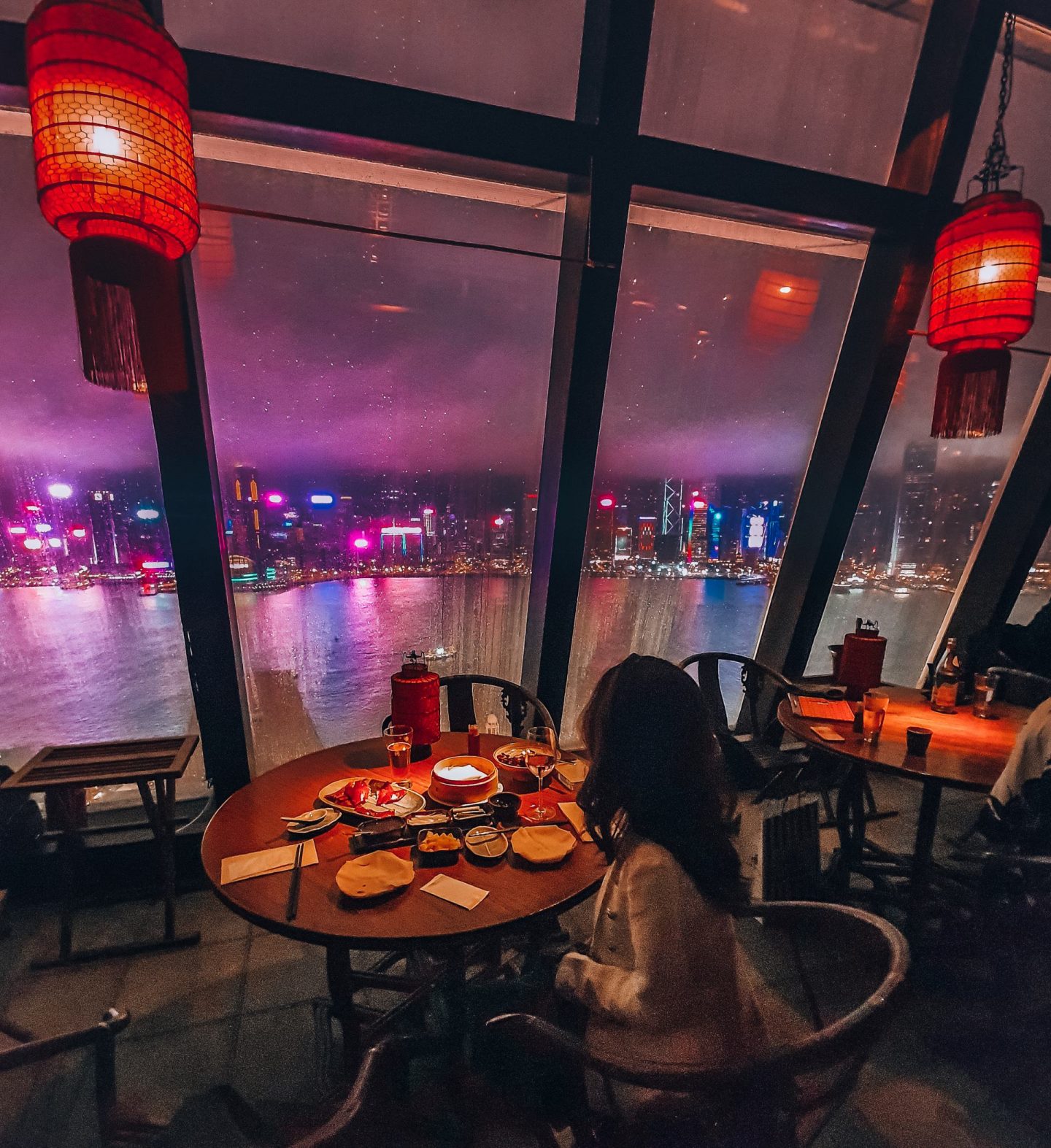 ---
Glass Bottom Cable Car Up To The Big Buddha
The Ngong Ping 360 is famed as one of the world's most amazing cable car experiences and is a truly unbeatable way to see Hong Kong from above. If you're not afraid of heights or feeling extra brave then I recommend opting for a glass-bottom cable car – it makes the 30-minute journey all the more incredible as you get to view Hong Kong's natural beauty from all angles.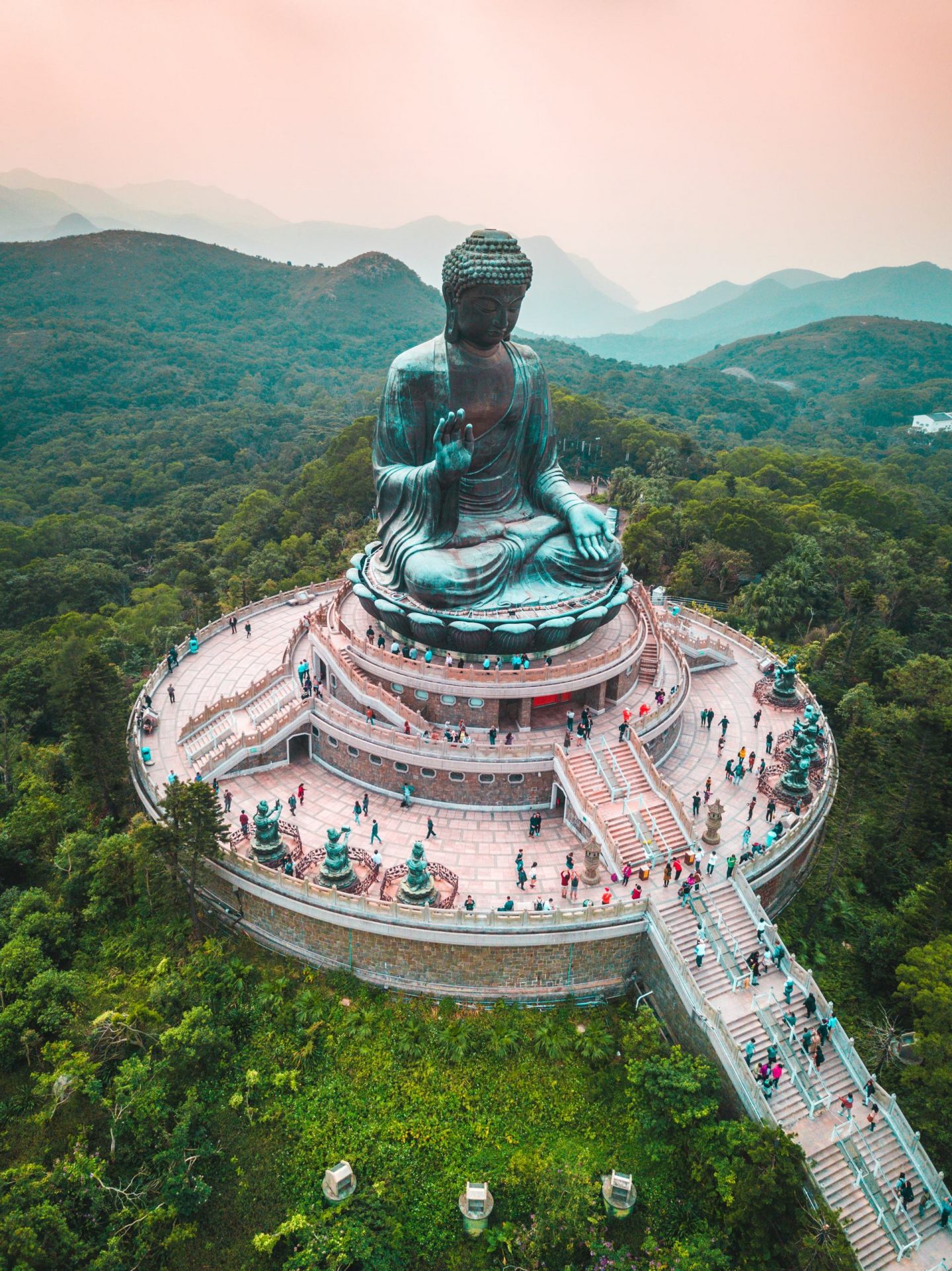 At the end of your 30-minute aerial journey, you will begin to see a glorious view of the Tian Tan Buddha – more commonly referred to as the Big Buddha – the largest outdoor seated Buddha in the world. The Big Buddha sits at Po Lin Monastery, one of the world's most important Buddist sanctums, and is a must-see for all ages and backgrounds as the sheer size of the Buddha itself will leave you in awe.
---
Enjoy The Views At The Peak
Standing at 552 metres above sea level, Victoria Peak is the highest point on Hong Kong Island, offering panoramic views of the city and the South China Sea. With so many stunning vantage points, it is one of the most visited spots in the world by tourists.
The quickest and most picturesque way to get up to The Peak is by Tram. At an almost impossible gradient, The Peak Tram dates back to 1880 and runs continuously from 7am until midnight, giving tourists plenty of time to gawk at the views of the city as the skyscrapers look completely different from day to night.
The Peak Tram is such a favourite with tourists that it is often overcrowded, but there are other methods to ascend to the top. If you're feeling fit then the walk is relatively easy and extremely scenic – it also allows for those all-important photo stops.
---
Go Shopping At Ladies Market
Hong Kong is a treasure trove of amazing bargains and the best places to find them are at the city's many open-air street markets – Ladies Market in Mong Kok is without a doubt my favourite night market in the world.
Aside from offering a wide array of souvenirs items — Ladies Market is also great for practicing your haggling, which adds even more fun to your retail experience.
Comprising of more than 100 shops and stalls that stretch across a full kilometre, Ladies Market is one of the most iconic street bazaars in town, you'll find everything here from accessories and jewellery to toys, food, and all sorts of quirky souvenirs.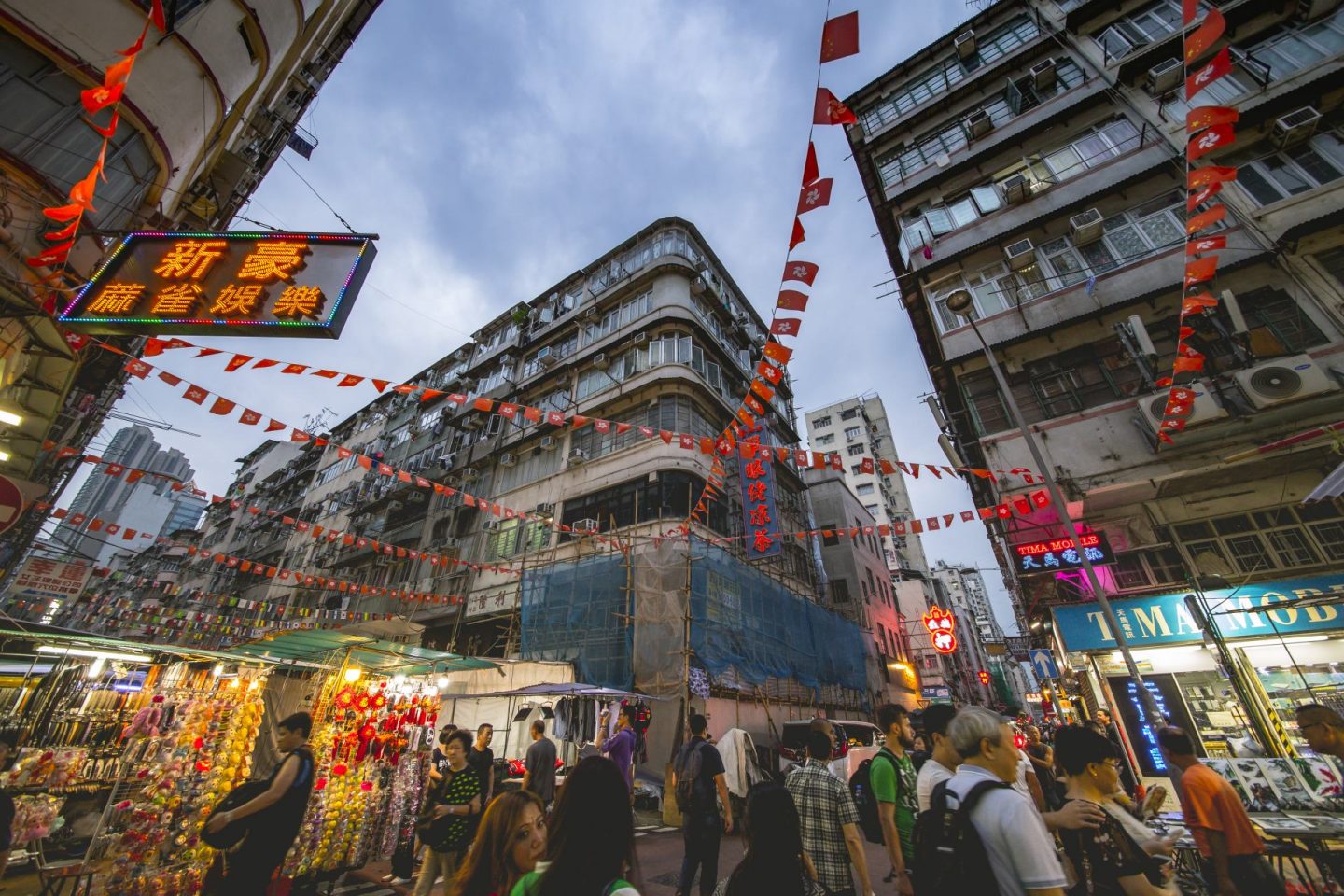 ---
Have Some Fun At Disneyland
It's Disneyland – the happiest place on Earth. Enough said! Disneyland Hong Kong is fairly smaller in size compared to Disneyland Paris, making it ideal for those short on time, as you can easily enjoy all of the rides in one day without feeling overwhelmed or having to choose between attractions.
You can hit all the popular rides like Hyperspace Mountain and the world's first Marvel-themed ride Iron Man Experience. Catch amazing 30-minute stage shows, greet your favourite Disney characters, and stay for the dazzling parade in the evening. There's also a cartoon-themed dim sum served at Crystal Lotus housed inside Hong Kong Disneyland Hotel. You won't want to miss digging into scrumptious dim sum resembling popular Disney and Pixar characters.
---
Enjoy Michelin-Star Food For Cheap
Fancy some Michelin-Star dining but don't want to break the bank? You'll want to pay a visit to this local neighbourhood gem offering up some of the best dim sum in all of Hong Kong.
With Tim Ho Wan being one of the cheapest Michelin-starred restaurants in the world, there's often a long queue outside, but the wait is worth it. Tim Ho Wan doesn't look like much on the inside and it's by no means a fancy establishment but instead well-loved by locals and more known as a quick-service restaurant, where you'll likely find yourself sharing a table with another family!
Don't miss out on their most famous dish – char siu bao – a mouthwateringly moreish barbecue pork baked bun. Other must-eat items on the menu include the pan-fried turnip cake and steamed rice paper rolls.
---
Visit Tai O Fishing Village
Known as the 'Venice of Hong Kong', Tai O is one of the few places left in the world where you can find traditional bamboo houses supported by stone columns in water or stilt houses.
The quaint little village has been inhabited by the Tanka 'boat-people' for more than 200 years and a stroll through the semi-floating market will allow you to immerse yourself fully in the Chinese culture. The village is also popular for those wanting to purchase dried seafood and traditional snacks like the sugar-dusted Chinese-style donuts.
A tour of the village by boat is recommended as you'll get to see the last of Hong Kong's standing stilt settlements up close.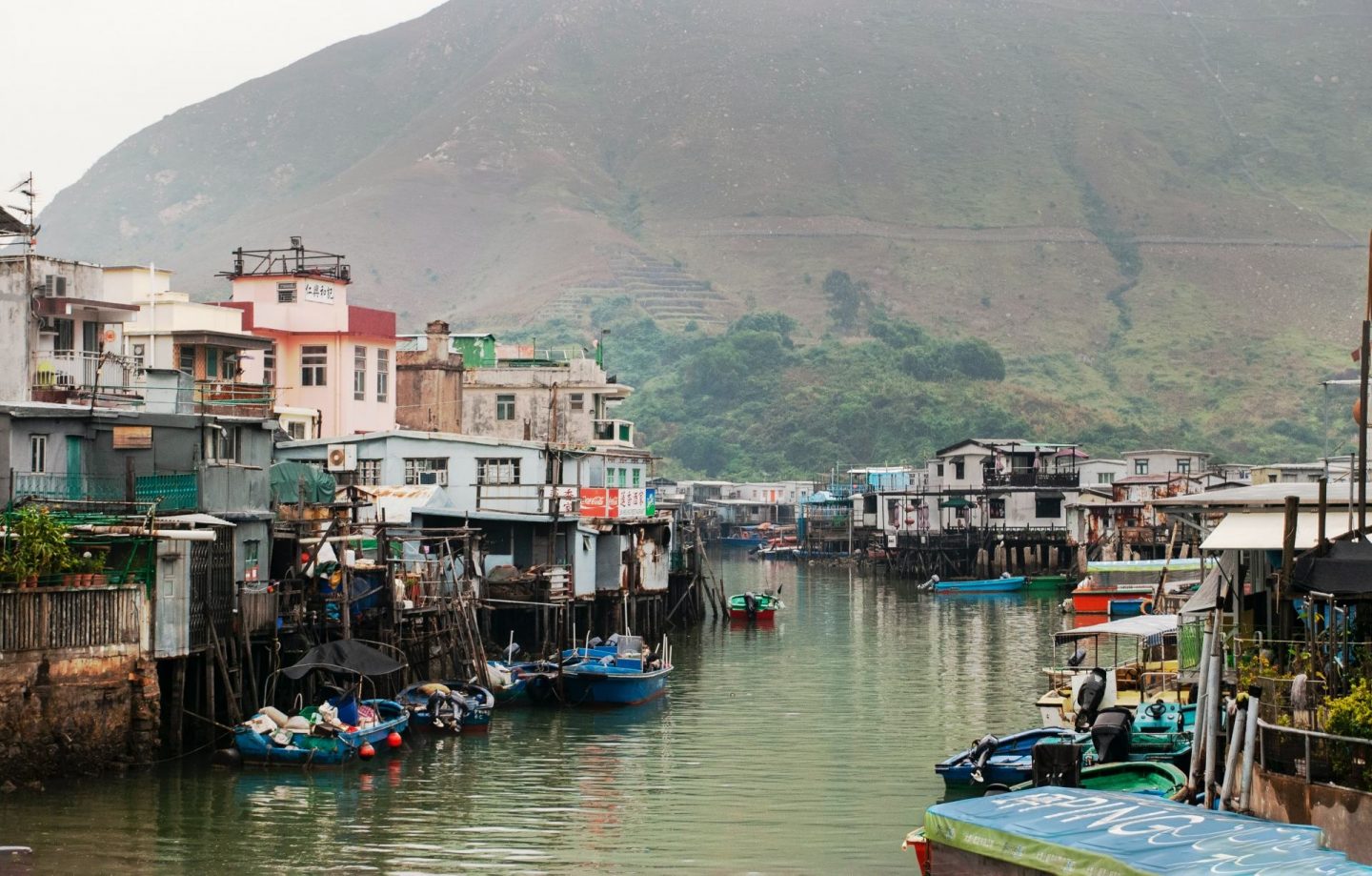 ---
Lunch At The Australian Dairy Company
A visit to a cha chaan teng (the equivalent to a greasy spoon in the UK or a diner in the US) when in Hong Kong is an absolute must.
Although the name isn't the most authentically Asian, the Australia Dairy Company is the quintessential Hong Kong food experience. Here you'll find all manner of delicious local delights from fried instant noodles to macaroni and spam, Chinese-style French toast, fluffy scrambled egg sandwiches, and Hong-Kong-style milk tea.
Ordering from a set menu might be easiest as the waiters are known for being notoriously rude. Don't let this put you off as you haven't experienced proper Hong Kong until you've had a taste of just how impatient cha chaan teng waiters can be. Go in with low expectations for customer service and you'll have no problems because the food makes up for everything!
---
Party At Lang Kwai Fong
If you are to walk through Lan Kwai Fong during the day you wouldn't think a lot of it, but every evening it comes alive, packed with after-work drinkers and general party-goers. LKF is Hong Kong and one of Asia's most popular nightlife spots and the perfect place to go if you want to let your hair down
Surrounded by office buildings and swanky skyscrapers, this business zone is home to some of the best bars and clubs in Hong Kong. With more than 90 restaurants and bars to pick from, there are plenty of great happy hour deals to ensure the best time and to cater to all tastes, from casual pubs to upmarket speakeasies.
---
Seafood Feast On A Floating Restaurant
If you love seafood then you'll want to make a reservation at the Jumbo Kingdom, a floating restaurant located at the Aberdeen Promenade that serves up the best seafood dishes, dim sum, and other well-loved Cantonese cuisines.
The restaurant is now one of Hong Kong's most iconic landmarks and often seen on Instagram, postcards, and in movies. On the outside, it looks like an ancient Chinese palace and draws in tourists and locals as well as celebrities including Tom Cruise, Chow Yuen Fat, Queen Elizabeth II, and was even featured in a James Bond movie.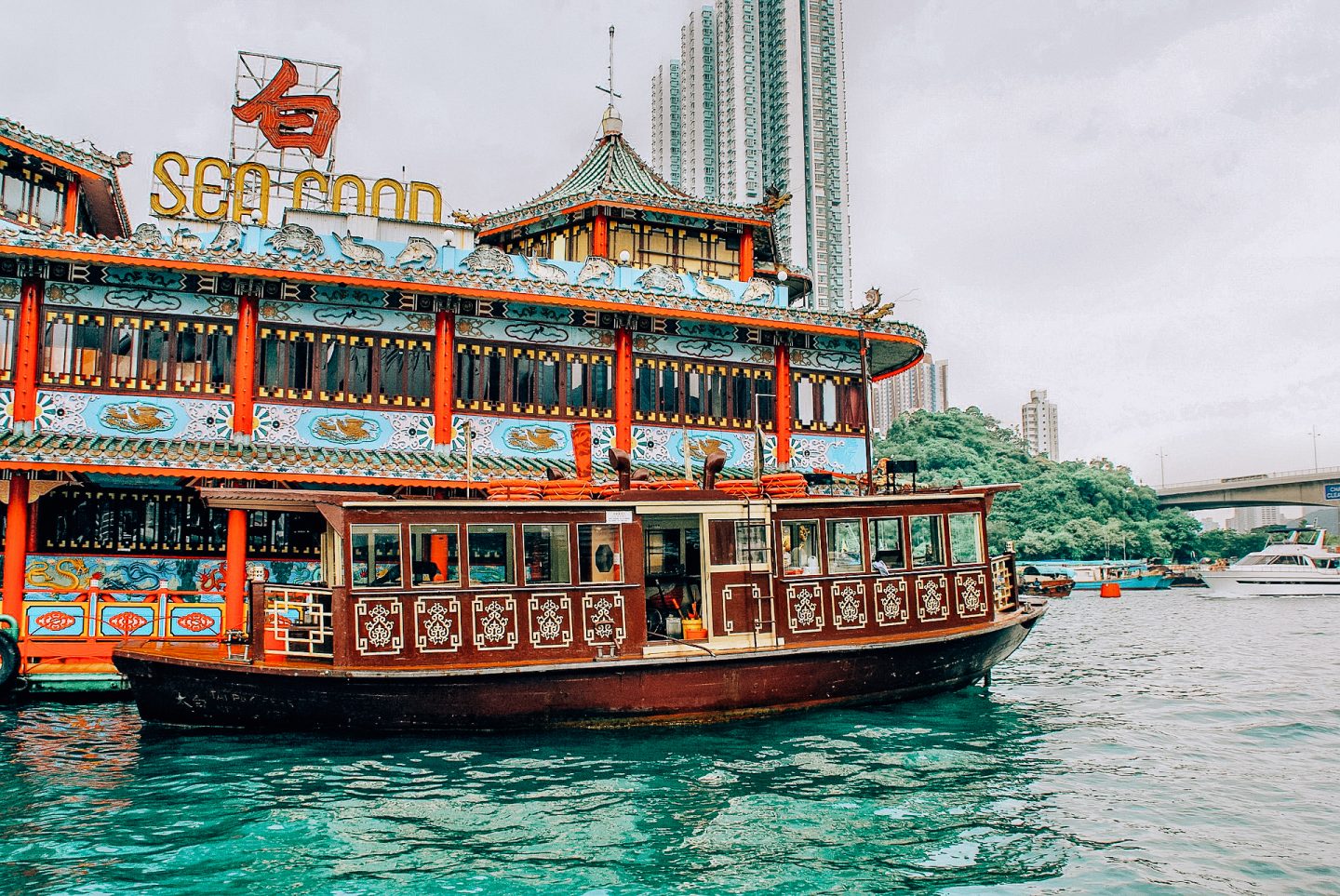 ---
But Where Do I Stay?
Hong Kong has no shortage of luxury five-star hotels in prime locations but my Top 3 have to be:
The Langham – for the incredible five-star above and beyond service and sheer luxury.
The Hotel Icon – for the views, value for money, and mod-cons.
The Grand Hyatt – for the location, grandness (excuse the pun), and the Harbour views.
---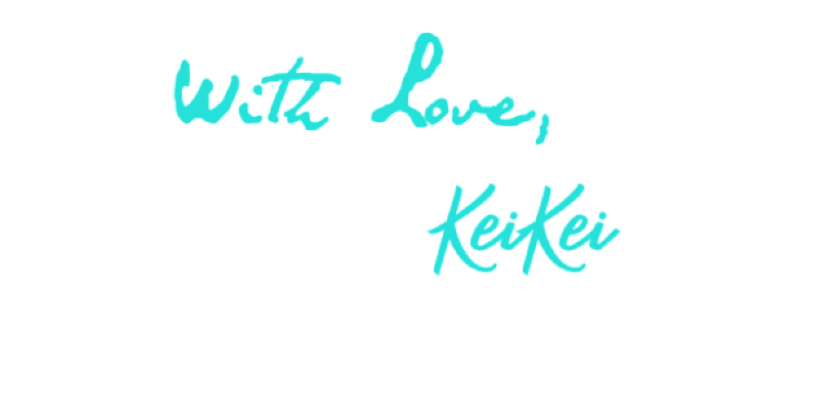 ---