The Kyushu region in Japan is formed by volcanoes and geothermal forces making it an absolute haven for hot springs. For thousands of years, these mineral-rich waters have healed and soothed emperors, samurai warriors, and locals.
There many onsen resorts around Japan to suit all backgrounds, whether you're looking for rustic charm, historical retreats, or modern luxury.
Find your favorite way to relax with our guide to the best onsen to visit in Nagasaki, Saga, and Miyazaki.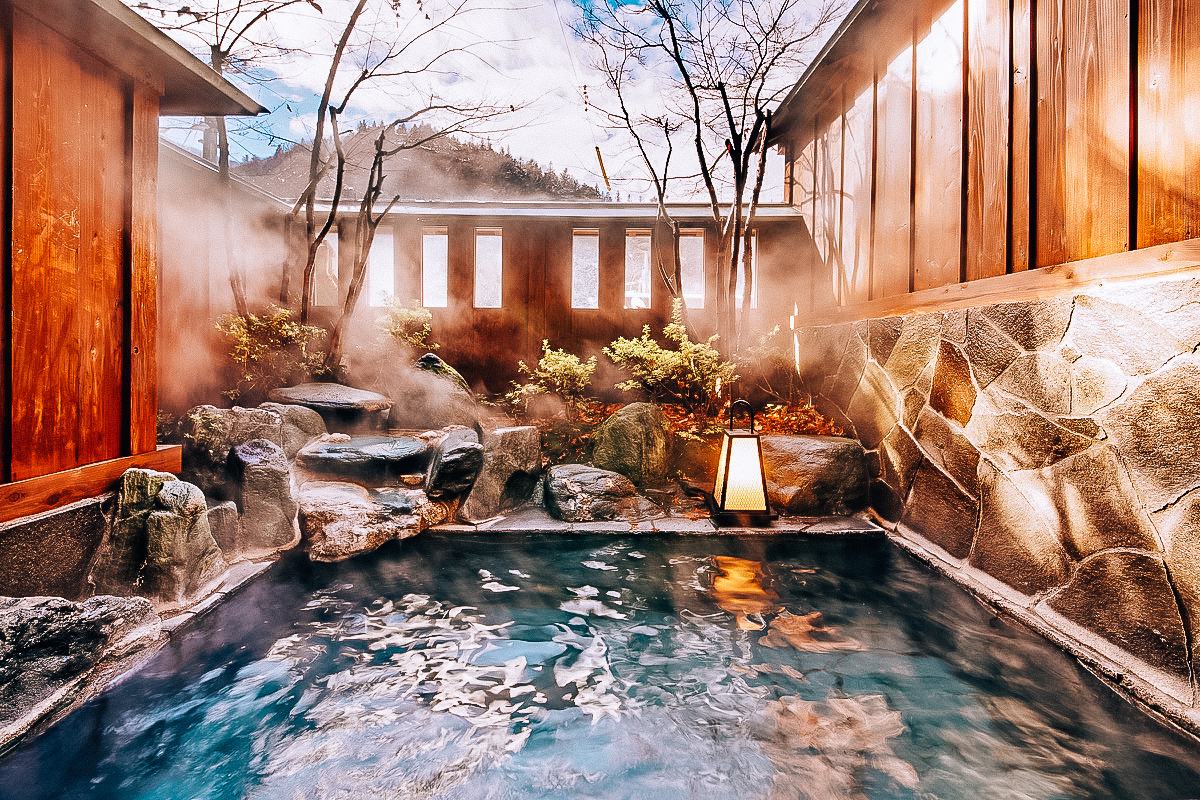 ---
Obama Onsen, Nagasaki
Obama Onsen is famous for having some of the hottest, most active hot springs in Japan, reaching a staggering 100 degrees Celsius. Located near the seafront, it is the perfect place to watch the sunset while resting your feet, after spending the day exploring.
At the centre of this area, visitors can stay at Iseya Ryokan, a long-established inn that was opened about 340 years ago. Here, guests can enjoy the hot spring by taking a dip into the large public bath or the open-air bath with a panoramic view of the ocean.
The hot spring that fills the baths is a slightly acidic sodium chloride spring. It has excellent heat retention effects, so it thoroughly warms the body. Guest rooms available at this ryokan are standard Japanese-style rooms, and there are five guest rooms with semi-open-air baths, as well as one Western-style room with disabled access.
Enjoy traditional Japanese cuisine and fill up on local seasonal flavours, including seafood, Nagasaki Wagyu beef, Unzen's certified branded pork and vegetables that are picked that very morning. These onsen-mushi dishes are cooked using the steam coming off the hot spring.
---
Takeo Onsen, Saga
Takeo Onsen is a hot spring town in western Saga Prefecture that is said to have a history of over 1,300 years as an onsen destination. The water quality is a weak and simple alkaline-type hot spring that is not irritating, the water is transparent, tasteless, and odourless. Takeo's gentle waters are agreeable on the skin leaving visitors to feel silky smooth, the onsens are famously known as a 'superior heat-retaining beauty water'.
Tourists and locals can enjoy Takeo Onsen's waters at several public bathhouses found around the town's iconic Sakura-mon, a two-storey, red-lacquered gate. There are three main public baths offering both indoor and outdoor baths as well as a sauna. Behind the Sakura-mon Gate stands the Takeo Onsen Shinkan, which was constructed in 1915 by the same architect who designed Tokyo Station's famous Marunouchi Station Building.
The Shinkan used to serve as the town's public bathhouse in the past but is now a museum that is free to enter, showcasing its tiled Roman baths and tatami-covered rest areas.
---
Nemu no Hana Onsen, Miyazaki
Nemu no Hana is a luxury hot spring inn located deep in a cool green forest in the surrounding area of Kitago Town, Nichinan City, Miyazaki. Here 90% of the land area is forest, the non-profit Forestry Therapy Society® has certified this part of the Inohae Valley as a "Base of Forest Therapy."
The facility, which is built along the Ino Yae River, uses earth-toned colours to achieve a unified harmony with nature. Stay in one of the ten private suites that are detached buildings equipped with open-air, natural hot spring baths for guests to enjoy both their baths and the lust of the forest at the same time while appreciating rare birds and wildlife.
In this luxurious and beautiful setting, guests will experience the best of Japan's seasons: 10,000 cherry blossoms in spring, the fireflies dance in summer, the beautiful autumn leaves of fall, and the healing of the moss garden in winter.