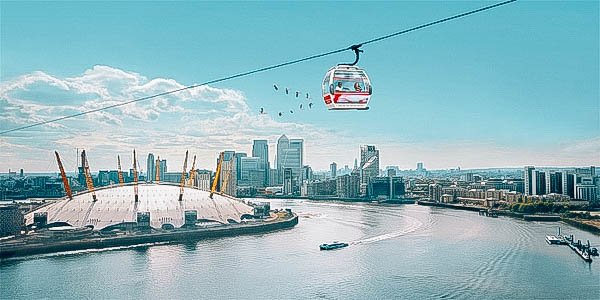 You can dine 90m in the air this summer, in a specifically equipped Emirates Air Line pod in London, with tickets starting at £100 per person, launching on the 21st June.
Acclaimed nomadic chef Jimmy Garcia is taking his talents to the skies as he announces Sky High Dining – his latest pop-up restaurant aboard The Emirates Air Line. Suspended 90m above the River Thames, diners will enjoy a specially curated five-course menu alongside uninterrupted views of London's iconic skyline.
Tickets to the spectacular aerial dining experience are available to the public for every Wednesday and Thursday evening from Wednesday 12th June to mid-September 2019.
On arrival at the Emirates Air Line Cable Car, guests will be served welcome bubbles and canapes before enjoying Scallop served with chickpea, chorizo, and cauliflower. Guests will then board their four-person dining cabin to enjoy their main course mid-flight – Lamb rump, served with pea and broad bean salad, roscoff onion, potato terrine, pea and mint puree and onion jus. Guests can also opt for 'Ricotta Gnudi' featuring Gnudi served with purple sprouting broccoli, gremolata, brown butter dressing, seasonal squash and toasted sunflower seeds.
Once again heading to the skies, diners will revel in the London sunset whilst enjoying Jimmy's 'Mint Aero in the Clouds' – White chocolate sphere, passion fruit curd, meringue shards, coconut financier, fresh mango topped with a rum and passionfruit syrup. On the final journey to the Southside of the river Sky High Diners will enjoy cocktails & petit fours to round out the meal. A showstopping finale to what promises to be a truly unforgettable evening.
Each ticket includes welcome bubbles on arrival, wine to enjoy during the flight and either an Aviator or an Espresso Martini cocktail to toast an evening with altitude. Extra drinks packages can be pre-ordered.
Each pod can comfortably seat four people and tickets have to be bought in minimum quantities of two. Seats can be booked from 6:30pm onwards and the whole experience will last between 90-120 minutes.
Sky High Dining is part of a sizzling summer line-up from Jimmy Garcia, including his famed BBQ Club at London's Southbank. Now available for bookings, the split-level, riverside eatery promises an intimate BBQ Club rooftop dining experience, serving an ever-evolving seven course tasting menu, and new for this year is the addition of Patch & Picnic – bookable grass areas where guests can play lawn games and indulge in mouth-watering food hampers, all set against the stunning backdrop of London's River Thames. Jimmy and his team will also be serving up as The Burger Project on the roof of Stratford's Roof East.
Sky High Dining will run for two nights a week, crossing the River Thames between Greenwich Peninsula and the Royal Docks, making each seat a truly sought after experience. Tickets are expected to be in very high demand so guests are encouraged to book early to avoid disappointment.
Tickets for Sky High Dining start at £100 per person.
To book tickets, please visit: WWW.JIMMYSPOPUP.COM
---