London has everything you need for a romantic getaway, whether it's for Valentine's Day, an anniversary, a honeymoon, or a long weekend of relaxing with your other half. Days can be spent discovering something new at one of the world-renowned museums and art galleries or hopping in and out of one of the numerous luxury retail districts.
After dark, a sophisticated cocktail bar is usually within walking distance, and superb restaurants can be found in almost every postcode. The challenging part is deciding where to call your home away from home when visiting the city. From extravagant and historical hotels that the Royal family frequent near Buckingham Palace, to elegant five-star hotels with rooftop bars and breathtaking views, these London hideaways offer award-winning spa treatments, breakfast in bed, enormous marble bathtubs with the best views, and Michelin-starred restaurants that will have you drooling.
Below, we've rounded up some of the best places in the capital for those special occasions that you will want to remember forever.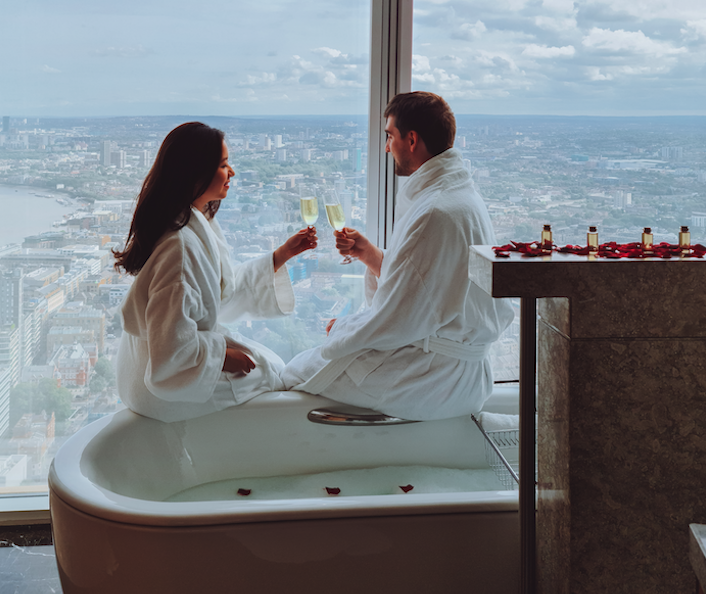 ---
Shangri-La, The Shard
Arguably one of our favourite hotels in the city, Shangri-La at the Shard, located on floors 34 through 52 of London's tallest building, offers some of London's most breathtaking views. All rooms and suites have floor-to-ceiling windows allowing guests to take in the sights of the city from the comfort of their large marble tubs, where you can gaze out at famous landmarks, or watch the sun setting before dinner in the evening from the floor-to-ceiling windows.
The towering indoor infinity Sky Pool and sauna, come with jaw-dropping views of iconic landmarks including the Tower of London and other luxurious extras such as personal welcome notes written on room windows, all make a stay at this hotel extra special, but the breathtaking scenery is reason enough to book a visit. Guests can indulge in a five-course meal at TING, a British restaurant with an Asian twist, or enjoy a delicious cocktail at GONG – Western Europe's tallest hotel bar. Nearby the hotel, you will find the famous Borough Market, perfect for a stroll and some food, or take a taxi to visit the nearby South Bank or bustling Covent Garden.
---
Mandarion Oriental, Hyde Park
Whether you're looking for a luxurious spa with couples' treatment options or a wide variety of high-end dining and drinking spots, the Mandarin Oriental Hyde Park has it all. Guests can choose to stay in elegant, stylish rooms with a view of Hyde Park's luscious landscape, and the hotel's trademark suites are well worth the extra money.
Book Dinner by Heston Blumenthal, which features inventive meals inspired by food history, and end the day with some tea at The Rosebery. Guests can also choose to have rose petals on their bed and in their bath or schedule a private movie screening for two.
---
Claridge's
In short, a stay at this renowned hotel is an experience you will never forget. How so? Because everything about Claridge's, from the grand lobby with its soaring staircase to the charming and uniformed elevator attendant, exudes grandeur. Those who expect to spend much of their time indoors may appreciate the hotel's excellent breakfasts in bed. Couples will especially adore the small Fumoir bar (formerly the cigar bar) where they can indulge in classic cocktails in beautiful art deco surroundings. Claridge's is also well-known for its exquisite afternoon tea, which features warm scones served with rich Marco Polo gelée.
---
The Langham
One of London's oldest hotels, the Langham has stood proudly over Regent Street for almost 150 years. The rooms have been updated to blend modern comforts with classic details, and the hotel now features a multitude of high-end facilities, such as the spa and the cocktail bar, The Artesian, which has won multiple awards for their inventive drinks.
The hotel's location in the middle of Oxford Circus is convenient, but it also has many exciting offerings for guests. You may get a bite to eat at the hotel's The Wigmore, or book a private meal in the French-inspired Roux at the Landau. The Langham also has a unique afternoon tea just for those celebrating a special occasion, called the Anniversary Indulgence, where you can toast your years together.
---
NoMad London, Covent Garden
During their trials at Bow Street Magistrates' Court, defendants like Oscar Wilde, the Kray twins, and Emmeline Pankhurst probably had no idea that the building they were standing in would one day house one of London's most eagerly awaited hotel debuts.
The Covent Garden hotel is the first NoMad location outside of the United States, and its largest suite, the Royal Opera suite, features a freestanding, claw-foot tub. The hotel's social areas consist of the glass-roofed NoMad restaurant, a guest-only library, and Side Hustle, a kooky spin on the traditional British pub that serves dishes with Mexican and Los Angeles influences. You can stroll to the theatre district and some of London's most popular retail districts in minutes.
---
Brown's, London
Brown's Hotel in Mayfair is one of London's oldest hotels, and it's also where Alexander Graham Bell made the city's first telephone conversation. Guests have included royalty, famous authors, and Hollywood actors. In 2004, as soon as it became a part of Rocco Forte Hotels, it underwent a multimillion-pound makeover, with more renovations occurring in following years.
The Kipling suite, designed by Olga Polizzi, features a marble bathroom, his and hers showers, and a framed letter from Rudyard Kipling, who is well known for writing The Jungle Book. In addition, Queen Victoria enjoyed the afternoon tea that is now served in the drawing room of Brown's. You'll need to pack a collared shirt and formal shoes for this one, so leave the sneakers at home.
---
The Ritz, London
With a 115-year history, The Ritz has hosted royalty, Hollywood legends, and American icons including Jackie Onassis and Charlie Chaplin. The majority of the rooms, including bedrooms and suites, are decorated in the Louis XVI style, characterised by lemon-coloured furnishings, gold leaf, and marble fireplaces.
The hotel's trained tea expert has personally picked 18 different types of loose-leaf tea for guests to enjoy during afternoon tea in the Palm Court. whilst the Michelin-starred restaurant's dining area is decorated with marble columns and a painted ceiling in the style of Versailles, bringing a little slice of romantic Paris to London.
---
The Landmark
Though it now costs more than three and sixpence per night to stay at The Landmark, the hotel has maintained the same reputation for elegance and romance that it gained when it first opened in 1899.
The spacious, traditionally designed rooms and suites at the Landmark are all bathed in natural light thanks to the hotel's glass-roofed courtyard, one of its most eye-catching and romantic features.
The hotel's main restaurant is located in this courtyard, where diners may take in the sweep of the swaying palms as they enjoy their meal. However, if a more intimate dinner in the comfort of your own room is more your idea of a perfect London retreat, room service is always an option.
---
Rosewood, Holborn
Rosewood, a grade II listed building that was once the headquarters of an insurance firm, looks and feels much older than its 100 years. Passing via iron gates and an Edwardian courtyard, guests can enter the hotel from the busy street of High Holborn.
The on-site Sense Spa features seven treatment rooms, one of which can fit two, and offers couples' massages, alongside a variety of luxurious solo spa treatments. The art deco Gin Bar is the perfect place to unwind and spend some quality time with your other half, since it houses one of the largest collections of gins in all of London.
---
L'Oscar London
L'Oscar in Holborn, formerly a Baptist church, has been given a luxurious makeover by Jacques Garcia of Paris. The combination of the antique stained-glass windows and marble flooring with the mirrored ceilings and purple tasselled sofas creates an air of sophisticated opulence and sheer romance.
All of the 29 rooms are equally lavish, from the smaller Deluxe rooms' scarlet walls and black velvet headboards to the Oscar suite's free-standing bath and chaise lounges. If you walk just ten minutes you'll reach Covent Garden, or you can simply hang out at the Baptist Bar, housed in the chapel's octagonal shape, offers drinks inspired by the Old and New Testaments and has regular DJ and jazz band nights.
---
The Londoner
Though it has 350 rooms, this much-anticipated addition to London's hotel market still manages to feel cosy and exclusive despite its prime location in the centre of bustling Leicester Square. There's a library stocked with Assouline literature and board games, plus a drawing room and a whisky lounge.
The Londoner's underground spa features poolside cabanas, perfect for couple's to relax and ready for you to use after your treatment, as well as Refuel, a "superfood and drinks clinic" that will leave you feeling your best in case you weren't already. If that doesn't sound like your thing, you can always have a drink at the izakaya (Japanese bar) on the roof and roast some marshmallows over the open flame.
---
The Kensington Hotel
The suites with a freestanding bath tub and a balcony at this Kensington townhouse hotel are the most romantic. Everything at The Kensington is spectacular, from the white exterior to the afternoon teas served in the drawing room, where Big Ben-shaped biscuits and red telephone box cakes steal the show as whimsical references to the location.
Take a seat on one of the plush, midnight blue velvet chairs at the oak-paneled cocktail bar, or warm yourself by one of the cosy fireplaces in the drawing room. Harrods and Harvey Nichols, two of the capital's best department stores, are located within a twenty-minute stroll.
---