Shangri-La Hotel, At The Shard, London will reopen its doors on May 17th 2021, welcoming guests with elegant décor and exciting experiences inspired by the best of the British Springtime.
Upon entering the hotel, guests will pass through trailing wisteria, before being whisked away to their very own corner of the countryside, for a scene reminiscent of a picnic in the clouds where scented, seasonal florals and delicate butterflies await. Beyond the beautiful décor, the hotel has introduced a range of splendid, seasonal offers for an unforgettable spring holiday in the capital.
"The team and I are looking forward to the hotel's reopening on May 17th to once again create the personal moments of joy that inspire our guests to visit Shangri-La Hotel, At The Shard, London. We've used the last few months to curate an exciting new range of private and personalised experiences for our guests to enjoy," said Kurt Macher, general manager at Shangri-La Hotel, At The Shard, London.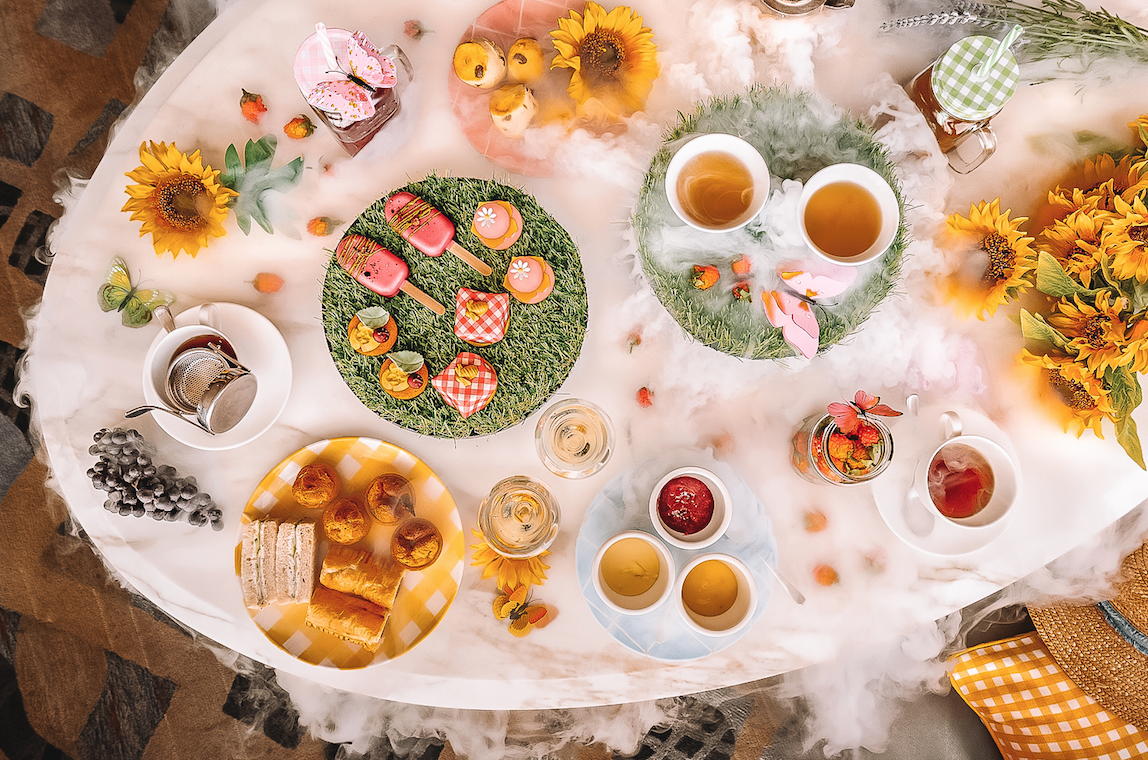 ---
Wellness in the Clouds
The hotel has taken a holistic approach to enhancing wellbeing with a selection of options designed to complement each aspect of the guest experience. A collaboration with organic skincare purveyor Neal's Yard Remedies will let guests relax and unwind with their choice of deluxe massage from either the comfort of their room or a private treatment suite. Each treatment uses a bespoke blend of 100 percent organic Neal's Yard Remedies Essential Oils, tailored to the guest's desired therapeutic needs by an expert therapist.
The hotel has also partnered with the UK's leading fitness experience Fiit, to introduce remote fitness options which enable guests to exercise from the comfort of their guestroom, via the app. Offering access to Fiit's 600+ classes all led by their impressive roster of industry-leading trainers. The Innovative Group Class technology allows guests to connect to a live leaderboard and remotely train alongside their travel companions.
Beyond the guestroom, TĪNG Restaurant has introduced a refined vegan tasting experience, influenced by Shangri-La Hotels and Resorts Rooted in Nature social responsibility programme, which promotes the use of local and ethically sourced ingredients.
---
Taking personalisation to new heights
The hotel's "The Suite Life" programme takes personalisation to the next level with the ultimate spring staycation in one of the hotel's luxurious signature suites. A tiered array of exclusive benefits, which can be customised to suit the individual guest's preferences and needs, ranging from in-room yoga mats and a personal bath butler, to private shopping experiences, fresh seasonal flowers, daily personalised food amenities, in-room mixology, monogrammed pillows and more. These personal touches and thoughtful details aim to provide guests with a truly memorable, multisensory holiday experience with an enhanced sense of value, delivered with the brand's signature hospitality from the heart.
---
Elevating the afternoon tea experience
Shangri-La Hotel, At The Shard, London pays homage to a time-honoured British favourite with two unique afternoon tea offers sure to please any palate. Western Europe's highest hotel bar GŎNG has launched Liquid Afternoon Tea, an exciting new concept to rival traditional teatime treats. Guests will enjoy a food and miniature cocktail pairing that features a line-up of tea-inspired tipples, accompanied by a selection of sweet and savoury fare.
As a nod to the bar's Eastern heritage, the menu boasts contemporary Asian snacks including beef tataki nigiri and salmon sushi, as well as scones and more. In TĪNG, guests who enjoy the traditional experience will appreciate a classic afternoon tea served on cloud nine with the new Picnic Afternoon Tea in the Clouds featuring a selection of delicious finger sandwiches, handcrafted desserts, freshly baked scones, and an exclusive selection of loose-leaf teas from Camellia's Tea House. A takeaway Picnic Afternoon Tea packed in a wicker hamper is also available for guests on the go to enjoy in one of the area's beautiful nearby parks.
---
Shangri-La Cares
The hotel remains committed to providing a safe environment for all through Shangri-La Cares, the Group's global safety program. Comprising a range of enhanced protocols and measures designed to ensure colleagues work with peace of mind and guests can confidently enjoy the moments that matter most.