As a bit of a self-confessed neat freak, I'm all about mess management and any products that can make my life easier, cleaner and more organised, I will rave about until the end of time, which is why I'm a huge fan of simplehuman.
The fundamental idea behind simplehuman is to improve everyday living and that is something we can definitely get behind. Many of our everyday tasks are so crucial that we take them for granted, from washing our hands, to tidying up after meals, getting ready for the day ahead and doing the laundry. At simplehuman, the brand has created solutions to simplify these daily routines and activities through innovation and new technology and we are here to tell you about the simplehuman products we now can't live without.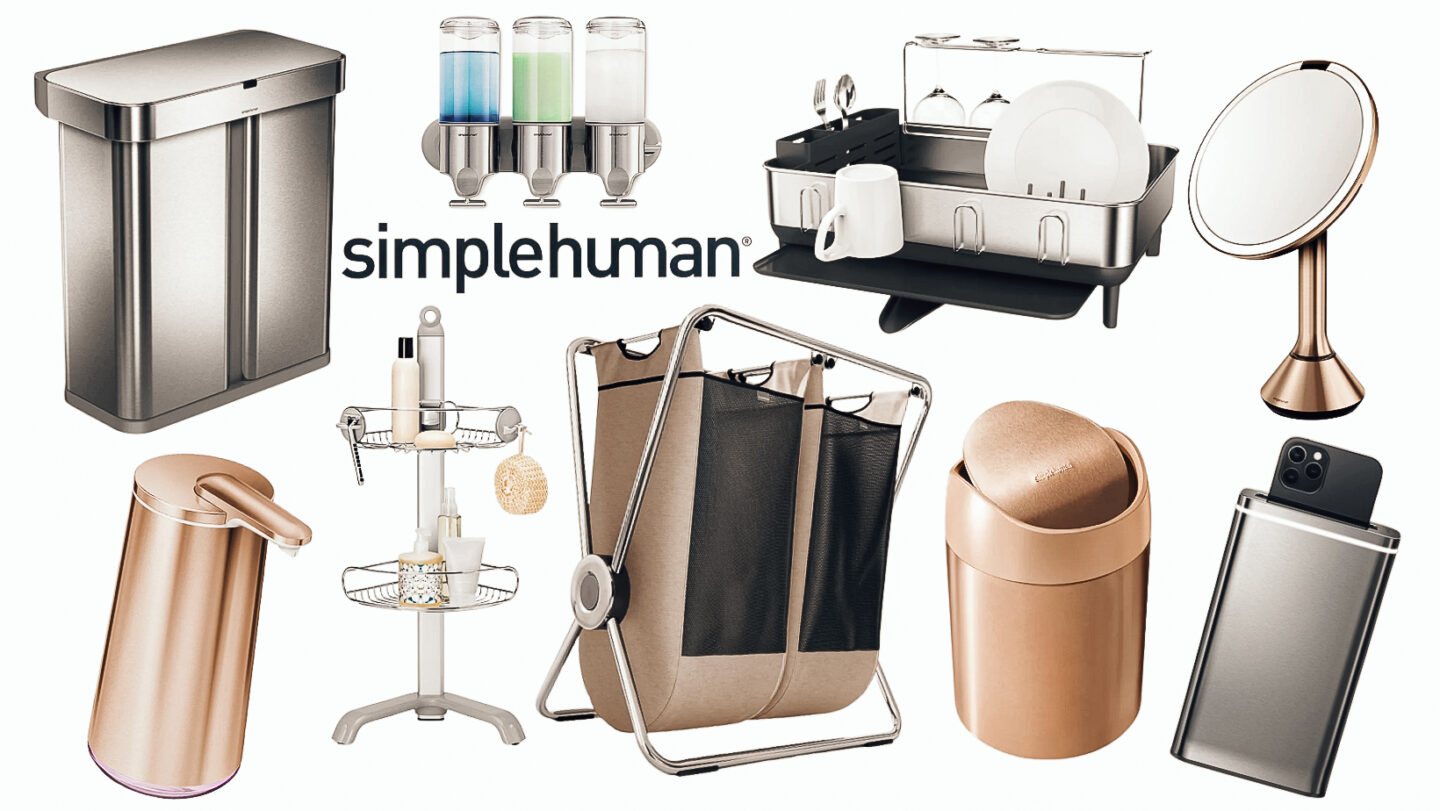 ---
The simplehuman Dual Compartment Motion & Voice Sensor Bin
For starters, the brand has made itself a name for its motion sensor, and voice-command rubbish bin that is sleek, beautiful, efficient and a real talking piece when you have guests over. Yes, it is more expensive than most garbage apparatus but well worth it for the beauty and convenience it brings to any home. Simply say, "open can" and the lid opens automatically, so throwing rubbish away is quick, efficient and hassle-free.
simplehuman trash cans are also streamlined, feature an easy-to-clean design, durable, and useful features like can liner storage and its quick opening mechanism, making them the very best of the best. The bin's powerful motor is small enough to fit neatly into the hinge, so no bulky mechanics block the wide opening of the bin and at 52 dBs, it's whisper quiet.
The unique liner rim system also makes for faster and neater tidying up as the outer lid lifts up for easy access to the liner with no need to remove the top of the bin or fumble with a clumsy bucket. To add to the list of benefits, the invisible silver-ion coating also resists fingerprints and the spread of germs without dulling the natural sheen and lustre of the steel. Everything in your kitchen should be both functional and attractive, and simplehuman rubbish bins all the boxes and do not disappoint.
---
The Sensor Mirror
simplehuman has several types of sensor mirrors, from hi-fi to trio and round. With the trio, you can switch between three distinct views: 5x magnification on one side for a good overall perspective, 1x on the other for a true-size look, and a 10x window for close-up work.
All mirrors come with a colour rendering index (CRI) of 95, and the brand's tru-lux light system closely simulates natural sunlight's full colour spectrum to show every detail so you'll always know when your makeup is colour-correct and flawless. There is also a light control bar, allowing you to adjust brightness levels as well as sunlight to a softer candlelight setting.
The hi-fi mirror also comes with superb audio featuring a custom-designed high-fidelity speaker that delivers rich, smooth, well-balanced sound so you can listen to your favourite music or podcast while getting ready.
---
The X-Frame Hamper
The heavy-gauge steel x-frame design on simplehuman's laundry hampers offers a broad base and robust pivot point for enhanced stability, assuring that no matter how much laundry you put in, it will not disappoint.
We love the new handles that secure the strong laundry bag for effortless lift and transport, after which can slip firmly back into its docking, keeping the bag open for any further loads of dirty clothing.
Another benefit is the stain- and odour-resistant coating along the interior of the wash basket making wipe-downs easy. Plus, the hamper is machine-washable in cold water so it can stay as clean as your freshly washed laundry.
---
The Corner Shower Caddy
Designed exclusively for bathroom corners, this shower unit features sturdy pronged feet, adjustable wire-frame shelves that slide up and down, a soap dish, and accessory hooks ideal for bathroom items such as razors and loofahs.
You can even personalise your shower caddy with adjustable wire-frame shelves – just slide them up and down to accommodate taller bottles.
Large, contemporary shower accessories are usually difficult to fit and have a sleek look but with simplehuman's creative storage solutions, these products are specifically created with such tools in mind.
All simple human products strip away the unnecessary for a simpler more intuitive and satisfying experience. The brand is also meticulous about every material and every fit and finish detail as they put their products through rigorous testing to make sure they will look and perform like new through years of daily use. The products are also built to last making them better for the environment.
simplehuman products are not just made to endure but designed to perform like new throughout their long lifespan and we are now truly obsessed.
https://www.simplehuman.co.uk/