We live in a world where some people will go to great lengths for that cool Instagram shot. And, as it happens, Singapore is one of the most instagrammable cities in the world. So, why not take full advantage of this sophisticated and vibrant metropolis at one of Singapore's most instagrammable spots to visit, many of which are featured (for good reason) in the Hollywood Blockbuster, Crazy Rich Asians.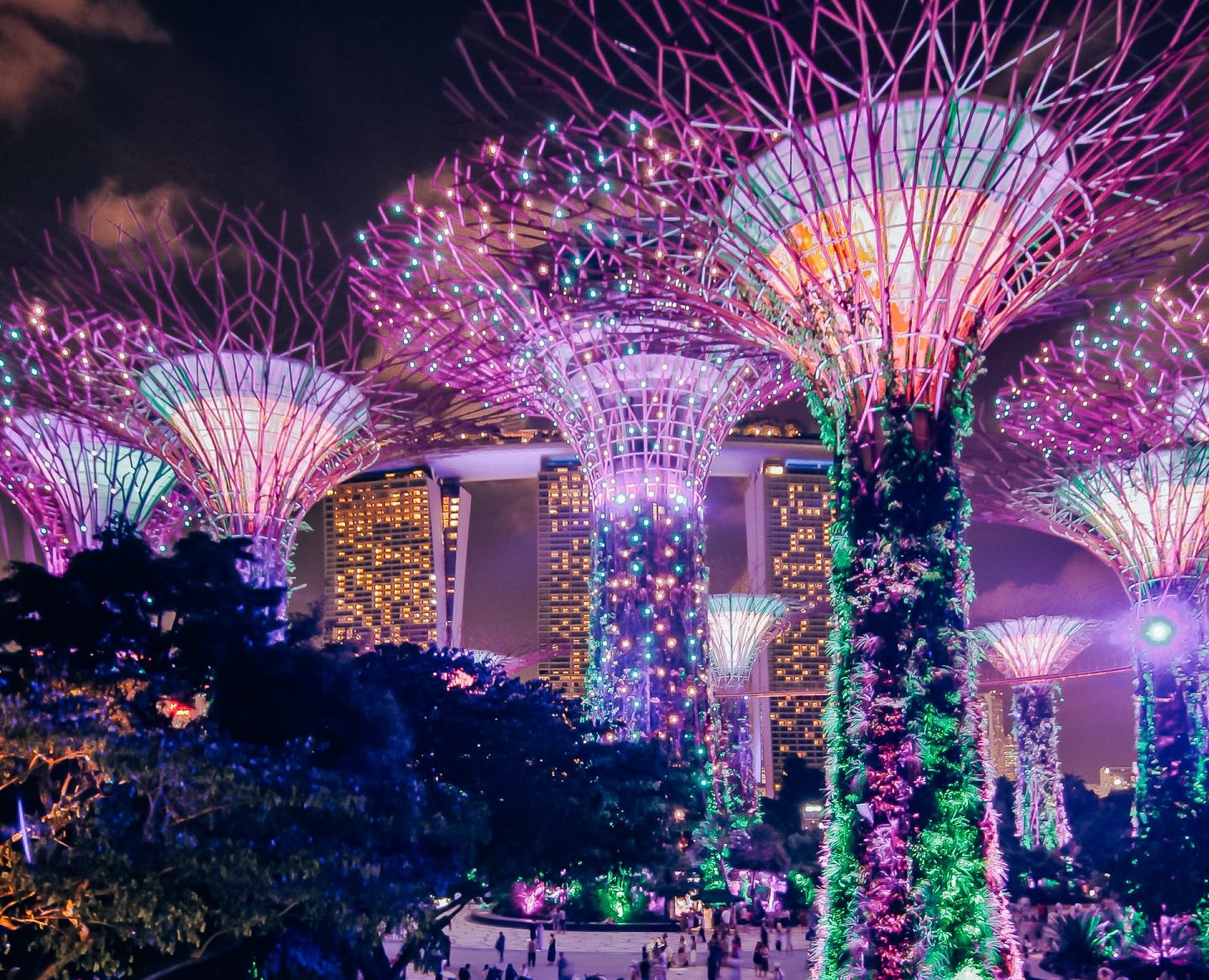 ---
Gardens By The Bay
Since its opening, over forty million visitors have explored Gardens by the Bay–and for good reason. Not only are the man-made "Supertrees" 164 feet tall, but there's an equally picturesque on-site Flower Dome—as huge as two football fields and the largest glass greenhouse on the planet, according to the Guinness Book of World Records—full of African baobab trees, tulips in every colour, and the most stunning succulent garden we have ever laid eyes on.
---
The Night Safari
If you've ever been lucky to experience a safari in South Africa, you'll know those afternoon excursions can sometimes be a little quiet, especially as all of the animals come out to play—and pounce—under the cover of darkness. Introducing The Night Safari, which runs from 7:15 p.m. until midnight and takes place in the dark. Malaysian tigers, pangolins, Asian elephants, and even a white African lion are possible sightings. Don't miss supper in a Tipi tent or the cocktail tram, which transports you around the park with a drink in hand. The experience is so fantastic that it frequently wins Best of Singapore awards.
---
ESPA at Resorts World Sentosa
ESPA, located in Singapore, is one of the most luxurious new spas on the planet. The 10,000-square-foot area faces the water and is equipped with everything you need to treat yourself: crystal steam rooms, a Japanese onsen, and the city's first Turkish hammam. Choose from six different styles of customized massages, ranging from Balinese to hot stone. The Stressbuster is also highly recommended after the long flight over.
---
Marina Bay Sands Infinity Pool
The pool at Marina Bay Sands is 340 meters high, making it the world's highest swimming pool, as well as the world's tallest 'infinity pool.' This pool's never-ending panorama of Singapore and its surroundings make it well worth visiting. When the sunsets, the city is brilliantly lit up, selfies and 360-degree panoramas are popular here and you'll understand exactly why after you've seen it for yourself.
---
Singapore Flyer
The Singapore Flyer, a 541-foot-tall revolving wheel is Asia's answer to The London Eye. Created by Japanese architect Dr. Kisho Kurokawa the flyer is the biggest observation wheel in Asia and o ne rotation lasts 30 minutes, giving you plenty of time to survey gawk at the skyline and capture Singapore's stunning views.
---