When it comes to luggage, it's important for mine to last as long as possible but I also want it to look beautiful and help keep me as organised as possible on short and long trips.
On the high-end side of the market, we are now seeing plenty of new pieces that feature the latest technology and design as well as giving us an elegant fashion statement, whilst being reliable and long-lasting.
Ultimately, we are all after quality, practicality, and elegance. Here are our top luxury luggage lines to accompany you on your next trip.
All of the products mentioned below are available from Harrods, London or on www.harrods.com
---
The Globe-Trotter, Safari Wheelie Suitcase
Globetrotters Safari collection is made with the style-savvy, discerning traveller in mind and pays homage to the timeless elegance of travel in the late 1920s.
This wheelie suitcase is crafted in cream leather accented with pink trims and golden hardware. Secured with two push-lock fastenings along the top, it can be carried with ease using the top handle.
It is also available in Ivory or Coffee Brown.
Price: £1,770 | You can buy it here.
---
Tumi Garment Carry-On Suitcase
Renowned for designing practical luxury luggage for the frequent flyer, Tumi presents this garment carry-on suitcase, ideal for short business trips.
Boasting zipped compartments with plenty of space for your suiting attire, the built-in TSA combination lock ensures your belongings are safe. The sleek, compact silhouette is also perfect for fitting into overhead lockers on flights.
Price: £775 | You can buy it here.
---
Tumi Continental Dual Access 4 Wheeled Carry-On
This carry-on is perfect for the tech-savvy and those that travel a lot for businesss. The Dual Access suitcase comes with a compartmentalised interior to house all your travel essentials.
It also features a magnetic luggage tag and a built-in USB port for on-the-go charging and is complete with a TSA combination lock to ensure all your belongings are safe and secure.
Price: £1,645 | You can buy it here.
---
Fabbrica Pelletterie Milano Bank Spinner
The Bank collection by Fabbrica Pelletterie Milano is characterised by traditional forms with distinctive technical details, fused with retroelements.
Designed with rounded corners and leather straps, this aluminium suitcase will keep your possessions neatly organised with its compartmentalised interior. It's also super easy to manoeuvre through the terminal, sized to fit in the overhead bin and durable enough to keep your belongings safe.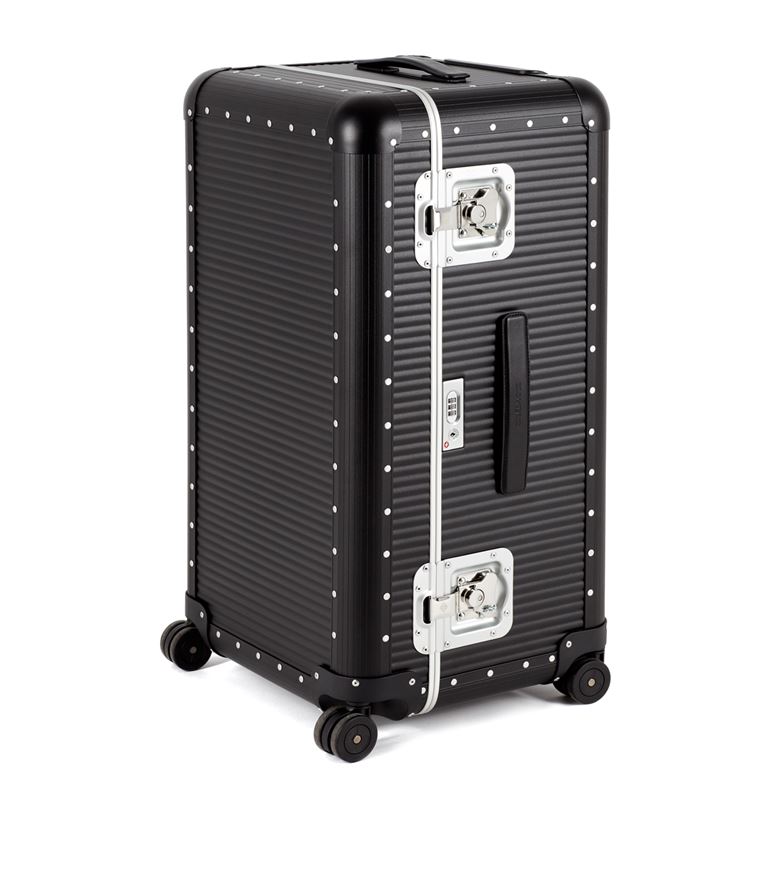 Price: £1,396 | You can buy it here.
---
Mulberry Four Wheel Trolley
Practical and stylish, the latest addition to Mulberry's Scotchgrain luggage collection is guaranteed to help you travel in first-class luxury style.
The new cabin-size Four Wheel Trolley combines the classic and instantly-recognisable Scotchgrain style with modern functionality. Boasting multiple internal zip pockets, a leather top handle, and double zip closure, it is the perfect travel companion to have while on the go.
Price: £995 | You can buy it here.
---
Tumi Continental Carry-On
Whether you're travelling near or far, the Tumi Continental carry-on is the ideal choice for perfectionist packers.
Super-durable, sleekly designed and crafted with an incredibly roomy interior, this suitcase meets all manner of carry-on guidelines and is best suited to frequent globetrotters.
Price: £895.00 | You can buy it here.
---