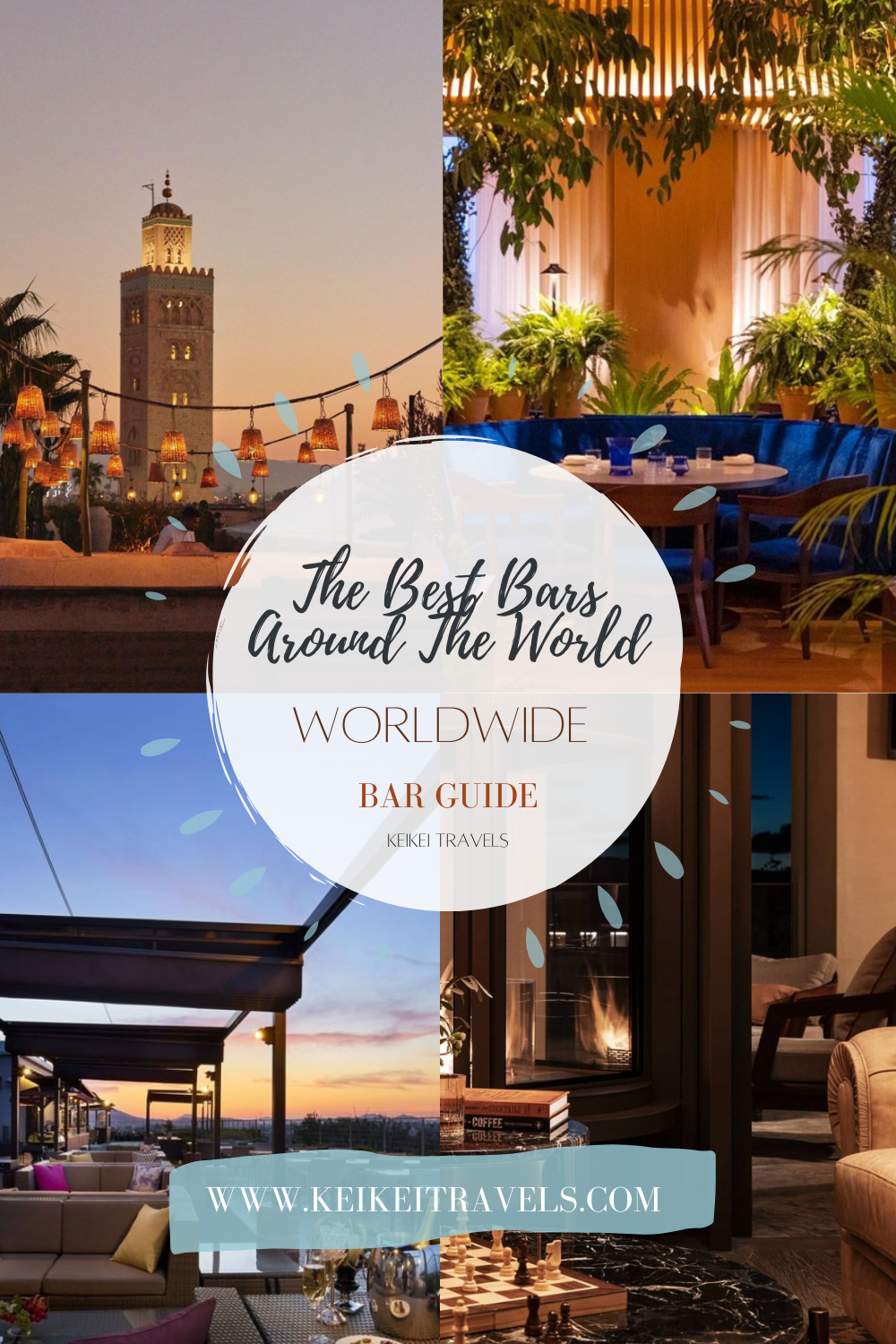 2021 might have felt like the toughest year yet to attempt Dry January, but in the UK one in five* (20%) people who drink alcohol said they planned to take on the challenge this year. With what has felt like the longest January ever coming to an end, and that delicious looking Pinot eyeing you up from the wine rack, we round up our pick of the best bars across the world to help you plan your next sundowner adventure.
*Alcohol Change UK survey
---
JAPAN
The Gold Bar (Coming 2021), Tokyo Japan
Located on the ground floor of the Tokyo hotel, Gold Bar at EDITION, transitions seamlessly from a relaxed lounge during the day to a sophisticated cocktail bar in the evenings. The Gold Bar, which seats up to 87 guests, will serve an all-day menu including a modern Japanese tea service created by a local 'Tea Master' in addition to a diverse selection of matcha, coffee, innovative cocktails and non-alcoholic beverages. Guests will also be able to order from a menu of small plates throughout the day and into the evening.
Bar hopping in Hachinohe City
When night falls the innocuous shopping streets of downtown Hachinohe suddenly come alive. The city has eight yokocho (alleyways) that wind their way through the downtown area of Hachinohe, creating a maze of izakaya, bars, and restaurant-lined streets. Visitors can pop into small bars for a drink and a chat with the locals. Hachinohe has some of Tohoku's liveliest yokocho. Its most famous alleyway is the Miroku Yokocho, which opened when the Tohoku Shinkansen began service to Hachinohe in 2002. Each of the yokocho has its distinctive atmosphere. Bars in the yokocho are often very small and can only seat 10 or fewer people.
The Living Pavilion by Aman Kyoto
www.japan.travel/en/uk/

Aman Kyoto's Living Pavilion restaurant & bar complements its beautiful natural setting, with Kyoto cuisine reflecting the seasons with its constantly changing menu.This convivial space rests at the heart of Aman Kyoto, offering elegant interiors and a bar arranged around a central fireplace. Floor-to-ceiling glass doors open onto an ornate terrace, with beautiful views of the surrounding gardens and forest. Open throughout the day and into the night, the restaurant serves both home-cooked Kyoto-style cuisines, and innovative drinks.
Agora Fukuoka Hilltop Hotel & Spa Beer Garden, Kyushu
Located in a residential area of Fukuoka, Agora Fukuoka Hilltop Hotel & Spa offers a luxury beer garden showcasing a fantastic view of the city. The bar offers delicious foods and an exquisite drinks menu. Enjoy watching the sunset over the twinkling city lights and a glass of Heineken Extra Cold in a luxurious, stylish setting.
Furansu, Ishikawa
Furansu Cocktail Bar is located in Kanazawa where visitors can indulge in some of the best cocktails in Ishikawa. Furansu (France in Japanese) is a cocktail bar run by three brothers who are half Japanese half French. The bar can be found on Kiguramachi street near downtown Kanazawa, this bar is a cosy foreigner friendly place taking no charge and is a great spot for a drink with friends or family. Selling premium spirits including Japanese whiskeys and French gins this is a must visit.
Matsumoto Brewery Taproom, Three Star Road
Matsumoto Brewery Taproom hosts an abundance of tasty local beers that are of high-quality and unique as they can only be made on a small scale. The Tap Room is located in the Nakamachi area down a small alley serving Matsumoto Brewery's four original beers along with an occasional guest beer on draft. With only a bar and one bar table on the first floor and a large table on the second floor, the Tap Room is cosy and tight, making it easy to strike up a conversation with others in the room. For those who want to bar hop, there is another Matsumoto Brewery Tap Room in the Media Garden building that has more seating and serves small plates.
---
AFRICA
El Fenn, Morocco
In Marrakech, in January 2021, boutique hotel El Fenn will unveil its expansion as it pledges a greater commitment to supporting Morocco's local economy, community and environment. The property now stretches across 12 interconnected riads and among the new highlights are a heated rooftop pool with panoramic views of the city, Koutoubia Mosque and Atlas Mountains. Four new suites plus a second bar and private dining room have been added and the stylish in-house spa and store expanded. The roof terrace is El Fenn's most popular spot. It's 7000 square feet, has a close-up view of the iconic Koutoubia Mosque as well as the rooftops of Marrakech and there's a mass of daybeds and lounging areas to enjoy it all from. There's also a 30-foot marble bar and a team of mixologists on hand from midday until late if you're in the mood for a drink.
---
EUROPE
Tapasake Club, One&Only Portonovi – Montenegro
https://see.montenegro.travel/en
Opening in the historic coastal town of Herceg-Novi in March, this resort will be the luxury hotelier's first property in Europe. Accessible by land, sea and air, the luxury guest rooms, villas, suites and onsite bar and restaurants overlook the stunning UNESCO World Heritage site, Bay of Kotor. Providing guests with unparalleled views of the 'jewel of the adriatic', including jagged mountain peaks, crystal clear waters and towering green forests, the beating heart of One&Only Portonovi is the Tapasake Club. An Asian fusion restaurant, set amid a vibrant pool club with resident DJ, the restaurant and bar allows the sights, sounds, and aromas to mesmerise diners set against the backdrop of shimmering sea and misty mountains. Drinks include classic sake to vodka-based summer coolers, signature fruity cocktails, and a vast international wine and beer list.
---
USA
Kane Bar, Marco Island – Florida's Paradise Coast
Part of the JW Marriott resort, the Kane Tiki Bar and Grill (named after the Polynesian God of Creation and Growth) has the best view of any bar on Marco Island and is popular with those visiting the beach as well as resort guests. The open, tiki design works well with its Indonesian street-food inspired menu, looking out onto the pristine, white-sandy beaches and gulf of Mexico. With a focus on Caribbean rum, adept bartenders whip up drinks from over 70 brands of fine rum from Barbados to Brazil. The bar also carries Florida craft beers on tap, mocktails for the kids and at sunset, the bar entertains guests with a live show of fire dancers.
Poka Lola Social Club at The Maven, Denver, Colorado
With a nod to turn-of-the-century American soda fountain culture, Poka Lola Social Club at boutique hotel, The Maven, reinvents the every-man's cocktail bar. Located in Downtown Denver's new Dairy Block, the bar is a place where visitors can open their palates or to enjoy their favorite standby. Specialty sodas using locally sourced seasonal ingredients are bottled on-site for use in crafted cocktails, to enjoy in the space and outdoor patio area. The Maven is a uniquely crafted downtown Denver hotel anchoring Dairy Block, the vibrant new micro-district in LoDo. Honoring innovation and community, they have a keen attention to detail and pride themselves on being unrivalled hosts to guests from all reaches.
Drink in the views at Sierra Mar, Post Ranch Inn – Big Sur, California
High above the cliffs of Big Sur sits Post Ranch Inn, a sanctuary for the soul. The resort's bar and restaurant, Sierra Mar, blends rustic elegance with panoramic ocean views. With no televisions anywhere in the resort – and certainly no live sports playing at the bar! – guests can relax and soak up the views, 1,200ft above the Pacific Ocean. Sierra Mar, which is for guests only, uses local boutique distilleries, artisan breweries, house-made juices, and locally foraged ingredients for its cocktails, such as fresh mint and lavender from the garden. The Sierra Mar Organic Margarita is a house specialty! Aside from the cocktails, it also has a Grand Award-winning wine cellar, with over 15,000 bottles and 3,200 selections – wine enthusiasts can spend hours reading the acclaimed list!
Sip slopeside at Tusks Bar, Mammoth Lakes & Mountain, California
Where better to soak up the beauty and fresh air of California's High Sierra than on Mammoth Mountain's slopeside bar and sundeck Tusks Bar. Watch the action whilst enjoying one of the many locally brewed craft beers – you might even catch a glimpse of the U.S. Olympic ski team training on the slopes if you're lucky. If you still want some altitude without getting on the mountain, check out Mammoth Brewing Company in the town of Mammoth Lakes, for epic microbrews that give you a taste of the Sierra.
Stunning city views at Revival, Kimpton Sawyer – Sacramento, California
The Kimpton Sawyer is perfectly positioned in the heart of downtown Sacramento, but you might find it hard to tear yourself away from the pool deck and cocktail bar, with its stunning sights across the city and unrivaled views of the Golden 1 Center – home to the city's NBA team the Sacramento Kings. Sacramento is America's Farm-Fork-Capital and is also home to one of California's oldest wine-producing areas, with over 200 wineries in the region. Start sampling the local goods with The Sawyer's daily complimentary wine hour.
Bandits and Presidents at California's oldest bar – Hotel Jeffery, Yosemite Mariposa, California
In the Gold Rush town of Coulterville, close to Yosemite National Park, town visitors will find the Hotel Jeffery. This 1851 hotel is home to the oldest bar in California to be in continuous service; Magnolia Saloon. The bar comes complete with polished bar and bat wing doors, giving guests a glimpse into the atmospheric past. Originally a Mexican structure built of rock and adobe, the hotel and bar was used by stagecoach passengers on their way to Yosemite and has hosted gold miners, Presidents, gunfighters and adventurers from every continent,including President Theodore Roosevelt, 'Father of the National Parks' John Muir, and probably even famed stagecoach bandit Black Bart.
Aspen hottest new Wine Bar at The Little Nell – Aspen, Colorado
Long believed to be the best ski town in the U.S., it's no surprise that Aspen's après scene is home to some of the best bars in the world too. The Wine Bar at The Little Nell just opened in Aspen, ready to welcome in 2021. Set in the heart of the prestigious Little Nell hotel, The Wine Bar is a completely refashioned space from its former outlet, Chair 9 après-ski bar, with an inviting, candlelit ambiance. The Wine Bar has an art deco design, a DJ booth where only vinyl records are on rotation, an extensive wine list and an innovative bar menu. For both The Wine Bar has dozens of wines by the glass, 16 wine enomatics on tap, as well as the full bar menu and Little Nell wine list of nearly 3,000 selections from the hotel's award-winning cellar, with education and approachability as a central theme.
Signature cocktails at the St Regis Deer Valley, Utah
For visitors who like a bar with a view, then the St Regis Deer Valley is the spot to be. After a day hiking or horseback riding amid spectacular summer scenery, guests can enjoy stunning mountain views and serene privacy at this luxury resort. Celebrate each day at sunset with The St. Regis champagne sabering ritual or Sip the signature 7452 Mary, an enticing blend of the famous Bloody Mary mix and Five Wives Vodka locally-distilled from Utah mountain spring water, served with a black salt rim and a wasabi-celery foam.
---
THE ISLANDS OF TAHITI
Bar Hurricane, The Islands of Tahiti
Enjoy getting a speedboat after dinner to Bar Hurricane at Hotel Sofitel Marara. The bar is named after the 1979 movie Hurricane, starring Mia Farrow, as filming took place nearby. Hurricane bar is a popular nightcap destination for honeymooners and it's one of few resort bars right on the edge of a gorgeous lit-up infinity pool and the stunning blue lagoon, together creating an unforgettable amazing atmosphere. Expect a relaxed vibe and romantic setting.