Italy is one of the most intriguing, sophisticated, and utterly beautiful countries on the planet. A trip to this boot-shaped country in the heart of the Mediterranean Sea allows you to discover Roman Empire landmarks in Italy's bustling capital, or feast your eyes on Renaissance architecture in Venice and Florence, and be blown away by the splendid scenery of the iconic Sorrento Peninsula, soak in 'la dolce vita' on the sun-baked Sicily's shores, and feed your passion for authentic Italian cooking.
Italy also has some of the world's most luxurious hotels, and establishing this list is a tough challenge, if not impossible, given the huge amount of remarkable hotels that dot the country. However, here is our list of our top favourite luxury hotels in Italy, all of which have outstanding locations, style, atmosphere, and character.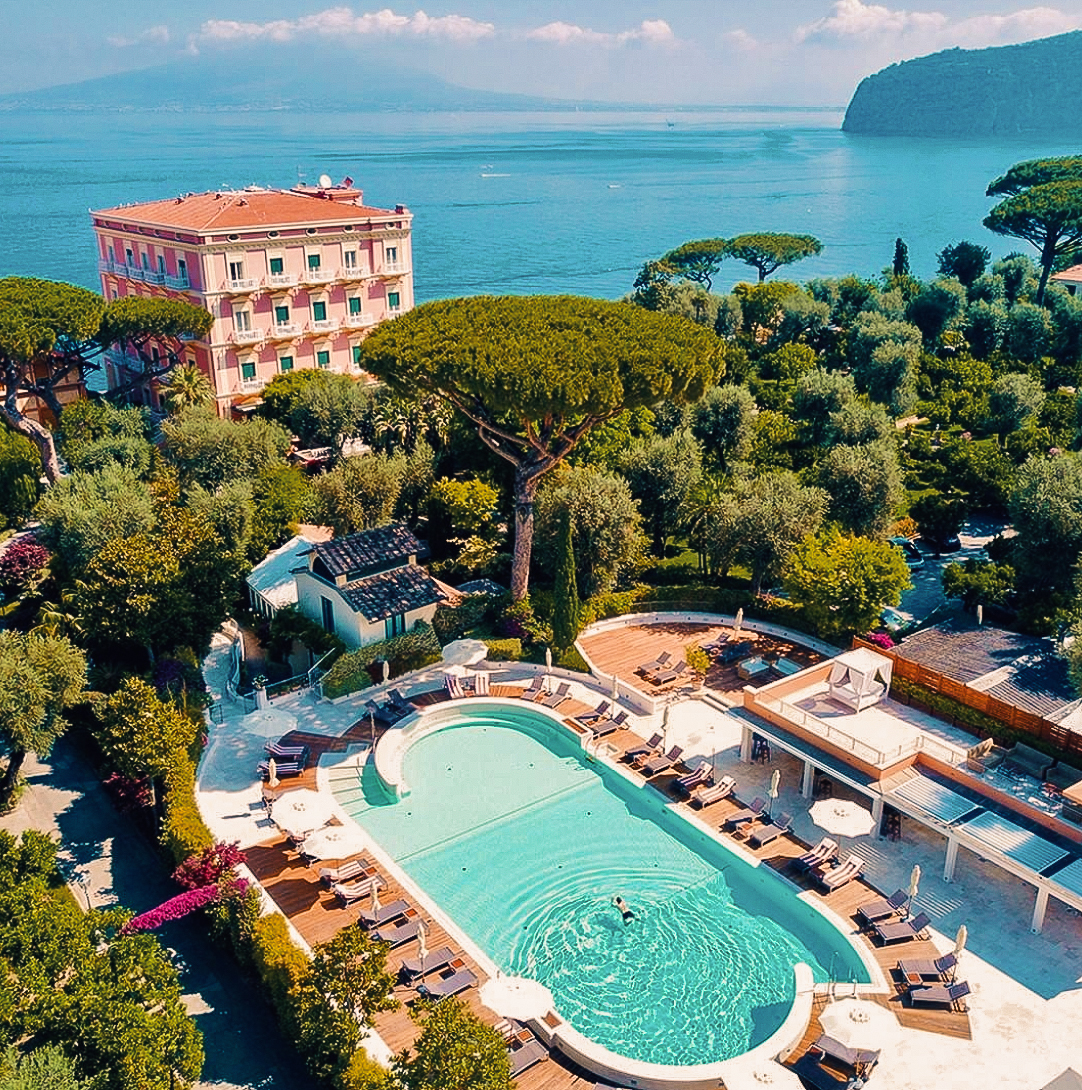 ---
Belmond Grand Hotel Timeo, Sicily
The Belmond Grand Hotel Timeo, an exquisite, ancient villa carved into the rugged cliffs close to the Greek Theatre, is in the heart of Taormina's enchantment, with magnificent vistas that have charmed and amazed travellers since 1873. The hotel has 71 suites and guestrooms spread throughout the main building and the neighbouring Villa Flora. Most come with that incredible view — across the ancient Taormina's clustered terracotta roofs, through the coves and headlands of the jagged coastline, and across to Mount Etna's violet slopes and puffing peak. Visitors may also take a free shuttle or a daring train ride down the hill to sister hotel Belmond Villa Sant'Andrea, a 19th-century former private estate with its own beach.
---
The St Regis, Venice
The St. Regis Venice combines spectacular, modern decor with its historic legacy as one of the city's greatest addresses. The hotel has been in this ideal location for nearly a century and a half, surrounded by the Grand Canal and with views of Venice's most historic sites. In the 130 bedrooms and 39 suites, stylish decor, sophisticated technology, and St. Regis Butlers create an environment of immaculate comfort, with some including private terraces. The hotel's Ancient roman garden is a haven for leisure and entertainment, with access to a variety of eating and beverage options, as well as Spa Suites and a workout studio. A five-minute walk from the hotel, luxury stores and modern art galleries take visitors to Teatro La Fenice and the wonders of Piazza San Marco.
---
The Four Seasons, Florence
Four Seasons Hotel Firenze is bringing luxury hotel living to new heights in Italy's Renaissance city, with at least two facilities that are exceedingly unique in Florence — an 11-acre private park and an on-site spa and swimming pool. The hotel is housed in an art-filled Renaissance palace and a former convent, with arches, carved pillars, friezes, painted murals, and stunning marble flooring. The 116 guest rooms and suites are spread over three buildings, and no two are the same. They combine Renaissance craftsmanship with high-tech comfort to reflect the architectural splendour of their illustrious history, whilst the Uffizi and Duomo are just a short walk away.
---
Grand Hotel Excelsior Vittoria, Sorrento
The magnificent Grand Hotel Excelsior Vittoria is the pinnacle of luxury, overlooking Sorrento from its superb location on the Amalfi coast. Built in 1834, the elegance and grandeur of that era are still as evident and wonderfully preserved now as they were when it first opened its doors. The interior is just as remarkable as the outside, from the entryway to the dining rooms to the bedrooms. Furnished with paintings, antique furniture, and rich textiles, this five-star hotel exudes Edwardian grandeur at every turn.
The hospitality is also outstanding. From the moment you arrive, you will be pampered like royalty by employees who embody the notoriously warm and friendly Italian hospitality. When it comes to dining, you won't have to travel far to find delicious food. The hotel's namesake restaurant, Terrazza Boquet, is Michelin-starred and serves food as magnificent as the vistas.
---
Hotel Eden Roc Positano
Despite its distinguished reputation and appealing position near Positano's centre, Hotel Eden Roc is intimate, charming, and welcoming. It is the Casola family's passion, and they treat their guests as if they were old friends. Or, to put it differently, they create the environment that will make you feel like the star of your own Italian film. The main building has 25 rooms and suites, three "annex suites" out front, three apartments, and two opulent villas beyond the grounds. Everything has been freshly refurbished in a way that blends classic and contemporary styles, and all of the rooms are bright and airy, with ocean views.
---
Hotel Hassler Rome
When it comes to the very best views of Roma, the Hassler has the greatest address in town. Initially opened in the late 1800s, the five-star hotel is now run by fifth-generation hotelier, Roberto E. Wirth and is one of Rome's few luxury buildings that has remained in private hands. In its ideal central Rome location atop the Spanish Steps, the Hassler pulls out all the stops, from fine dining cuisine to an exclusive Amorvero in the heart of Rome.
Discretion has made the Hassler – a member of The Leading Hotels of the World – the preferred choice for royalty, politicians, musicians and celebrities since the property opened its doors in 1893. The list of famous faces who have stayed here includes Robert De Niro, George Clooney, Audrey Hepburn, Princess Diana and Pablo Picasso, and there's a strong chance of bumping into a famous guest at breakfast – whilst staying here, we bumped into a certain President visiting on his diplomatic travels.
Today, Hotel Hassler is on almost everyone's list of top European hotels, and it is widely regarded as one of Rome's top luxury hotels. The family-run hotel is synonymous with the highest quality of service, and attention to detail and is small enough to allow guests a pleasant and welcoming atmosphere, with just 66 rooms and 20 suites, but still maintains a five-star service that one would find in a large luxury hotel brand.
---
Rosewood Castiglion del Bosco, Tuscany
Rosewood Castiglion del Bosco is one of the oldest and best-preserved luxury hotels in Italy's Tuscany region, located in Montalcino, Tuscany, in the midst of the UNESCO World Heritage Site of Val d'Orcia. Rosewood Castiglion del Bosco, enveloped by rolling wooded hills, extensive vineyards, and farmland dotted with ancient farmhouses, offers its guests and members the opportunity to immerse themselves in the beauty of this stunning corner of Tuscany, in a setting of unparalleled beauty and sophistication. The hotel has an eight-century heritage and features 23 suites and eleven luxury villas, as well as a private golf course, spa, winery, and vineyards.