London has no shortage of fantastic steak restaurants – we've dined in the city's most popular high-end steakhouses and scoped out some of the best unknown cheap-eats, but one that always continues to stand out, bringing us back for more – usually on a Sunday – is Hawksmoor.
Known for its flavourful and succulent Sunday Roasts, Hawksmoor is made for those who love to dine out and perfect for a special occasion, date night or family dinner, but only recently did I learn that its a la carte menu has just as much to shout about as its acclaimed weekend offering. Read on to find out why.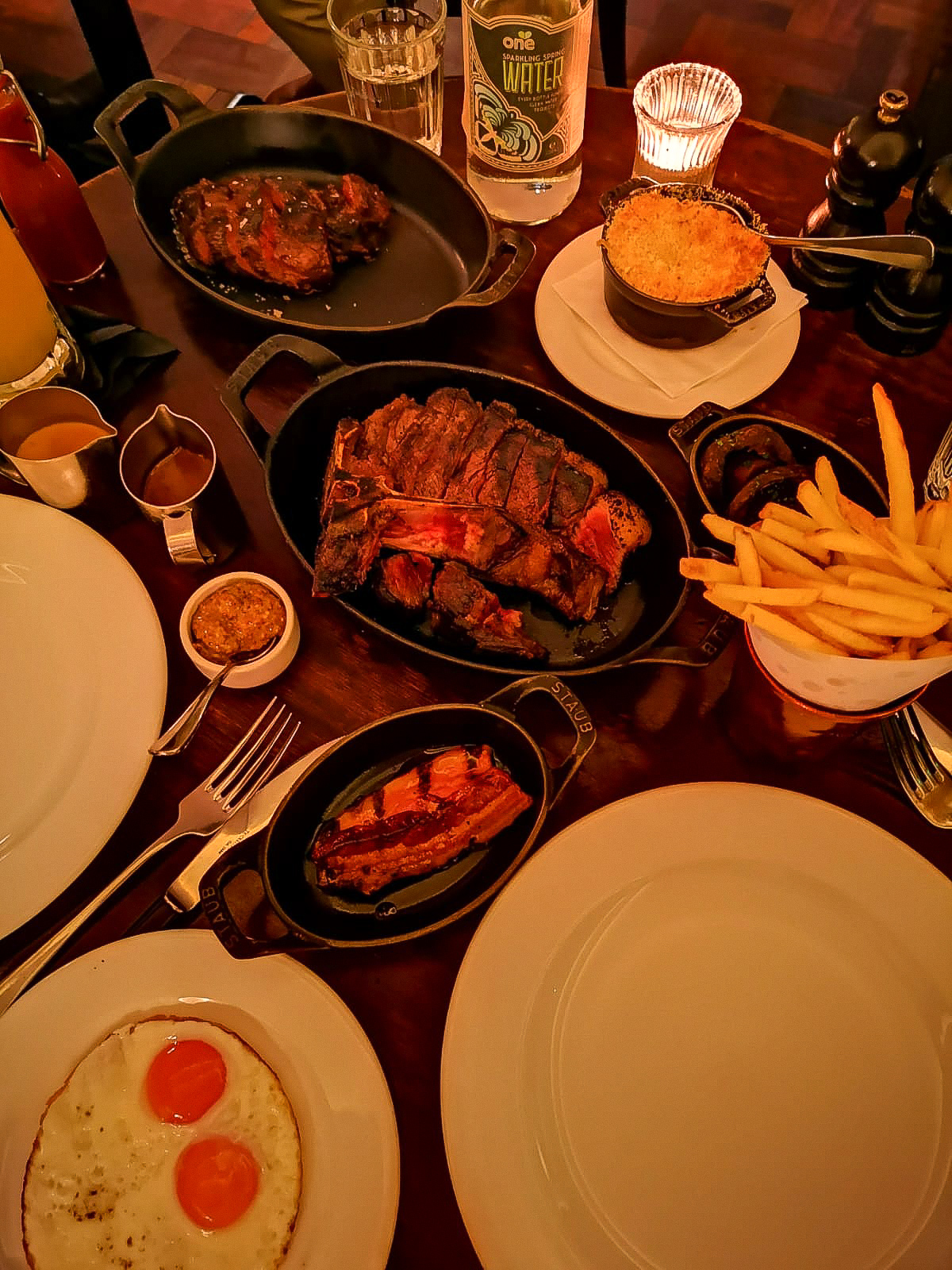 ---
Location
With seven restaurants dotted around London and one in Edinburgh and Manchester, there are no excuses not to book in at this award-winning restaurant.
In London diners will find branches on Air Street (nearby Picadilly Circus), Borough (nearby London Bridge), Guildhall (nearby Bank), Knightsbridge, Seven Dials (nearby Covent Garden) and Spitalfields (nearby Shoreditch High Street).
We enjoyed a three-course meal at the Air Street restaurant most recently which provides a similar luxurious atmosphere to all of the other branches – featuring dark leather and wooden interiors with touches of brass here and there – think exclusive members club but minus the snobbery.
---
Drinks
The bar at all Hawksmoor branches are so good that some have even won awards and it's not hard to see why. With its extensive cocktails and wine list, there's something for everyone. Whether you're nipping in for a tipple or two or looking for the perfect alcoholic beverage to compliment your meal, you'll find it here. And if you don't the knowledgable and ever-helpful restaurant and bar staff will be on hand to advise with recommendations.
Shaky Pete's Ginger Brew is a must-try – made up of Beefeater gin, ginger, and lemon it is Hawksmoor's most popular cocktail and has been for over a decade. Somewhere between homemade ginger beer and shandy with an added gin kick, it's no wonder why this incredibly refreshing pick-me-up is so well-loved.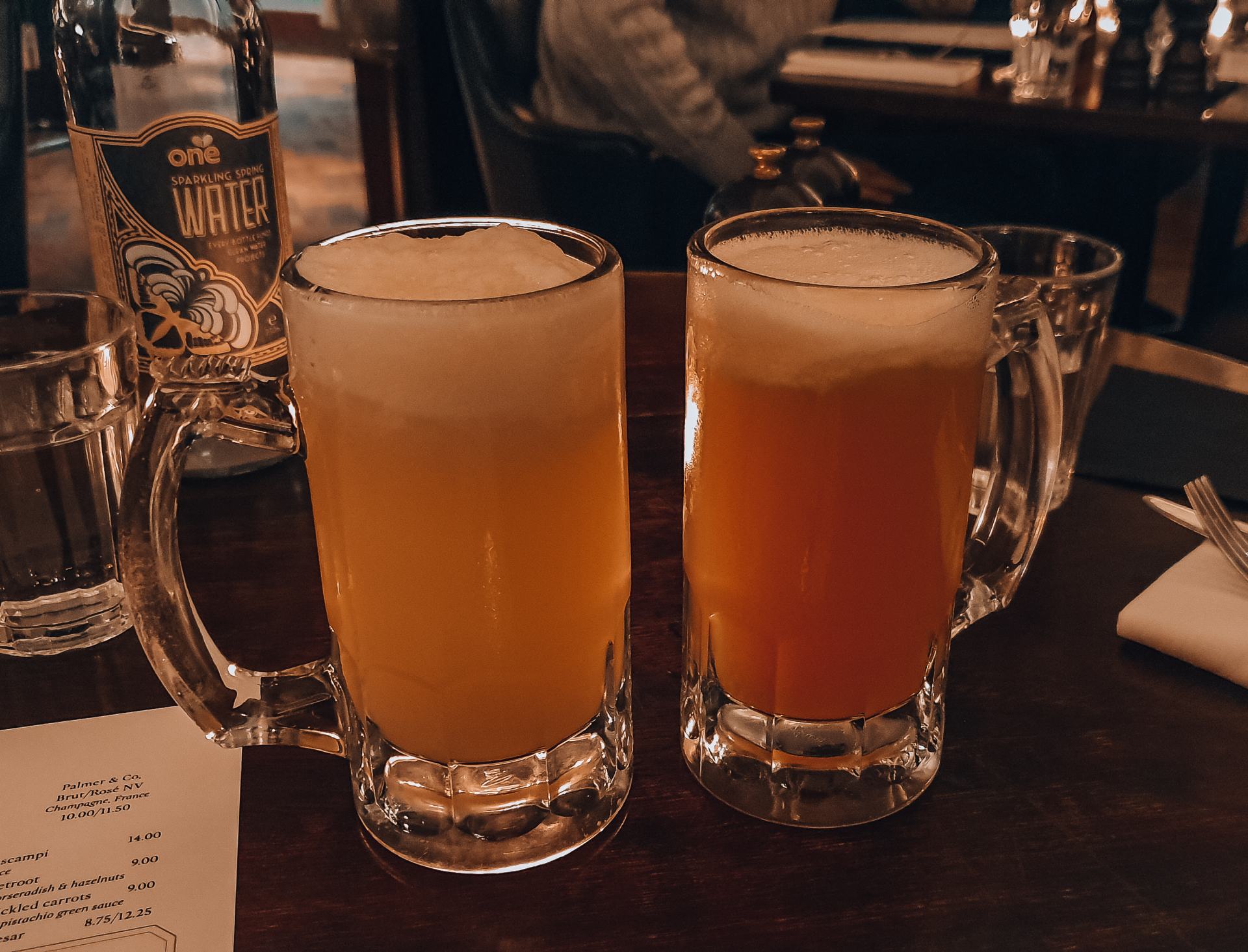 ---
Starters, Main & Sides
You can't really go wrong with whatever you choose to order from Hawksmoor's menu. The restaurant is famed for its beef but the seafood dishes on offer should absolutely be on your radar.
For starters, the options are fantastic. High-end without being pretentious and plentiful in portion sizes. We opted for the Roast Scallops which were cooked to perfection, juicy and succulent in the most delicious white port and garlic sauce. We also ordered the Old Spot bell ribs, which melted in your mouth and one of my favourite dishes of the evening.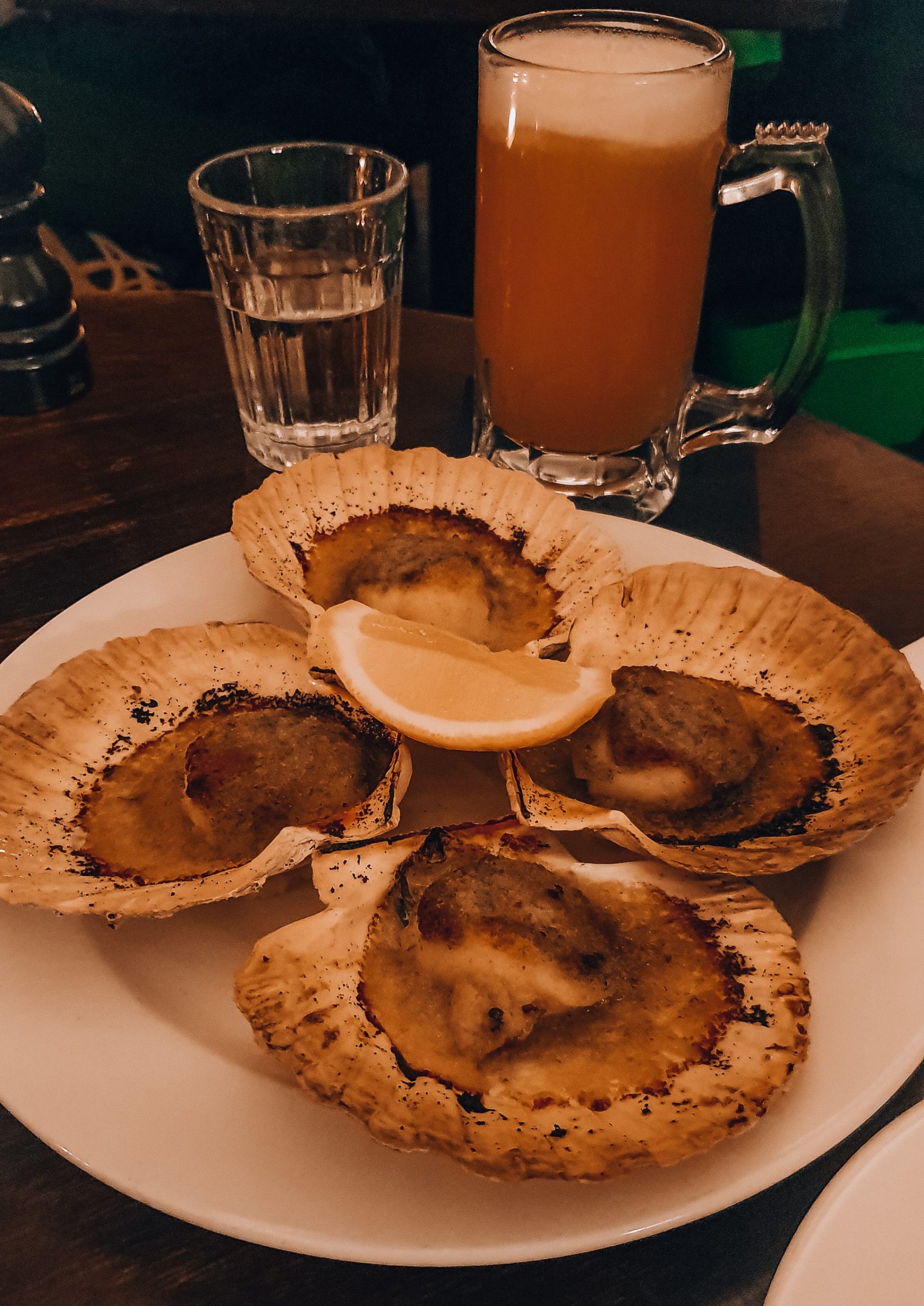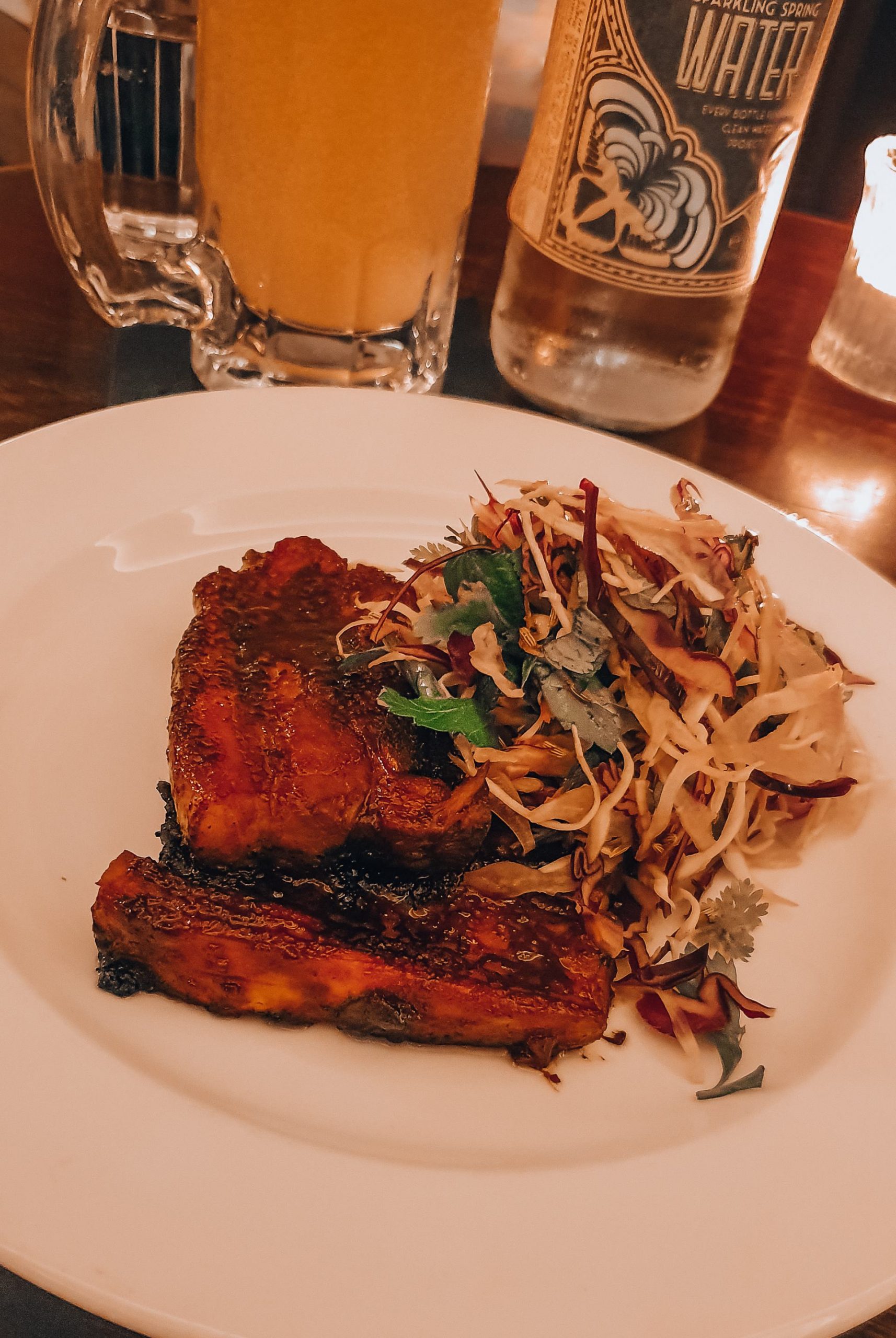 Other popular options on the Starters front include Potted Beef & Bacon with Yorkshires, Devon Crab on Toast and Langoustine Scampi.
Moving onto the main courses (the star of the show), if you're a lover of meat and seafood then you're guaranteed to be spoilt for choice at Hawksmoor.
When it comes to seafood there's Grilled Turbot, Dover sole (grilled over charcoal or meunière), steamed Dartmouth lobster, grilled Monkfish or Royal Bream – the seafood options alone will keep bringing me back.
As for large cuts and steaks, meat lovers will rejoice at the selection on offer. I definitely recommend sharing a large cut between two; Chateaubriand, Porterhouse, Prime Rib or T-bone. If you don't like to share then that's fine, there are plenty of steak choices too; Fillet (300g), Rib-eye (400g), Sirloin (400g) or Rump (300g).
To compliment your meat, there are also extras such as thick-cut bacon, fried eggs, and grilled bone marrow. Hawksmoor's steaks can't be enjoyed without one or two of the mouth-watering sauces on offer; Bearnaise, Peppercorn, Bone Marrow Gravy, Anchovy Hollandaise, Stichelton hollandaise.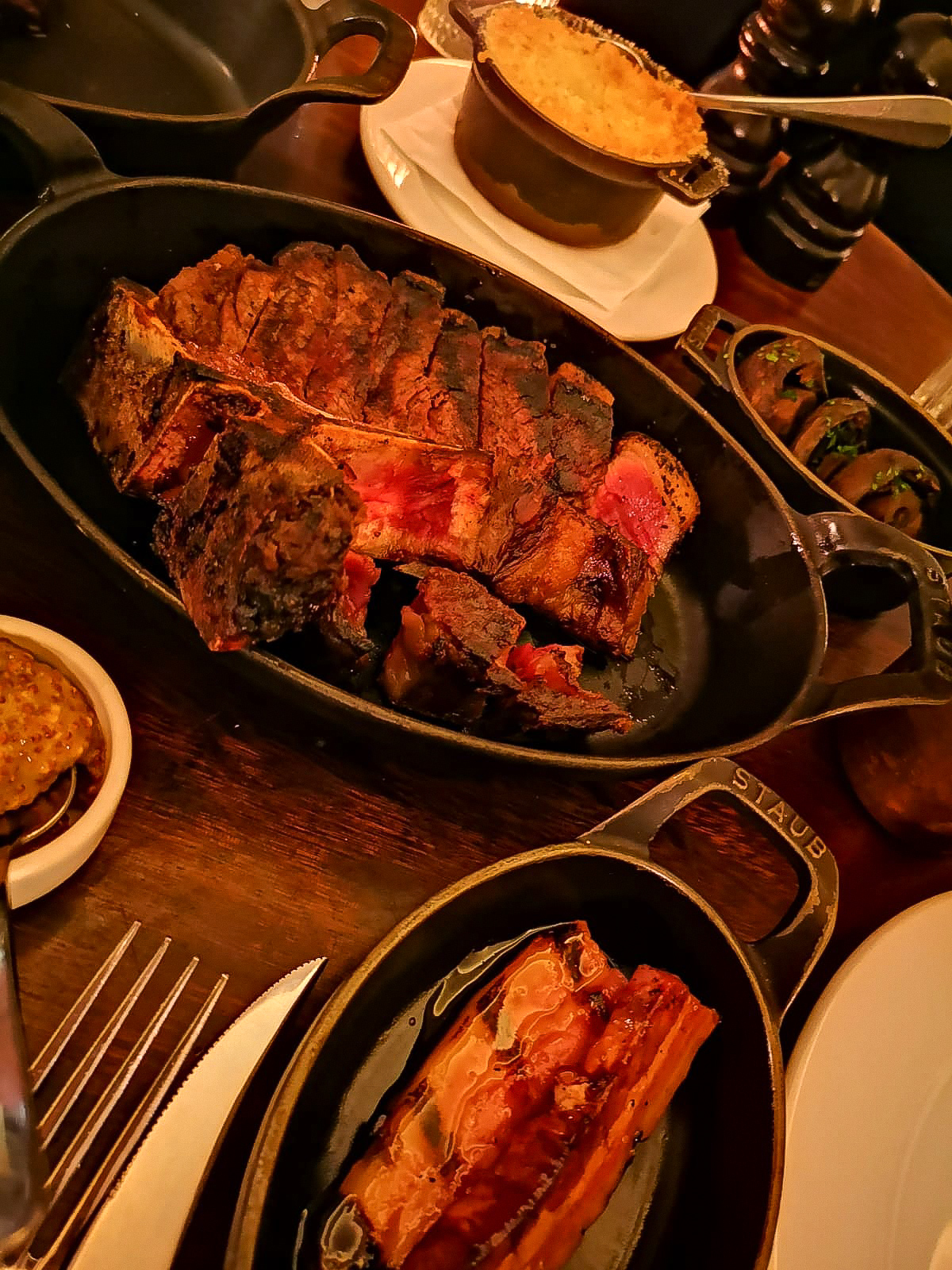 Big tip coming through – don't overlook the restaurant's supreme selection of side dishes. I love a good side and too often do I find that there are not enough options – definitely not the case at Hawksmoor. Beef dripping fries, macaroni cheese, roasted field mushrooms, sprouts in beef butter, shaved fennel and watercress and cows in blankets just to name a few – they're all fantastic in their own right.
---
Puddings
Make sure you leave enough space for a third course because Hawksmoor doesn't disappoint when it comes to dessert. They want to end your meal on a sugar high.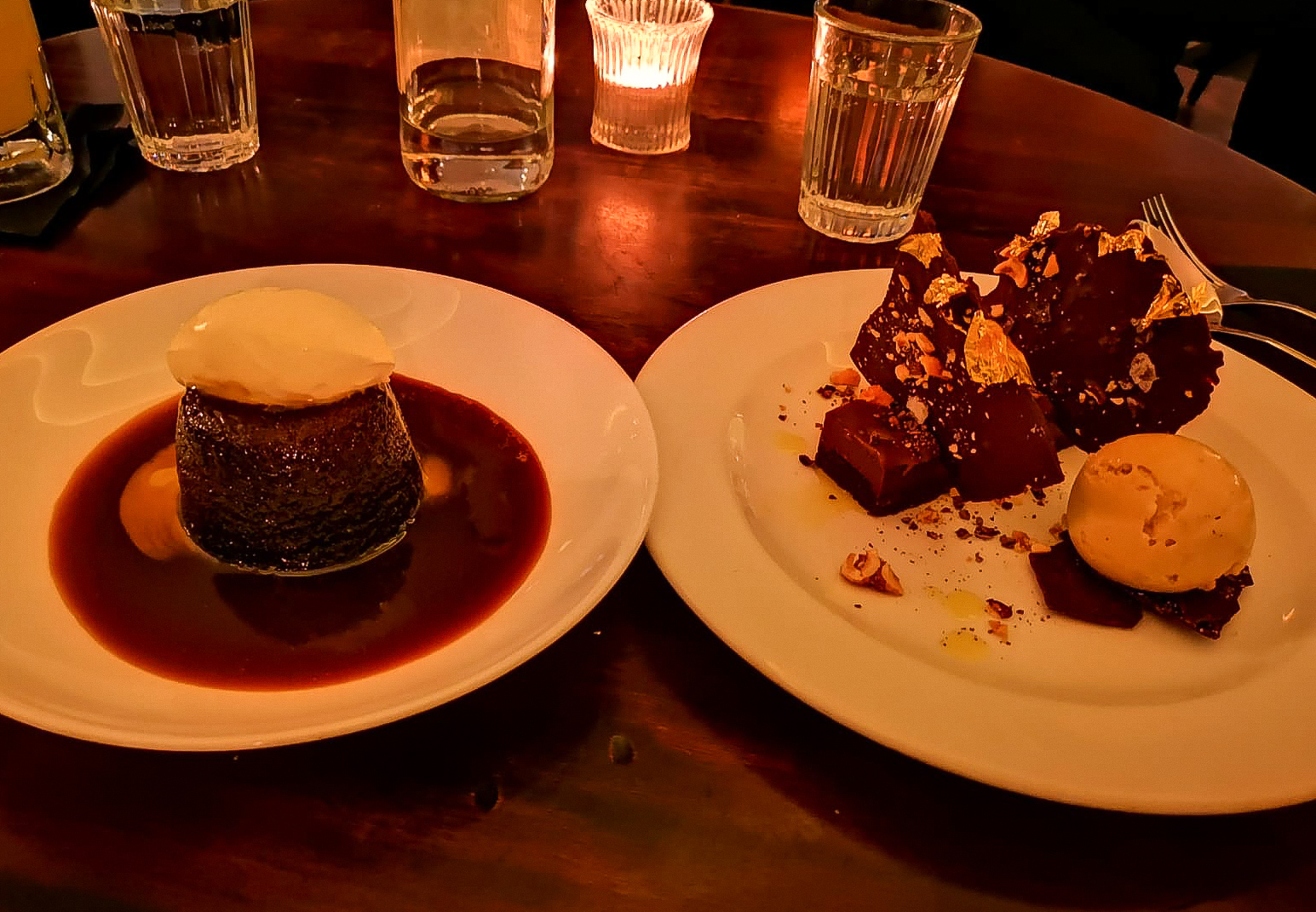 We went for the sticky toffee pudding, served with clotted cream and the George the Fifth; a chocolate, hazelnut & olive oil 'bar' – with 50p from every one ordered going to Action Against Hunger to support their aid work around the world.
Elsewhere, there's Peanut butter shortbread served with salted caramel ice cream, a selection of cheeses such as Tunworth, Kirkham's Lancashire or Crozier Blue. If you're after something lighter, there's also a selection of ice cream or sorbet scoops.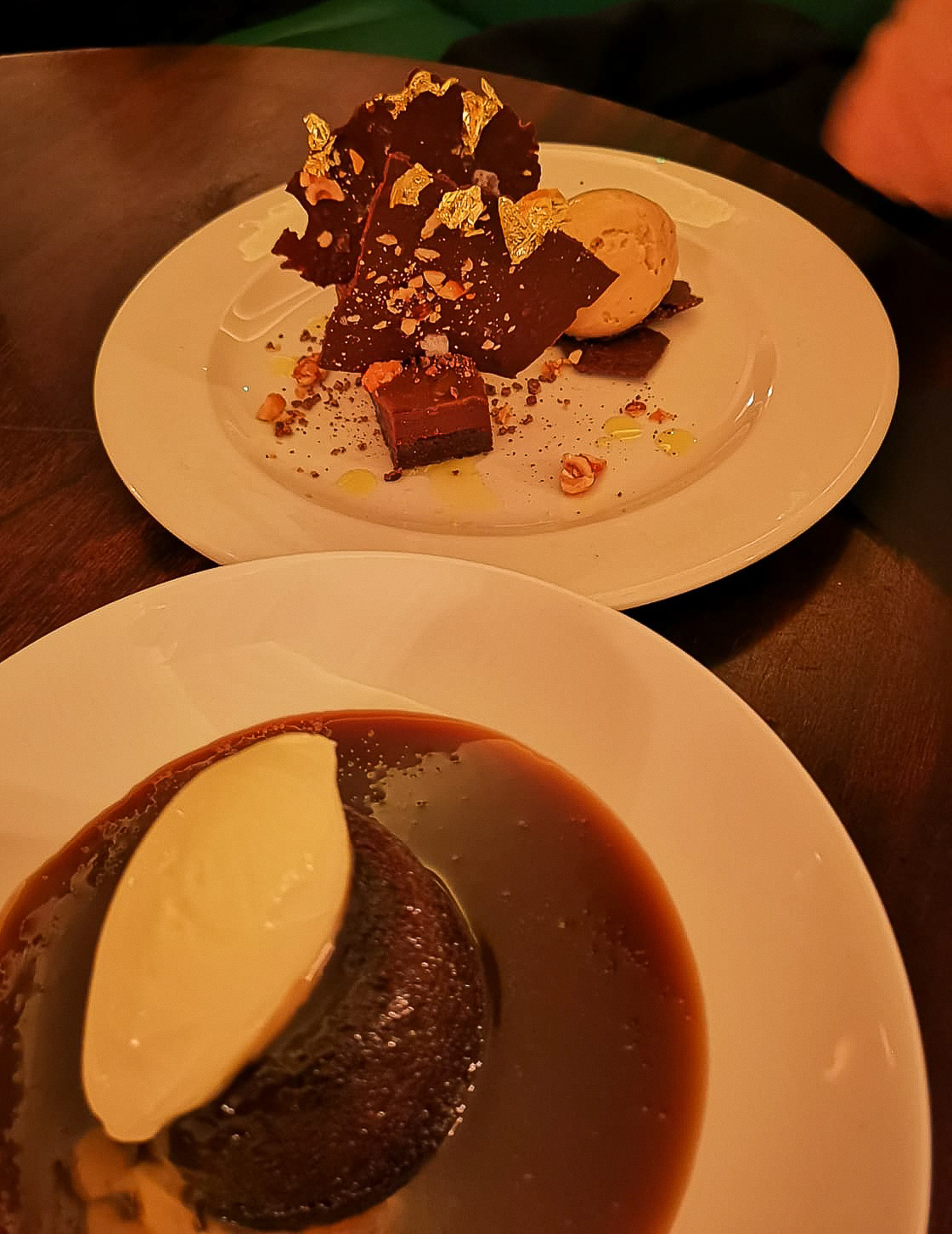 To book a table at your nearest Hawksmoor, visit: https://thehawksmoor.com/
---