London – a hectic and continually bustling city with no shortage of fresh and exciting restaurants opening on every street corner each week. It can be a challenging feat for the newbies to stand out from the more established, but that's definitely not the case for Soho's latest haunt, Wild Rice Restaurant and accompanying downstairs bar, Mamasan.
Opening its doors in December of 2018, the Thai restaurant has swiftly become one of my favourite Asian restaurants in the city. Succulent prawn dishes, bright and bold flavours, fried food that's light and crisp, all complimented with fun and fruity cocktails.
The restaurant and bar have an excellent and easily accessible spot right in the centre of London's trendy Soho area, just a few minutes' walk from Picadilly Circus station or Leicester Square station.
Gaining inspiration for the name of the restaurant, Wild Rice, from its rather "wild" Soho surroundings, the restaurant has an edgy, chic look from the outside – but step inside and you're transported to a Thai oasis of traditional food with modern twists and vibrant cocktails.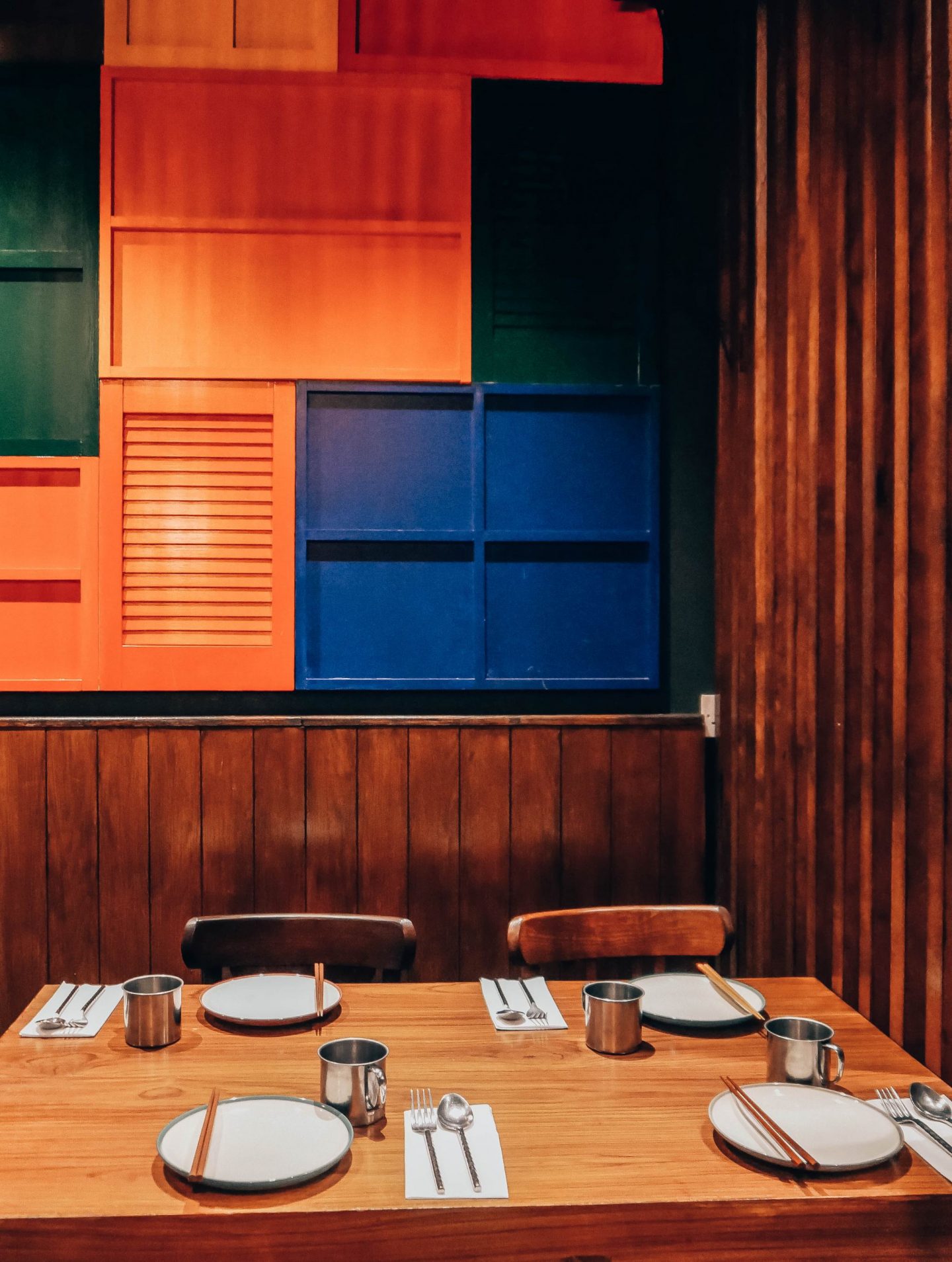 Wild Rice has a sizeable menu which is broken down into sections; nibbles, small plates, mains, and vegetables. There's a great deal to choose from and something for all palates. The restaurant recommends customers to share plates in a Thai tapas sort of style, with 2-3 small plates, and 1 main per person.
We started off by choosing a selection of nibbles and small plates, all with a little help from our welcoming and friendly waiter.
The first of our small plates to arrive was my absolute favourite. The simple, but oh-so-satisfying Thai calamari. Fried in a super light rice batter and tossed in house seasoning – it was perfectly crisp and chewy, and the Thai sweet chili sauce thoroughly complimented the seafood flavours.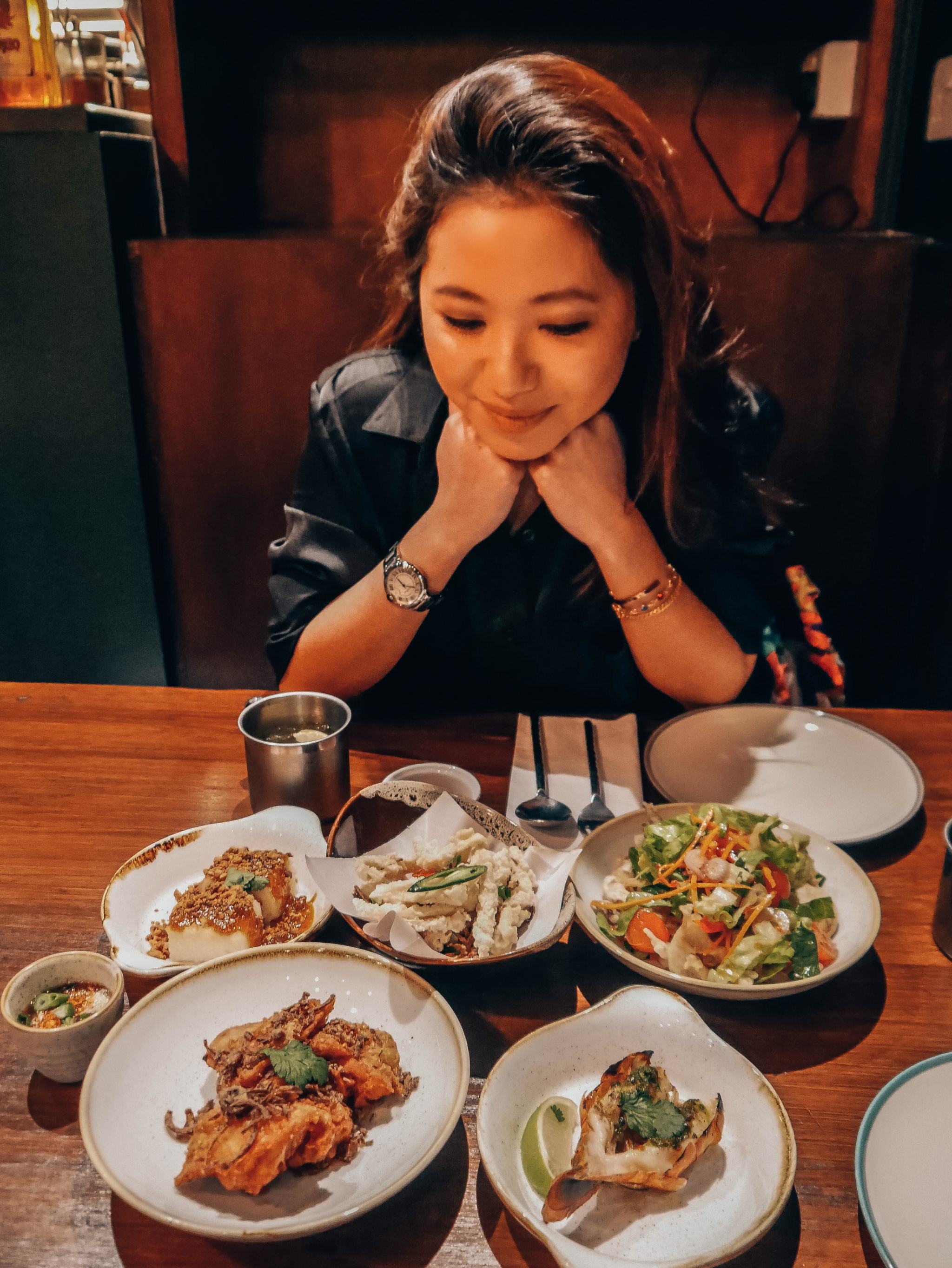 Another favourite of ours and also following on with the fried theme was the MFC fried chicken. The ultra-crispy skin and juicy, tender chicken alongside a sweet and sticky sauce made up of coriander root, tamarin, and toasted rice, were the flawless balance of both sweet and sour.
Our other starters didn't disappoint either. Soft tofu nuggets with a creamy satay sauce, Goi Pla Thai ceviche, chargrilled giant prawns and a crispy mixed mushroom salad.
The Thai ceviche was perhaps a tad too spicy for me, but the giant prawns were beautifully cooked – succulent, light and extremely fresh – I could've eaten a whole plate of them myself. The crispy mixed mushrooms were equally as delightful. Tossed in a chili and lime dressing, the lightly fried enoki, oyster and shitake mushroom dish made for a brilliant summery plate.
For mains, I opted for a seafood dish – one that actually brought me to Wild Rice in the first place after having spotted a beautifully captured image of the plate on Instagram.
The tinpot baked prawn and vermicelli dish lived up to all of my expectations and my only downside was that I wish I had eaten it on a slightly emptier stomach, before all of the small plates! Served in a traditional metal tin pot, the large prawns are tossed together with light bean vermicelli, shitake mushrooms, and Chinese celery.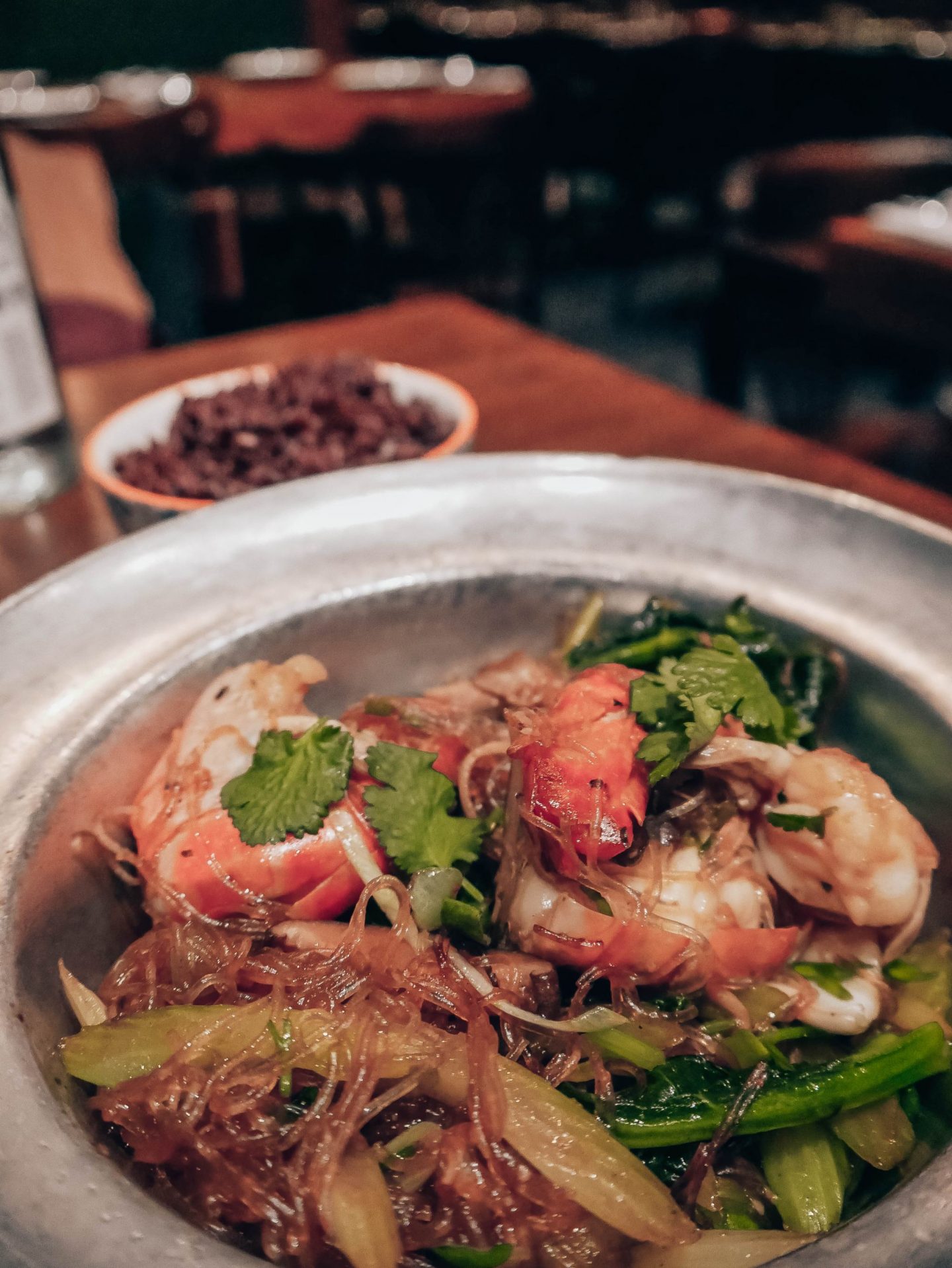 Again, the prawns were big and tender, and the silky noodles were a superb accompaniment. Wild Rice were also extremely generous with their portions as too often when ordering seafood dishes I find that there's not actually enough seafood on the plate. To my delight, this wasn't the case with my main course.
Lewis opted for the slow-cooked Massaman curry main – a lamb rump, cooked in cinnamon, star anise, coriander, coconut cream, peanuts, and cashews. He was in food heaven. The meat was cooked until so tender it was almost falling apart and the sauce was perfectly sweet and nutty.
We finished up on a scrumptious dessert of Thai milk tea tart with peanut crumbs and a tapioca dessert mixed with sweetcorn. Both desserts were the ideal light sweet treat to end an utterly delicious and authentic yet modern Thai dinner.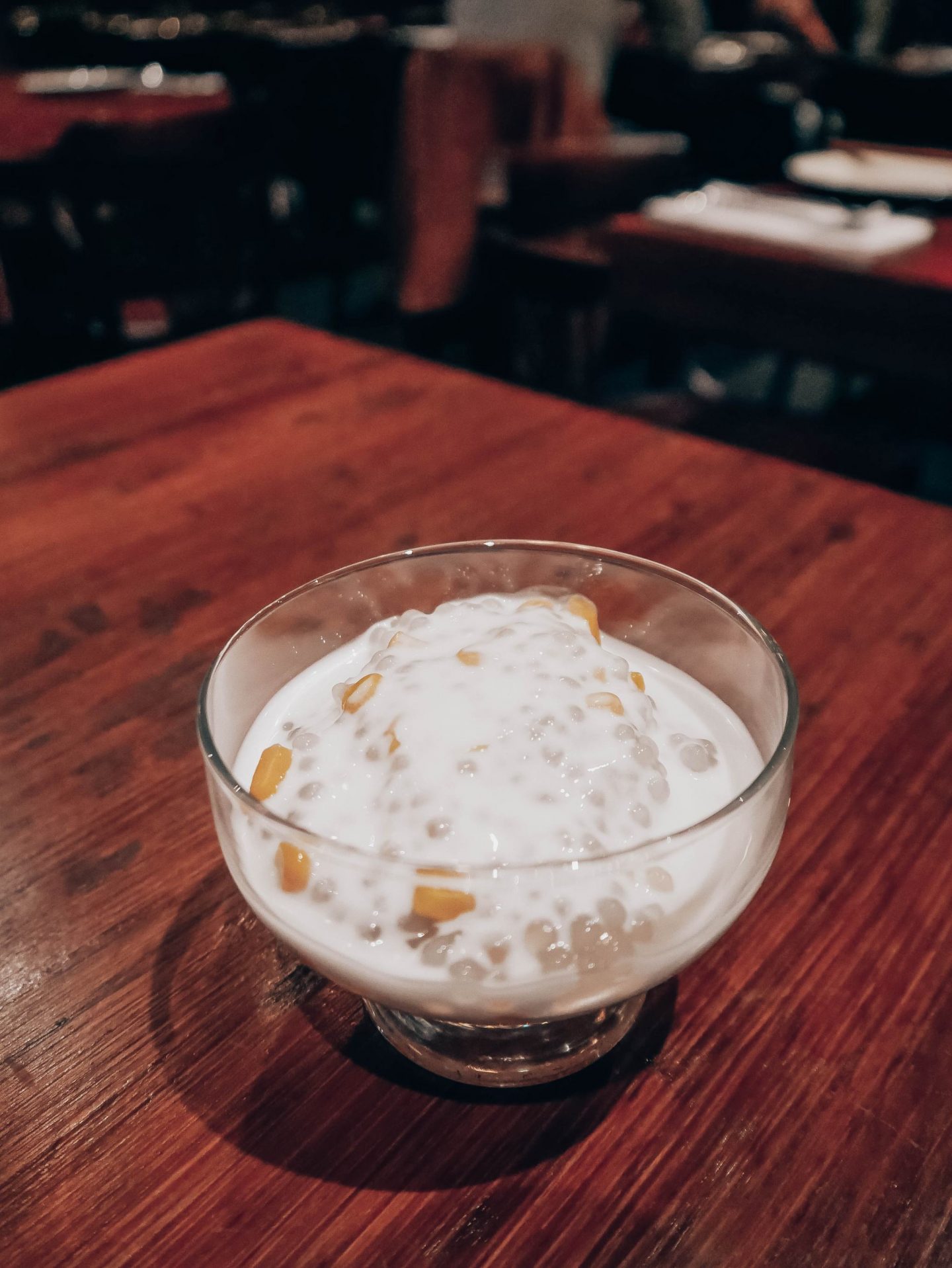 All in all, we had a fantastic meal at Wild Rice and I would surely recommend passing by for lunch or dinner or for cocktails and a small bite with a contemporary chilled out vibe and reasonable prices. The service was friendly, attentive and the cherry on top of this tremendous restaurant and bar that's sure to make its mark in Soho rapidly.
Where is it? 28 Brewer Street, Soho, London, W1F 0SR
How to book your spot: https://www.wildricelondon.com/reserve-a-table/
Find out more: Follow them on Instagram @wildricelondon and @mamasanlondon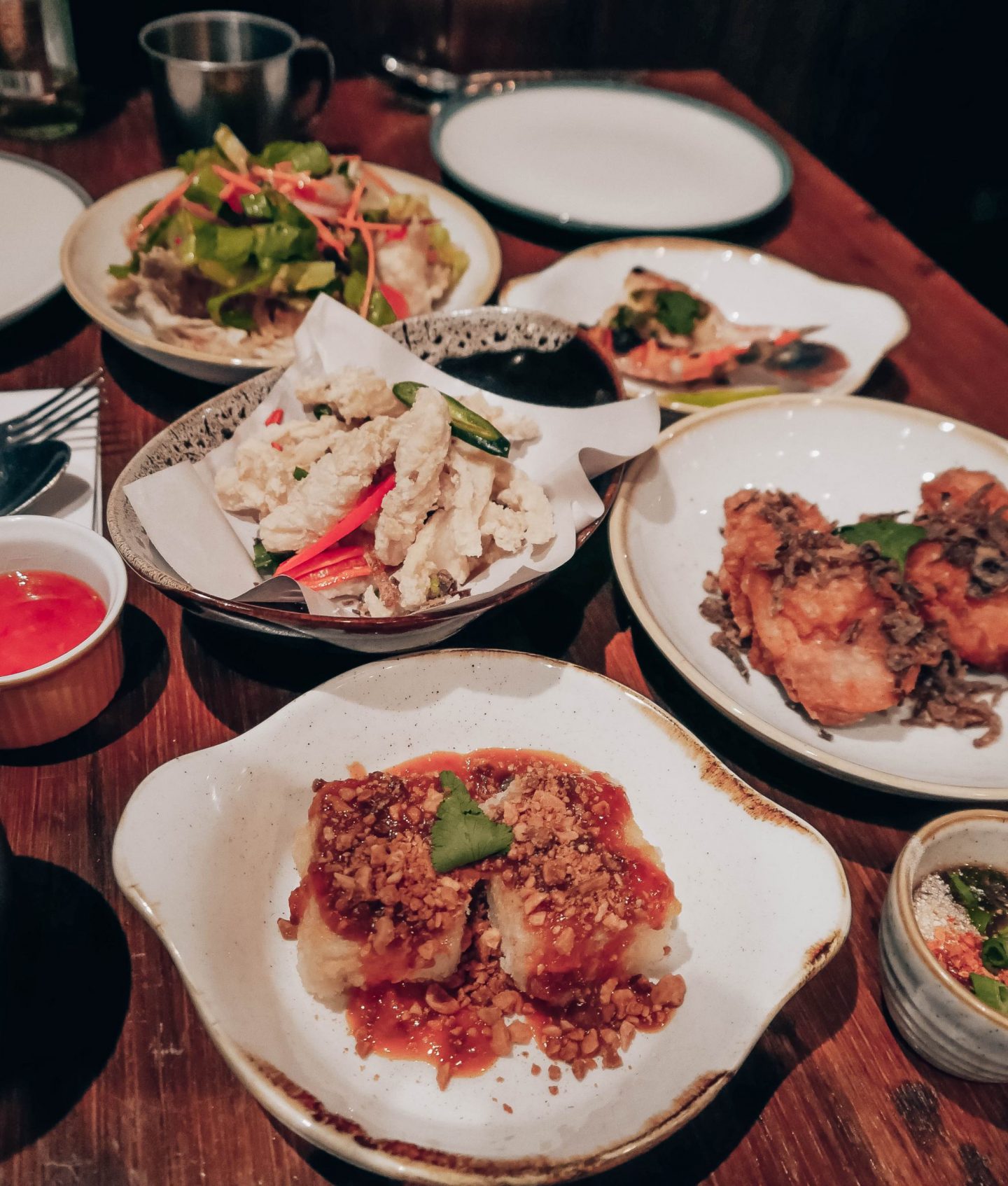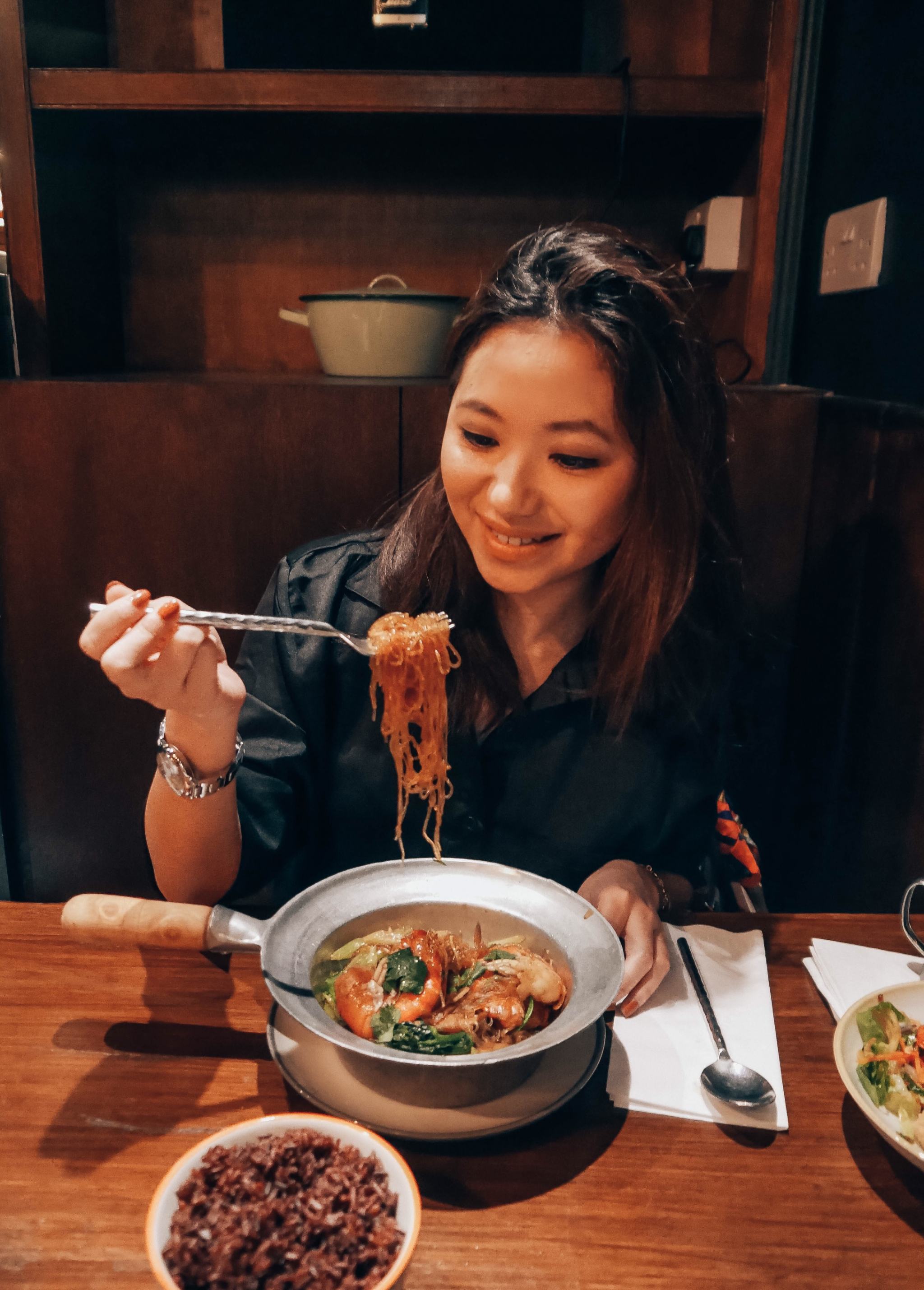 ---