We have recently embarked on a new and exciting house building journey and the launch of KeiKei Interiors Instagram page. Having spent the last decade travelling around the world reviewing luxury hotels, we definitely aren't short of interior design inspiration for our new home.
In this guide, we aim to inspire and share some of our favourite luxury hotels with beautiful decor from across the world. We've compiled a list of seven stunning hotels that will leave you with major design envy and possibly inspire ideas for incorporating features of your favourite vacation spots into your own home.
---
Le Sirenuse – Positano, Italy
Step inside any of Le Sirenuse's wonderfully furnished rooms, which also open up to spectacular views of Positano and its bay, and you'll be delighted. Their rooms all have whitewashed walls, soaring ceilings, and beautiful handcrafted Amalfi Coast tiles. Each room is also adorned with a combination of antique and contemporary furnishings from Europe and the East – it is this unique style that lends them their distinct character. Paint your walls entirely white, incorporate bursts of bright colours through furniture and accessories, and mix and match old and new pieces to replicate this hotel's light, airy, and lively, fresh ambience.
---
Ulaman Eco Resort – Bali, Indonesia
Ulaman Eco Resort, takes bamboo construction to a whole new level. This resort has a wow factor courtesy to its high ceilings, warm ambient lighting, and spectacular curving bamboo architecture. The open-air areas and natural materials such as wood, bamboo, and stone combine to offer the resort a magnificent yet relaxed indoor-outdoor vibe. Incorporate natural materials into your own house to enjoy the same calming feeling of bringing nature inside.
---
Riad & Spa Dar Bensouda – Marrakech, Morocco
Who hasn't fantasised of living in a riad? Riad & Spa Dar Bensouda provides guests with a visual feast of diverse hues and textures. Everything appears picture-perfect and bohemian-esque, from the exquisite Moroccan tiles in the bedrooms to the smooth natural slabs of stone in the baths. Splashes of vivid reds, blues, and yellows placed on a neutral background keep things interesting. For that exotic Moroccan vibe, don't be afraid to mix and match different designs and patterns, diverse textures, and vivid colours in your own house.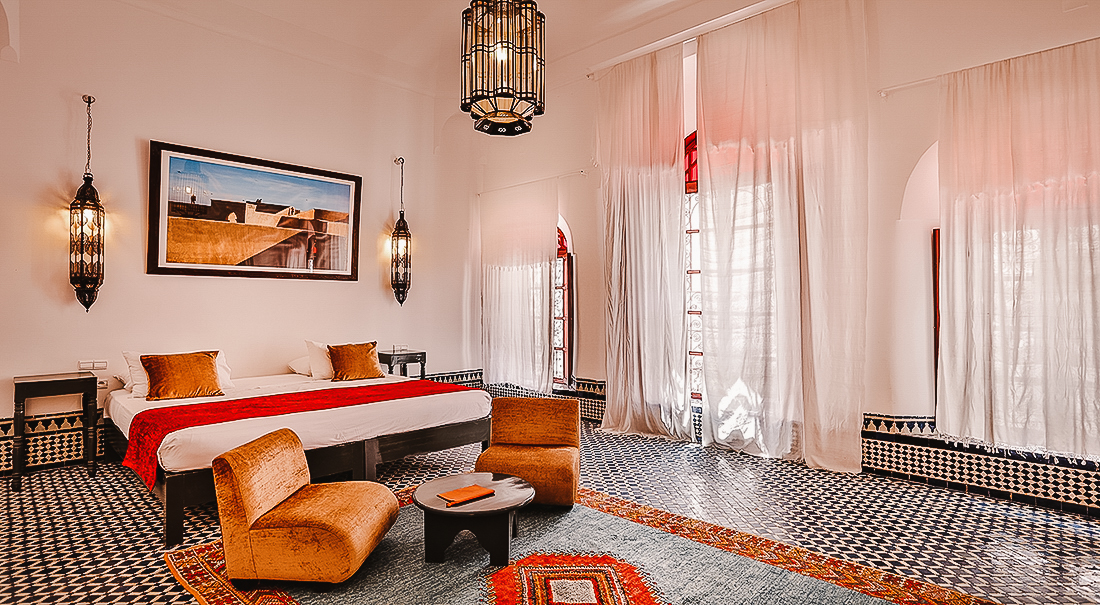 ---
Cyashitsu Ryokan Asakusa – Tokyo, Japan
Absorb yourself in a true cultural experience by staying at the Cyashitsu Ryokan Asakusa, where you can get a taste of modernised traditional Japanese life. You'll find exquisite sliding doors, dreamy spa-like lighting, and an overall Zen vibe. The minimalist design, floor beds, and natural materials of wood, bamboo, and stone will undoubtedly put you at ease. Keeping things clean and basic, as well as taking use of great ambient lighting, are essential for establishing this sort of aesthetic in your own home.
---
Pnoe – Mykonos, Greece
Pnoe has an unmistakably elegant yet quaint air thanks to its contemporary space and charming details. Its high ceilings and large windows let in plenty of natural light, giving the rooms a bright and airy feel that is ideal for this sunny island getaway. White flooring, walls, and ceilings contribute to the space's lightness and airiness. Some homeowners are apprehensive to embrace all-white for fear of their home appearing bland and monotonous. However, as with this hotel, you can keep things interesting by including hints of blues, browns, and greys, as well as diverse textures in the form of natural materials and fabrics.
---
Bensley Collection – Shinta Mani Wild Krong Siem Reap, Cambodia
Shinta Mani Wild's luxurious tents, nestled away in the heart of a beautiful tropical jungle, are every nature lover's wish. If you've ever wanted to enjoy glamping without sacrificing sophistication and style, this is your best bet. Each tent is furnished with a combination of modern and traditional Cambodian furnishings, as well as splashes of tropical hues and a few metallic components. Don't be afraid to blend old and new or to add unexpected bursts of colour for a distinctive and eclectic appearance.
---
The Kimpton Brice Hotel – Savannah, Georgia
The Kimpton Bryce Hotel combines modern flare with subtle grandeur. The dark grey walls provide a comfortable atmosphere in each area, and they are well complemented by the eye-catching colours and unusual designs found in the curtains and furnishings, whilst gold accents contribute to the space's sleek design. Each room's well-thought-out transitional design keeps things lively and contemporary while still keeping things cosy and relaxing. If you want to give your house a new appearance, using unexpected features like bright colours and strong designs may make a world of difference.