Arriving at the Fiji Mariott Resort Momi Bay we were welcomed with the greeting "Bula!" and with every "Bula" we received over the next four days we felt the hotel's genuine hospitality, enthusiasm, and infectious energy shine through like the diamond it is.
The Mariott's first-ever property in Fiji also happens to be one of the first resorts with overwater accommodations on mainland Fiji and the idyllic spot is truly perfect for those visiting on their honeymoon, with children, looking for a destination wedding location, a corporate event location or like us, simply just wanting a relaxing and romantic summer vacation.
---
Rooms
The 250-room resort, which opened to guests in April of 2017 has 114 luxury bure villas, 22 of which sit on the water, allowing guests in the overwater villas to dive directly from their private decks into the surrounding crystal-clear lagoon waters.
All rooms are decked out with a stylish yet homey and comfortable vibe and all feature balconies or terraces with pool, lagoon or ocean views.
We stayed in one of the stunning beachfront Duplex Ocean Front Bures (room 2118) which gave us access directly to the hotel's private beach and lagoon and a picture-perfect view of the overwater bures.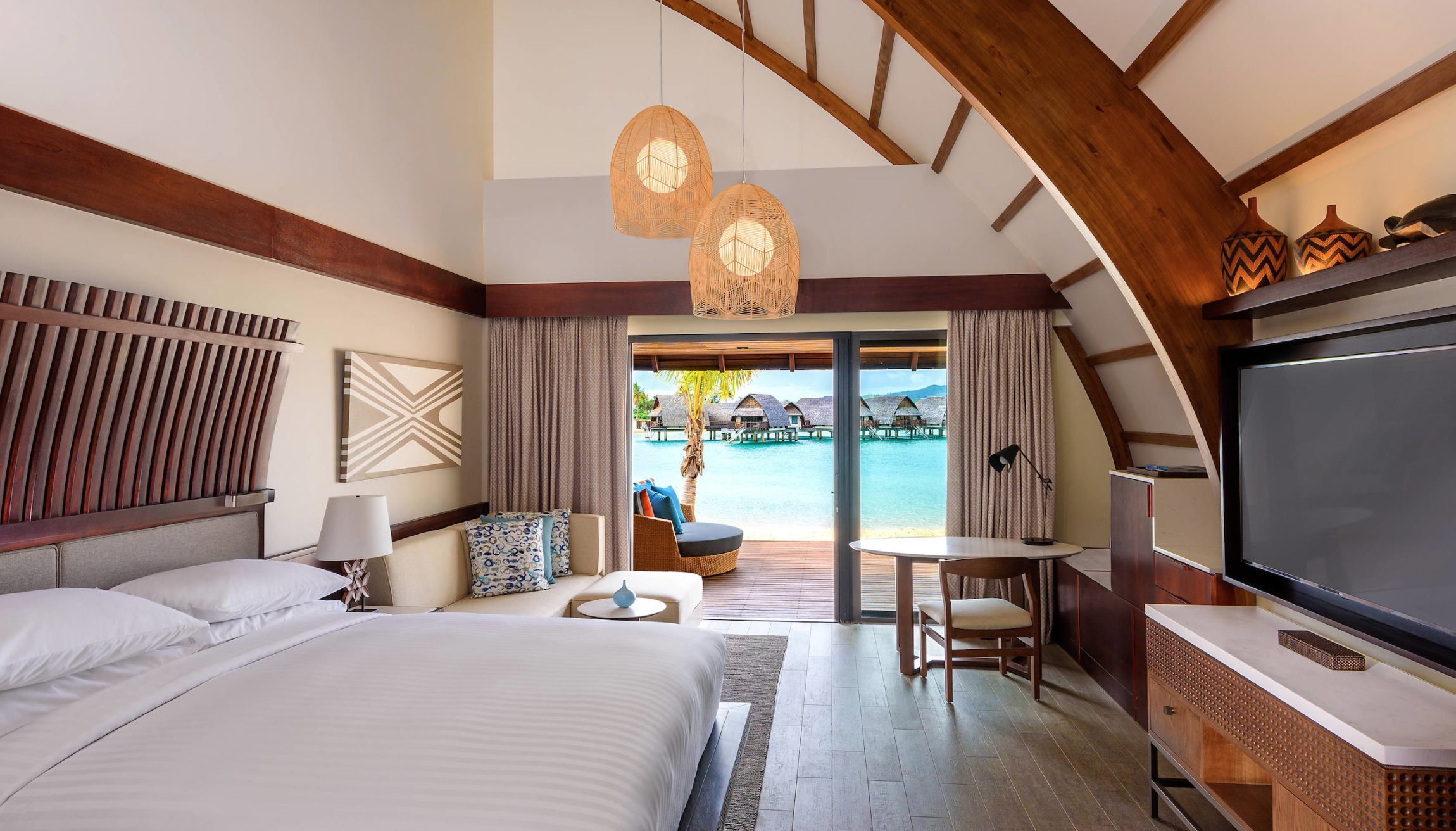 Everything that a guest might hope to find in their room is right in front of your eyes and with easy access. I was especially delighted to find that our room had plenty of USB charging ports as we had only brought one adaptor and, with views like this, I was a bit devastated at the thought that I wouldn't be able to charge my phone and camera at the same time – until I found the handy charging outlets!
The bed inside our room was absolutely huge and probably could've fit a family of four comfortably! It was like sleeping on an extremely large cloud and provided us with the perfect base to make sure we were well rested during our relaxing trip.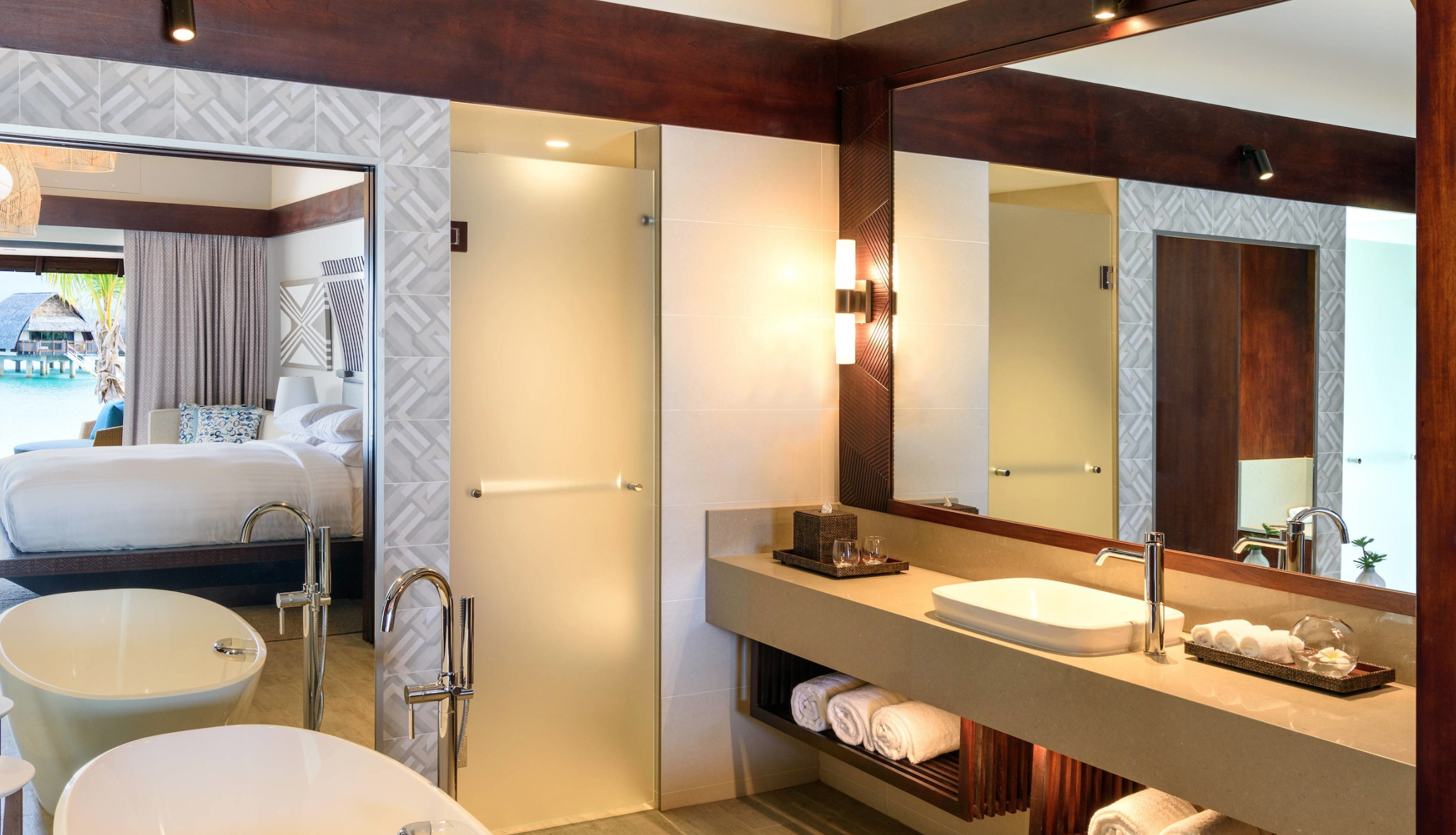 ---
Food and Drink
Fiji Marriott Resort Momi Bay has three restaurants, a lounge, and a café. Goji Kitchen & Bar offers Fijian, Asian, and Indian dishes made with local produce, while Fish Bar serves the freshest seafood with the dreamiest sunset views. There's also the Lagoon House & Bar which is a more casual spot for Mediterranean fares such as Pizza and pasta dishes.
If you want to grab a coffee and a quick snack during the day or a cocktail before or after dinner the Lagoon Lounge is your place. We also loved the Fiji Baking Company located at the front of the hotel which served the most amazing pastries, sandwiches, and other light bites.
The Goji Restaurant and Bar happened to be our restaurant of choice and where we ate most of our meals during our 4-night stay. Serving up an extensive breakfast buffet, the restaurant also featured a good all-day à la carte menu, with dishes such as Fijian fish curry and fried squid, plus a delicious Asian-European fusion dinner buffet.
For those wishing to dine in the privacy of their bure or guest room, 24-hour room service is also available with an excellent menu.
---
Location
The hotel is 18 miles south of Nadi, and 19 miles from Port Denarau, from where cruises depart for the Yasawa and the Mamanuca Islands. Momi Bay is also handy for pre-flight overnighters as it's a 45-minute drive to Nadi international airport. The capital city of Fiji, Suva, is approximately 3 hours by car from the resort.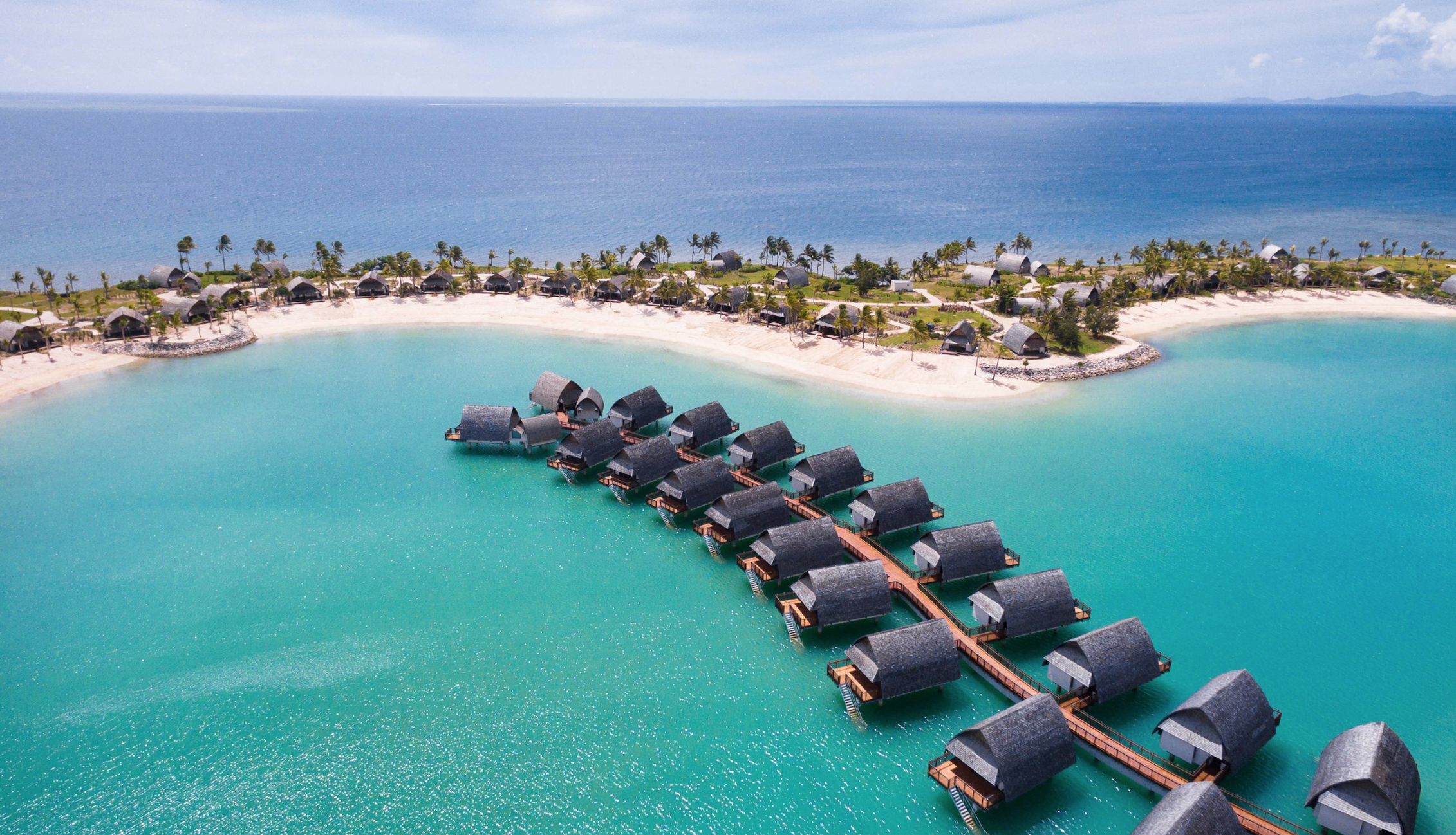 If you can manage to drag yourself away from the resort, nearby attractions and sights include the Hindu Temple Nadi, the Sigatoka Sand Dunes, the Sabeto hot springs, and the Garden of the Sleeping Giant. There are also golfing, skydiving, and zip lining excursions which you can book through the Rosie Holiday's tour desk-based inside the hotel.
---
Service & Facilities
The staff at Mariott Fiji are extremely helpful and friendly from the get-go and you are always guaranteed service with a huge smile. It was great to get to know some of the staff members better over time from the lovely gentlemen that whizzed us from A to B around the hotel in buggies to the waitresses at the morning buffet and the head chef at the Goji Kitchen and Bar. By the time our stay was over it was like we were saying goodbye to our close friends.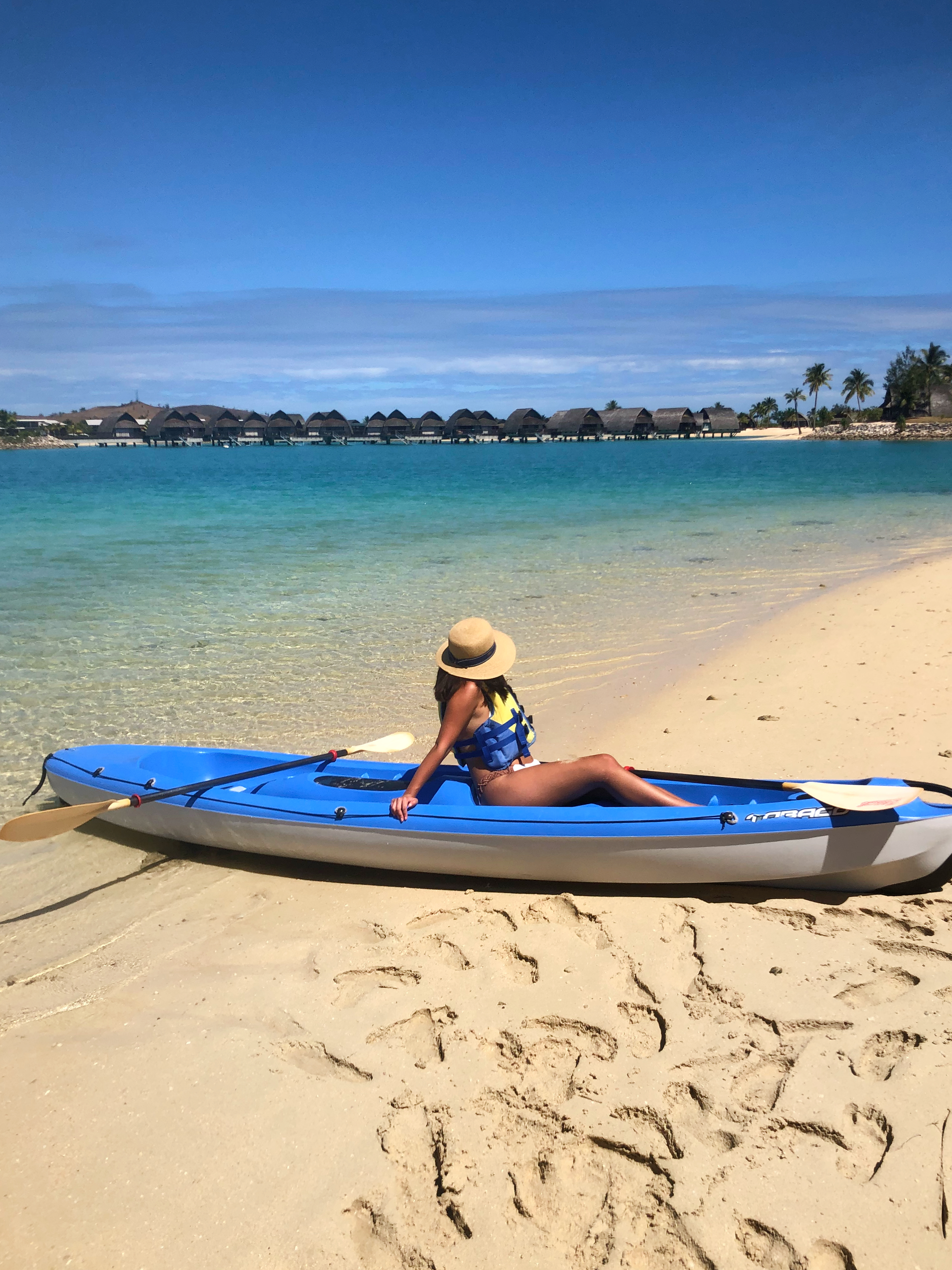 On sight hotel facilities and services include the following:
– 24-hour reception
– Infinity pool and swim up bar
– ATM
– Babysitting services
– Beauty Salon
– Guest car parking
– Boat Jetty
– Business and conference facilities
– Retail shops
– Wheelchair access
– Quan Spa with a wide range of spa treatments
– Watersports
– Tennis courts and fully equipped health club
– Turtle Kids' Club
In our opinion, one of the best facilities on sight has to be the Rosie Holidays tour desk which provides guests with information on day trips and transport. Rosie Holidays is one of Fiji's leading local tour operators and it's not hard to see why with their exceptional and above standard service and tour quality.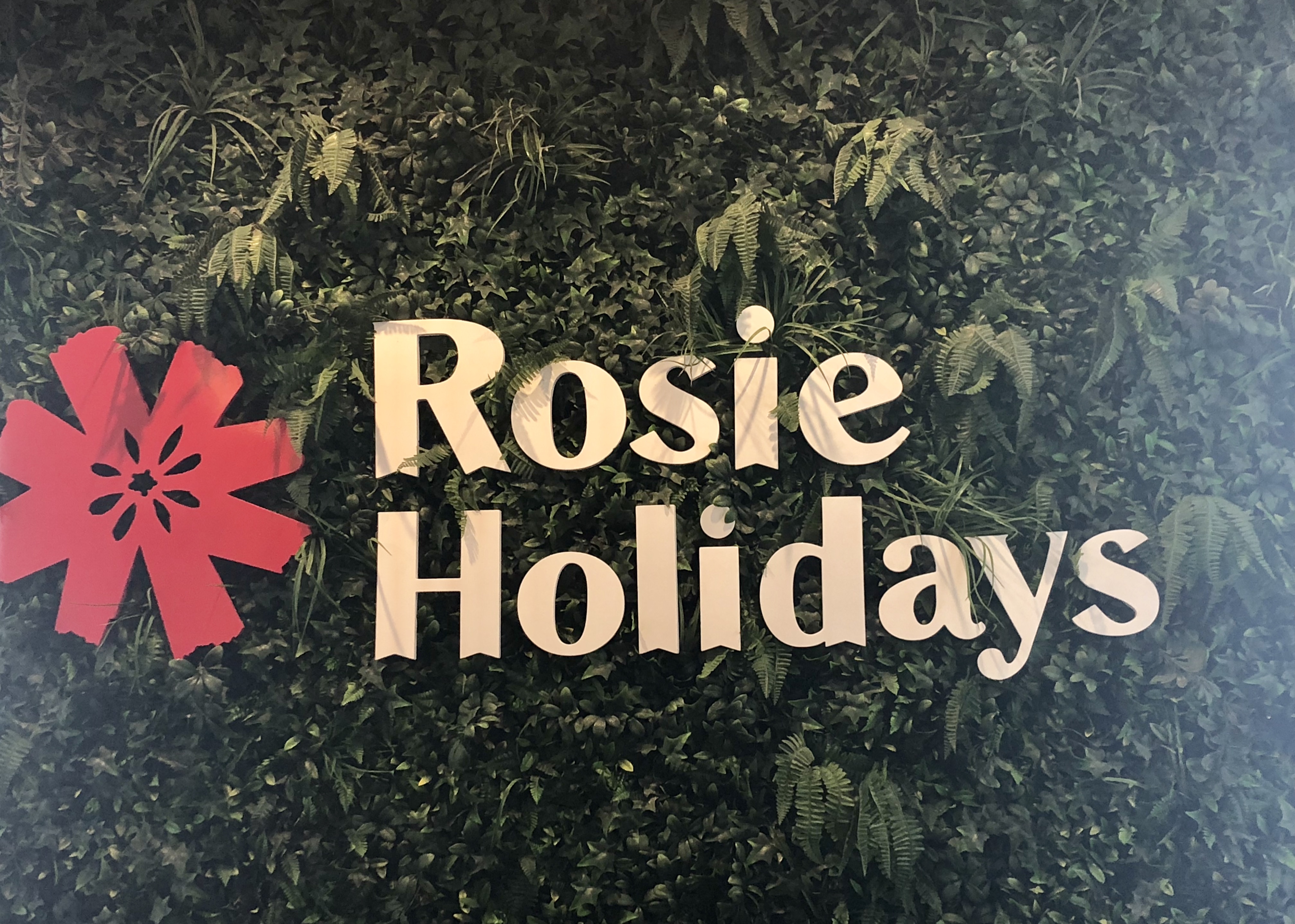 We chose to book all of our excursions through Rosie Holidays at the recommendation of the front desk at the hotel and we also pre-booked our airport transfers with Rosie. Each staff member we met went above and beyond, always making sure we were comfortable, well informed, and above all, happy.
Upon arrival at the airport Rosie Holidays checked in with us to confirm our arrival time and once at the airport we were greeted straight away by a staff member and given shell garlands as a welcome gift. During our stay in Fiji, we booked a full-day tour via Rosie Holidays with South Sea Cruises, opting to go for their Sea Spray cruise which took us out to the island of Monuriki where Tom Hank's Castaway was filmed. We also ventured on a half day tour with Rosie to visit the Hindu Temple in Nadi and the Garden of the Sleeping Giant.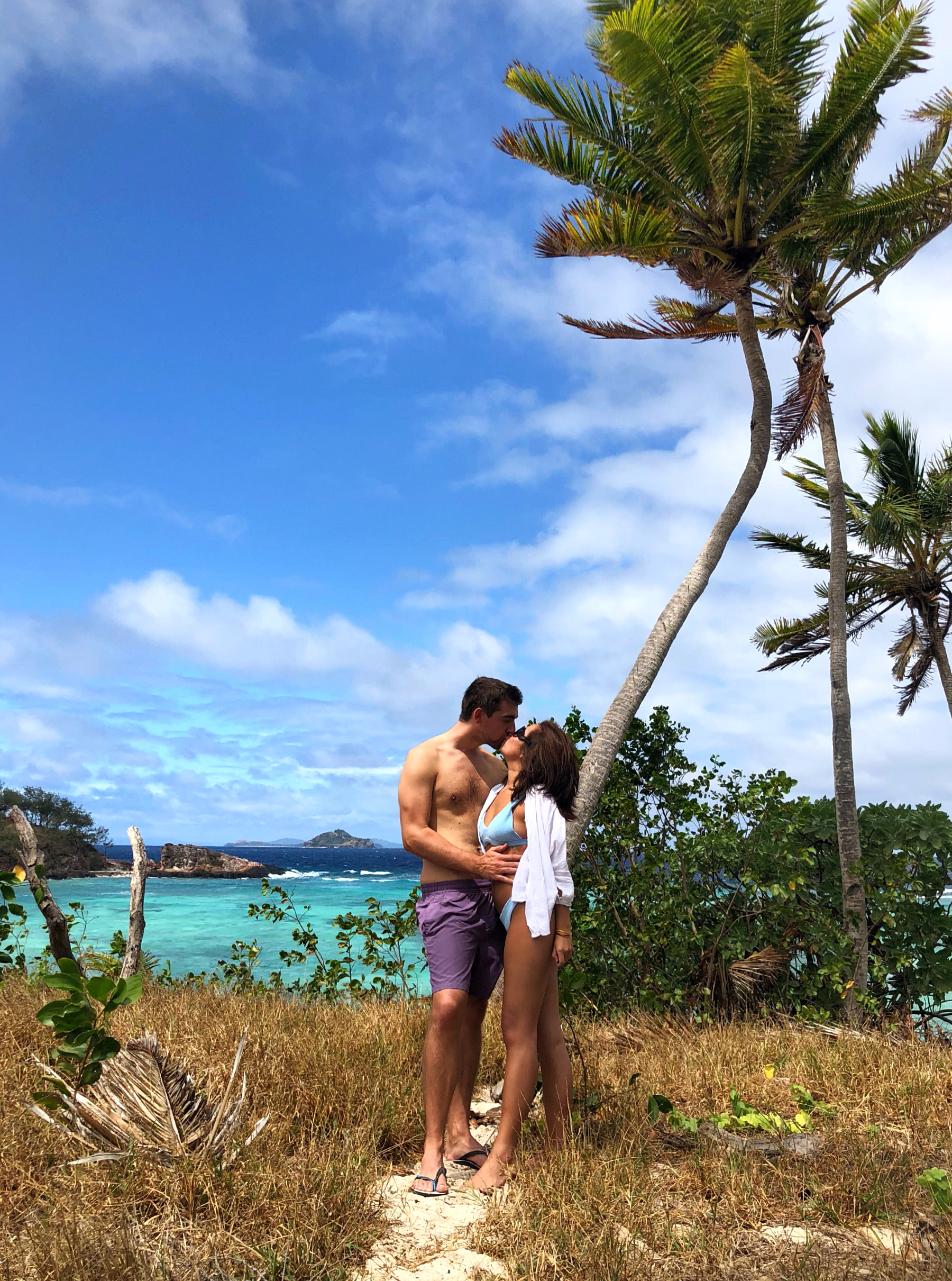 ---
Families
For those travelling with children, the hotel also offers connecting rooms. Babysitting and children's pool is also available as well as an incredible complimentary Turtle Kid's Club which is open daily for two age groups; four to seven and eight to 12.
The club offers games, films, and creative activities such as making pirate boats and basket making with coconut leaves.
Children under the age of four also eat free and buffets are half-price for ages 12 and under whilst the Goji Kitchen and bar and Lagoon House Restaurant offer children's menus.
---
The Fiji Mariott Resort Momi Bay truly does have everything one might need for a romantic getaway, active family vacation, or just a unique trip. We left the resort feeling relaxed, revived, happy, and with a hundred memories of our first trip to Fiji that will last a lifetime.
Deluxe Lagoon View rooms from 570 Fijian dollars (£212) in low season; and from 825 Fijian dollars (£308) in high. Breakfast is included and all rooms and areas of the hotel have free Wi-Fi.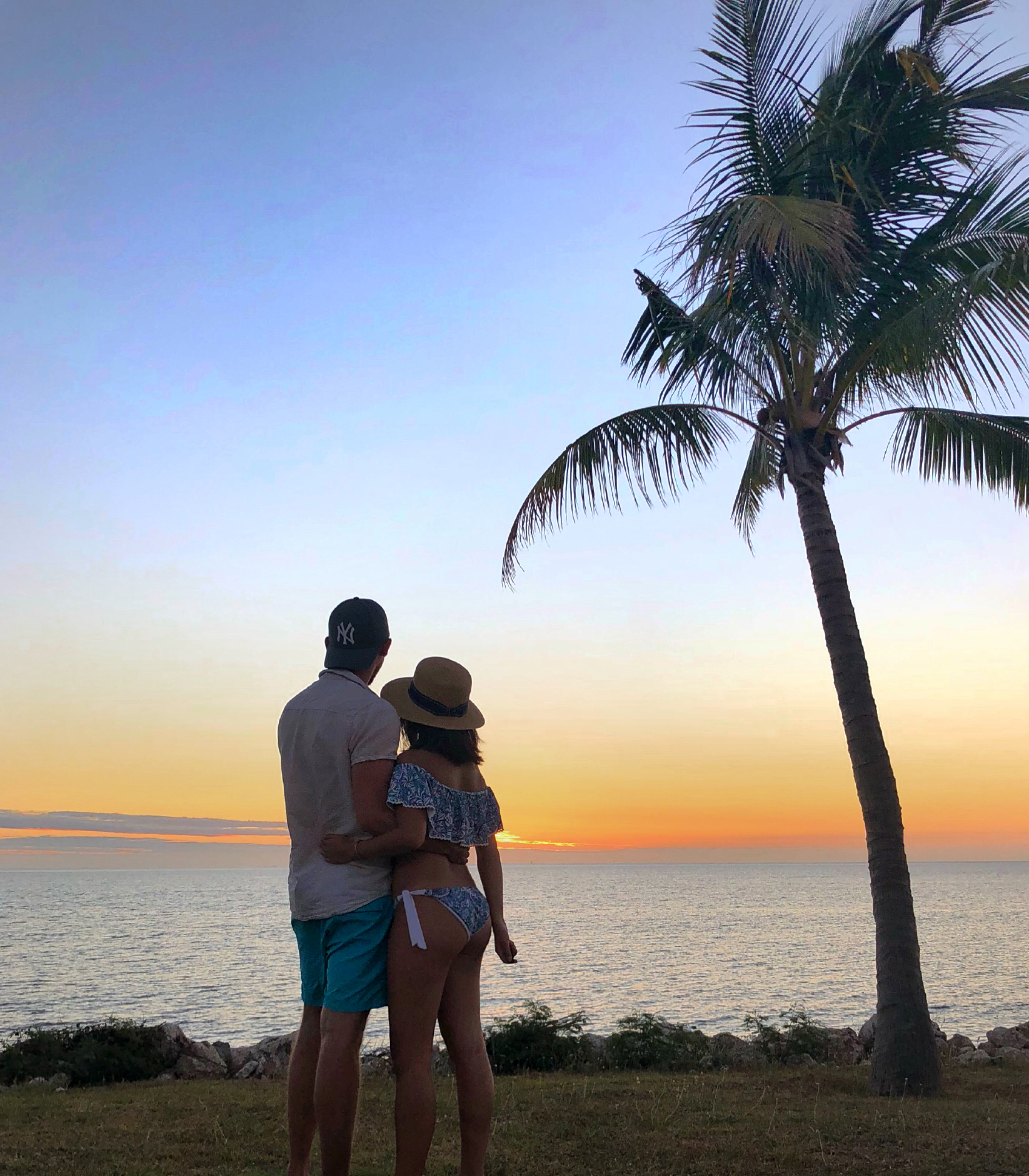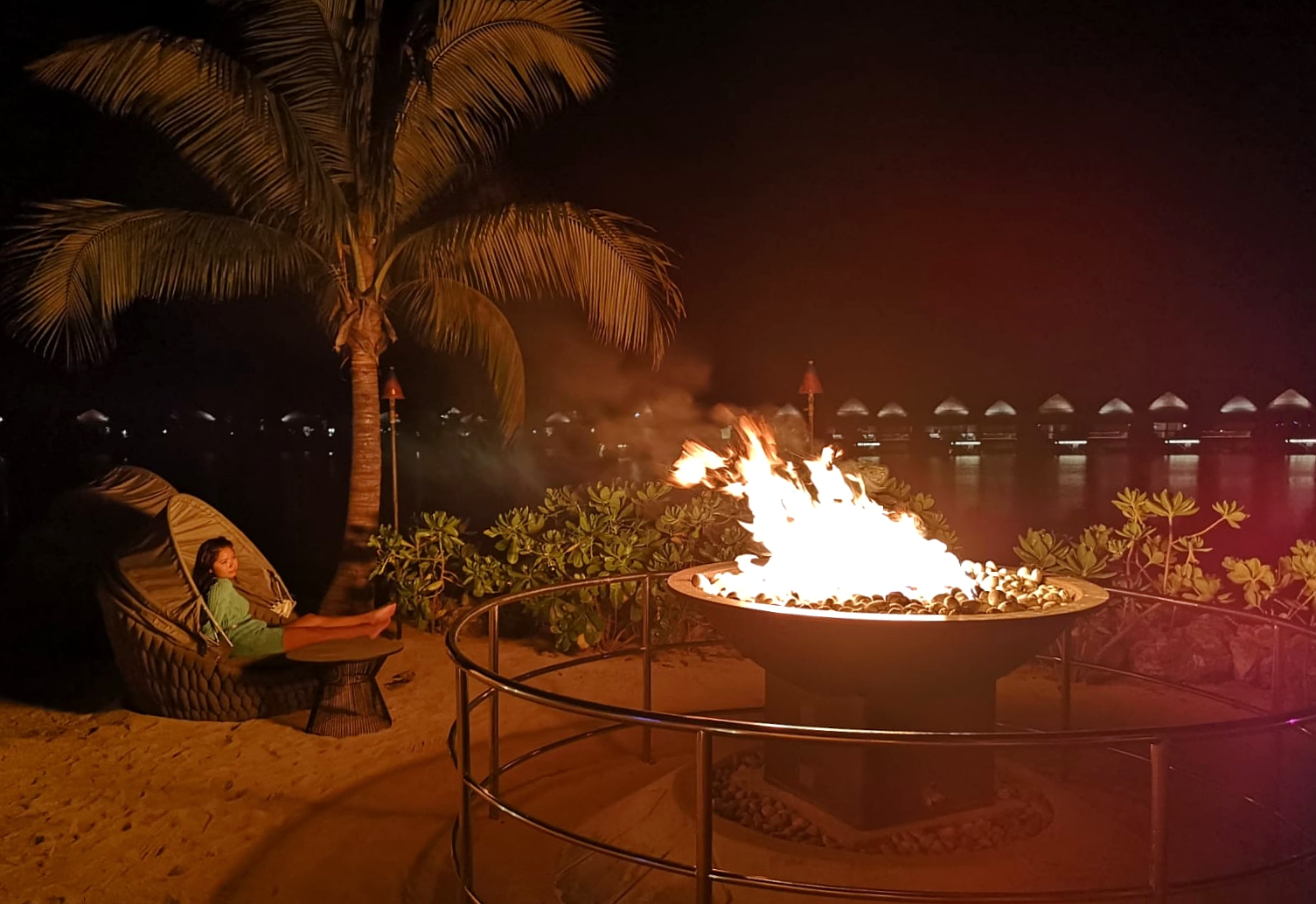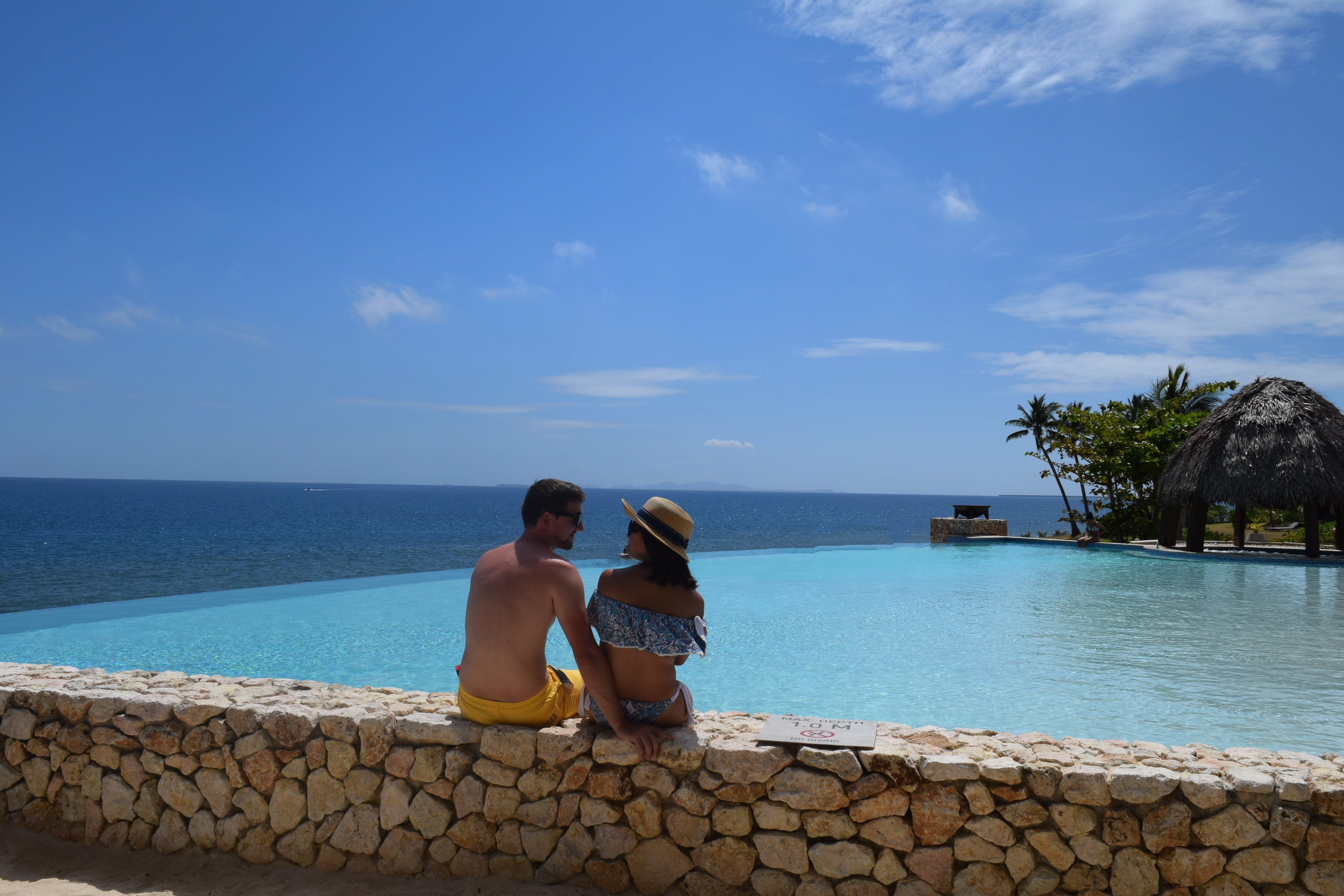 https://www.marriott.com/hotels/travel/nanmc-fiji-marriott-resort-momi-bay/
---