The Islands of Tahiti are often described as 'paradise' hosting incredible marine wildlife, beautiful overwater bungalows, natural wonders, endless luxuries, and exotic places to eat and drink. All of this was created around the unbelievable natural landscapes and romanced-drenched views that cameras can't help but capture.
Here, we explore our top five most photogenic spots around the islands from 350 metre, Vaipo Waterfall, on Nuku Hiva to coral rock outcrops on Rangiroa.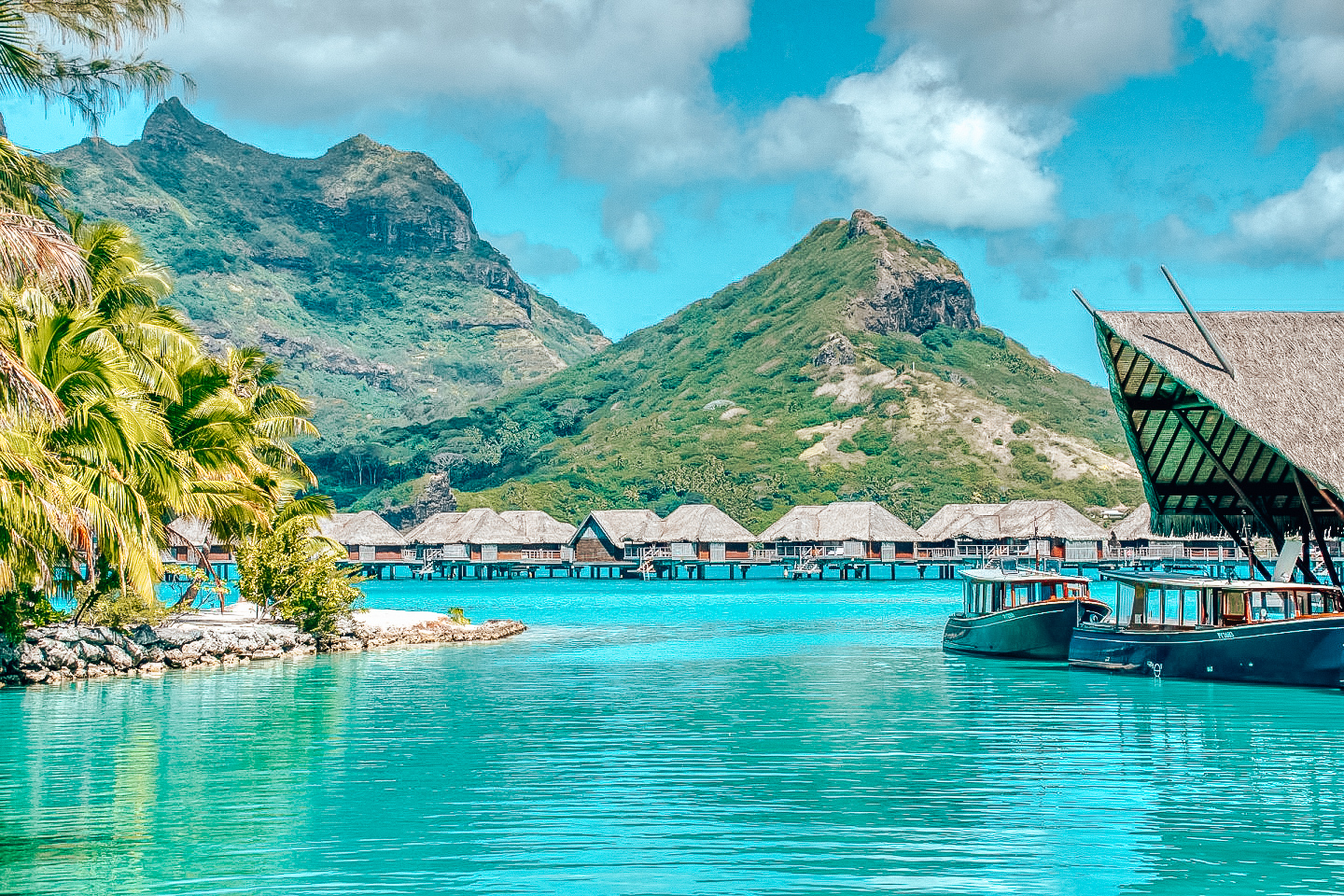 ---
Mara'a Grotto, Tahiti
Mara'a Grotto is a hidden gem lying just off the coastal road from Pape'ete hosting an abundance of lush gardens, overhung caverns, crystal-clear freshwater pools, small caves and the dripping grotto itself, ringed by ferns and other exotic flora. The fairy-tale photogenic park is found along the coastal road, with a manicured path running throughout. Legend has it that Paul Gauguin and Tahitian Queen Pomare IV both swam in the refreshing, luxuriantly isolated spring. Once photographed, why not jump in the water yourself to cool off.
---
Vaipo Waterfall, Nuku Hiva
The bigger islands in The Islands of Tahiti are surrounded by tropical forests meaning that it is hard not to find a good photo spot. We would suggest booking a guided tour around these parts of the island as a lot of the roads are dirt tracks, and therefore access to an off road vehicle is necessary. Nuku Hiva is an impressive island located in the Marquesas Islands, with countless natural wonders from waterfalls to natural basins and canyons. The Vaipo Waterfall on Nuku Hiva is the third highest waterfall in the world, dropping from 1,148 feet (350 metres) making for an incredible photo opportunity.
---
Sables Roses, Fakarava
Located on Fakarava in the Tuamotus Islands, Sables Roses offers a scenic landscape, anchored by a series of pink and white sand beaches. It is a visual masterpiece and testament to the paradise that The Islands of Tahiti are. Visitors can only reach Sables Roses by boat, this deserted island offers ocean beauty surrounded by deep aqua blue water. These unspoiled beaches are so remote visitors are often the only ones here. Most honeymooners can't resist and take hundreds of photos before they even step foot on the island.
---
Reef Island, Rangiroa
Ile aux Recifs, aka Reef Island, is one of the most beautiful spots in the island of Rangiroa, located off-the-beaten track this is a photo opportunity not to miss. Visitors can reach the island in one hour by taking a boat from Avatoru. Reef Islands is a small area of coral rock outcrops that have been shaped/eroded naturally, by wind and water, into petrified silhouettes. After having captured an award winning photograph, visitors to the natural wonders can actually swim within the basin and channels in the crystal-clear water, taking in the incredibly beautiful backdrop.
---
Teahupo'o waves
Tahiti is known for having one of the most serious surf-breaks in the world, Teahupo'o. Teahupo'o Beach, situated on the southwest of The island of Tahiti, is the go-to for surfers seeking big waves. Teahupo'o offers extensive surfing locations with seven spots within five miles of each other, where surfers go to catch the waves breaking in different swells and winds. Teahupo'o creates huge powerful waves that break right into the razor sharp reef makes for stunning photography. For those who time it right can even get an action shot of a surfer surfing the wave.
---
About The Islands of Tahiti
Located in the South Pacific, The Islands of Tahiti consist of 118 islands and atolls, made up of the well-known Society Islands including Tahiti and Bora Bora, Tuamotu Islands, Gambier Islands, Austral Islands and Marquesas Islands. Known for being an artist's residence to the likes of Gauguin and Matisse, The Islands of Tahiti are the birthplace of Polynesian culture. The locals are warm and welcoming, whilst exuding a humble spirit and proudly sharing their traditions and heritage with visitors. The current Embraced by Mana campaign highlights the diversity of the destination, bringing to life the duality of seclusion and adventure and connecting all islands. Access from the UK is usually via Paris or Los Angeles with connections from Air Tahiti Nui.
For more information on The Islands of Tahiti, visit www.tahititourisme.uk