With over 50 million visitors per year, Hong Kong is officially the most visited city in the world – yup, that's more tourists than London, Paris and New York.
[This article was published in The Daily Telegraph, The Daily Mail and The Mirror]
The vibrant city has been dubbed the "Pearl of the Orient" and with its towering skyscrapers, a mix of modern and traditional buildings, stunning green mountain backdrop, it's not hard to see why so many tourists flock to this unique city every year.
With so many locals and tourists roaming around the tiny city, it's extra important to find the right place to stay during your visit, as you'll be looking for your own haven of some sort to get away from the hustle and bustle every now and then during your stay.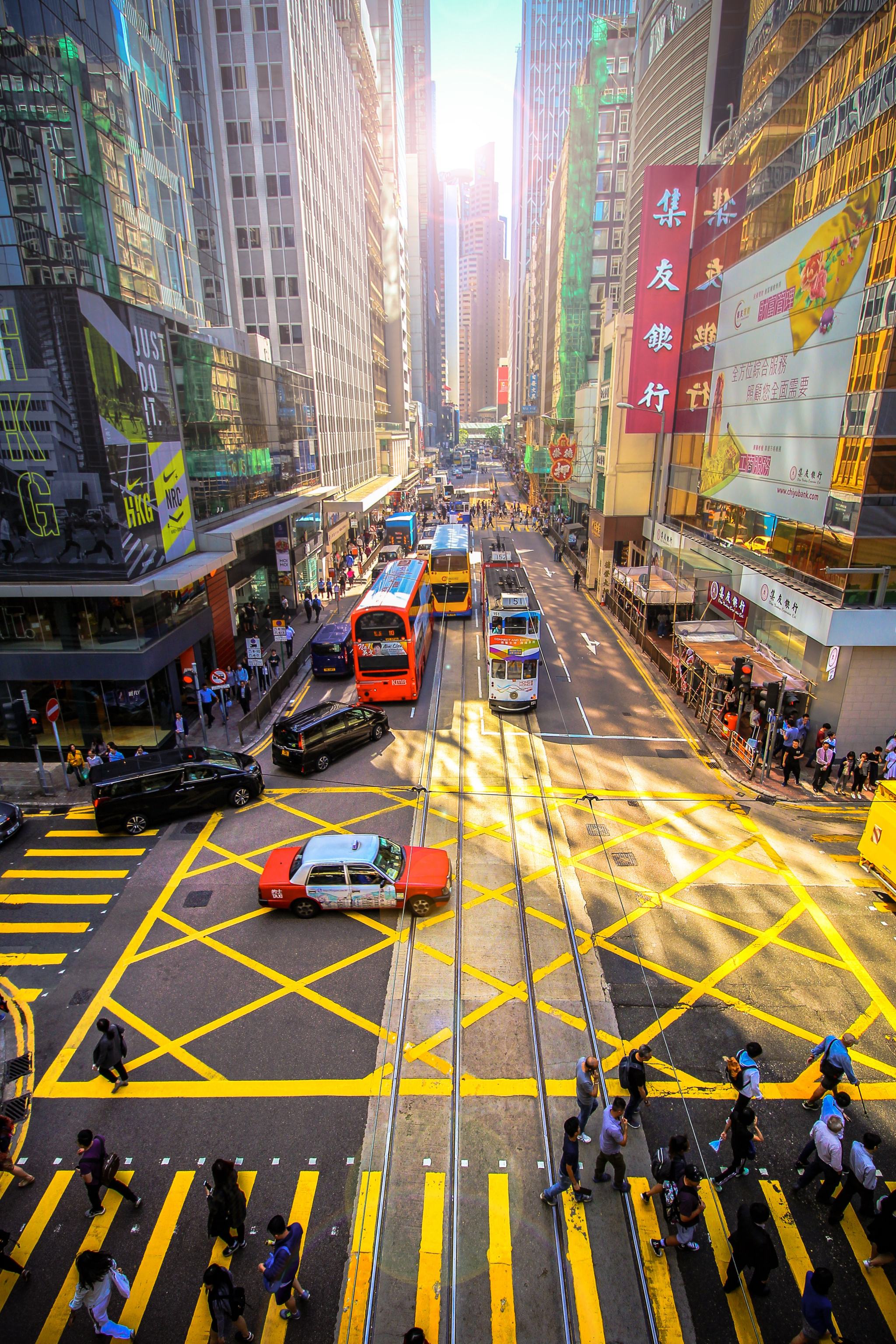 Hong Kong is famous for its five-star hospitality and some of the city's hotels are among the best in the world. Whether you're looking for modern interior design, a room with one heck of a skyline view, an infinity pool or old school glamour and luxury, Hong Kong has a hotel for you. Here are my favourite luxury hotels in the city to suit all styles and travellers.
---
Hotel ICON
We stayed at the Hotel ICON towards the end of our 3-week stay in Hong Kong and it's safe to say the luxury hotel made quite an impression on us. Owned by the Hong Kong Polytechnic University, the hotel provides on the job in-house training for students and staff – thus making it one of the greatest that I've ever experienced in terms of service.
Located just a short walk from Tsim Sha Tsui station, the hotel was designed by some of the best local architects and feels both modern and warm at the same time. The ICON has 262 rooms, all decorated to the same bright, modern and elegant standards. We were lucky enough to stay in the hotel's largest and most impressive suite, the Club 80 Harbour Suite, which has a jaw-dropping 280-degree view of the Victoria Harbour, Kowloon district and more.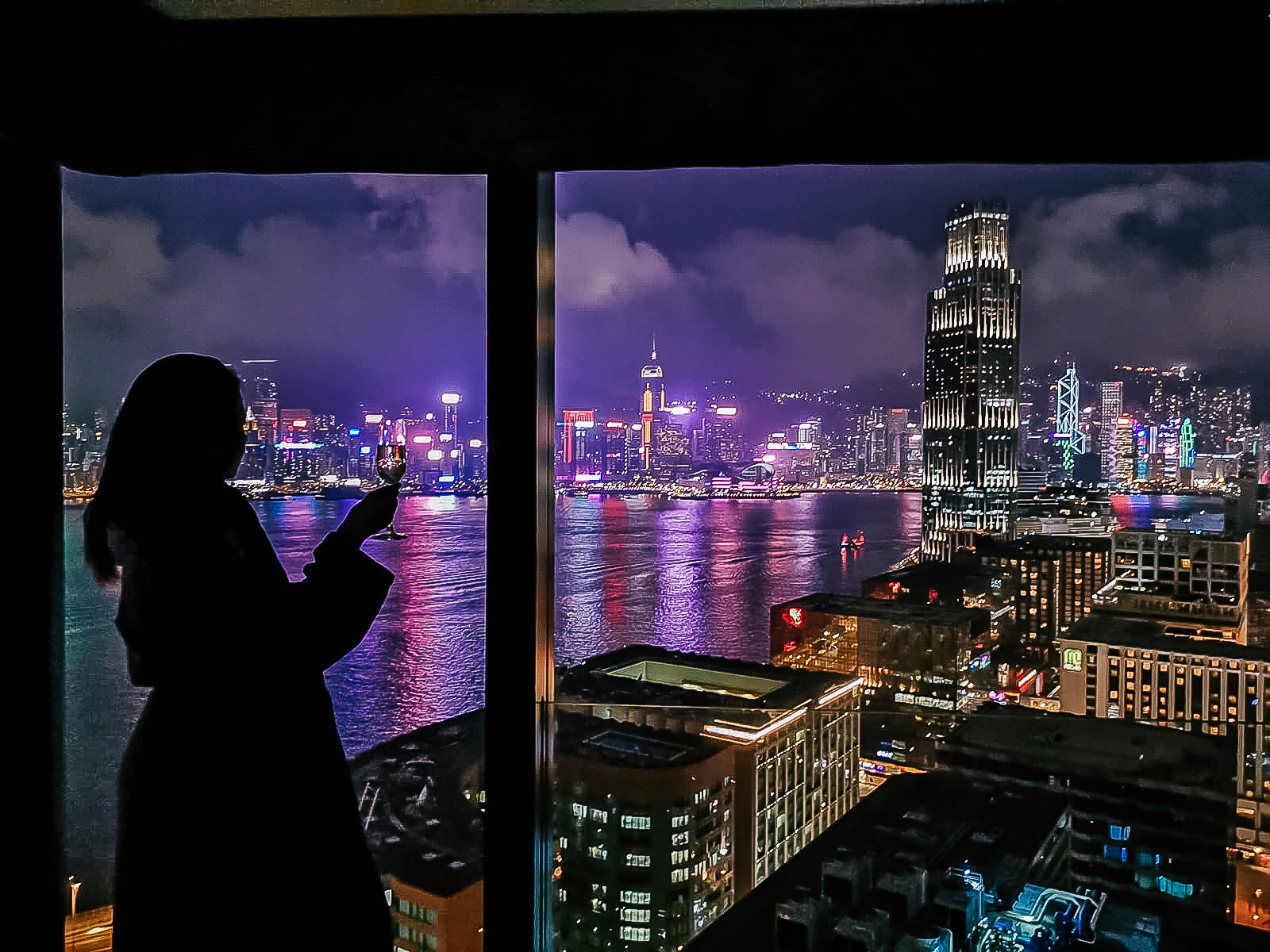 The room and hotel in general feature the most upscale of amenities and service designed to make every guest stay as easy and relaxing as possible. From sumptuous king size beds decked out in custom imported linen to exclusive Club benefits in the Above & Beyond Lounge, such as; complimentary breakfast, afternoon tea, and cocktails, all served with stellar service and an unforgettable view.
The hotel is perfect for those travelling solo, couples hoping for a romantic city break and families, but its amenities are what will probably most interest those visiting on business.
Complimentary amenities found in our Club 80 suite included; unrestricted wifi and wired internet, ample outlets for a variety of electronic devices, two handy phones with 4G network – which guests are free to take out and use around the city as a handy city guide, internet hotspot or to place international calls to 31 countries. There's also a fully stocked mini fridge with snacks, soft and alcoholic drinks at no cost.
Elsewhere, Hotel ICON also features a guest library, its own stunning spa, a state-of-the-art gym and 24-hour rooftop swimming pool which has the most glorious views of Victoria Harbour.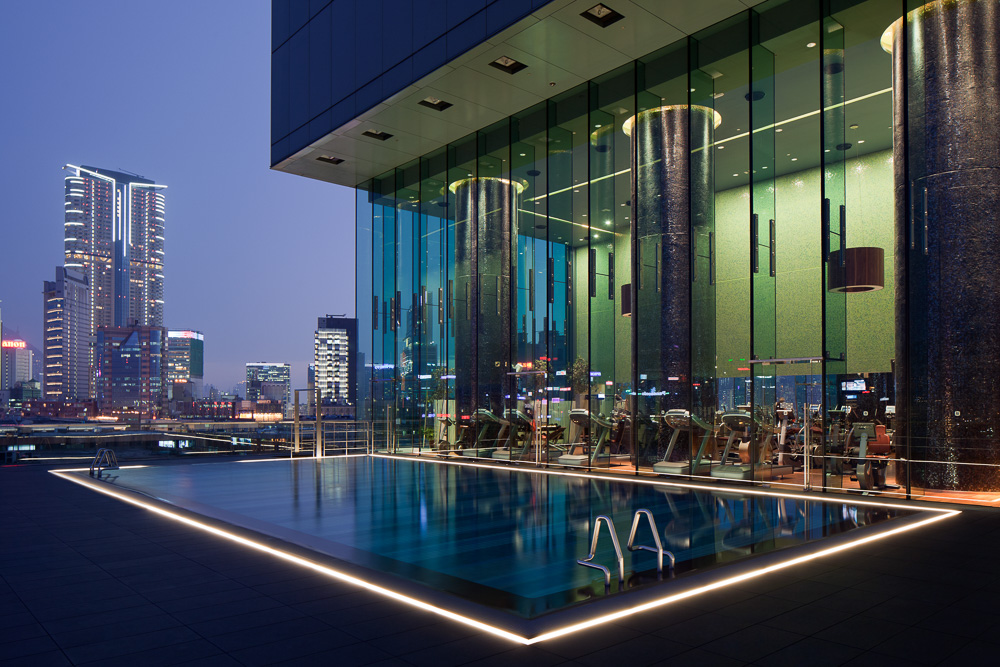 There are also three fantastic dining options to choose from: European-style cuisine and delicious cakes and pastries at Green, sophisticated Cantonese cuisine with glorious views at Above & Beyond, and The Market, which is inspired by Hong Kong's famous food markets.
On top of all this, the ICON's room rates are also far more reasonable when compared to its competitors and your booking will help to fund the Hong Kong Polytechnic University.
---
The Langham
The original Langham Hotel, located in London, opened its doors in 1865, but the brand didn't arrive in the bustling city of Hong Kong until 2003, however, that doesn't mean it lacks any of the British class and heritage that its flagship does.
From the grand hotel lobby to the exquisitely decorated rooms, world-class on-site dining and attentive service, the Langham Hong Kong is the ideal blend of East meets West. This hotel dazzles in every way possible.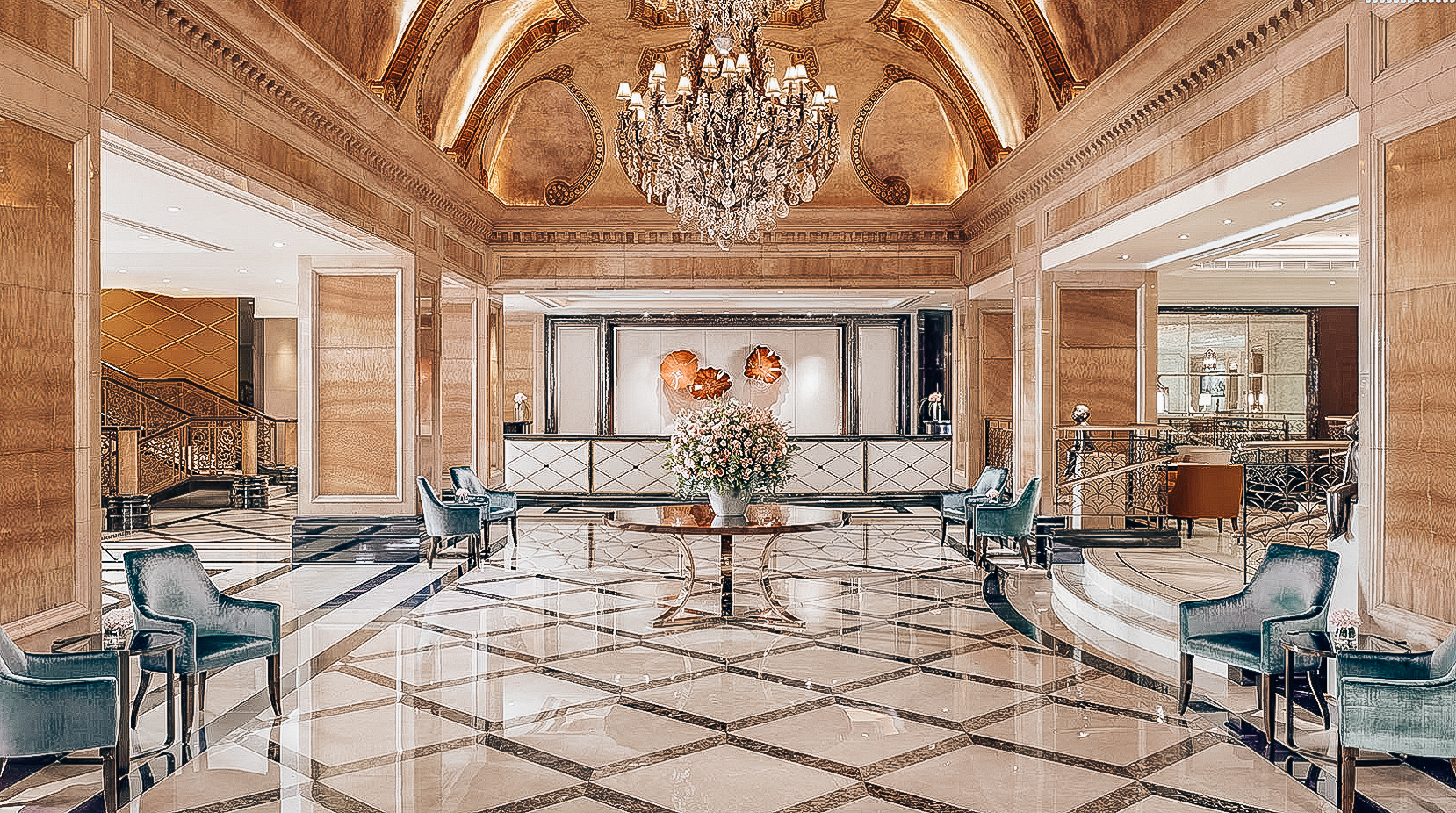 Handily located right in the heart of one of my favourite parts of Hong Kong, guests will find this stunning hotel in the Tsim Sha Tsui (TST) area, wedged between two most luxurious shopping streets, and also close by to the Star Ferry, museums and Avenue of Stars.
https://www.instagram.com/p/Br6rRyao7KI/
The Langham's club lounge is like a little slice of chic British heaven in Hong Kong. Decked out with European interior, the lounge has an instant feel of British elegance to it as soon as you step in. Here we were able to complete our check-in process whilst enjoying complimentary breakfast, which is served every morning.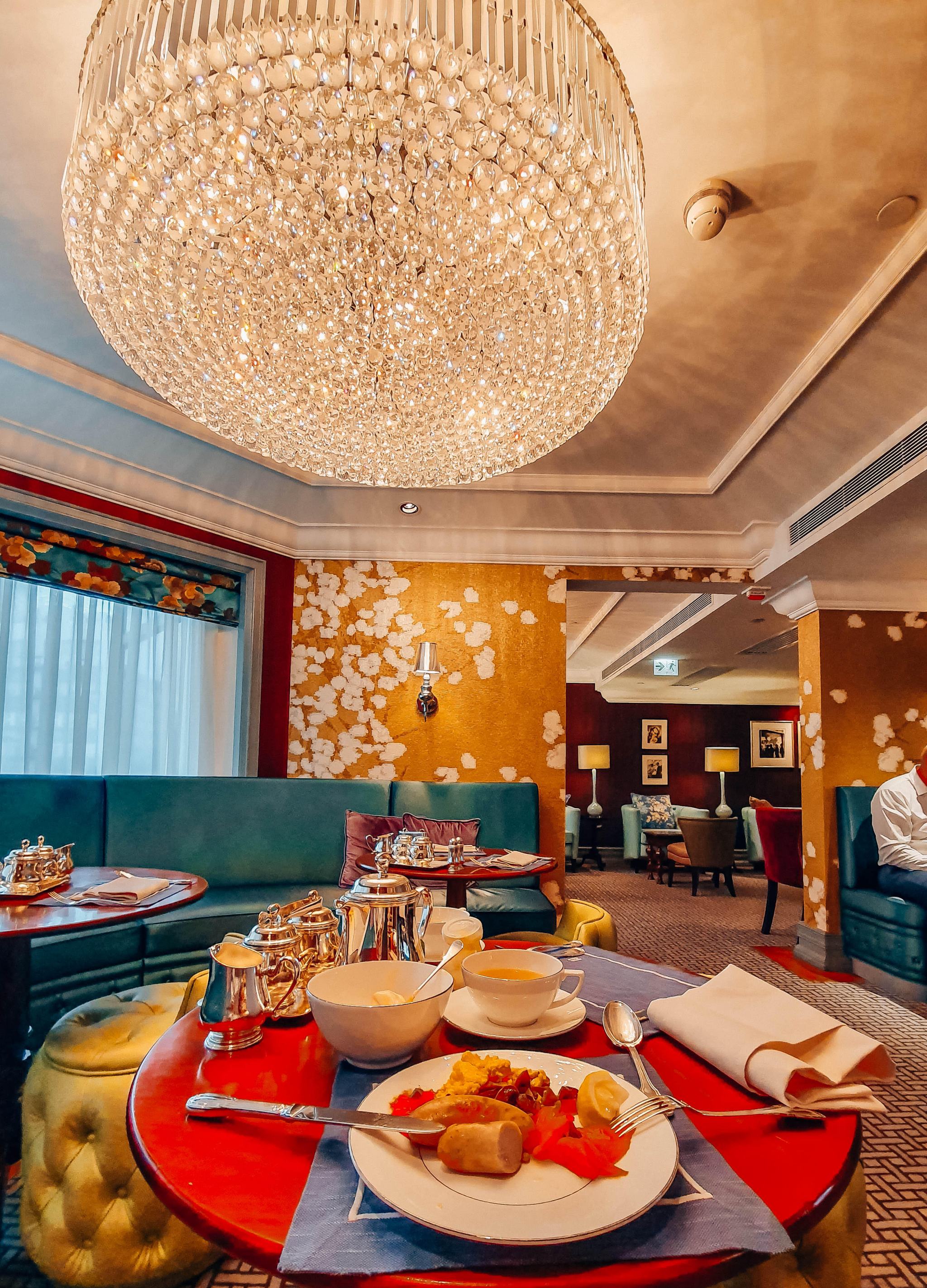 Besides private check-in, other benefits include, complimentary afternoon tea selections and evening cocktails and canapes, as well as a wide selection of champagne, wine, cocktails, beers, and non-alcoholic beverages.
The hotel has almost 500 rooms and we stayed in one of the Deluxe City View Rooms on the 13th floor with a stunning view of Hong Kong harbour and skyline. Our room oozed British 1920s class and glamour in every corner – from the lavish white Italian marble bathroom (complete with a rain shower and separate soaking bathtub) to the warm and luxurious choice of interior and accessories in the room.
The Langham also has its own rooftop swimming pool, and for those looking for further relaxation, there's also the Chuan Body and Soul Spa, which has a wide variety of treatments, perfect for focusing on physical and spiritual areas of the body that need attention. There's also a fitness centre on the same floor as the open-air heated pool and hot tub as well as free yoga classes on offer several days a week.
https://www.instagram.com/p/ByO8NRLD9zF/
When it comes to dining, the hotel boasts one of the most famous Three Michelin star restaurants in Hong Kong onsite – the T'ang Court. The to-die-for restaurant has been featured on the coveted Michelin Guide since 2009 and is only one of five Cantonese restaurants in the world to receive this honour.
Elsewhere, if you're looking for something less pricey and slightly more casual, then there's plenty of other dining experiences to choose from, including the Bostonian Seafood and Grill, Main St. Deli, Palm Court and afternoon tea with Wedgwood.
---
The Mira
Without a doubt, one of the trendiest hotels I've ever had the pleasure of staying at, The Mira Hotel, has 492 rooms and sits just off the famous Nathan Road in the heart of Hong Kong's TST area.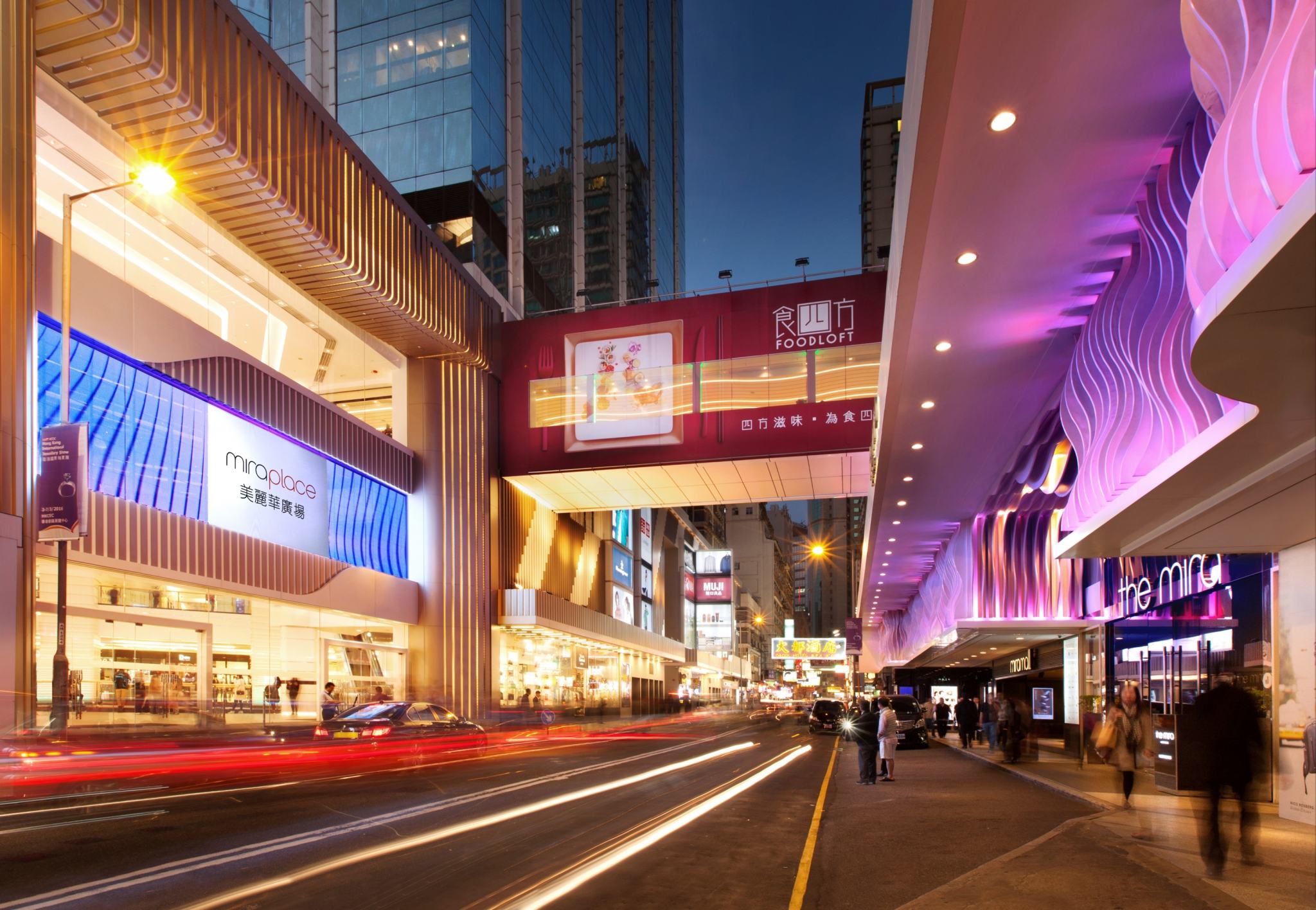 Designed by lifestyle guru Colin Cowie and Miami-based interior architect, Charles Allem, the five-star hotel is visually striking (a little like staying inside an art gallery) and perfect for the modern day traveller, families and those travelling on business. All of the rooms are designed with tech-savvy guests in mind; you'll find handy iPod docking stations, PressReaders and pocket 4G devices for unlimited internet connection when out and about, in every room.
Each room is vibrantly designed with interiors of red, green, silver and purple and all feature Bose speakers, 40 inch LCD TVs, and a smart "My Mira" service that puts you directly in touch with the reception at the touch of a button.
The Mira's eight metallic, purple-hued Specialty Suites are perfect those after further luxury. All suits feature black wooden floors, angular white tables and silver, cone-shaped armchairs and designer couches. They also have their own private terraces facing the leafy fifth-floor open-air lounge or the city.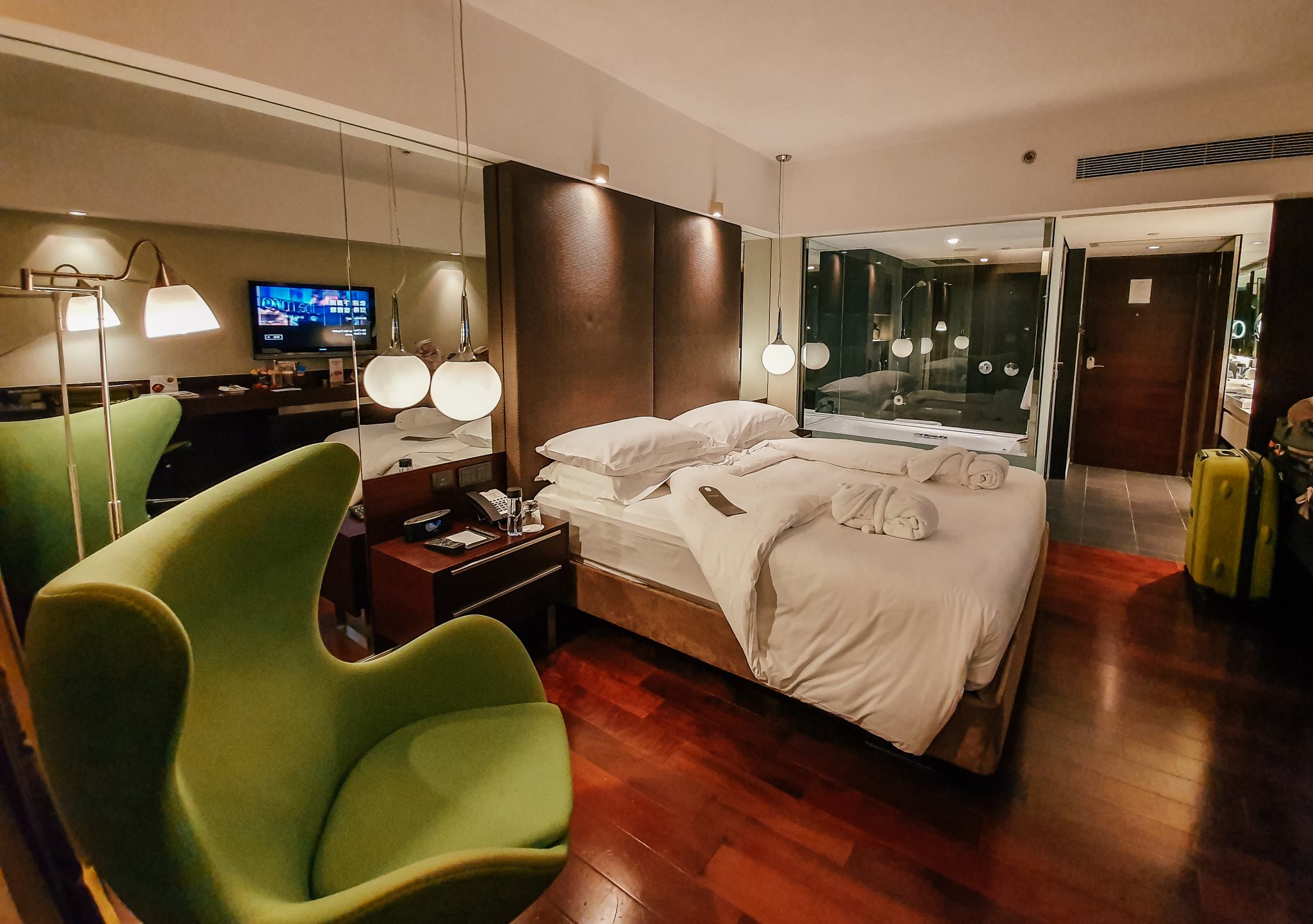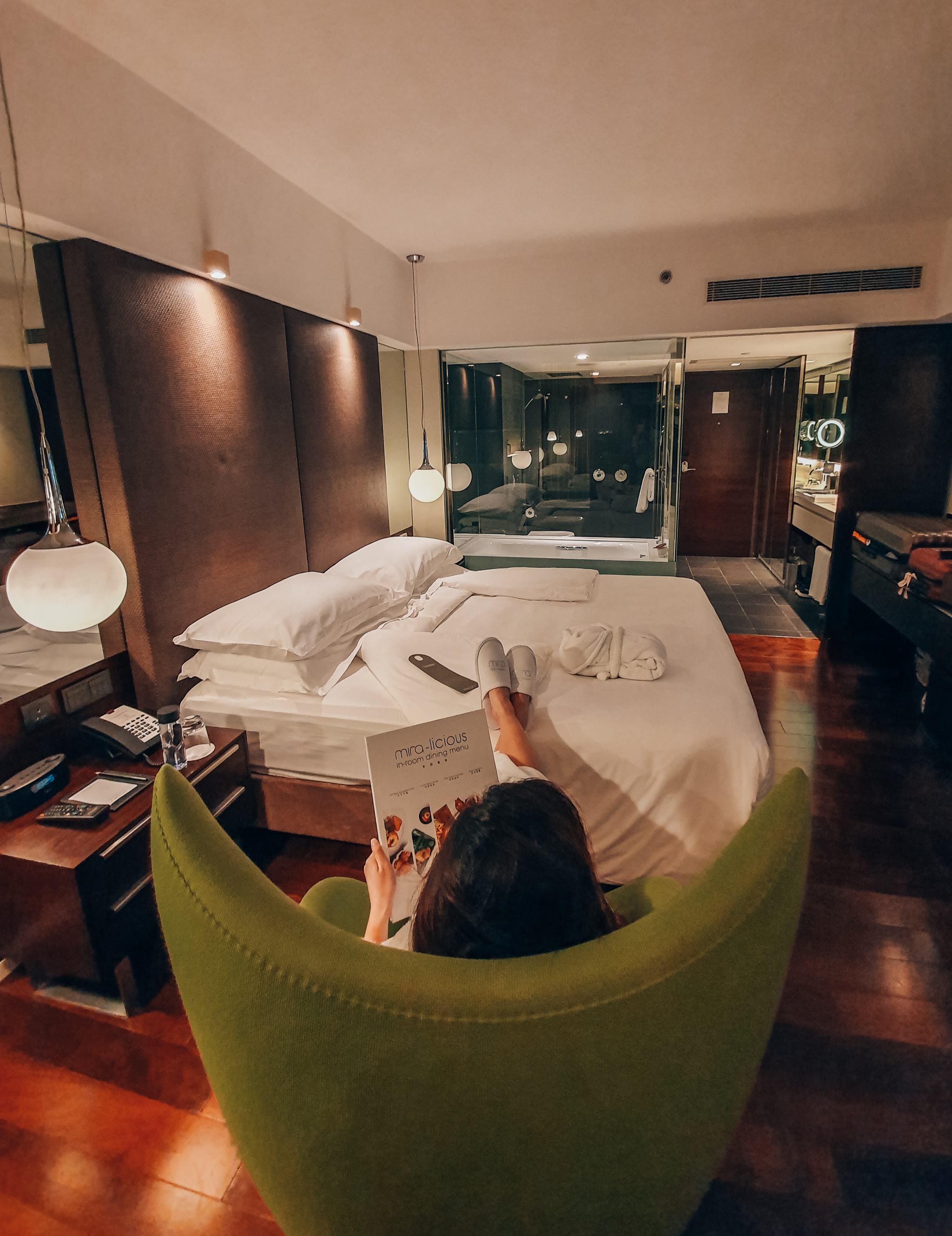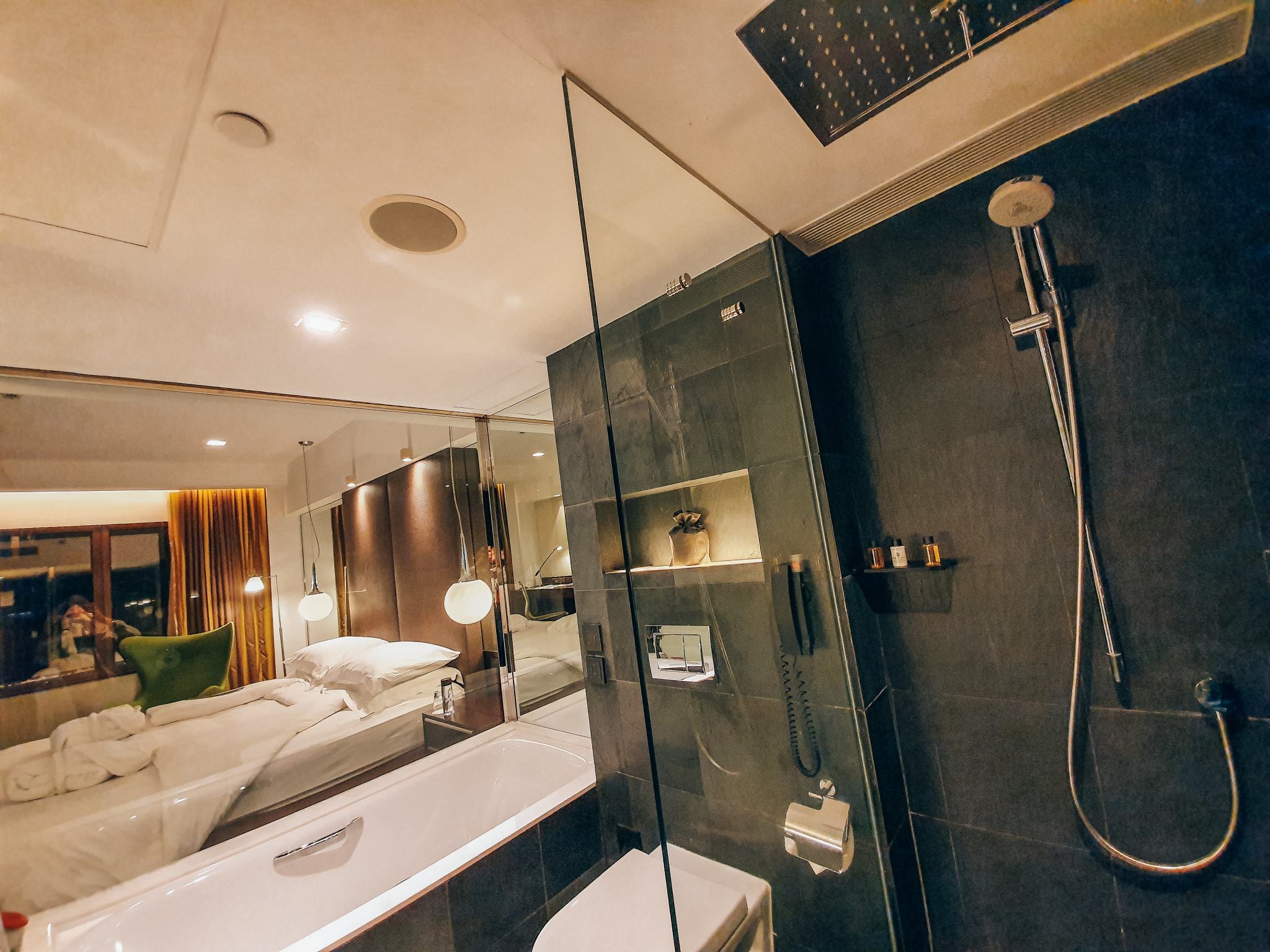 When it comes to in-house dining, guests can experience contemporary European cuisine at WHISK, where innovative dishes are paired with exquisite, handpicked wines from an impressive collection.
---
The Grand Hyatt
This lavish five-star hotel is every bit as grand as its name states. Complete with black marble columns and flooring and the finest gold detailing in every corner, the hotel features a whopping 542 chic guestrooms across 46 floors, making it one of the biggest hotels in Hong Kong, in terms of size.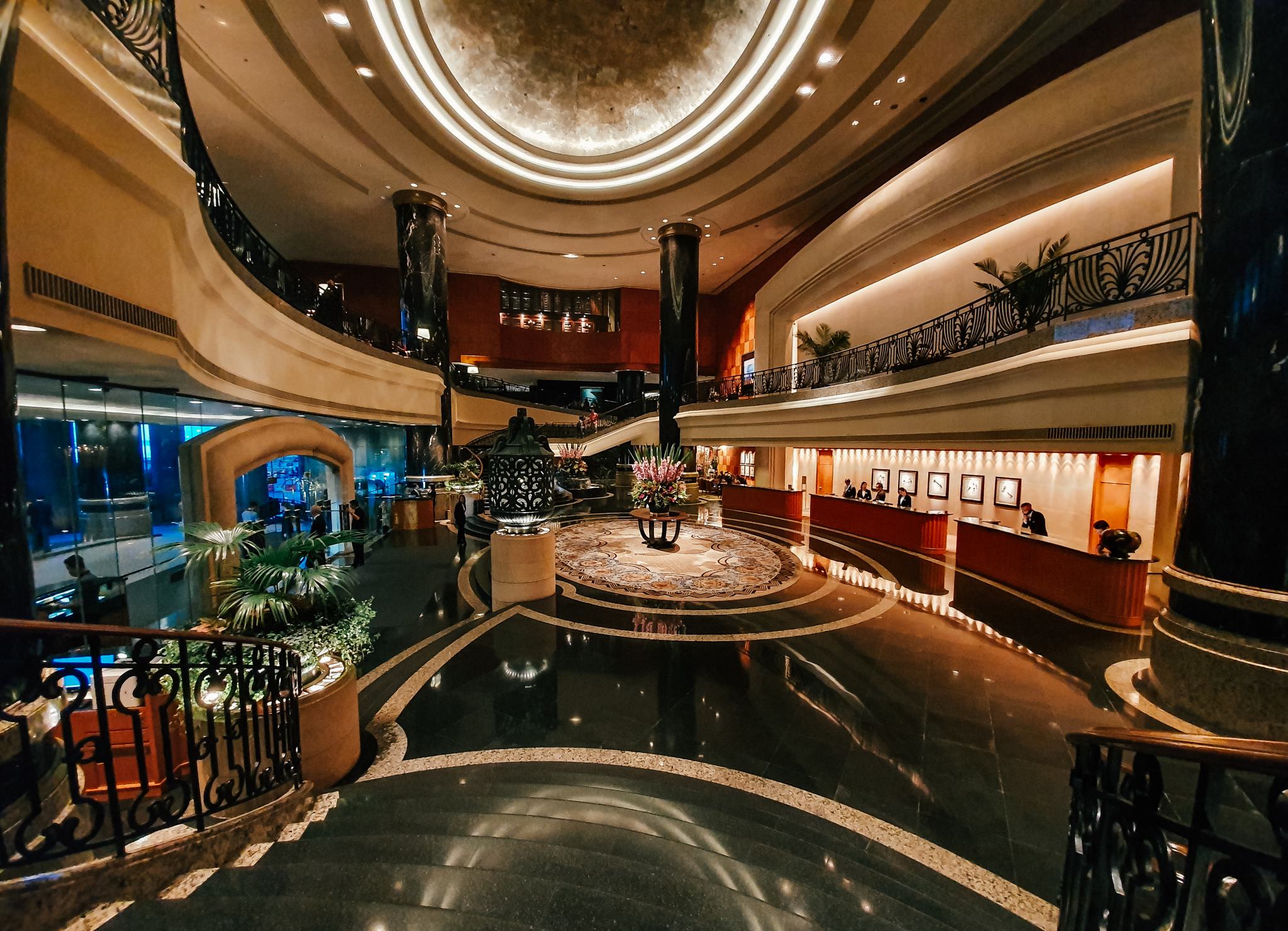 Located across from the Hong Kong Convention and Exhibition Centre, the Grand Hyatt boasts one of the best views of the world-famous Victoria Harbour and is a favourite among those on business, couples and even heads of state.
We stayed in one of the hotel's King City View rooms, which was spacious and stylishly decorated with blond wood fixtures and neutral colours, as well as a glass-walled bathroom, with a walk-in rain shower and separate soaking tub. The piste de resistance had to be the spectacular view of Hong Kong's famous skyline, which was so close to our window, it almost felt like we could reach it.
We were also given access to the Grand Club Lounge, on the 30th floor of the hotel – with yet another panoramic view of the city. Inside the club lounge, breakfast is served every morning and club members can also take advantage of the grand club's evening cocktails, where complimentary alcohol & food are served from 5:30-7:30 PM.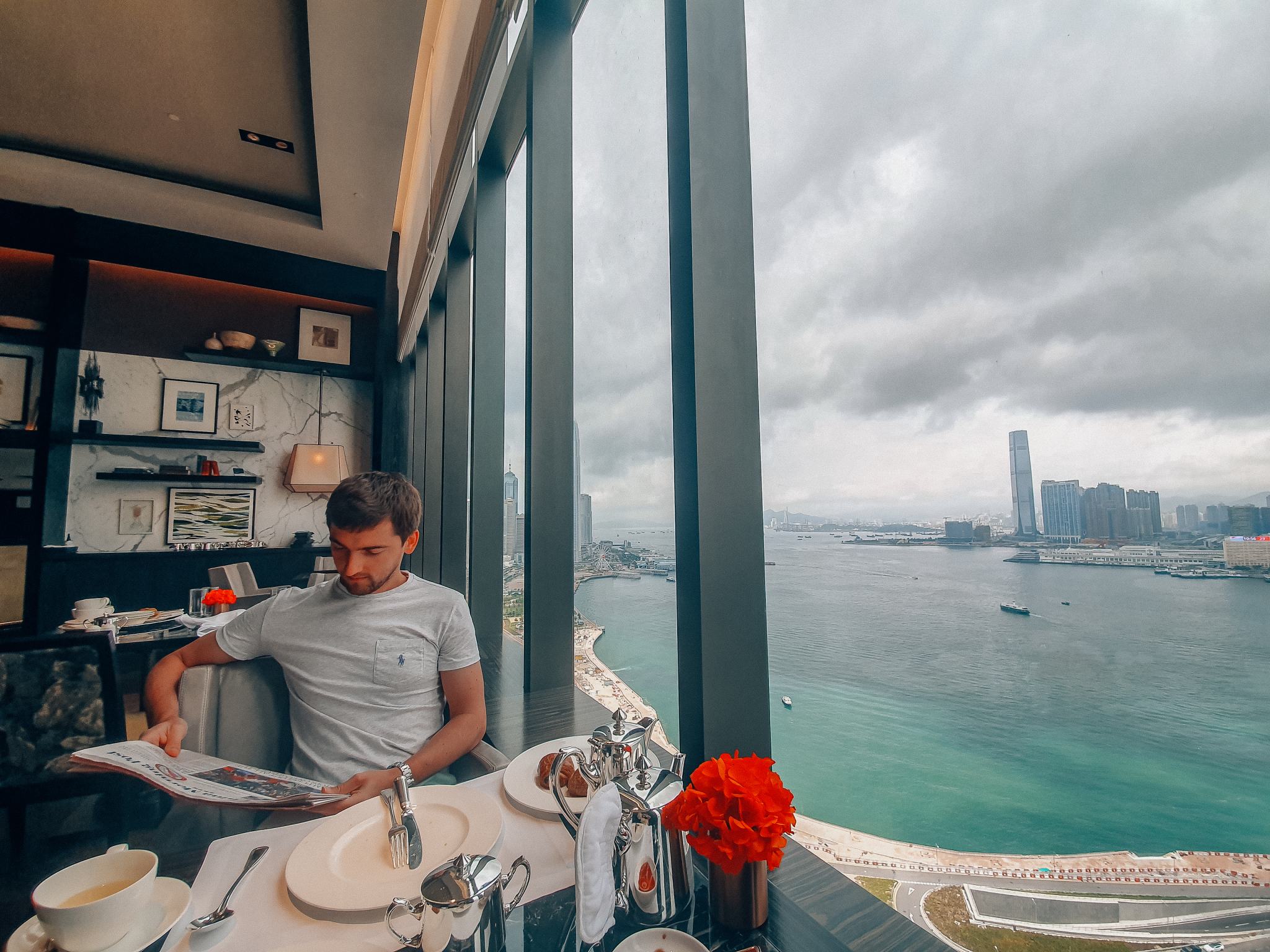 The hotel has nine outstanding dining restaurants for guests to enjoy — including Japanese cuisine at Kaetsu, which features traditional Japanese favourites and seasonal specialities prepared with freshly flown-in ingredients from Japan and One Harbour Road, which emulates the elegance of high society, 1930's-era, serving traditional homestyle Cantonese cuisine. However, one of the culinary highlights for us had to be the breakfast buffet served in the Grand Café.
Elsewhere guests can explore a quality range of facilities on the 11th floor – such as the award-winning Plateau Spa, or the Olympic-sized heated outdoor pool, overlooking the Hong Kong Convention and Exhibition Centre and the Star Ferry Pier.
---