Santorini is a picturesque island that will take your breath away with its sheer beauty. From its spectacular sunsets and astounding colourful cliffs to whitewashed homes and ash-laden calderas, its beauty makes it one of the best and most iconic places to visit in Greece.
The five villages of Fira, Oia, Imerovigli, Firostefani, and Akrotiri sit at the top the caldera and provide incredible views of the crater formed by a 16th-century BC volcanic eruption. What is left is a dazzling sight and a magnificent backdrop for island trails, infinity pools, luxury hotels, clifftop vineyards, and beautiful sunset dinners.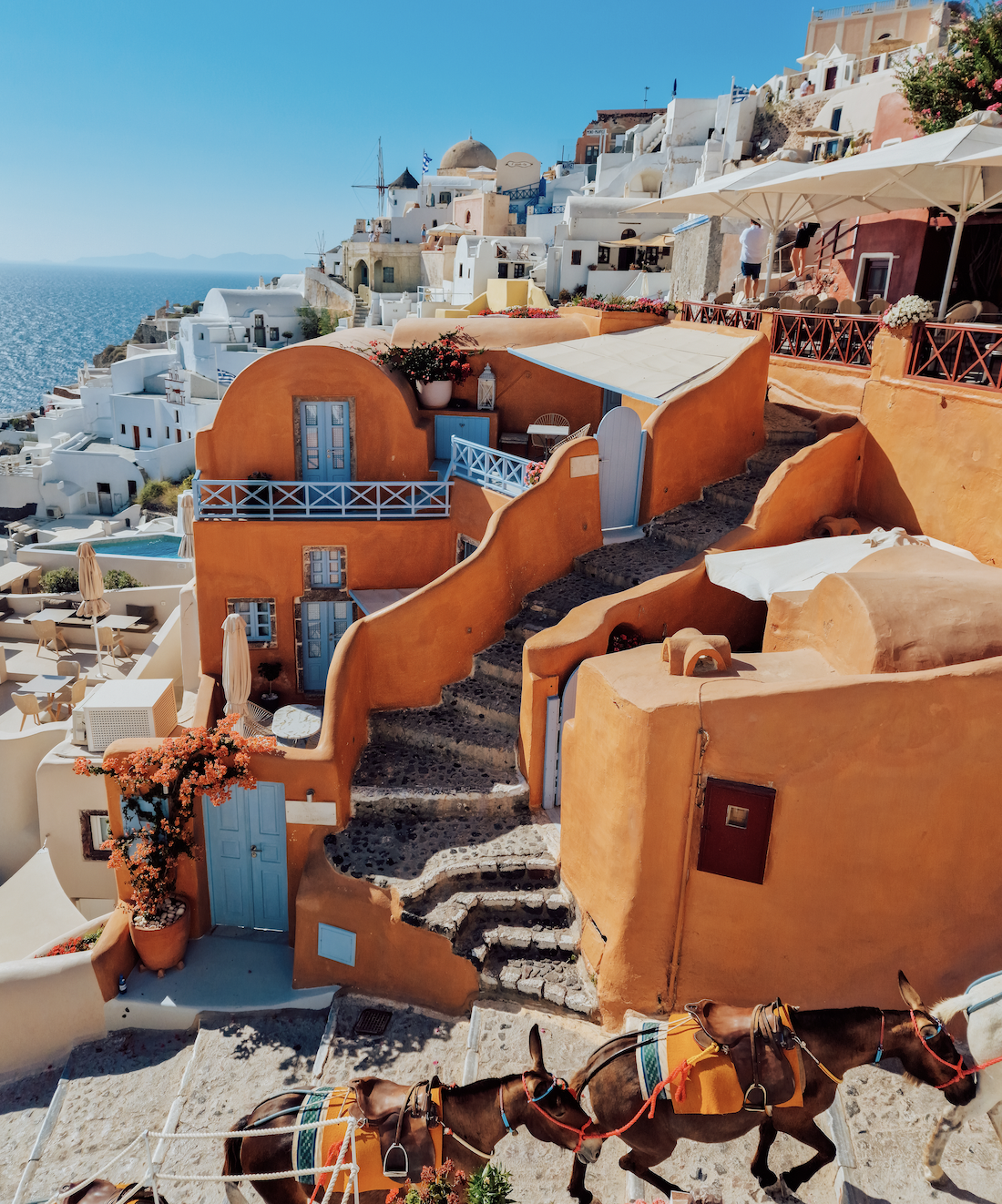 ---
How Long Do I Need & Where To Stay?
We recommend staying in Santorini for a minimum of two nights, however, there is so much to see and do that 5 to 7 days can be easily filled, too. If time allows, we recommend booking one boat excursion, one wine tour as well as a trek along the Fira to Oia trail. Exploring the towns of Pyrgos and Emporio, and visit the ancient sites of Akrotiri and Ancient Thera are also a must and you will also want to allow enough of time to explore the cobblestoned lanes and alleyways of Fira, Oia, and Imerovigli.
---
Where To Stay?
Vora Villas
Vora Villas, a boutique Santorini hotel, provides three cliff-clinging cave-style villas with views of Skaros Rock and the breathtakingly blue caldera. Cycladic and Scandinavian styles were adopted by K Studio architects: white lime-washed walls, pared-back palettes, and sculptural furniture. Aside from its beautiful looks, the hotel's cutting-edge spa pools will make you feel like you're floating, the on-call chef will delight your tastebuds with fresh island vegetables, and the concierge can easily arrange a day excursion on a private yacht.
Canaves Oia Hotel
Canaves Oia Hotel, located near a serene village church on Santorini's popular northern coast, is a laid-back boutique hideaway with bleached-white rooms, a relaxing poolside restaurant, and a stylish swim-up bar. Vacations here are spent lounging by the Aegean pool, dining on fresh seafood, and taking use of the extra amenities of the hotel's sister property, Canaves Oia Suites, which has a stunning spa and impressive gourmet restaurant.
---
Where To Eat The Best Seafood?
Santorini is famous for its seafood, and Ammoudi Bay is one of the greatest spots to find it on the island. If you're hiking from Fira to Oia and enjoy seafood, this is a great place to stop for lunch or dinner and you will have earned your dinner by the time you've finished the journey and walked the 280+ stairs from Oia to the bay.
Amoudi Bay has some of the best seafood around, as I t's frequently fished and brought ashore right in front of you, and it's the ideal place to try some traditional Santorini cuisine. We recommend the grilled octopus and saganaki (fried cheese) at Ammoudi Fish Tavern, which is often crowded, but the wait is well worth it.
---
What currency is used in Santorini?
Since Greece is a member of the European Union, the Euro (€) is the currency used in Santorini. Most stores and restaurants in Santorini take credit cards, but having extra cash on hand for smaller purchases like bottled water and snacks is a good idea. ATMs can also be found in all of Santorini's major towns.
---
How To Get From Santorini Airport To Your Hotel
To make your travel less hectic, we recommend pre-booking a private transfer. As there is no taxi stand at the airport and less than 50 cabs operating the entire island, costs reflect this. Payment is normally made in cash in the form of euros and you can heck out private transfer prices and availability, which aren't that much more expensive and a relaxing, stress-free way to start or finish your trip.
---
When To Visit Santorini
Santorini experiences a significant drop in visitor numbers from November to March. These are not the greatest months to visit since weather conditions and activity availability may restrict what you can see and do. Many pubs, restaurants, and hotels do not open until April/May.
The island is bustling with activity from May to early October and d uring the peak of summer, July and August are particularly busy and crowded.
As a result, we would recommend going between May and mid-June or September and October to make the most of your time on the island and to avoid the swarms of tourists.