Coming from London, I was fully aware of the up-market and outstanding reputation that the Langham holds in Britain, but I wasn't aware of just how impressed I was going to be of the Hong Kong version of this well-loved establishment.
The original Langham Hotel, located in London, opened its doors in 1865, but the brand didn't arrive in the bustling city of Hong Kong until 2003, however, that doesn't mean it lacks any of the British class and heritage that its flagship does.
From its grand hotel lobby to the exquisitely decorated rooms, world-class on-site dining and attentive service, The Langham Hong Kong is the ideal blend of East meets West. This hotel dazzles in every way possible, so read on to find out why it has skyrocketed its way to the top of my list for the best hotel on the Kowloon side of Hong Kong.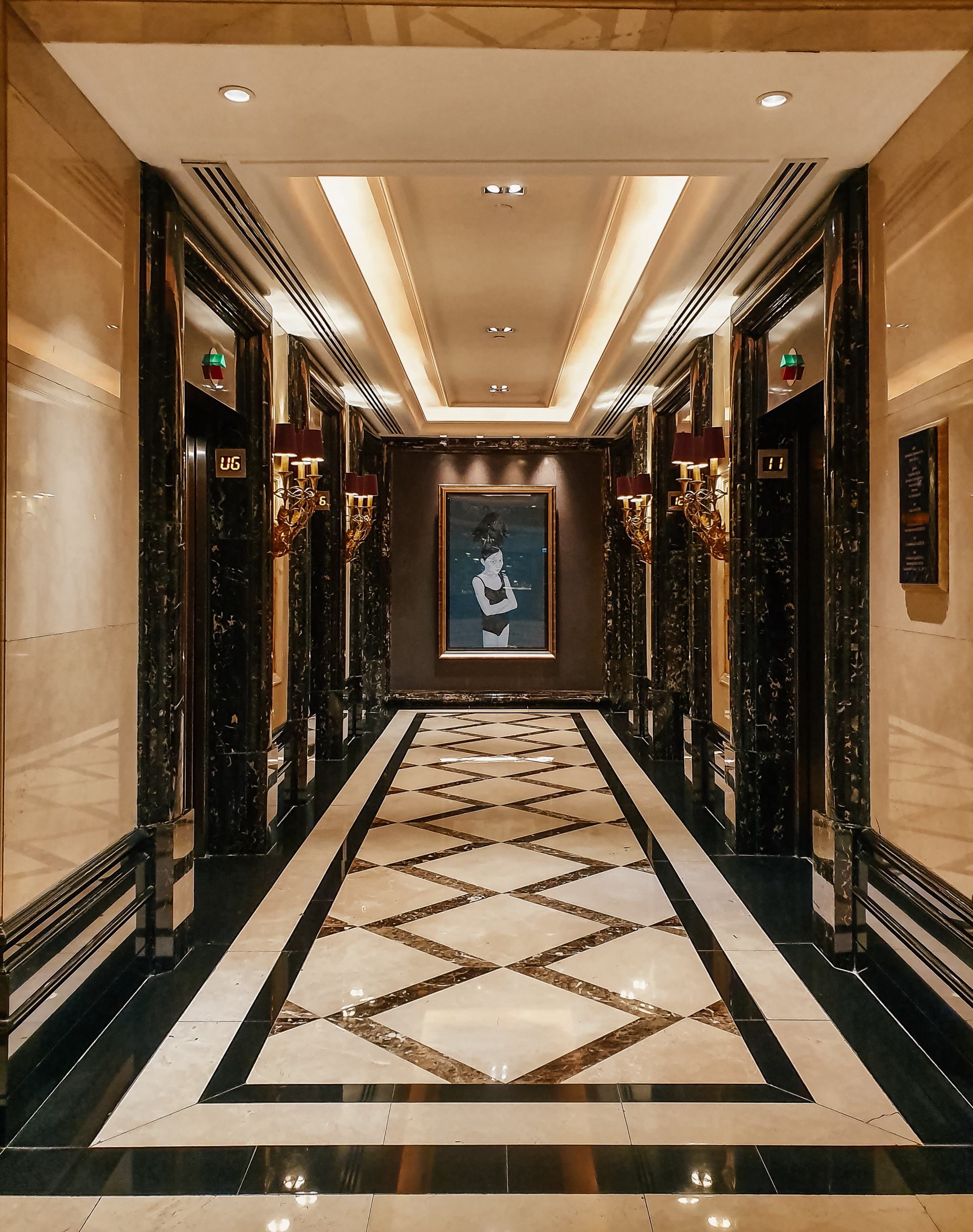 ---
Location
Handily located right in the heart of one of my favourite parts of Hong Kong, guests will find this stunning hotel in the Tsim Sha Tsui (TST) area, wedged between the two most luxurious shopping streets.
The MTR (subway) station is conveniently located directly across the road from the hotel and the Star Ferry, museums, and Avenue of Stars are also within a few minute's walking distances, as well as plenty of nearby restaurants and bars.
---
Club Lounge
When checking into the hotel, we arrived at the main reception desk in the hotel's grand lobby – which oozes glamour and class – with its lavish chandeliers, rococo golden swirled tiles and a Palm Court in the lobby. We were swiftly welcomed by a gracious guest services team member of the club lounge and told that we could check in on the 11th floor in private.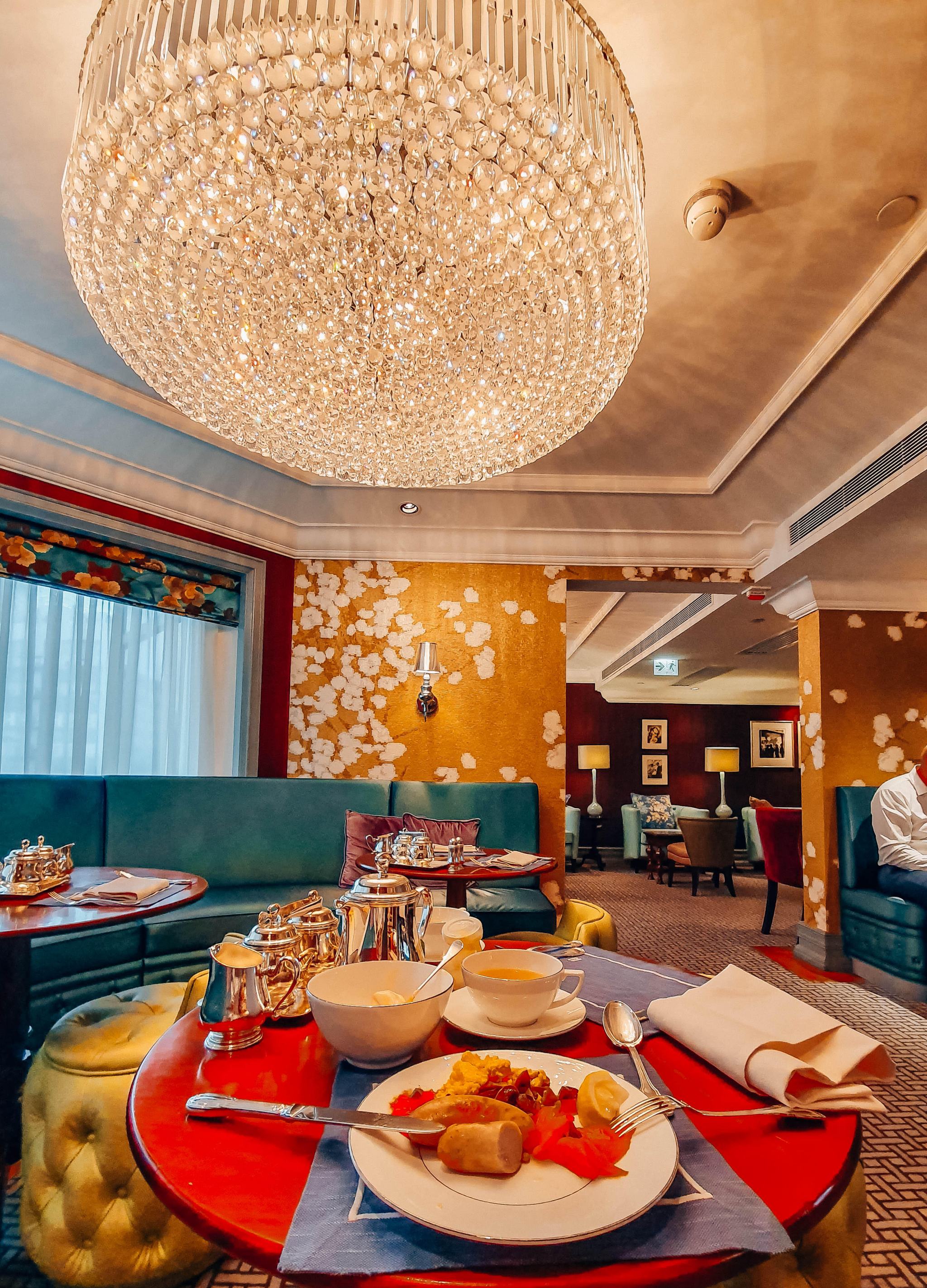 Located on the 11th floor of the hotel, club lounge members have access to a wide variety of club privileges all within a sophisticated and comfortable environment from 6.30am to 11.00pm daily.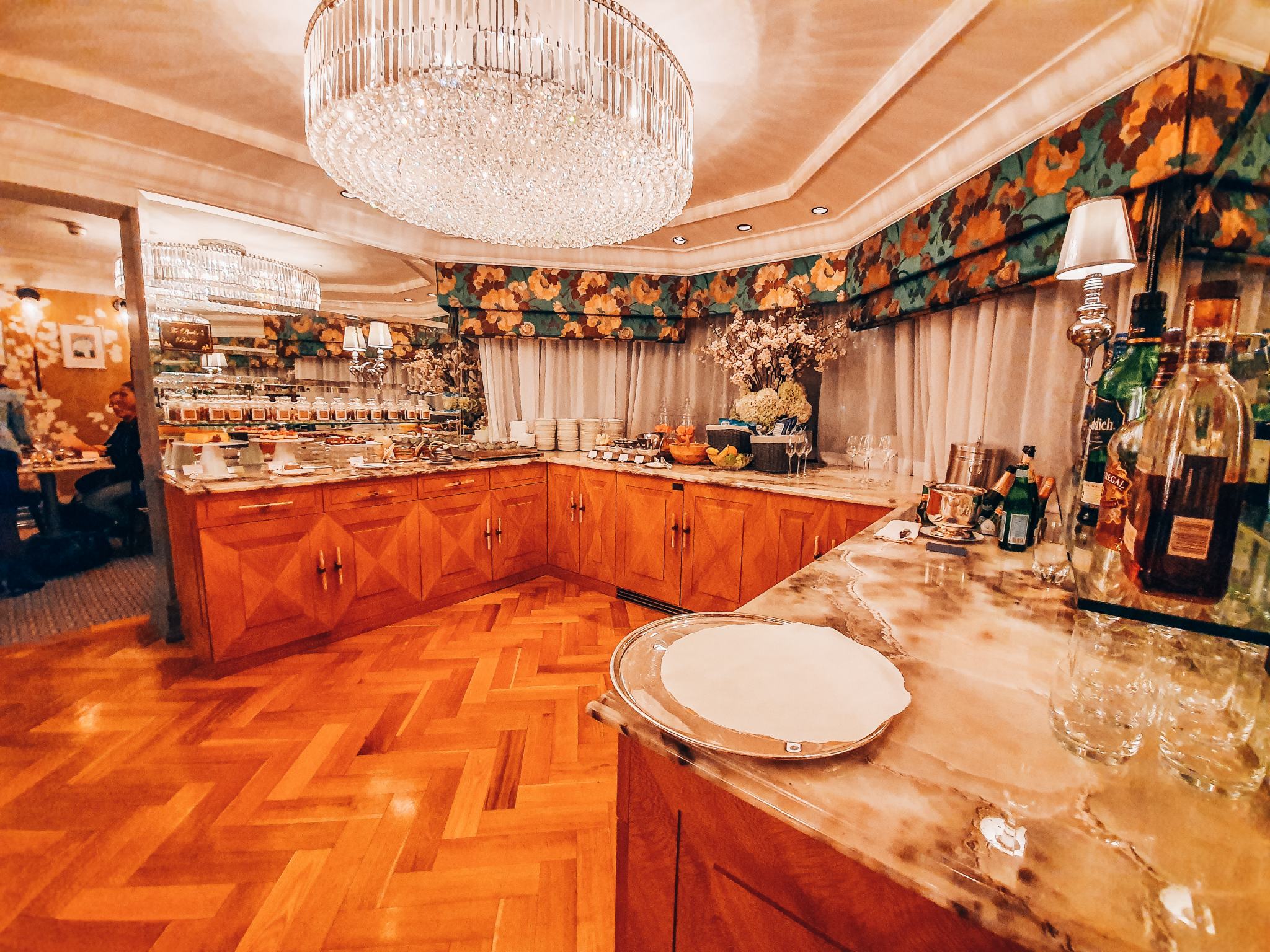 The Langham's club lounge is like a little slice of chic British heaven in Hong Kong. Decked out with European interior, the lounge has an instant feel of British elegance to it as soon as you step in. Here we were able to complete our check-in process whilst enjoying a selection of continental and hot breakfast served in the Butler's Pantry – adorable and a little like our own personal kitchen.
Besides private check-in, other benefits include, complimentary afternoon tea selections and evening cocktails and canapes, as well as a wide selection of champagne, wine, cocktails, beers, and non-alcoholic beverages. Guests also have complimentary pressing of up to three garment pieces per person and complimentary local telephone calls. Wi-Fi and daily newspapers and magazines can be found in the lounge and laptops and Ipads are also available to use upon request.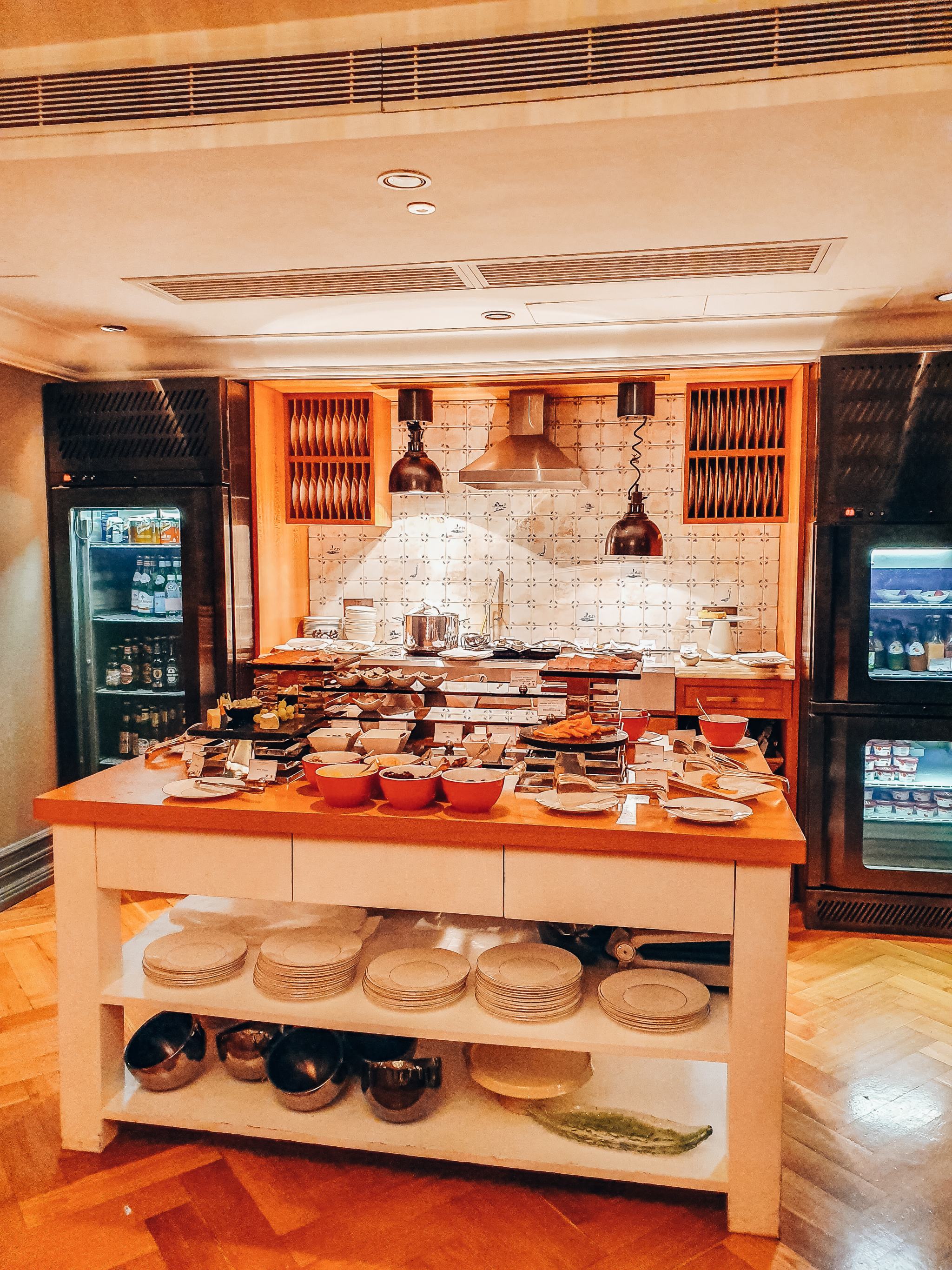 ---
Rooms
Sumptuous, glamorous, spacious, and spotless – these are the words that come to mind when I think of our room at The Langham. The hotel has almost 500 rooms and we stayed in one of the Deluxe City View Rooms on the 13th floor with a stunning view of Hong Kong harbour and skyline. Our room oozed British 1920s class and glamour in every corner – from the lavish white Italian marble bathroom (complete with a rain shower and separate soaking bathtub) to the warm and luxurious choice of interior and accessories in the room.
Our room also had its own lounge sofa, which sits by a floor-to-ceiling window, bringing in plenty of natural daylight. Other highlights include a faux fireplace (giving the room that extra cosy feel), surround sound system, and bespoke mini-bar stocked with upgraded amenities.
---
Amenities
With Hong Kong being one of the busiest and most overcrowded cities in the world, it can get a little overwhelming and clammy out there – especially on hot summer days. Luckily for guests staying at The Langham, there's a retreat in the form of the hotel's rooftop swimming pool and for those looking for further relaxation, there's also the Chuan Body and Soul Spa, which has a wide variety of treatments, perfect for focusing on physical and spiritual areas of the body that need attention.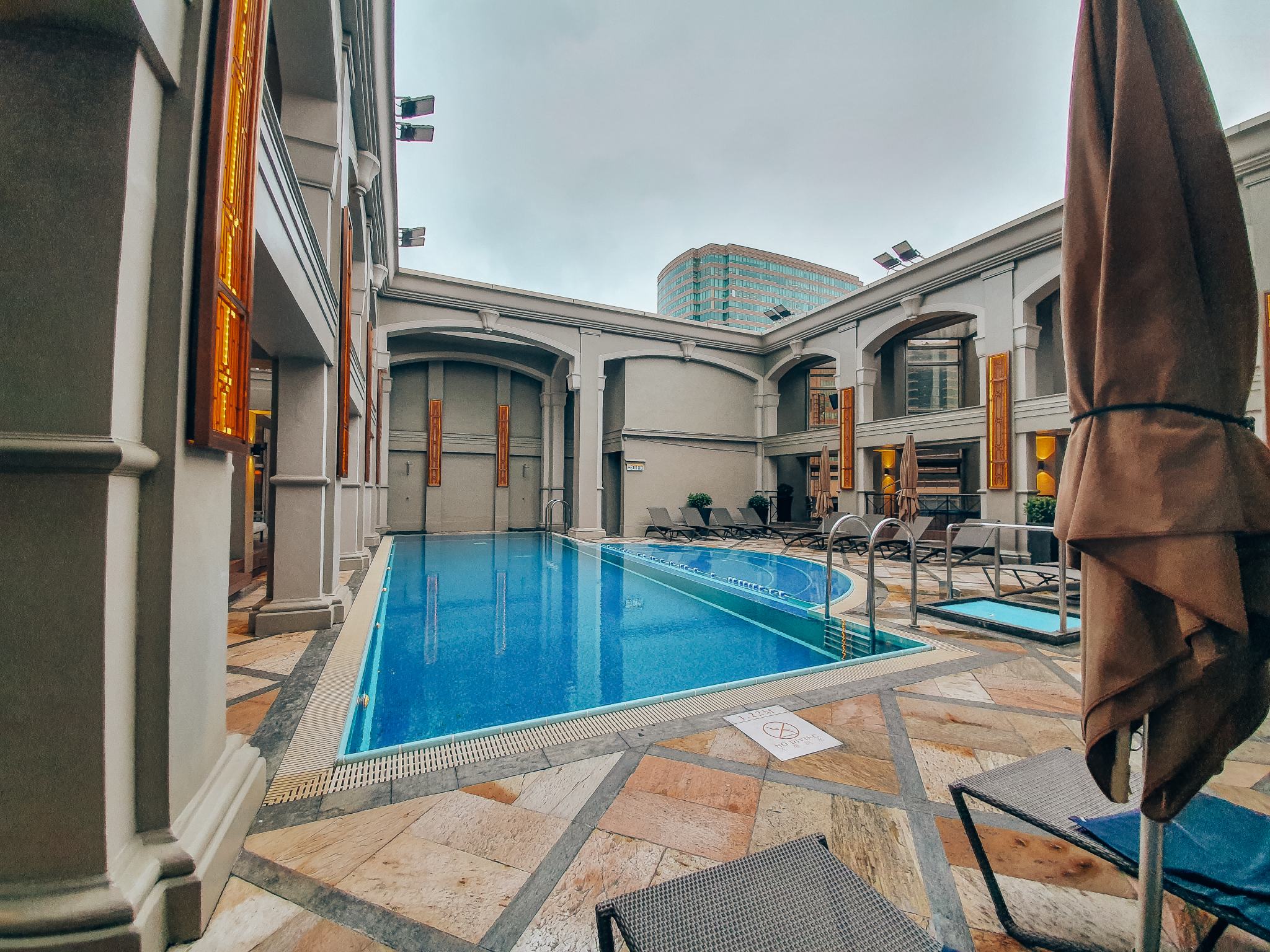 There's also a fitness centre on the same floor as the open-air heated pool and hot tub as well as free yoga classes on offer several days a week.
---
Service
Up-market but without being stuffy or pretentious, the Langham staff have nailed the service side of being a high-end five-star hotel. Too often do I find that staff in luxury hotels can come off a little too stuffy, but this was far from the case at the Langham as we left feeling like family.
Nothing was too much trouble for the team at the Langham, from check-in to check out, they were attentive, warm, and extremely helpful. On one particular day, we were surprised with afternoon tea in our room after we mentioned in passing to a staff member that we wouldn't have the time to try out the afternoon tea in the club lounge – every small detail was truly taken care of in the most elegant and thoughtful of ways.
---
Restaurants & Bars
The Langham boasts some of the best onsite restaurants that a hotel can feature, including, one of the most famous Three Michelin star restaurants in Hong Kong – the T'ang Court. The to-die-for restaurant has been featured on the coveted Michelin Guide since 2009 and is only one of five Cantonese restaurants in the world to receive this honour.
Serving some of the most authentic and incredible Cantonese dishes in an opulent setting, T'ang Court aims to reflect the classic timelessness of the Tang Dynasty with dishes such as – the restaurants award-winning stir-fried fresh lobster with spring onions, red onions and shallots, the baked seafood stuffed crab shell (served on a golden crab platter) or the trio of barbecued pork, rice paper rolls prepared with XO sauce and sesame sauce, and black cod that had been smoked and glazed with honey syrup.
Elsewhere, if you're looking for something less pricey and slightly more casual, then there's plenty of other dining experiences to choose from, including the Bostonian Seafood and Grill, Main St. Deli, Palm Court and afternoon tea with Wedgwood.
---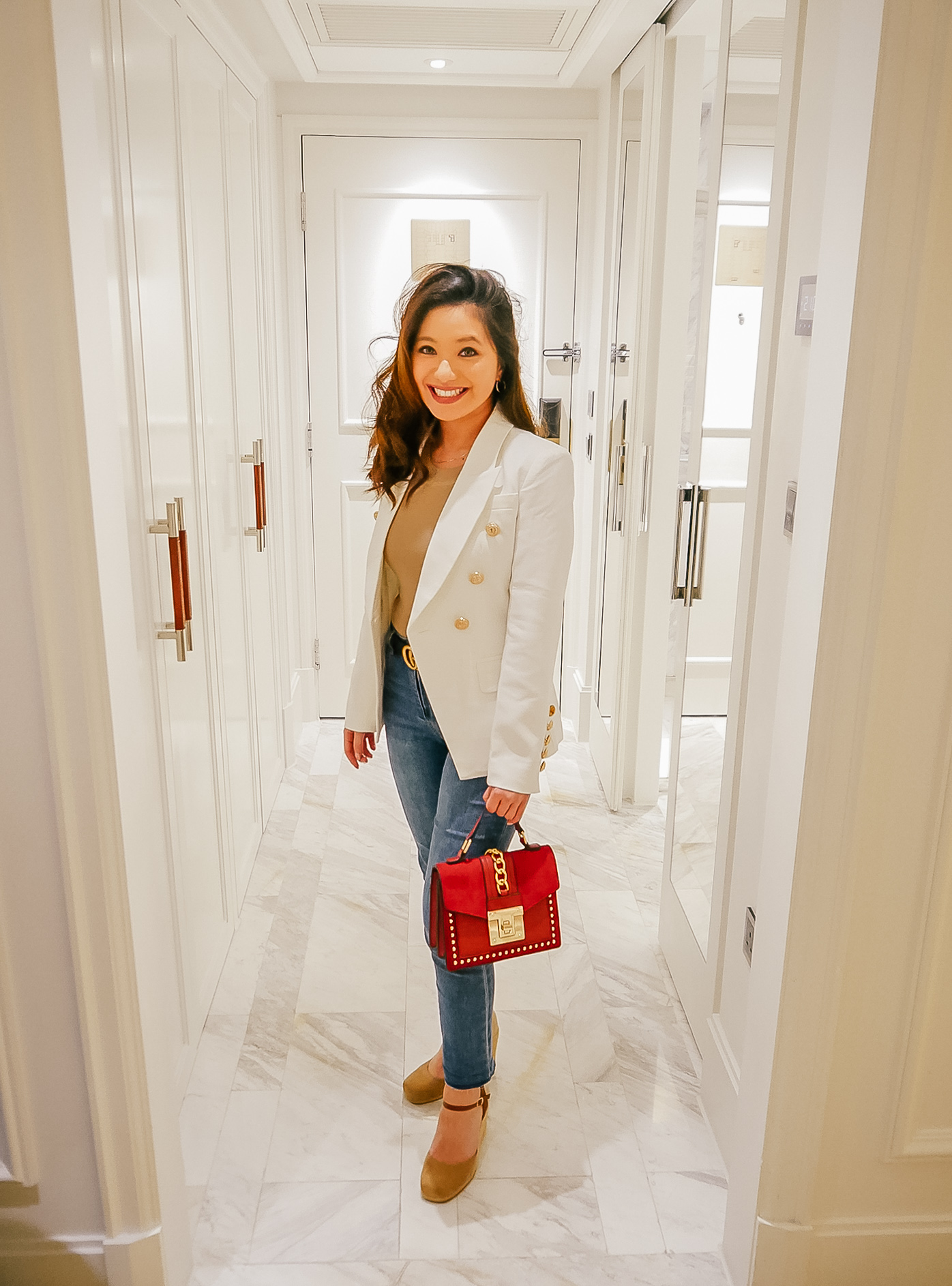 ---
Rooms at the Langham Hong Kong start from £150 per night
8 Peking Rd, Tsim Sha Tsui, Hong Kong
00 852 2375 1133
www.langhamhotels.com
---