London – one of the world's most vibrant cities, is known for its ceaseless energy, modernity, and culture, and you feel all of those vibes and more as you journey your way up to the Shangri-La's lobby on the 34th floor of the iconic Shard.
Seated atop the tallest structure in not only London but the whole of the UK and Western Europe, the Shangri-La, London transports you to a place of complete luxury and tranquility with incomparable views of the city.
If you are looking for a hotel with some serious bragging rights in London then there is only one place to stay, The Shangri-La At The Shard.
Scroll to the bottom for our stay in pictures – click on the small images to enlarge.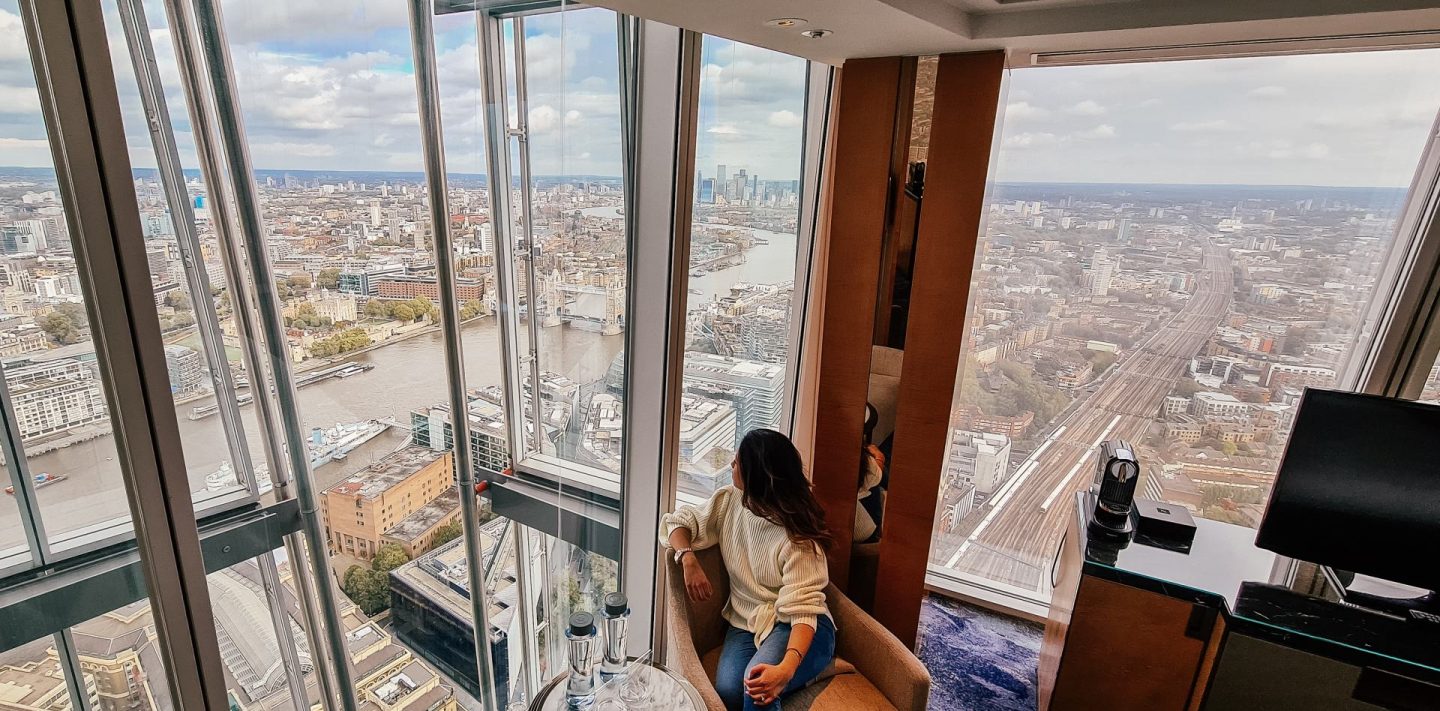 ---
Location
The hotel occupies floors 34 to 52 of the Shard, the tallest building in London and the UK, and features the best panoramic vantage point in the city, overlooking London's most famous landmarks. The closest public transport link is London Bridge station, just a quick 30-second ping down the lift for National Rail services, the Jubilee and Northern Lines.
London's legendary Borough Market sits at the foot of the Shard with fruit-and-veg traders and delicious food stalls offering fresh seafood and artisan pastries. Borough Market is also home to two of the city's most popular restaurants, Padella and Taiwanese bun shop Bao – both of which always have queues outside the door.
Elsewhere, The Tower of London and St Paul's Cathedral are just across the river, while the Tate Modern, South Bank, the London Eye, and Shakespeare's Globe are all within walking distance.
---
Rooms
The Shangri-La London offers a large range of guest room options, all uber-luxurious and featuring breathtaking views, standard rooms range from their Superior Shard Rooms with floor-to-ceiling windows boasting impressive southerly views of London to the Iconic City View Room with 645ft of floor space. We stayed in the hotel's Deluxe City View Room which featured stunning views of London's Tower Bridge, The Tower of London, The HMS Belfast, and Canary Wharf. There are also six types of suites, for those looking for more space or travelling with family – the Shangri-La suites all feature separate living areas and some even come with a personal butler.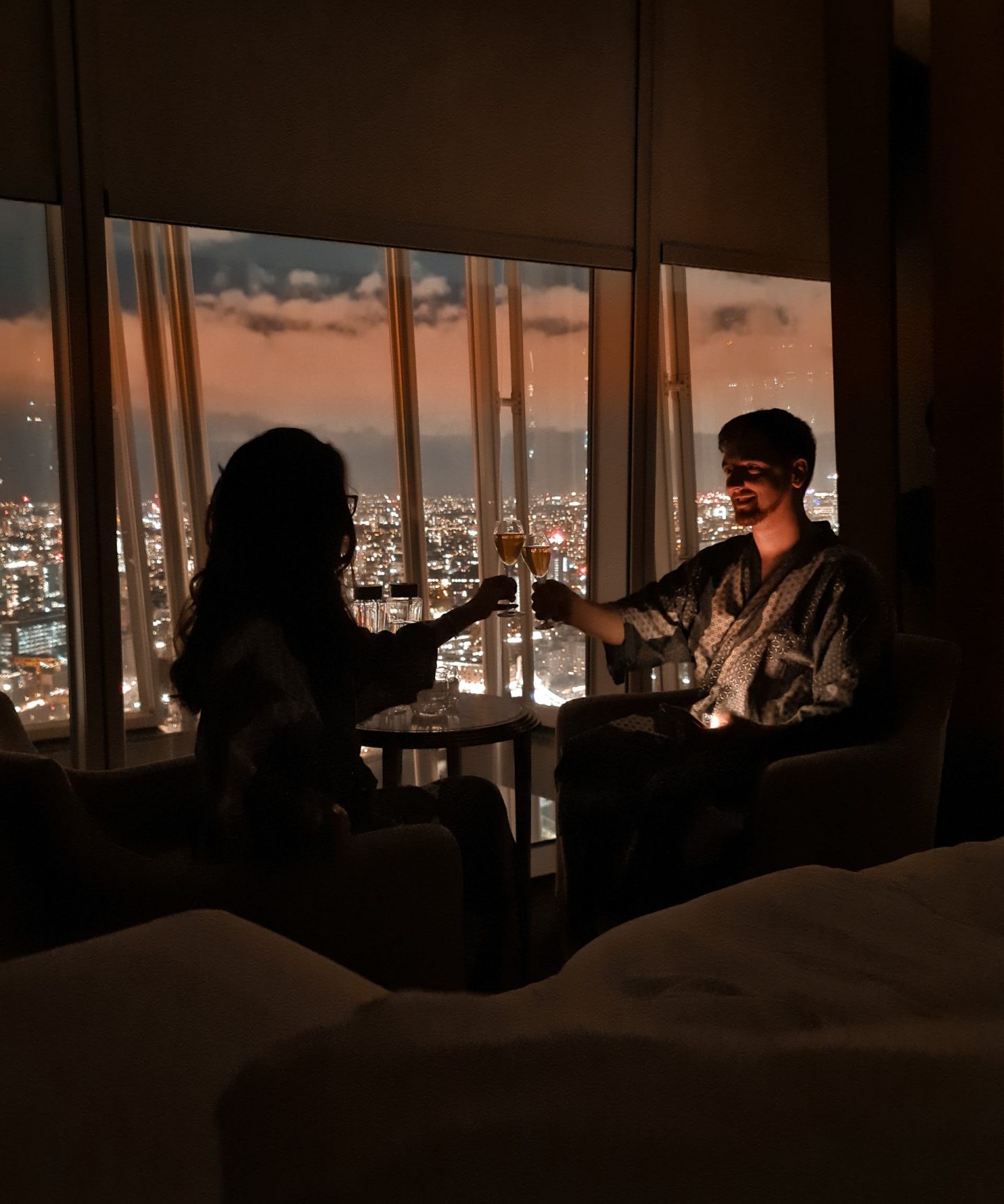 Interiors are chic, slick, and super modern and the brand's Asian origins are often referenced in the décor, with orchids, cherry blossoms, golden bamboo trees embossed in the walls and throughout the rooms. You will also be able to enjoy the hotel's incredible architectural elements from every angle as the custom glass artwork can be admired from the lobby, all guest rooms, the restaurant, bar, and sky pool.
The room's sophisticated marble bathrooms are a true highlight and absolutely steal the show. All bathrooms have heated floors, mirror/televisions, large rain showers, Japanese toilets with heated seats and electronic bidets, and L'Occitane or Aqua Di Parma toiletries. Of course, we have to mention the freestanding bathtub with spectacular views of the city – an Instagrammer's dream.
We stayed for 2 nights and all in all we found our room to be well-equipped with modern, thoughtful touches, and with it being a Shangri-La hotel, the room was extremely luxurious yet comfortable, kept to high standards and immaculately clean. As for the bed? Super king-size mattress, high-thread-count linens, down pillows – like sleeping on a cloud in the clouds.
Being so high above London, rather than in it, feels almost dream-like, and the views are so jaw-dropping, whichever room you pick, you will not be disappointed.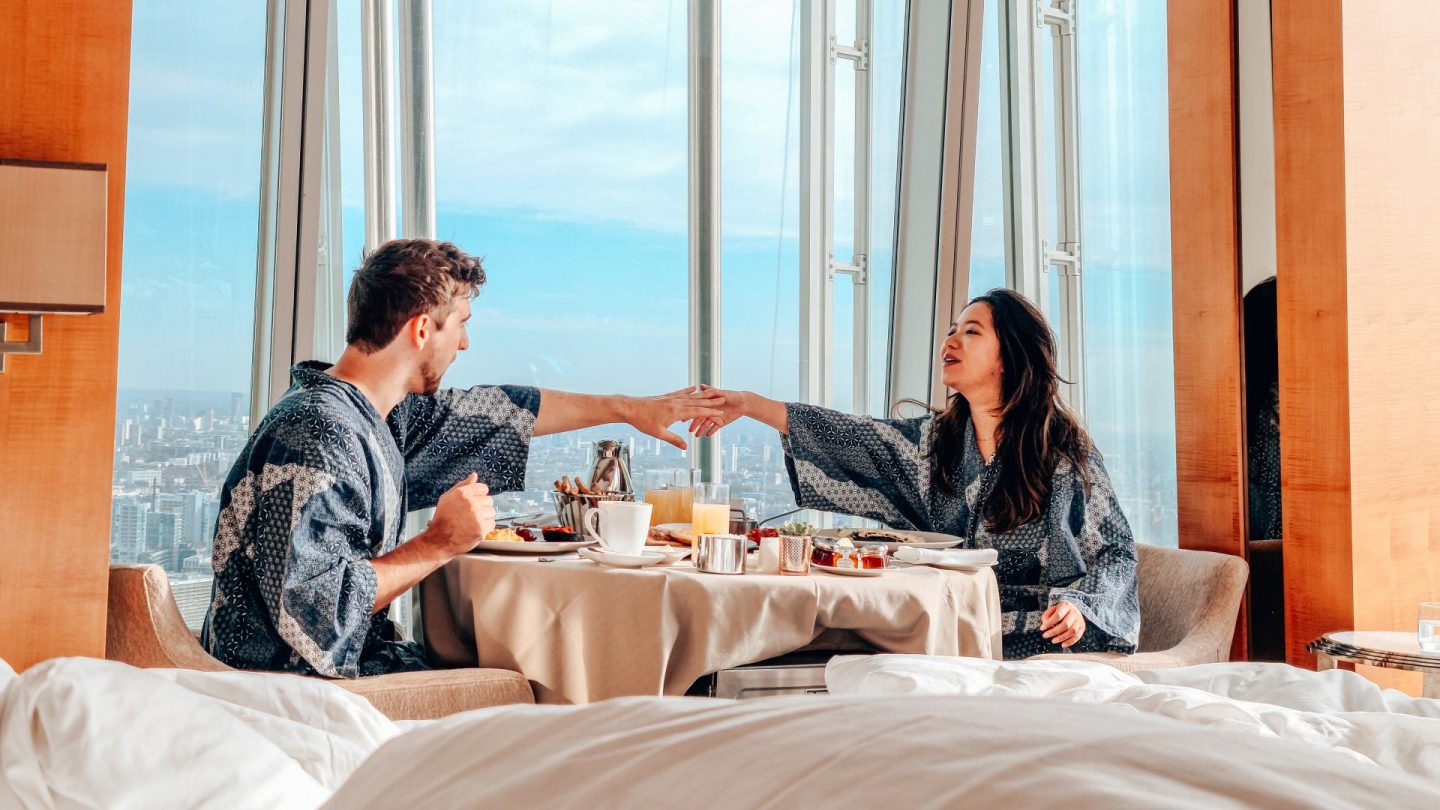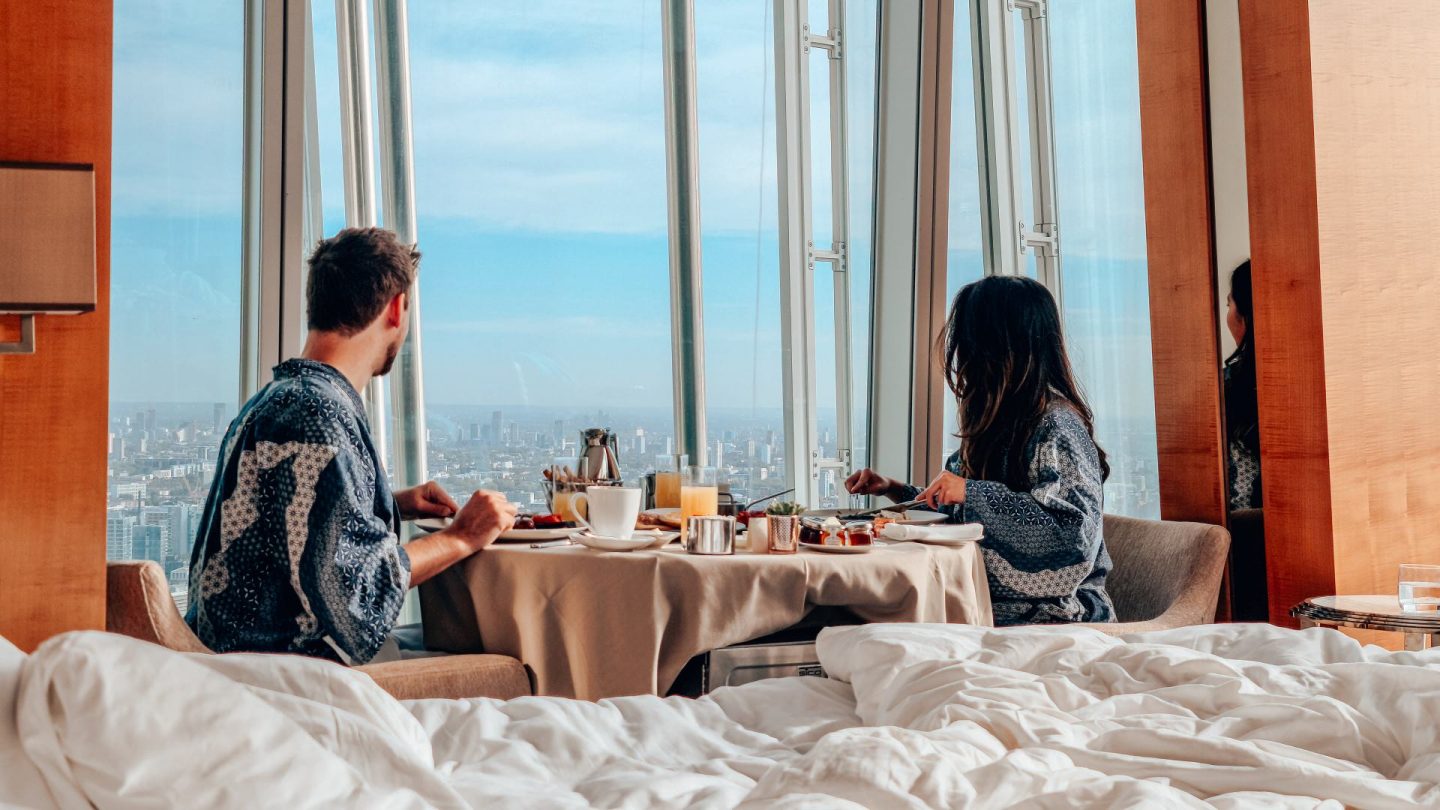 ---
Service & Facilities
Up on the 52nd floor of The Shard, you will find the Shangri-La's infinity Sky Pool, one of the most luxurious pampering pads in the city and home to the highest swimming pool in the UK.
The Sky Pool and sauna are, of course, the star of the show as they offer incredible sweeping views across London whilst being beautifully designed, warm, clean and the perfect size for a leisurely swim along with being well served by dedicated and attentive pool staff offering teas, coffee, and heated towels. The Shangri-La's infinity pool and sauna are the ideal place to relax, recharge, and watch the world go by.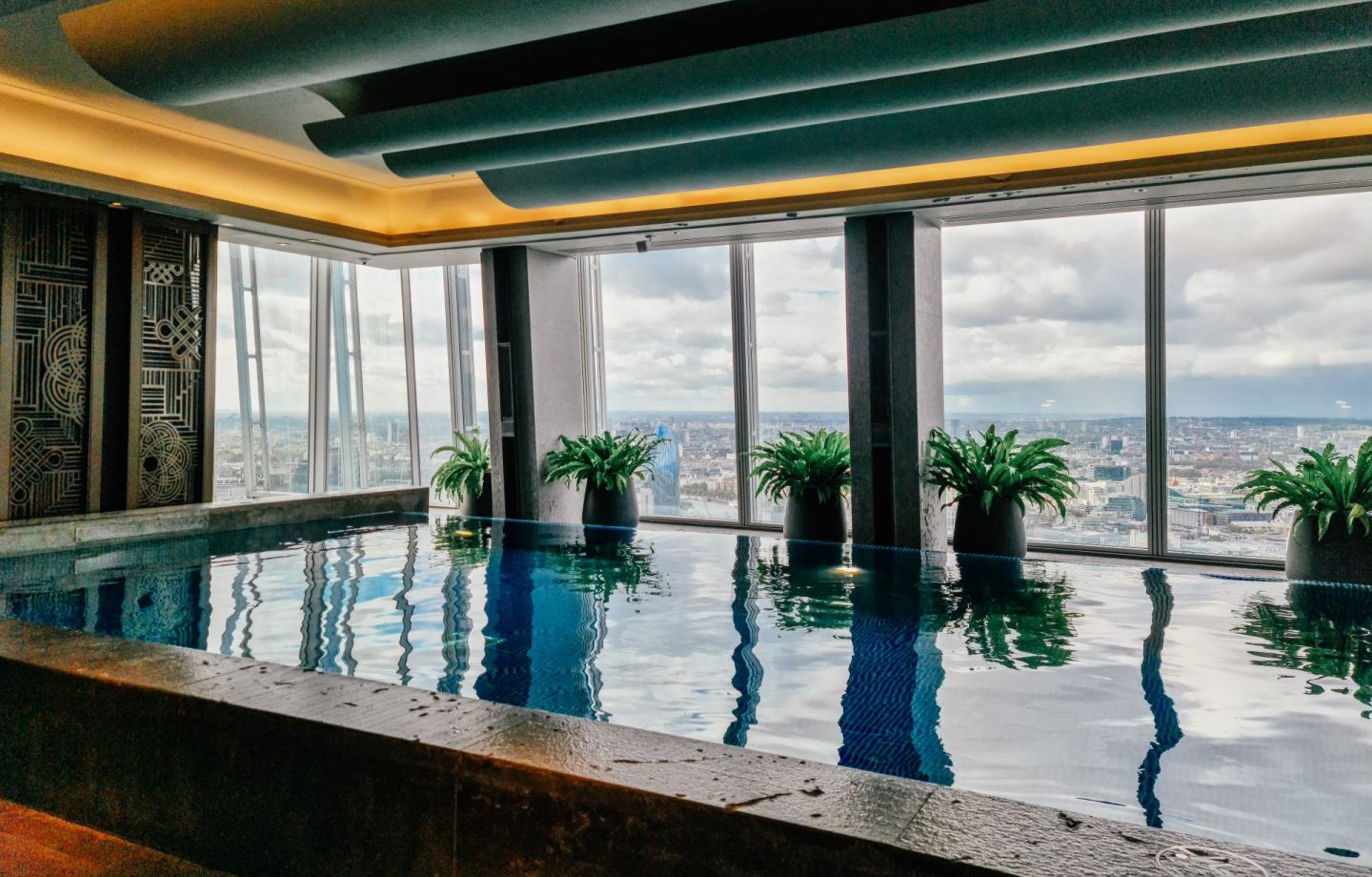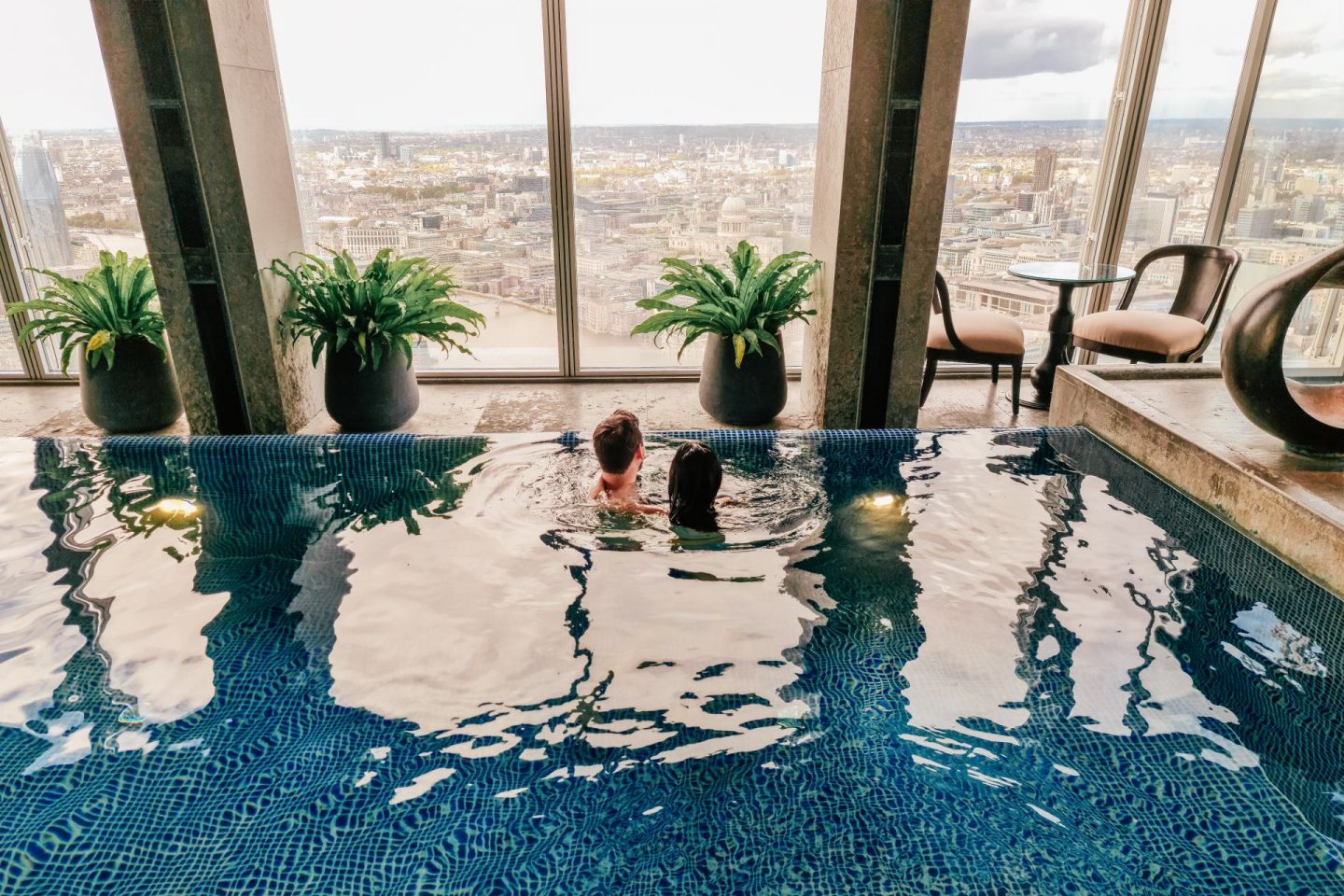 When it comes to service, you will find that from the door staff to concierge and restaurant staff, everyone is warm and friendly. The Shangri-La London prides itself on a certain graciousness that is reflected in all of the staff who can frequently be seen going above and beyond.
---
Restaurant & Bars
After you've settled into your room – and perhaps had a warm bubble bath with a view – then it's time for dinner and cocktail or two.
Head to the hotel's stylish Gong Bar on the 52nd floor of The Shard, which has an impressive 360-degree view and a constantly changing menu of cocktails. When we arrived we were greeted by two of the friendliest and most knowledgeable staff members who had kindly reserved us the best table in the bar – and thank goodness because the bar was buzzing with not one table available. The drinks menu doesn't disappoint and is filled with whisky options, various exotic gins, sherries, and bergamots along with some fantastic champagne choices.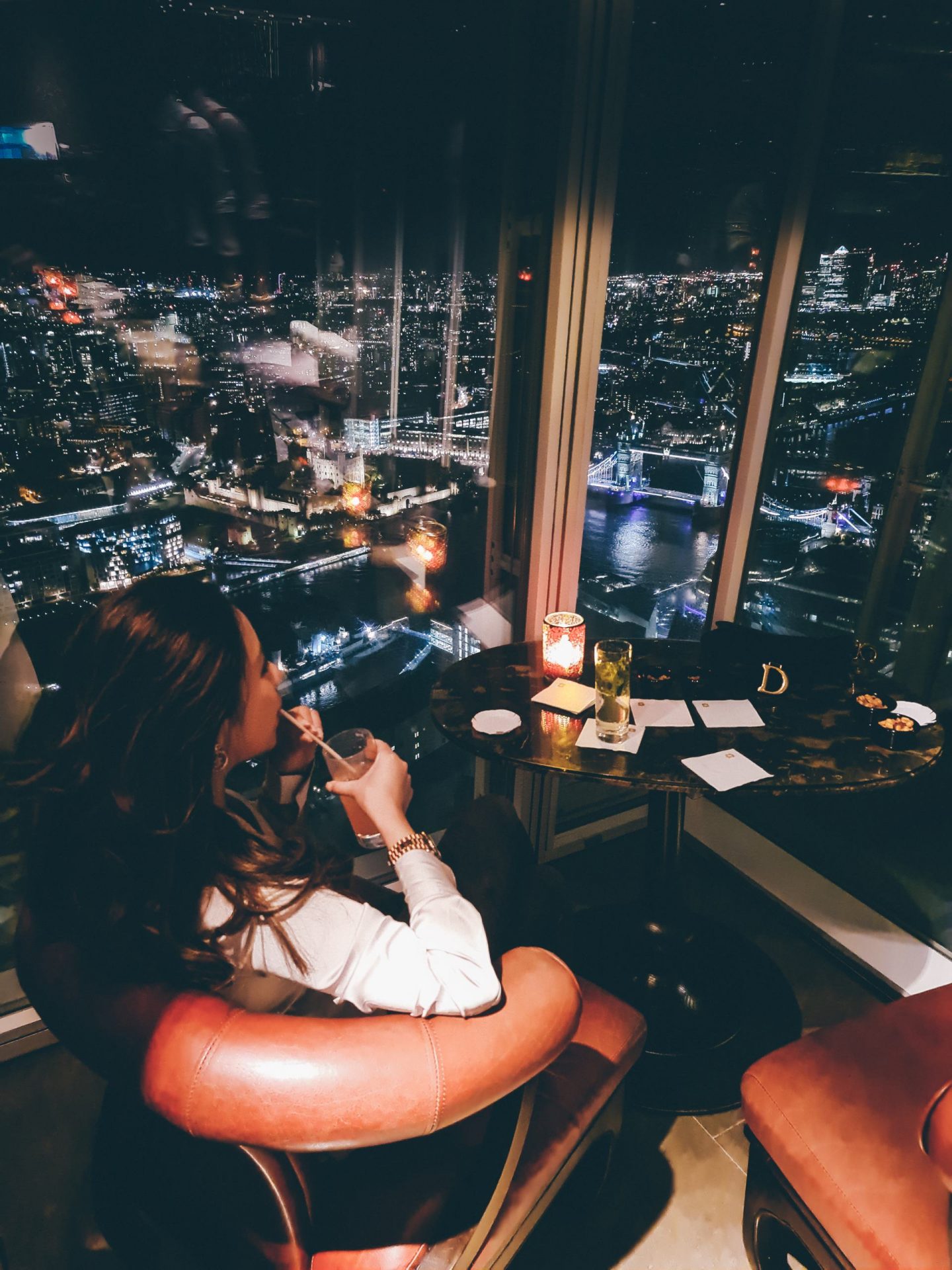 For those, like me, who do not drink alcohol, you'll also find a wide array of mocktails, and the bar staff are also more than happy to whip up something special if you tell them what you like. It doesn't take long to realise that Gong is as popular with non-hotel guests as it is with those staying overnight and with it being the highest hotel bar in the UK, it's not hard to see why it is so well-loved.
Ting Restaurant
which features an extensive menu with a European and Asian twist, with many of the ingredients sourced from the local Borough Market.
British highlights include the Beef Tartare, Rabbit Bolognese, or Raw Orkney Scallop to start, whilst Asian small plates worth trying include the Silken Tofu and Crispy Salt and Pepper Squid. Large plates that we loved include the Singapore curry laksa (one of the best I have ever had), Atlantic Cod Loin, and Korean Chilli Popcorn Chicken. For dessert, you'll want to try the mochi selection and the chocolate and peanut bar.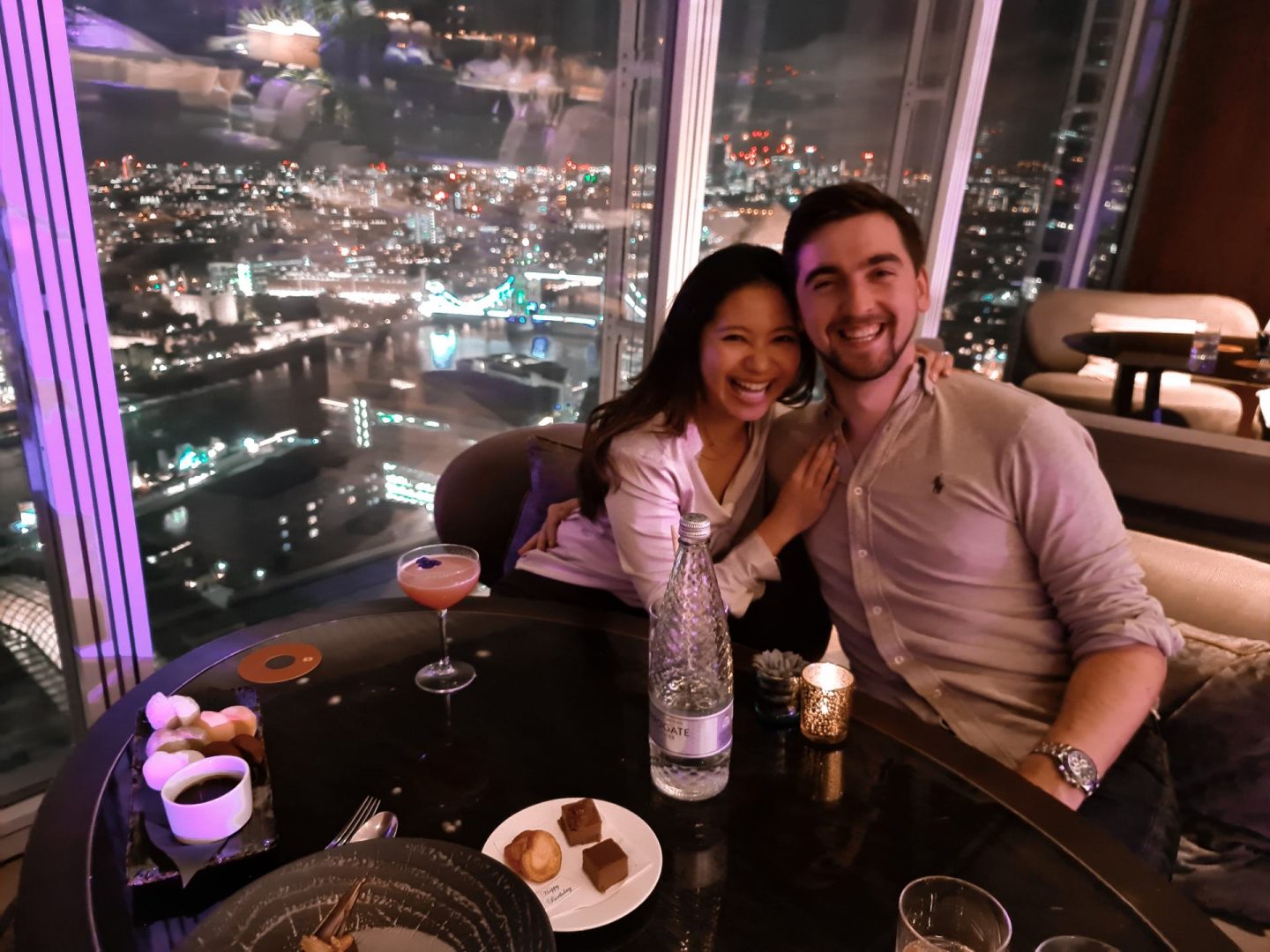 Ting Restaurant
and we opted to have our first meal of the day here on our first day and ordered in-room dining for our last morning.
Shangri-La is famous for its breakfast spreads and we were spoilt for choice. Again a mix of Western, Asian, and Middle Eastern choices – it was great to see an Asian breakfast favourite featured on the menu; congee with traditional condiments and char sui bao.
Also on offer for breakfast, everything from buttermilk waffles to grilled kippers, bakery baskets, and large sliced fruit platters. There's also a Wellness Menu which features the likes of gluten-free porridge, fresh smoothies, and smashed avocado on Sourdough. Something for everyone.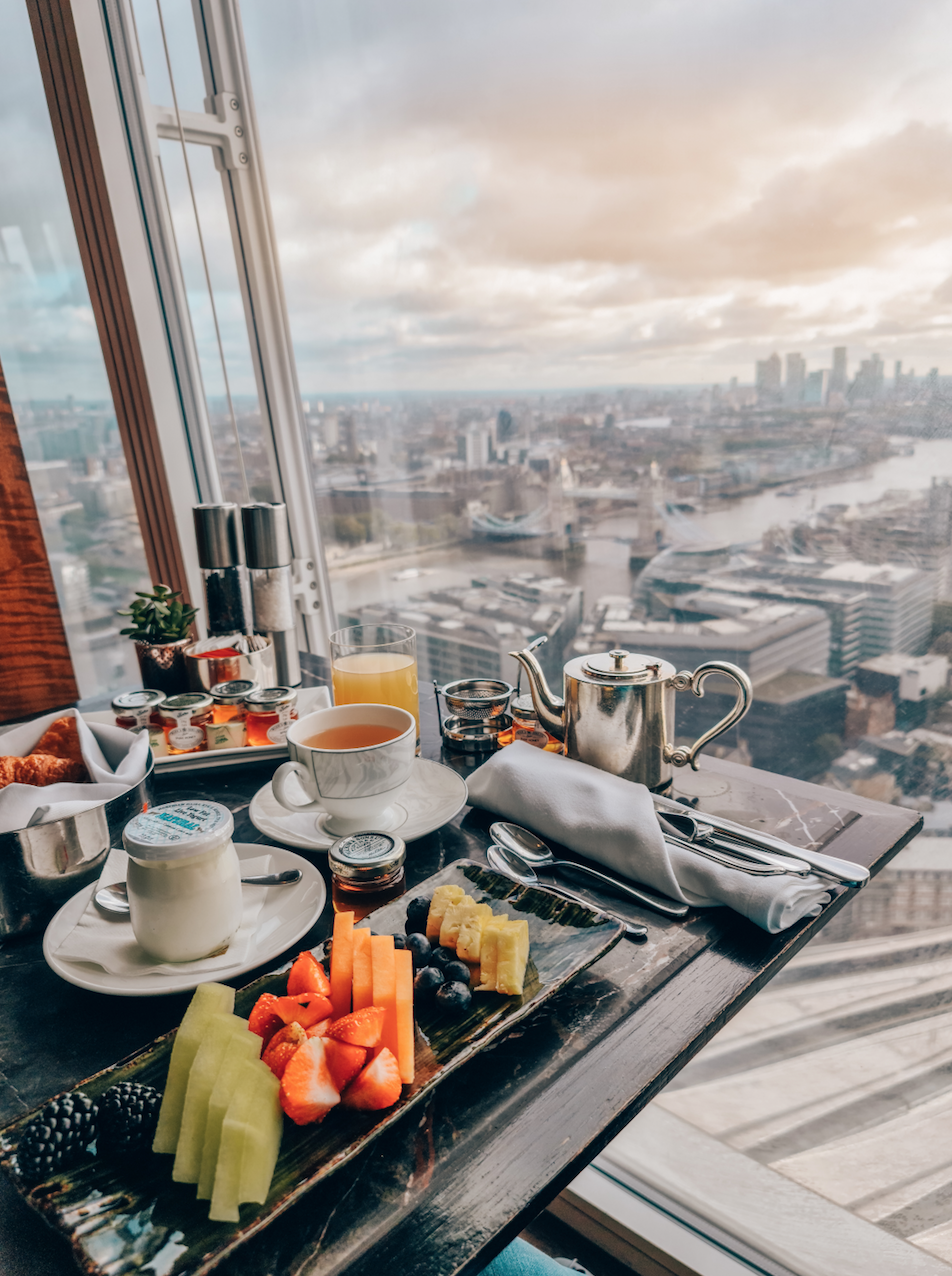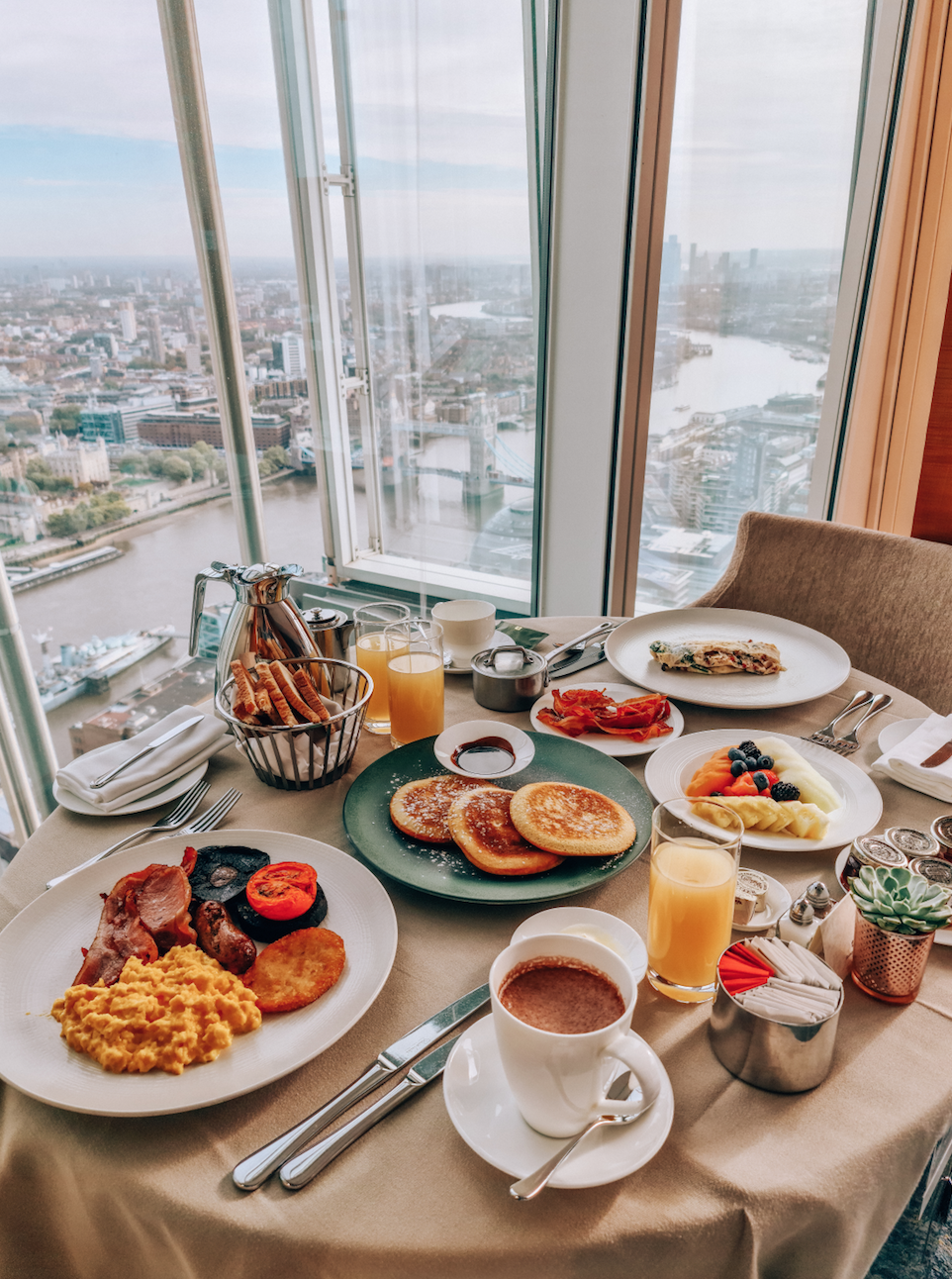 ---
Bottom line: Is It Worth It?
Absolutely. The Shangri-La's London location doesn't disappoint: Expect high standard dining, spacious guest rooms, panoramic city views, and superlative service from start to finish.
---
Photos
---
https://www.shangri-la.com/en/london/shangrila/
https://www.instagram.com/shangrilalondon/
Address: 31 St Thomas Street, London SE1 9QU United Kingdom
Phone: (44 20) 7234 8000
E-mail: [email protected]
---